16 Must-Know Pros and Cons of Granite Countertops
Granite is a popular kitchen countertop material, but the early 90s gave it a bad rap! Granite has come a long way from speckled and yellow New Venetian Gold. If you're trying to decide if granite is worth it, these pros and cons of granite countertops will help you decide if they're the right option for you!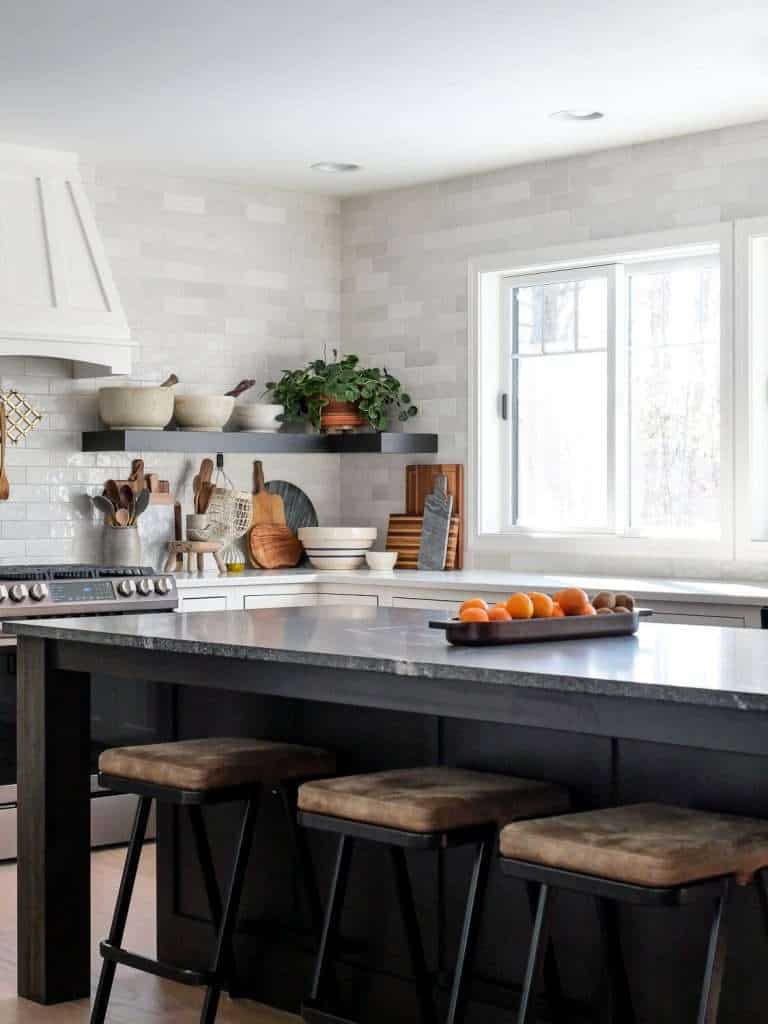 This post may contain affiliate links for your convenience.
Pros and Cons of Granite Countertops
In 2022, we decided to extend our kitchen island.
Extending the island meant we would need to replace the countertop. Originally, I thought I should simply replace our existing quartz island countertop with another slab of the same quartz.
Then, I went to the stone yard and saw SO many beautiful soapstone slabs. I immediately fell in love, but after researching soapstone, decided I didn't want to deal with the maintenance.
So I kept looking until I found a bunch of granites that looked like soapstone!
I've experienced granite in my previous kitchen and new that I liked having it in my kitchen. So it was an easy decision for me.
Now, let's help YOU make that decision with these 16 must-know pros and cons of granite countertops.
Pros of Granite Countertops
Granite is an excellent natural stone that has been used in kitchens for a very long time. It became popular in the 90s when quarries first started producing New Venetian Gold.
This yellow/brown speckled granite is a well known 90s kitchen staple. However, granite has come a long way since then!
Here are the positive attributes of granite countertops.
Very durable and resistant to chips and scratches
A natural stone with unique movement, veining and colors
Extremely heat and stain resistant
On the more affordable side for natural stone countertops
Each slab is unique
Many different types of granite are available to choose from to get the look you want for your design
Sustainable, as one granite quarry can produce thousands of pieces of granite with minimal processing
Resistant to chemicals and acids
Will last forever if well cared for
Can be used outdoors
Can You Put Hot Pans on Granite?
Granite is very heat resistant, up to 480 degrees. Granite is formed naturally in the earth through pressure and extreme heat. So, while I would always recommend using hot pads, no matter the countertop material, placing a hot pot on granite will not cause it to crack.
However, repeatedly placing a hot pot in the same spot may cause discoloration over time.
The main concern with granite cracking actually comes from a severe temperature shift from hot to cold. This is what you want to take extra care to avoid.
Cons of Granite Countertops
While granite is an excellent countertop choice, there are some cons to consider.
What Is The Downside of Granite Countertops?
Granite must be regularly sealed to maintain the stain resistance and keep bacteria from collecting in the stone
Granite is difficult to damage, but if it does get damaged it is difficult to repair
Fissures (natural small cracks) may show if not properly filled by quarries
Each slab is unique (arguably a pro), but that means that there are limited choices if you fall in love with a specific look
Seams may be more visible due to the natural veining being difficult to match up
Older styles can look dated with speckling
How Do You Seal Granite Countertops?
While it can sound intimidating to have to seal granite countertops, the process is actually extremely simple.
If you can wipe a sealer on and buff off, then you can seal granite countertops in 2 minutes.
Here is a quick video tutorial showing the process. Every sealer will have slightly different directions, so please note that I am using this granite sealer.
Many recommend sealing granite every six months; however, I like to do it monthly.
You can also do a water test to see if your granite needs sealing. If you leave a tablespoon of water on the surface for 4-5 minutes and it absorbs it, then you need to seal. Let the water fully evaporate and dry before sealing.
Cost of Granite Countertops
As with most materials, prices vary greatly based on location, supply and demand, and stylistic options. On average, granite costs from $80-$180 per square foot.
The specific cost you will incur when replacing or adding kitchen countertops will depend on:
The specific slab or design you choose
Your square footage and any installation challenges
Any edge detailing or sink customizations you require
Your geographic location
Your local manufacturer/stone yard/installation fees
Supply and demand/inflation
Your best bet is to take your specific kitchen dimensions into a local distributor and get quotes based on granite slabs you see in their showroom.
Which is Better, Quartz or Granite?
If you're still trying to decide what type of countertop to install, check out my article comparing quartz and granite.
They are both excellent choices, but perhaps this comparison will help you narrow it down.
Is It Worth Getting Granite Countertops?
Now that you've gotten this far, I hope you feel confident that granite countertops are an excellent choice with proper maintenance.
Depending on the style you choose, they can increase your home's value and elevate your kitchen design immensely.
One thing to consider is that you will have stylistic choices to make no matter what type of granite you choose. So spend some time determining what you want for:
Main Color Profile
Speckled v. solid v. veining
Countertop finish: honed v. polished
Edge profiling
Corner radius
Counter thickness
Sink front design (option to encase in stone)
This article on the top 10 design decisions for a timeless countertop might be helpful to you!
My Kitchen Details
If you are looking for any details on my kitchen, you can browse the articles below.
My granite is called Silver Grey Honed. You can find many other grey/black granites that are modern in this post.
If you're looking for decor or hardware sources, you can shop my kitchen sources below.

Stay Connected
I hope you found this article on the pros and cons of granite countertops helpful!
Thanks for stopping by the blog today! Make sure to subscribe to get my Grace Notes directly to your inbox and to access all my insider perks. You can also follow along daily on Instagram and weekly on YouTube!
~Sarah