The Pros and Cons of a White Kitchen with a Dark Island
A white kitchen with a dark island can create a stunning contrast and add depth to your space. But is this design choice right for you?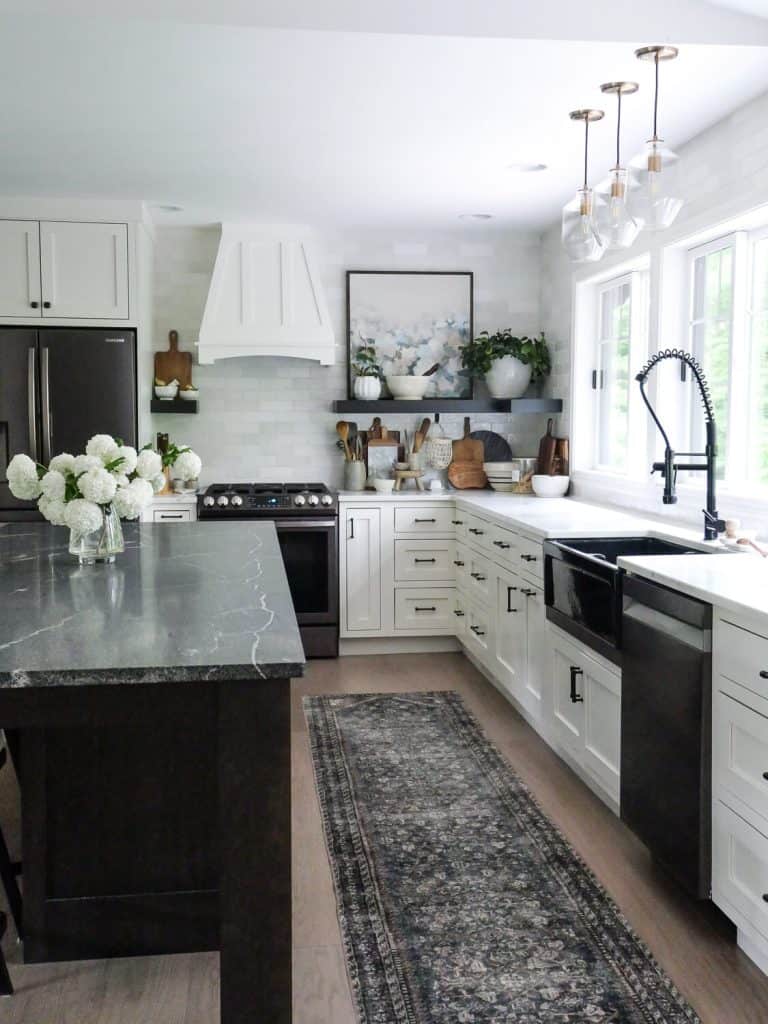 Post may contain affiliate links for your convenience.
In this blog post, we'll explore the pros and cons of a white kitchen with a dark island, including the impact on resale value, maintenance considerations, and the overall aesthetic of your kitchen. By the end of this post, you'll have a clear understanding of whether a dark island in your white kitchen is the right choice for your home.
The Pros and Cons of a White Kitchen with a Dark Island
Are you on the hunt for a kitchen design that's both modern and functional?
Look no further than a white kitchen with a dark island. This choice can add depth and contrast to your space, creating a stunning overall aesthetic.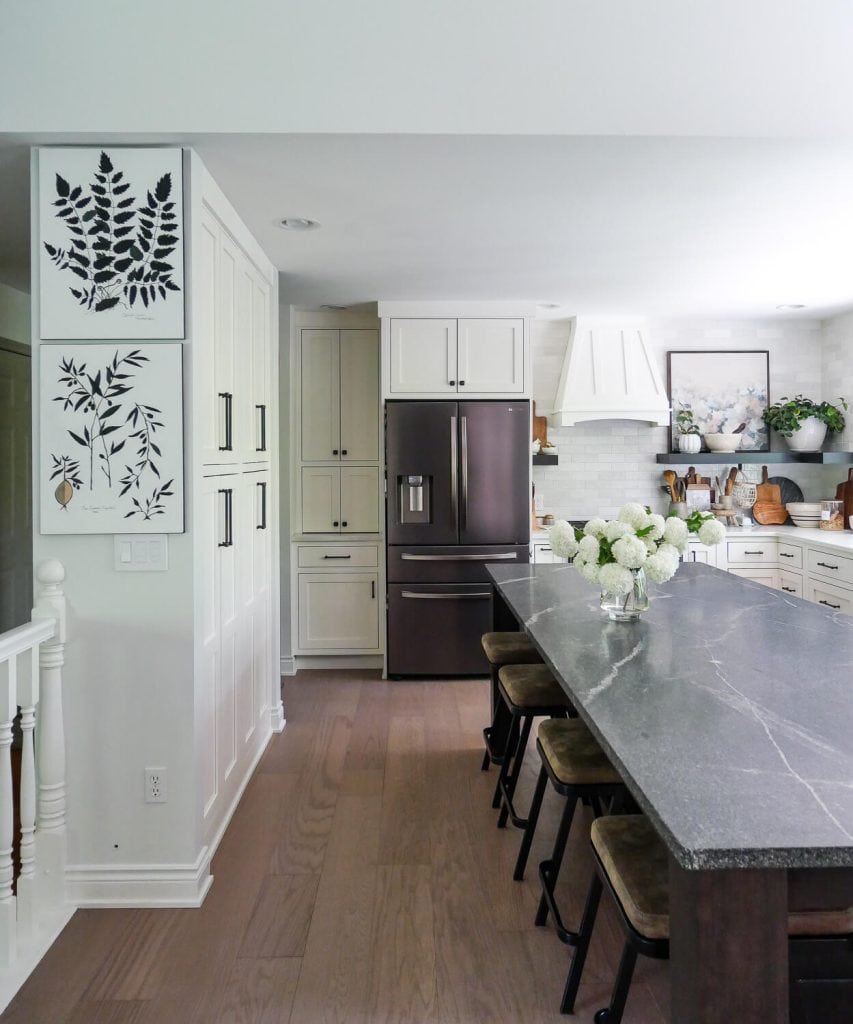 But before diving in headfirst, it's essential to consider both the pros and cons of this particular design.
Pros of a White Kitchen with A Dark Island
1. Stunning Contrast
One of the biggest pros of a white kitchen with a dark island is the stunning contrast it provides.
The stark difference between the two colors can create an eye-catching focal point in your kitchen. This contrast can also add depth and dimension to the overall look of your space, making it seem larger and more open.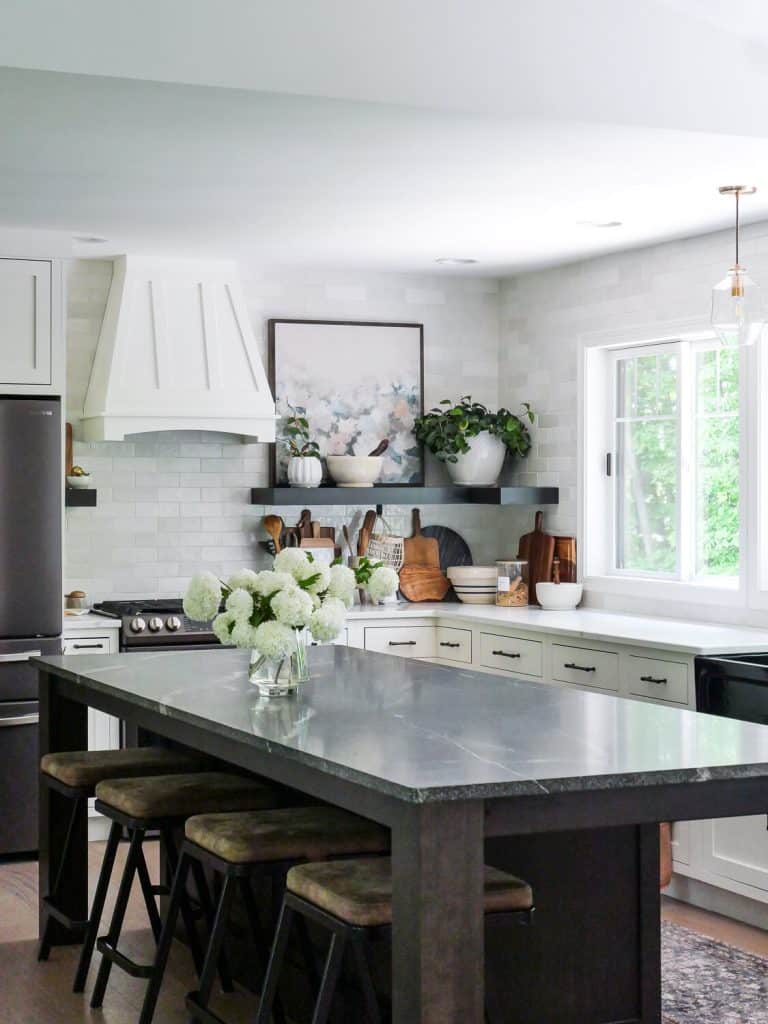 Additionally, the contrast between the colors allows for more creative freedom in your design choices.
Overall, the stunning contrast created by this look can add sophistication and style to your home. If you're looking for a way to make a statement with your kitchen design, this could be the perfect option for you.
2. Versatile Aesthetic
The versatility of a white kitchen with a dark island is one of its greatest strengths.
Not only does it provide a stunning contrast that adds sophistication and style to your home, but it also allows for a wide range of design choices.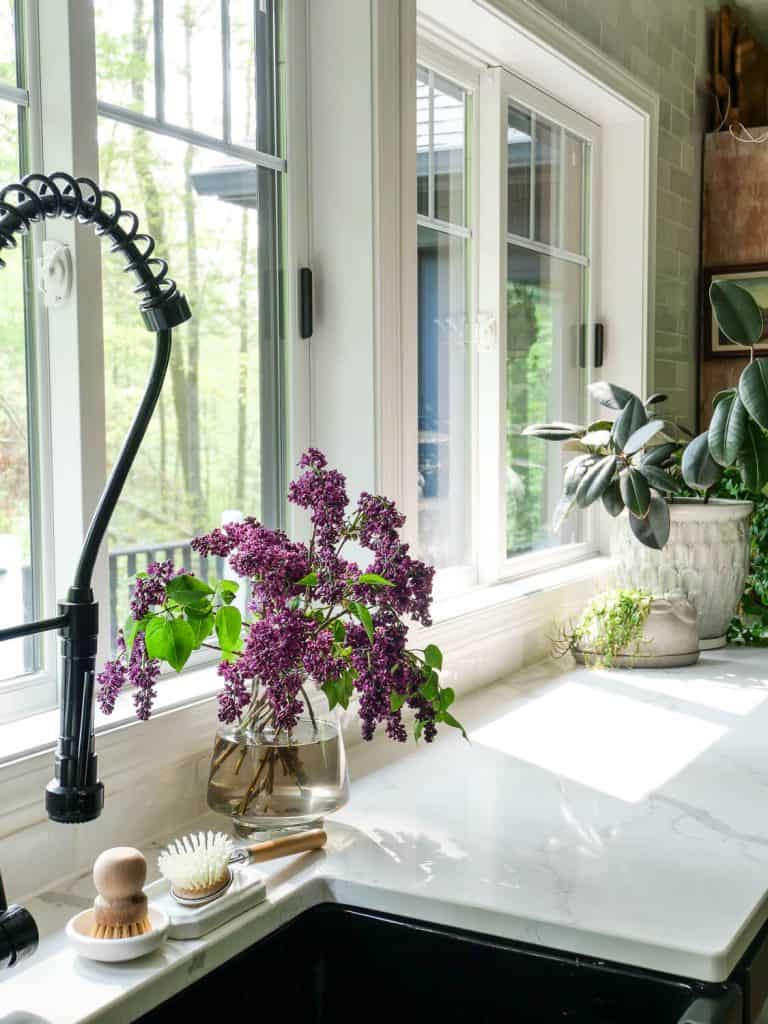 The white background creates a blank canvas that you can customize with pops of color or stick to a neutral color scheme, utilizing the dark island as the focal point. The options are endless, making it easy to create a bold and unique aesthetic that fits your personal style.
3. Ease of Upgrade
Another consideration is the ease of upgrades.
If you're someone who likes to switch up the look of your home frequently, a white kitchen can be a great option as the foundation of a neutral kitchen.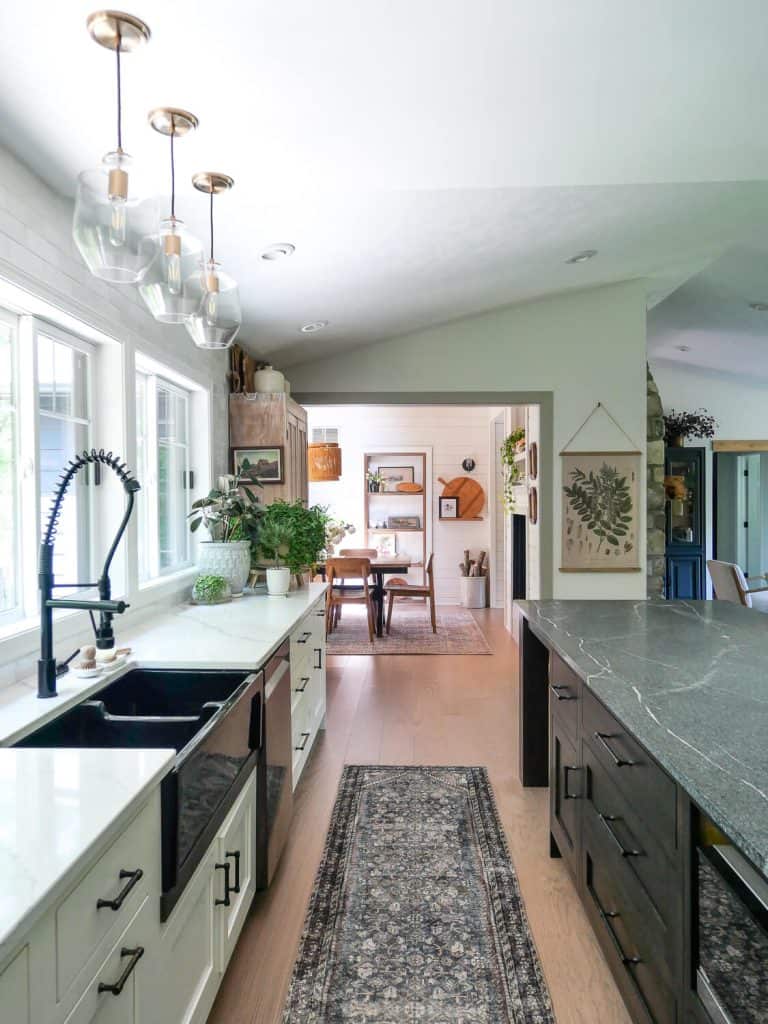 Using white as the main cabinet color, and adding a dark island, keeps the kitchen fairly neutral so that any style changes you want to make are easy to swap in and out. This allows you to skip the step of updating all of the kitchen cabinets to fit your new look.
However, as with any design choice, there are potential drawbacks to consider. This style may not be for everyone. Let's take a look as some possible cons.
Cons to a White Kitchen With a Dark Island
1. Potential Decrease in Resale Value
As much as a white kitchen with a dark island can be a stunning design choice, it may not be everyone's cup of tea.
In fact, some homebuyers may not find it as appealing as a traditional all-white kitchen or a kitchen with a pop of color. This could potentially decrease the resale value of your home, especially if the majority of prospective buyers are not attracted to the aesthetic.
Dark islands are often most appealing to buyers who love more traditional, transitional, modern or masculine aesthetics. However, with the right styling, a dark island can fit well with many design styles.
It's important to keep in mind that while design choices should reflect your personal taste, they should also take into consideration the potential impact on the value of your home.
2. Maintenance Considerations
While the contrast of light and dark can undoubtedly add an elegant and sophisticated touch to your kitchen, it's worth considering the maintenance requirements that come with this design choice.
The white surfaces in the kitchen, especially the cabinets and countertops, can be more susceptible to stains and scratches, which can be difficult to clean and repair.
On the other hand, a dark-colored island can conceal dirt and stains, but show more smudges and fingerprints.
If you're considering a two-tone kitchen, it's important to keep the upkeep in mind. You may need to invest in high-quality cleaning products and be diligent in wiping down surfaces after every use to avoid lasting stains.
Additionally, if you have young children or pets, the white surfaces may not be the most practical choice.
At the end of the day, any kitchen of any color must be cleaned. Therefore, this con is less about clean-ability and more about the frequency with which you may need to do deep cleaning of your kitchen cabinets.
Two Tone Kitchen: FAQs
Should A Kitchen Island Be Darker Than Cabinets?
Often times when you think of two tone kitchens, you visualize upper cabinets being light and lower cabinets being dark. But, what about the island?
Traditionally, a dark island makes the most sense if you are planning on having a light perimeter. Creating this contrast is important for that visual impact most people are seeking.
Adding a darker island can be accomplished a few ways:
Dark wood tones
Dark paint colors (most common: black, dark grey, green, navy)
A darker shade of the same perimeter color for a more subtle contrast
Should the Island Be Lighter or Darker Than the Floor?
This question is loaded!
As with any design, you have to take into consideration more than just the room you're working on.
Especially with flooring.
If your kitchen has its own flooring that does not extend into other rooms of the home, then you can be more creative in island coloring if needed. Perhaps you design the island you want and then add new flooring to accommodate the new design.
However, if your kitchen flooring flows into other areas of the home, you will want to design around it, unless you plan to update all the flooring at once.
When we updated the flooring on our main level, we took the opportunity to also extend our kitchen island. Since we were already changing the island, we also decided to change the color to a darker island for a more transitional look.
My preference is lighter floors in general. Therefore, I prefer to have an island that is darker than the floors. However, dark floors can be just as beautiful and you can create some stunning contrast with an island that is a couple of shades lighter.

The more important element to consider is matching the undertones of both woods (if your island is wood and not painted.) Two competing wood tones can look odd, so rather than focusing on light v. dark, make sure your wood tones match.
You can learn more about wood undertones in this post.
More Kitchen Design Ideas
In conclusion, while a white kitchen with a dark island can be a stunning design choice, it's essential to weigh the potential maintenance considerations before committing to this style.
With proper care and upkeep, this option can be a beautiful addition to your home and add significant flexibility to your design aesthetic.
Ultimately, whether two tone kitchen cabinets are the right choice for your home depends on your priorities. While the stunning contrast and versatile aesthetic can be a major draw, the potential decrease in resale value and maintenance considerations may give you pause.
It's important to weigh these factors carefully before making a decision. As you move forward with your kitchen design, remember that every choice you make can impact the overall look and feel of your space. So take your time, do your research, and don't be afraid to experiment.
If you're looking for more details on my own custom kitchen remodel, check out the articles below.
Thanks for stopping by the blog today! Make sure to subscribe to get my Grace Notes directly to your inbox and to access all my insider perks. You can also follow along daily on Instagram and weekly on YouTube!
~Sarah