Pros & Cons of Quartz v. Granite Countertops with Cost Comparison in 2023
Let's take a deep dive into the pros and cons of quartz v. granite countertops. We have both types of countertop in our kitchen and much experience with the recent spike in cost of building materials. So today, I'll cover current cost comparison, durability, style, and more!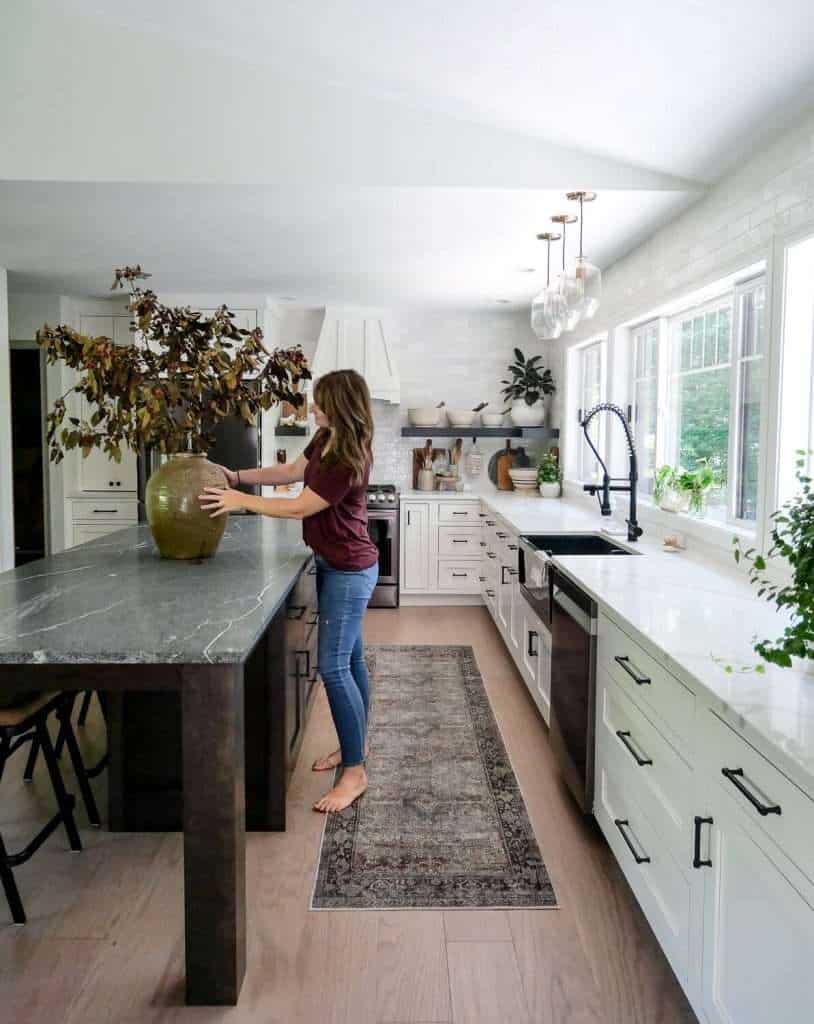 This post may contain affiliate links for your convenience.
Our Kitchen Remodel Details
As you can see, we have both granite and quartz worktops in our kitchen.
Our kitchen remodel spans four years of DIYing, remodeling, and tweaking the design. It's been an interesting journey to say the least.
You can learn more about our kitchen renovations via the video above, or check out these posts below.
With that, let's get into the pros and cons that we've found from much research and experience having both granite and quartz countertops in several homes.
What are the pros and cons of granite vs quartz?
There are many pros and cons of granite and quartz. Each kitchen countertop material comes with its own set of positives and negatives.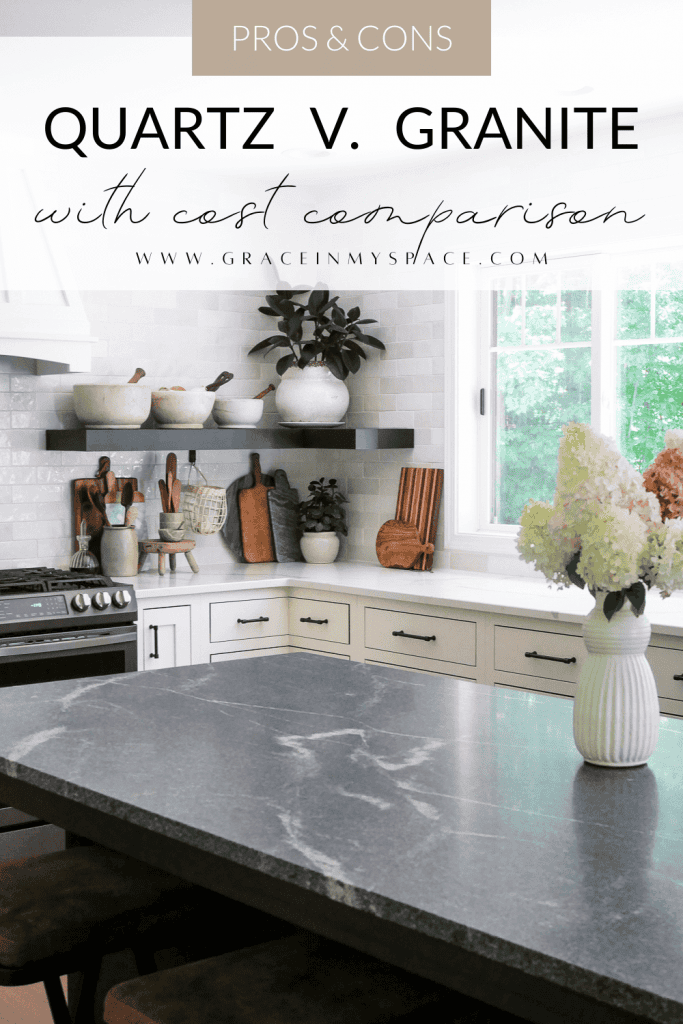 Butcher block, marble, soapstone, laminate, quartzite, and concrete countertops are all frequently used materials for a kitchen counter. However, quartz and granite stand out as the most popular options.
So let's break down quartz v granite into a very black and white list of pros and cons.
Quartz Countertops
Let's start with quartz countertops. Quartz is a very popular kitchen countertop option for many reasons.
What are the Pros of Quartz Countertops?
The pros of quartz countertops are:
Extremely durable, scratch and chip resistant
Non porous and highly resistant to stains
A large selection of colors and styles are available
One of the lowest maintenance options out there
Easier to repair than many other options
Uniform in design and can be manufactured to match veining on seams
Many options to mimic the look of other natural stones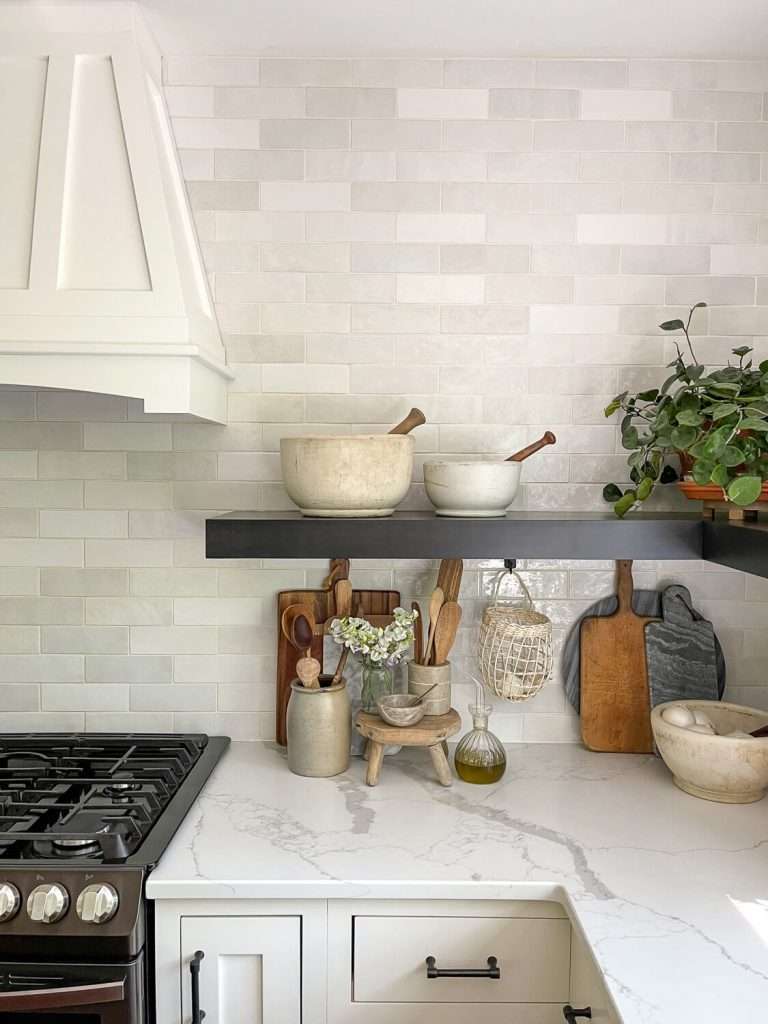 What are the negatives of quartz countertops?
While there are many pros to quartz, there are also some cons. The negatives of quartz countertops are:
Excessive heat can cause damage to quartz countertops
Quartz price ranges significantly based on location, manufacturer and design
A manufactured product, therefore loses the look of natural stone
Indoor use only (so don't consider it for your outdoor kitchens!)
WANT TO LEARN MORE?
15 Quartz Options that Look Like Marble
When I designed our kitchen, I wanted the look of marble without the maintenance. Learn more about the quartz we chose and 14 other options to get the look!
Granite Countertops
Now, let's get a straight forward list of pros and cons of granite.
What are the Pros of Granite Countertops?
Granite is an excellent natural stone that has been used in kitchens for a very long time. Here are the positive attributes of granite countertops.
Very durable and resistant to chips and scratches
A natural stone with unique movement, veining and colors
Extremely heat and stain resistant
On the more affordable side for natural stone countertops
Each slab is unique
Many different types of granite are available to choose from to get the look you want for your design
Will last forever if well cared for
Can be used outdoors
What are the Cons of Granite?
While granite is an excellent countertop choice, there are some cons to consider.
Granite must be regularly sealed to maintain the stain resistance and keep bacteria from collecting in the stone
Granite is difficult to damage, but if it does get damaged it is difficult to repair
Each slab is unique (arguably a pro), but that means that there are limited choices if you fall in love with a specific look
LEARN MORE
Want the Look of Soapstone?
When we updated our kitchen island, I knew I wanted the look of soapstone. But I didn't want the maintenance. See how I got the look with granite!
Is it better to get granite or quartz countertops?
As you can see, the pros and cons of quartz v granite countertops are very comparable.
It isn't difficult to see why many people have a hard time choosing between the two options.

Both granite and quartz are durable, beautiful and relatively easy to care for.
Neither of them have cons that are insurmountable or overly burdensome.
I've personally loved our quartz countertops because they are basically indestructible to kids. They hold up to grape juice, matchbox cars, and even permanent marker. (We've learned the lesson…)
On the other hand, we chose to replace the quartz island top with granite countertops after we extended the island in our mini remodel. That wasn't because we were unhappy with the quartz. Rather, it was because I fell in love with the look (and cost) of a granite slab I stumbled upon in the stone yard.
So, let's talk price.
Quartz v Granite Countertops Cost Comparison
A quartz v granite countertops cost comparison is difficult to offer in a neat little package.
As with most materials, prices vary greatly based on location, supply and demand, and stylistic options.
There are many granites that cost more than quartz. Conversely, there are many quartz options that cost more than some granites. Each individual type of granite or quartz will fall into a different pricing block.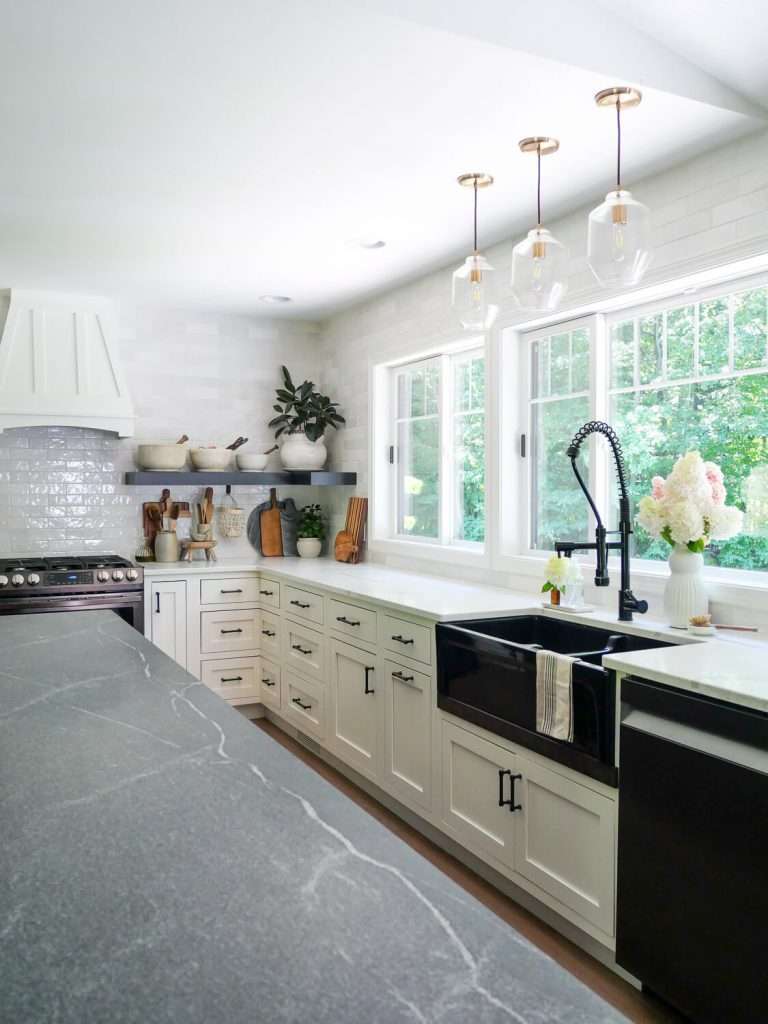 On average, granite costs from $80-$180 per square foot. Quartz can vary from $50-$200 per square foot. Both of these prices include installation.
The specific cost you will incur when replacing or adding kitchen countertops will depend on:
The specific slab or design you choose
Your square footage and any installation challenges
Any edge detailing or sink customizations you require
Your geographic location
Your local manufacturer/stone yard/installation fees
Supply and demand/inflation
Which is more expensive granite or quartz?
On average, quartz and granite are very close in price. However, the general industry would say that quartz is traditionally cheaper.
Of course, there are exceptions! My kitchen is a great example of that.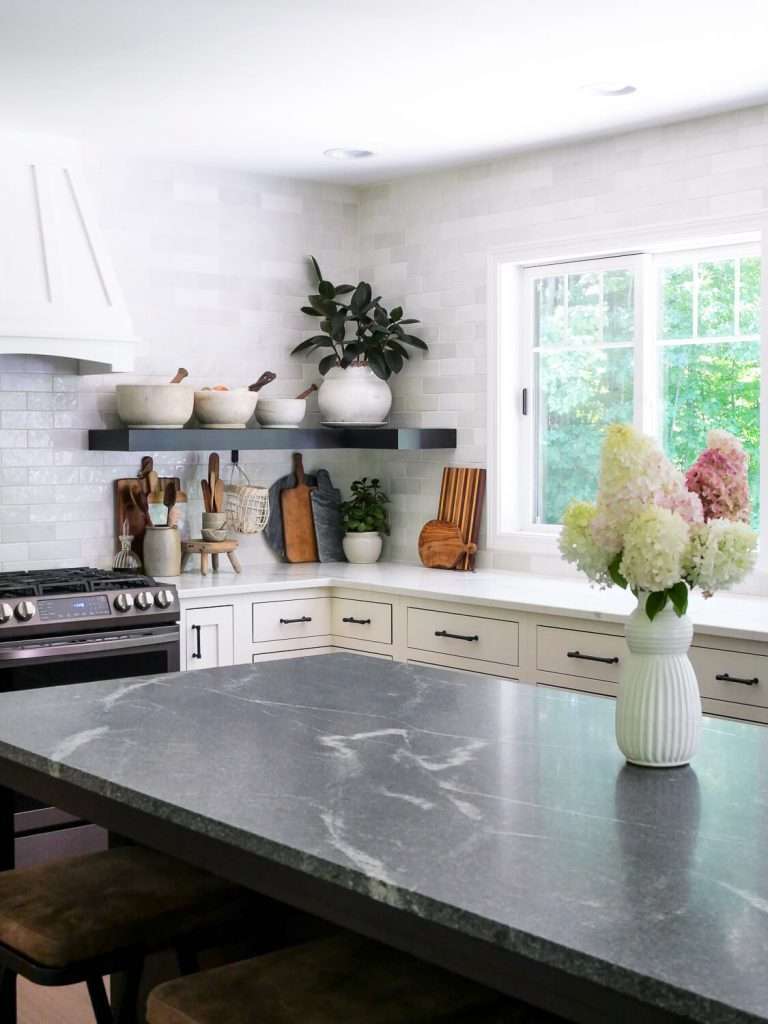 When we extended our kitchen island, I was planning to simply purchase a new longer slab using the same quartz that we have on the perimeter. Until I saw that the price had jumped significantly!
For the same size slab, the granite I ended up choosing was $1,000 cheaper than the quartz we had before.
Thankfully, I fell in love with the movement of the granite slab and wasn't stuck on using the same countertop we had previously.
For reference, our kitchen countertops are:
Perimeter White Quartz: Statuario Roma
Island Granite: Silver Grey Honed
I've been very happy with both quartz and granite countertops and find that they are very similar in general durability for an average family.
Quartz v granite countertops: Which Is Best for You?
So, which option is best for you? My best advice is to go into your local stone yard and look at the slabs available for both countertop options.
You may fall in love with a slab right then and there. The next step is to get a personalized quote for your project for your top 3 favorite countertop options.
Having information that is personalized for your situation will go a long way in making a wise choice for your kitchen remodel.
You'll Also Enjoy…
Thanks so much for stopping by the blog today! I hope this article on the pros and cons of quartz v granite countertops was helpful to you in making an informed decision!
You might also find these articles helpful in your kitchen remodel journey!
Make sure to subscribe to get my Grace Notes directly to your inbox and to access all my insider perks. You can also follow along daily on Instagram and weekly on YouTube!
~Sarah