15 Creative Ways for How to Use Potpourri 
Learning how to use potpourri is so simple! While I love the cozy glow of a burning candle, I'm not a huge fan of burning them all day just for scent. My simple solution to keeping my home smelling fresh 24/7: potpourri.
Learn 15 creative ways to use potpourri, plus a complete beginner's guide answering all your FAQs.
This post may contain affiliate links for your convenience.
how to make potpourri
If you've never made potpourri before, it is a very simple process.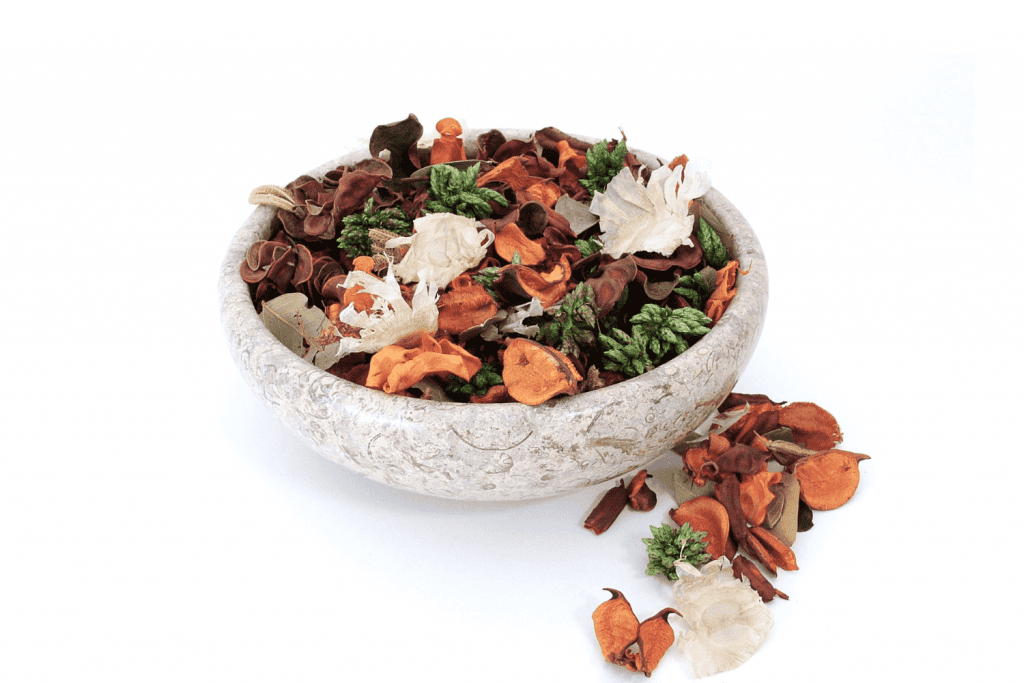 Of course, you can also purchase potpourri from many sources if you don't want to make your own. Here are a few favorites.

DIY Potpourri
If you'd like to try your hand at homemade potpourri, here are the simple steps.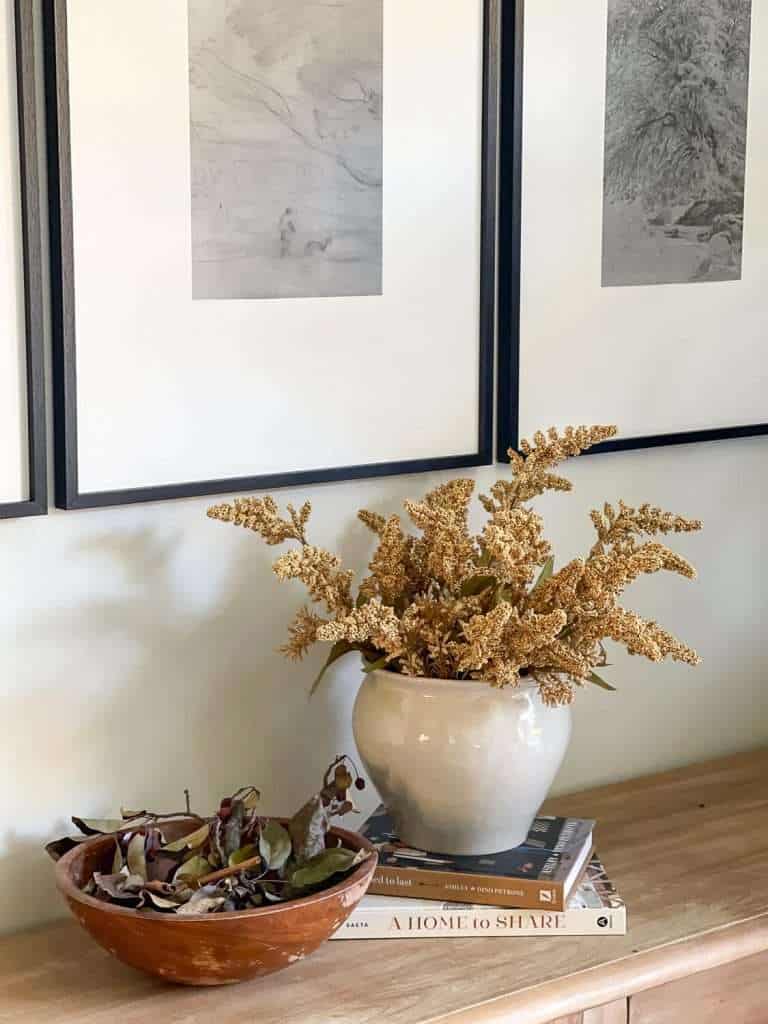 Choose what scents you want to incorporate. Certain smells complement each other best and bring about a seasonal atmosphere. Here are a few ideas to start your brainstorming:

Summer: citrus, fresh herbs, lavender
Fall: cinnamon, clove, apple
Winter: pine, cranberry, cinnamon
Spring: florals, rose, eucalyptus

Then, dry the items you want to include in your potpourri. This article is a great resource for additives you may want to include.
Add all of your dried ingredients to a bowl and mix in 8-10 drops of your choice of essential oil. Pair this scent with the natural scents already in your bowl as the essential oil will be the most powerful scent in your mixture. You want them to complement each other.
Stir well and place on display, or add them to sachets and store around your house.
Stir or shake the contents once a week to refresh the smell!
stovetop potpourri
Another type of potpourri is a simmer pot.
This stove top air freshener is more of a one-time use potpourri, but you can sometimes pull two days out of it.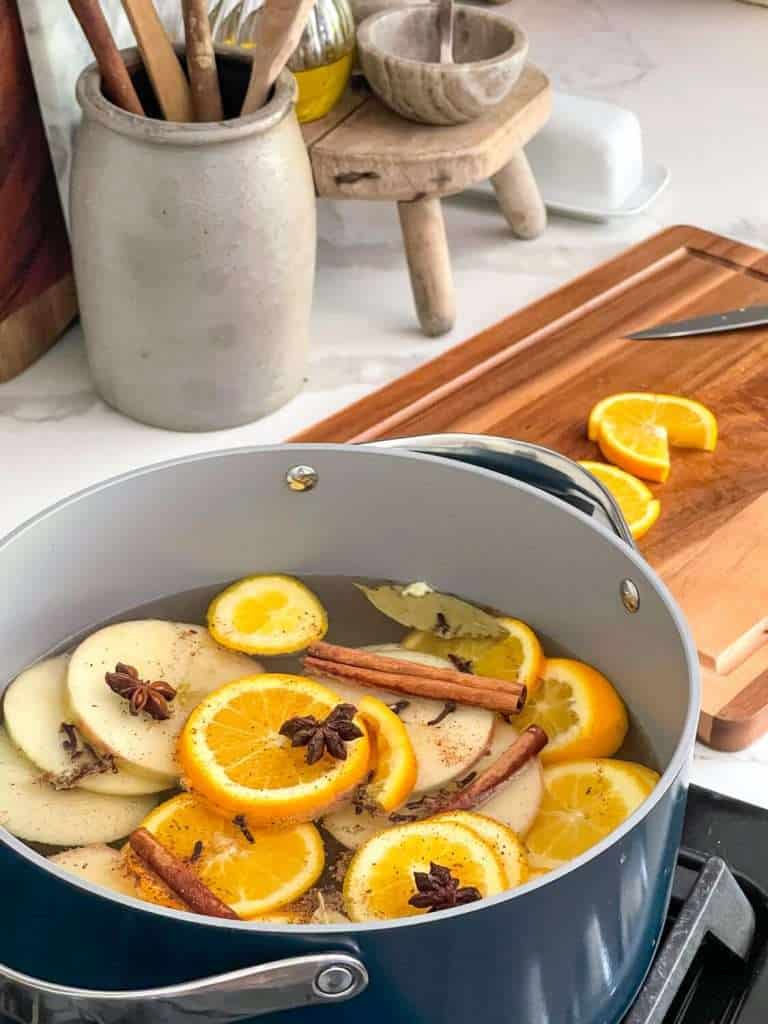 It is best done when you have fruit or other scraps that you'd rather use than throw away.
You can grab my favorite simmer pot recipe in this article, which also offers a potpourri crock pot option.
how to use potpourri
The best potpourri for use around the house is dried. So, while I love my simmer pots, the majority of the uses for potpourri will reflect a dried potpourri option.
Here are 15 ways for how to use potpourri that think outside the box!
Simmer pot on the stove
Air freshener in a car
Linen closet (or tucked into blanket storage) to keep bedding and towels fresh

Dresser drawers to avoid mustiness
Pantry to combat food smells
Bathroom…you know why
Sports Bag
Tied to doorknobs in bedrooms (the motion of opening and shutting the door will release a fresh smell)
As decor on a coffee or console table
Musty storage rooms
Keep suitcases smelling good when not in use
At the entryway as a first scent for guests
Given out as party favors or a thank you gift
Teacher gifts
As part of a wellness/self care gift basket for your loved one
Alternative options for infusing scent in your home
If you'd rather create your own scents in your home that you can see an immediate impact from, consider these additional options.
Diffuse Essential Oils
Diffusing essential oils is a great way to customize the scents in your home. Simply choose your favorites and turn on your diffuser.
Shop Diffusers and Wax Warmers
Wax Warmers
Another alternative is wax potpourri. Wax warmers release scent as the wax melts, similar to a candle, but without the flame.
You'll Also Enjoy…
I hope this post gives you some fresh ideas for how to use potpourri in your home and as a gift!
I love that this option is a set and forget to keep your home smelling fresh for weeks. Plus, it's all natural and doesn't emit harmful chemicals*.
(*When making your own. If you purchase, make sure to read the ingredients for preservatives and more.)
Make sure to head next to these articles I hope you'll also enjoy!
Make sure to subscribe to get my Grace Notes directly to your inbox and to access all my insider perks. You can also follow along daily on Instagram and weekly on YouTube!
~Sarah