DIY Minimalist Wall Art | Organic Modern Home Decor
Organic modern artwork is casual, yet sophisticated. It often has a lot of movement and a more handmade appearance. However, it can be very expensive to buy, so why not make your own? Make this DIY wall art with my FREE printable artwork! You'll easily create an organic modern home that is casually sophisticated in two steps.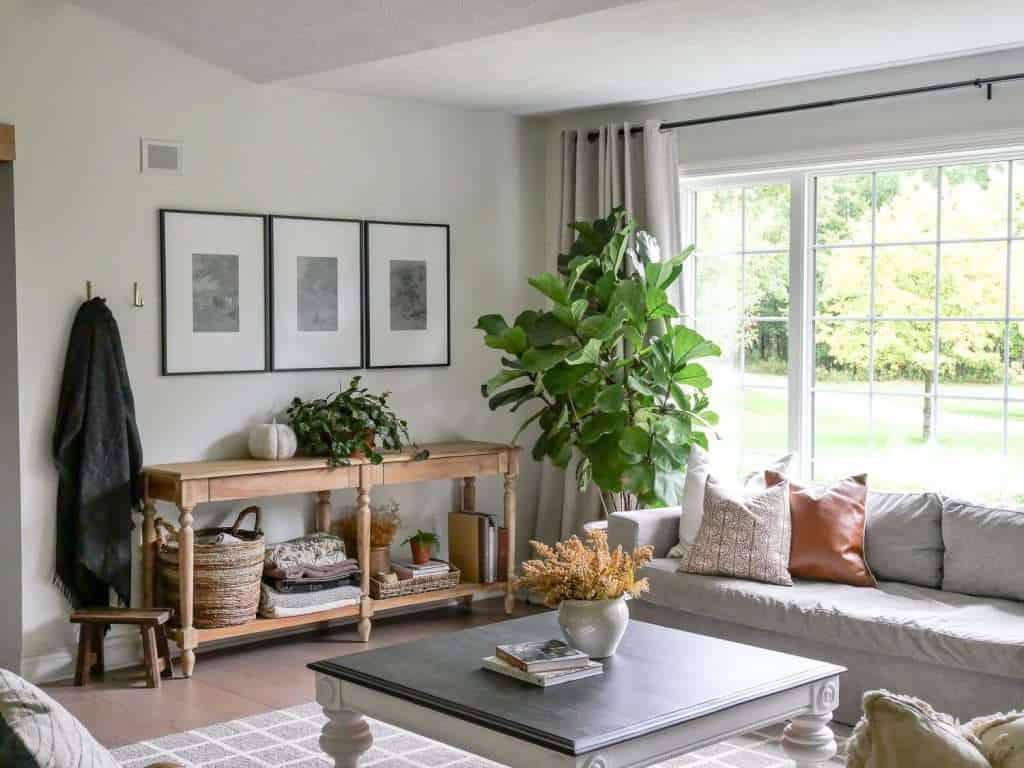 This post may contain affiliate links for your convenience.
Organic Modern Home Styling
Organic modern home styling is the current interior design style I'm going for in my home. It's casual, yet sophisticated. Inviting, yet polished. I've written several blog posts detailing everything you need to know about this style if you'd like to learn more!
What is Organic Modern STyle?
Organic modern design is a beautiful combination of two opposing design styles.
On the one hand, we have modern design. This is typically classified by clean lines, smooth textures, and a neutral and bright color palette.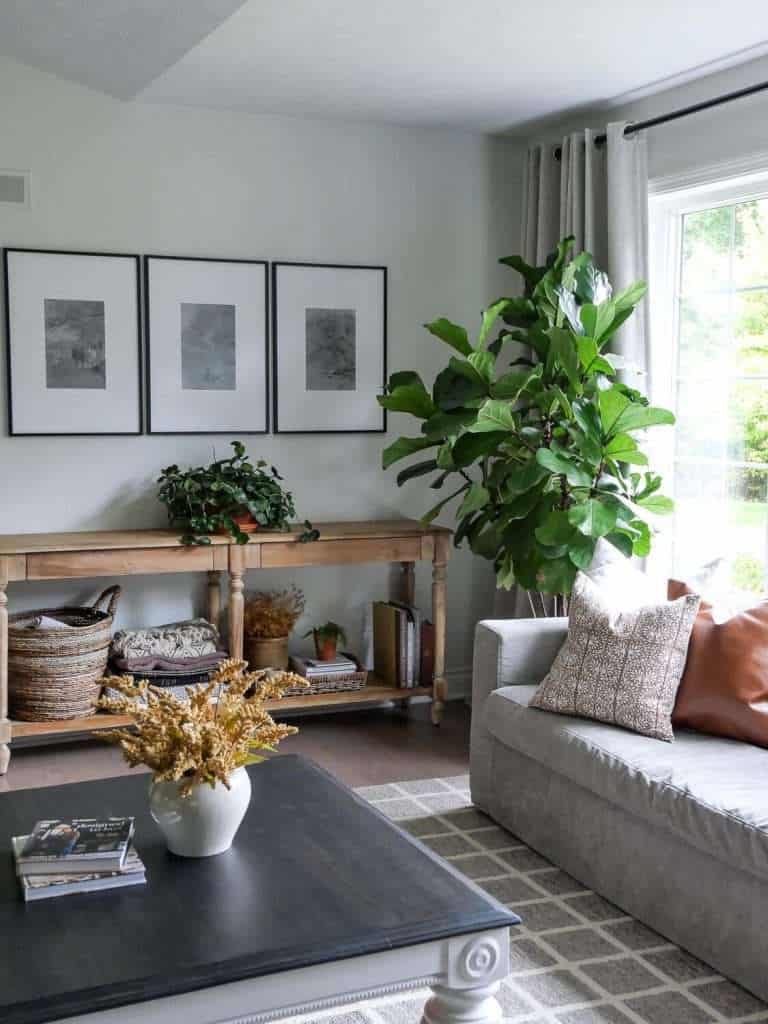 On the other hand, we have organic design. Organic elements are classified by materials that originate in nature. Natural stone, wood materials, leather, and natural fabrics like linen and cotton, can all be included as organic materials.
The beauty of organic modern interior design is that it combines these two opposing styles to create a modern home that is unpretentious, laid back and cozy.
Learn more specifics in each of these posts:
A part of creating this style home includes incorporating statement pieces, like this DIY wall art!
I'm excited to share how to make your own DIY minimalist wall art with my free prints.
Make sure to save this post for later to Pinterest so you can make them as your next project.
diy minimalist wall art
As I searched for the perfect wall art to go in our living room, I found tons of beautiful options that fit an organic modern home design.
However, they also were extremely expensive.

I'm extremely drawn to charcoals and sketches. There is just something about the movement of the lines and the intricate details that make me appreciate this type of art.
This style also fits very well in an organic modern home because it can easily communicate an air of sophistication while keeping the organic elements of a simple sketch.
So, since I wasn't prepared to pay $600 for one framed art piece, I started to search for my own way to make DIY wall art.
This is perhaps the simplest of my DIY tutorials as all you'll need are two quick steps!
How to Make A DIY Wall Art Gallery
Step 1: Grab your downloadable art
Now, you can purchase art downloads from many different shops on Etsy for only a few dollars each. I've done this many times throughout my home.
A couple of my favorite print shops are:
Or, to get my exact artwork, I'm excited to offer you these three free downloads when you become a member of the Grace In My Space community.
Simply sign up to receive Grace Notes, where I share all of my newest articles, exclusive coupon codes and faith encouragement. Then, you'll receive an email with your free download!
Once you've downloaded your artwork, you have a couple of options for step 2.
Step 2: Print Your Organic Modern Art
Once you have your chosen artwork it's time to print it.
To get the exact look that I have in my living room, you can print your downloads using this frame trio with oversized mats.
This site prints your downloads directly onto thick paper, which includes the mat to your specifications. However, note that there is no glass on the frame and the frame is not reusable.
What you see is a beautiful lightweight art gallery that comes ready to hang with magnetic frames.
Considering the fact that this set comes with three oversized frames, large mats and prints your artwork directly for you, I say it's a steal and the easiest option out there.
On the other hand, you can also print your downloadable artwork yourself! My favorite places to print downloadable art are:
Walmart Photo
Walgreens Photo
Pro Prints Lab
Nations Photo Lab
Once you have your physical prints, you just need to add them to a frame.

If you want to frame your printed downloads on your own, here are some additional framing options!
And that's all there is to it!
Find organic modern prints you love.
Print and frame in oversized frames.
You'll Also Enjoy…
Thanks so much for stopping by the blog today! If you like to make your own home decor, make sure to check out these posts next.
You can check out all of the different DIY home decor projects I've done in the past here!
Make sure to subscribe to get my Grace Notes directly to your inbox and to access all my insider perks. You can also follow along daily on Instagram and weekly on YouTube!
~Sarah