How to Make Decorative Wood Links on a Budget
Decorative wood links are a great accent piece to add to your home decor. They have become very popular over the last few years. I, personally, love the look and wondered if I could make my own decorative chain link. Turns out, you can! Learn how to make these wooden chains for less than $10 and in one day!
Post may contain affiliate links where I earn a small commission on your purchases at no additional cost to you.
This post sponsored with thanks to Krazy Glue.
Wood Links Decor Popularity
Decorative wood links have gained in popularity as a pretty accent for coffee tables, buffets and mantel decor. I have seen many different types of wood chain link decor ranging from oversized to miniature. Oversized wood chain link generally only has three links, whereas the smaller varieties have many.
You can purchase these pre-made ranging from $100 to $20 depending on the size and quality.
For the smallerdecorative chain link, I think that $20 is pretty reasonable. However, I wondered if I could make them even cheaper and came up with a simple DIY gift idea!
DIY Wood Links
With this easy tutorial, you have a lot of flexibility in how your wooden chain turns out in the end. I chose to use this multi-pack of wooden rings.
This offers multiple sizes so you can make anywhere from one super long decorative chain link, to 4-5 smaller chain links. All for $10!
Here's the process!
DIY Wood Links Material List
Krazy Glue All Purpose Glue (New packaging, same amazing strength!)
Hand Saw
Wood Filler (make sure it's stainable if you want to stain your wood links)
Sand paper
Stain or paint color of choice
How to Make Decorative Wooden Chains
First, decide how you want to arrange your wood rings and how long you want it to be.
You can choose to use all the same size ring or a variety, like I did. You can also decide how long you want it to be. The shorter you make it, the more chains you can get from one package if you are making them as gifts.
Next, use a hand saw and cut every other link with one slice. This allows you to maneuver the rings onto each other to connect them for the wood links chain.
I found the largest rings were easiest to cut. I cut each halfway with a hand saw and then used my hands to snap it the rest of the way.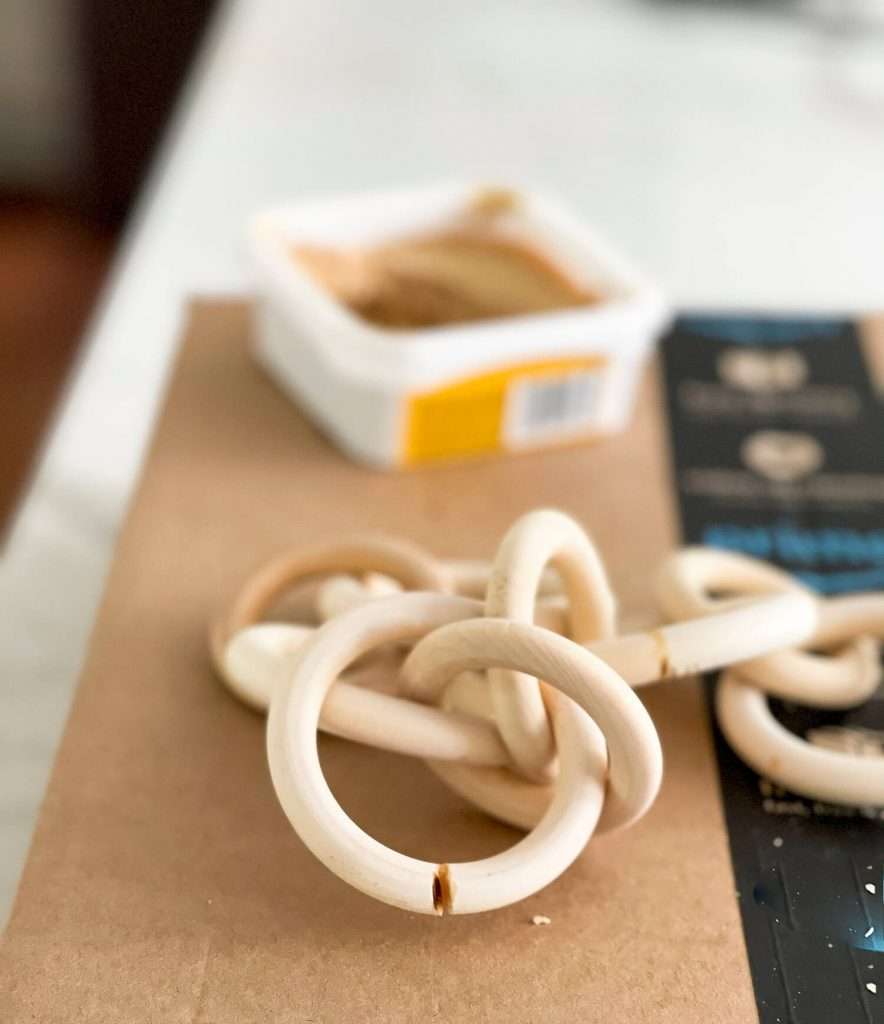 Since you only have to cut every other one, I only cut the large rings and then placed two smaller rings on each side.
Add as many rings as you want to create your wood links to the desired length.
Then, use Krazy Glue All Purpose Glue to glue the rings back together.
I chose Krazy Glue All Purpose Glue because it starts to cure in 10 seconds and has a super strong bond. Krazy Glue has some new fun packaging, but it is still the same reliable strength glue I've always loved.
I applied a small amount of Krazy Glue to each cut ring and then clamped it together for a couple of hours to fully dry.
After the Krazy Glue is fully dry, use wood filler to fill in the gap that the hand saw blade leaves. Once the wood filler is dry, sand the entire surface smooth.
This project is very versatile for the final color outcome.
You can choose to stain, paint or leave them natural!
Staining v. Painting Wood Links
If you choose to stain your wood links, make sure you've used a stainable wood filler. Otherwise the gap will be noticeable.
I love the look of stained wood links, but for the upcoming colder months I thought that black would be a nice option. The next time I make these, I might try a black stain! But for this project I did ultra matte black spray paint and love how they turned out.
I simply hung my chain from a hanger in a tree for easiest painting accessibility.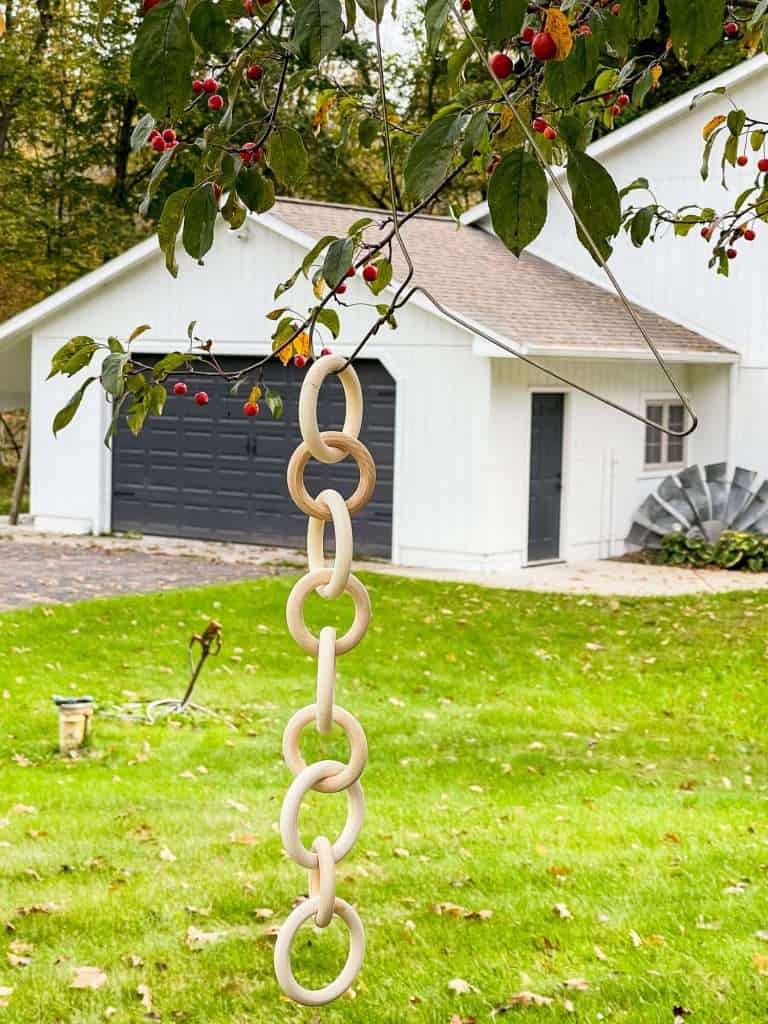 Decorative Chain Link Accent
This decorative chain link is so easy to make and super customizable!
They are a perfect coffee table decor accent and a great gift idea!
I know that using Krazy Glue All Purpose Glue to glue all the rings back together will give it a long-term durable bond without a mess.
And the best part is, you could make 4-5 chain links as gifts for the same $10 price plus a few dollars for Krazy Glue and whatever paint or stain you might have on hand!
So rather than paying $20-$25 per chain, you can make 4-5 chains for around $15!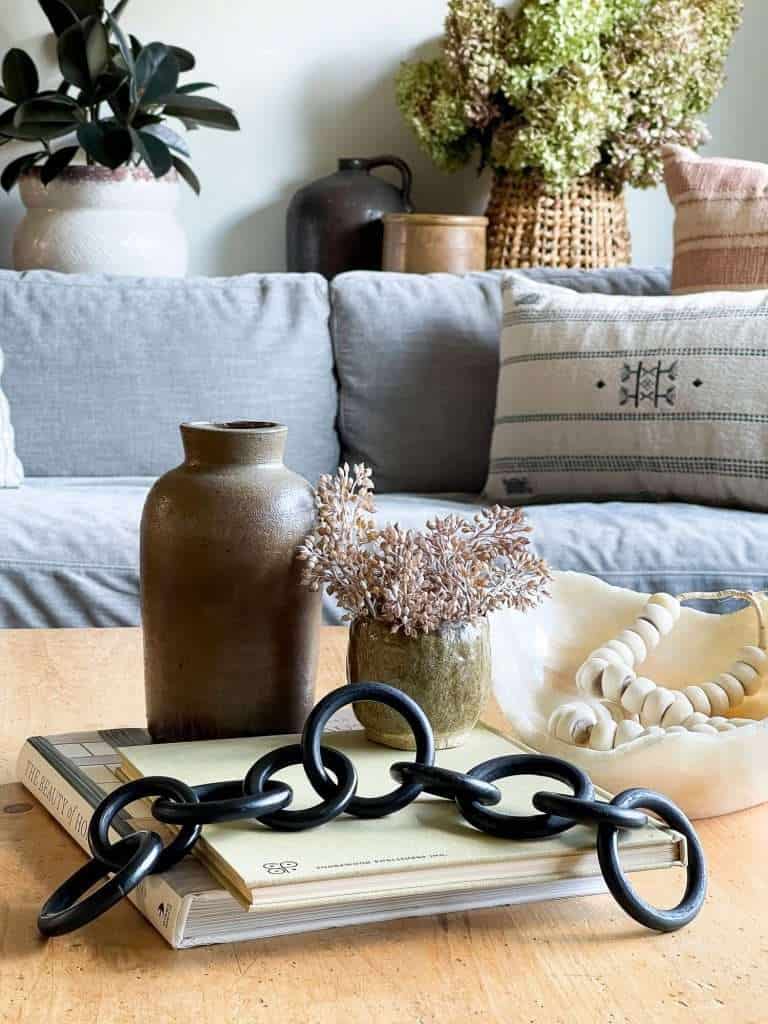 Stay Connected
Thanks so much for stopping by the blog today! I hope that this tutorial for how to make your own decorative wood links with Krazy Glue has been helpful!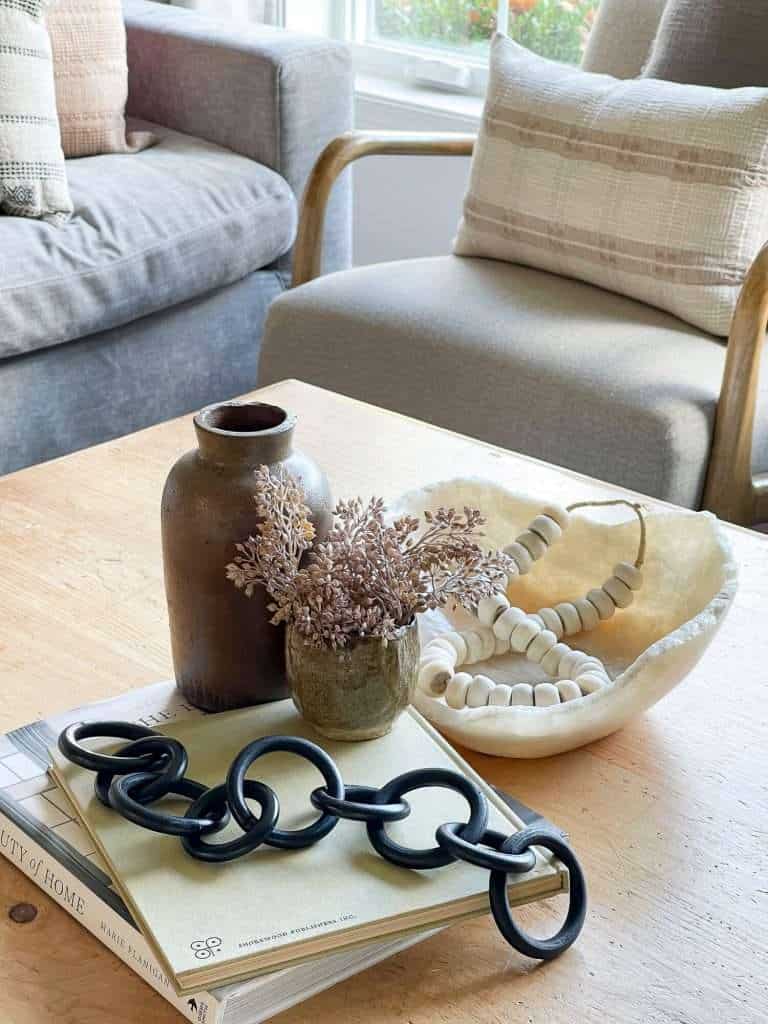 Make sure to check out my DIY archives for more fun DIY projects!
And, you can follow along with me daily on Instagram and weekly on YouTube for real time projects and tutorials!
Make sure to Pin this project for later so you can make your own. Until next time!