A Complete Guide of Our Organic Modern Home Sources
Have you ever wondered about a paint color, project tutorial, or decor source in our home? 5 years of inspiration can be difficult to sort through; so I'm making it easy for you! Enjoy a complete guide to the organic modern home sources from our second home I've shared on Grace In My Space.
This post contains affiliate links for your convenience.
Our Country Home on 38 Acres
Five years of renovating; Our home has seen many different design styles.
This is the progression of design styles I cycled through in five years.
Traditional
Farmhouse
Vintage Farmhouse
Modern Farmhouse
Boho
Mid Century Modern
Organic Modern
Transitional Organic Modern
It took awhile for me to land on a style that suited both my personal tastes, the style of the house, and my family's needs. And now, 5 years later, we are going to do it all over again.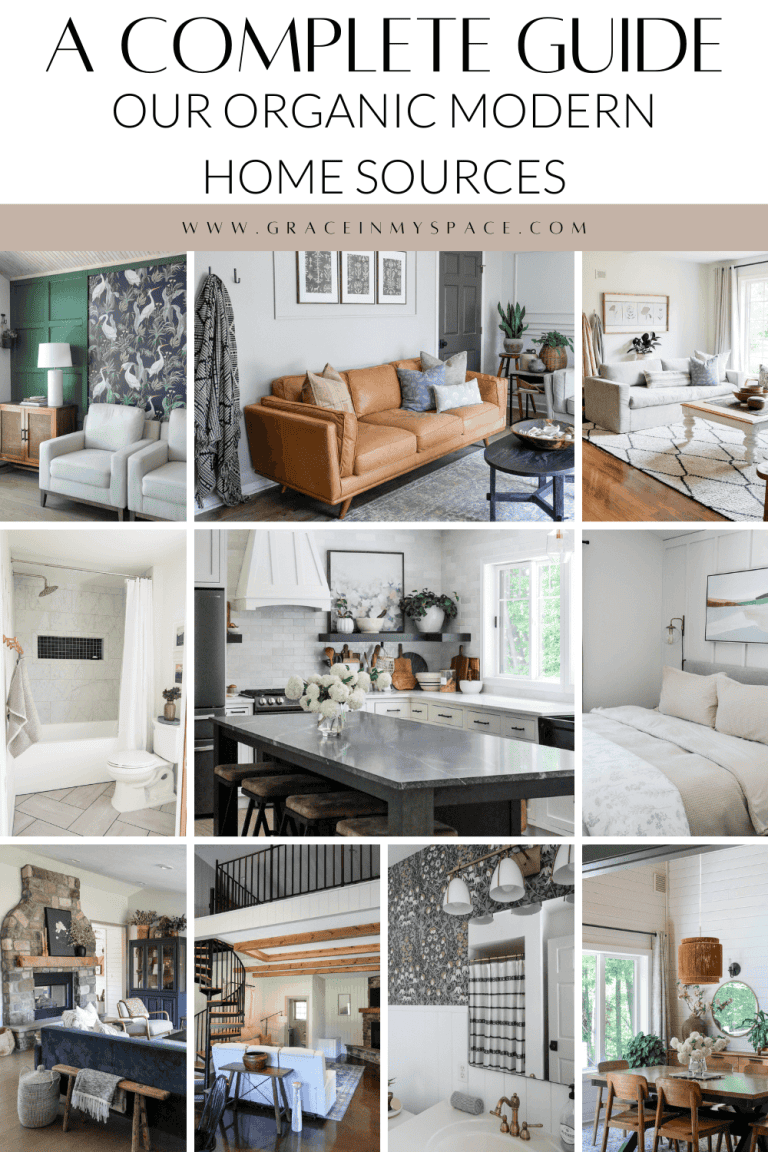 Our home on 38 acres is where Grace In My Space flourished and grew. A lot of my blog's growing years are credited to this home. This home has been in three different magazines, two books, and countless online articles. It is also where I grew significantly in my DIY knowledge, design skills and in my business.
So, as we transition to our next home, I wanted to do a complete source guide, all in one place, for our organic modern home. This guide will be an easy reference point for anything you may have questions for, including:
Paint colors
DIY and remodeling tutorials
Home decor sources
Interior design style guides
I'll be sharing these details by room to make it easy to find what you are looking for! Thank you for following along on the journey of creating this home the last five years. It's been a pleasure and a blessing to create this haven together.
Interior Design Styles In Our Home
As I alluded to above, while our home has ended in a transitional organic modern style, it wasn't always that way! I've you've found my home via posts from the earlier years, you can check out the articles below for my interior design style guides.
Check out this article if you're looking for a clearer definition of what an organic modern home entails.
Organic Modern Living Room & Entryway
Paint Details
TRIM: Benjamin Moore White Dove
WALLS: Magnolia Home Shiplap
Living Room & Entryway Decor Sources
Our living room and entryway decor sources have varied greatly over the years. Below, you'll find links and shoppable images to items that are still available.


Dining Room
Our dining room was easily one of the most transformative remodels of the home.
We took an indoor hot tub room with wet bar and see-through 400 gallon salt water fish tank and turned it into our favorite family gathering space!
Paint Details
WALLS: Magnolia Home Shiplap
Dining Room Decor Sources
Chairs and Buffet: Castlery

Kitchen Guide
Our kitchen has been the number one room for questions, design inspiration, styling and remodeling in our home. This kitchen was an intense labor of love and underwent three different "remodels" to come to what you see today.
Custom Kitchen Remodel
Kitchen Remodel Adjustments
Paint Details
CABINETS: Benjamin Moore White Dove
WALLS: Magnolia Home Shiplap
TRIM: Benjamin Moore White Dove
ISLAND: Maple Wood, Custom Stain
Our organic modern kitchen is likely the most well documented room in our home! Below you will find some of the most commonly asked resources.
Quartz: Roma Statuario from Lakeside Surfaces
Granite: Silver Grey Honed from Lakeside Surfaces
Cabinets, Floating Shelf and Vent Hood: Custom from local company
Tile Backsplash: Bedrosians Cloe White
Sink, Faucet, Cabinet Pulls: Signature Hardware
Appliances: Samsung
Windows: Marvin Infinity
Kitchen Decor Sources
Most of the kitchen items I use on a daily basis are linked for you in my Amazon Storefront! This includes everything from drinking glasses and tupperware to cutting boards and baking tools.

Bedroom Source Guide
Our bedroom makeovers are some of my favorite!
In 2018, I painted our primary bedroom a deep green when the interior design world was in a sea of white. I still credit that beautiful color to making me stand out and helping my blog grow! If you've been here for any length of time, I bet you know which color I'm talking about.
Bedroom Paint Colors
PRIMARY BEDROOM

Walls: Magnolia Home Shiplap (White walls)
Walls: Magnolia Home Regal Leaf (Green walls)
Trim: Benjamin Moore White Dove

BOY BEDROOM
GIRL BEDROOM
GUEST BEDROOM
PLAYROOM
Primary Bedroom
Boy Bedroom
Girl Bedroom
Guest Bedroom
Bedroom Decor Sources
Our bedrooms haven't changed much over the years. With bedrooms I typically remodel them once and call it good until we tire of them. That never really happened in this house!
With that said, the smaller decor items and bedding have been swapped in and out a few times. Here are my favorite bedroom decor sources that are still available to buy.



Organic Modern Office
My organic modern office was such a fun project and quite a challenge for my DIY skills.
What was once a sunroom, I turned into a home office with some meaningful elements. It was such a great space to work and enjoy the views our property had to offer.
Office Paint Colors
WAINSCOTING: Magnolia Home Regal Leaf
WALLS: Magnolia Home Shiplap
TRIM: Benjamin Moore White Dove
WALLPAPER: Heron Wallpaper
Office Decor Sources

Basement Family Room
The basement family room didn't end up quite the same style as my upstairs. While it does have some organic modern elements, it is more of a modern farmhouse leaning style.
The basement was a fun project to work on as it is a fairly open space with lots of wonderful natural light.
Plus, it features my custom sign I designed with Joyfully Said! I love that it highlights something so special to me.
Paint Details
WALLS: Magnolia Home Yarn
TRIM: Benjamin Moore White Dove
TV BACKDROP: Magnolia Home Blackboard
Basement Decor Sources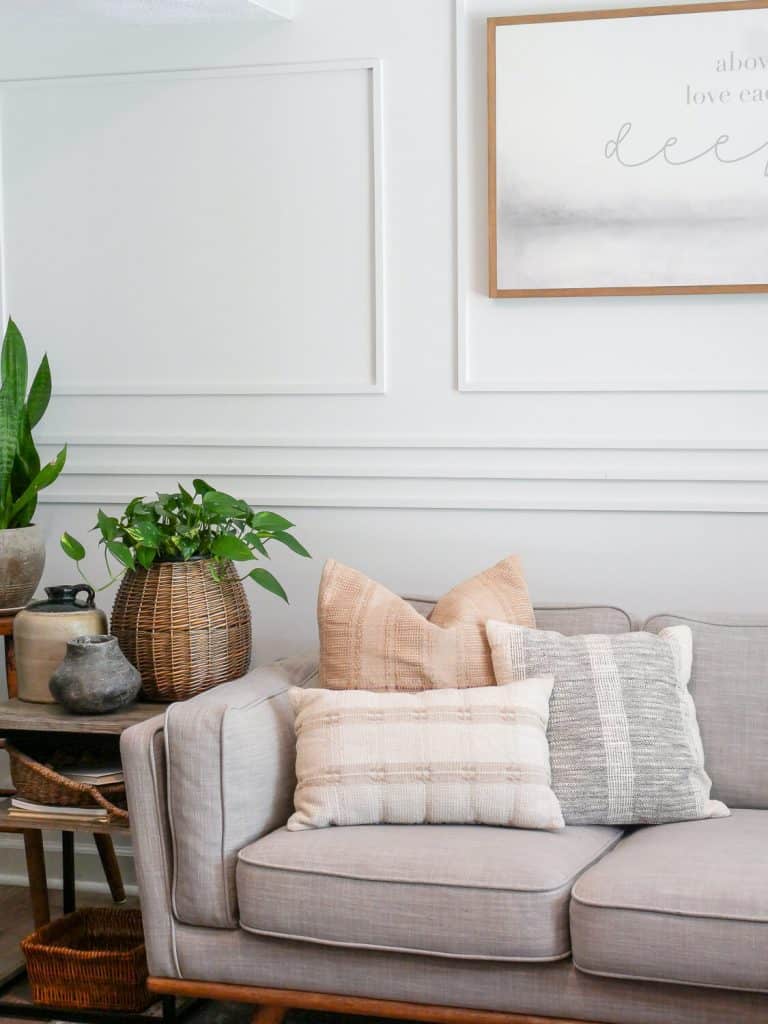 Sofas: Timber Charme from Article
Media Console: Custom

Organic Modern Bathrooms
Our bathroom remodels are two of my favorite projects to date!
One was almost a complete gut renovation. The other was 100% DIY and on a budget. Just goes to show that both are viable options depending on your ability.
Bathroom Sources
All my guest bathroom tile, fixtures, knobs and pulls can be found in this post.

Guest House Project
If you weren't aware, our property also included a guest house attached to our pole barn. It is a lovely little second living space with kitchenette and loft.
This was a fun project to design as it was already full of character and charm with tongue and groove walls and an amazing spiral staircase.
Paint Details
WALLS: Behr Soft Secret
DOORS: Behr Old Celadon
BATHROOM VANITY: Behr Old Celadon
Home Exterior & Landscaping
Updating our home exterior has been one of the greatest joys of living here for 5 years.
Not only did we repaint both the house and the barn, but we also spent countless hours working the land, adding trails to the woods and creating serene gardens and front yard landscaping.
Our exterior and property are my favorite features of this home! We bought it for the land, and we will miss the land most.
Exterior Paint Details
HOUSE: Sherwin Williams color match to Benjamin Moore Graphite
POLE BARN: Sherwin Williams Snowbound
Outdoor Space Sources

Stay Connected for the Next Adventure
This home has meant so much to our family. Thanks so much for following along with me on this journey. Make sure to subscribe to my Grace Notes newsletter to follow along on our next home remodel!
~Sarah