25 Modern Organic Bedroom Decor Ideas 2023
A modern organic bedroom design creates a stunning space that is both cozy and polished. Sophisticated and casual. It's a beautiful combination and I'm excited to share 25 simple ways to add modern organic style to your bedroom!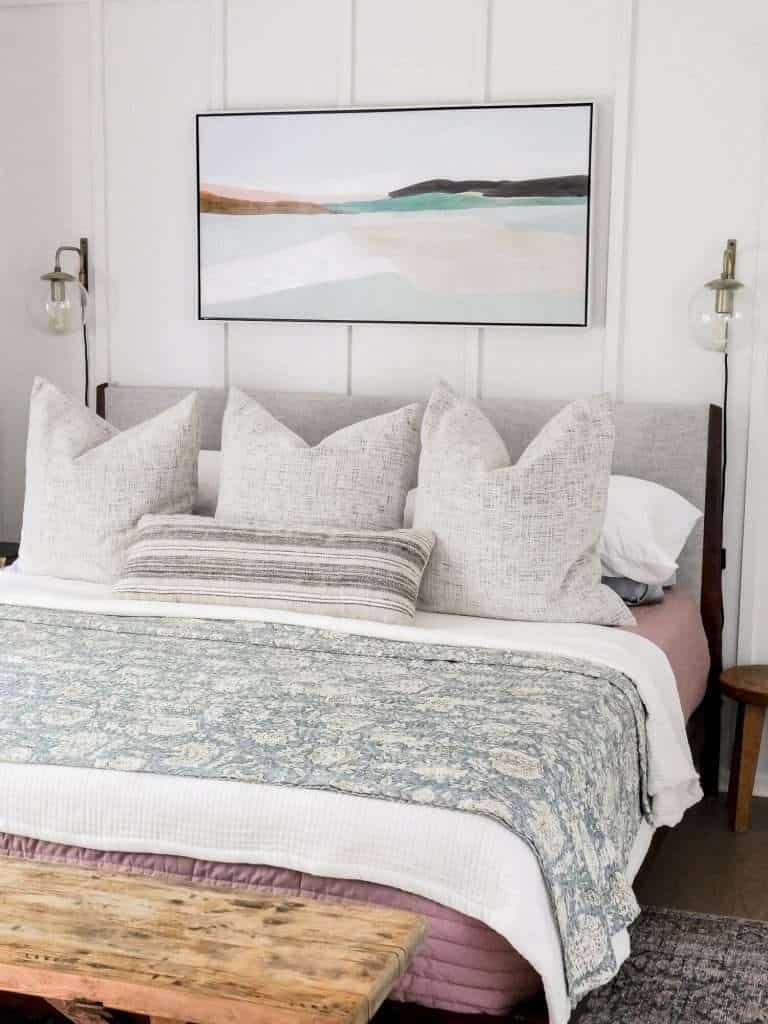 This post may contain affiliate links for your convenience.
Modern Organic Bedroom Makeover
Before we dive deep into how to create an organic modern bedroom design…I did a thing.
If you are a long time reader of my blog, then you will have noticed my signature green wall is missing! You can learn all about the why and how of this small bedroom makeover in this YouTube update.
Let's just say, it all started with the floors. But I'm also not too sure about it yet.
Time will tell if the white wall color stays or goes!
What is Organic Modern Style?
As I've transitioned my home over the last year, I've covered a few different rooms in my home as examples of organic modern interior design. You can find links to these articles at the end of this post.
But what is organic modern interior design?
It is a beautiful combination of two seemingly opposing styles.
Modern Design: highlights clean lines, minimalistic decorating, and high functionality.
Organic Design: highlights natural elements, inclusion of rough or rustic character pieces and comfort or coziness.
When these two decorating styles are combined, it results in a home that feels up-to-date and modern, but comfortable and practical at the same time.
Primary v. Secondary Design Styles
Most people lean more one way than the other in their preference for their main decorating style. That is a good thing!
That means that you can use one style as your primary design and sub in smaller accents with your secondary design style.
As an example, my modern organic decor in my bedroom leans mostly modern with organic accents.
Now, let's dive in!
25 Ways to Decorate a Modern Organic Bedroom
There are so many opportunities to incorporate modern organic decor into a bedroom. Here is a quick run down of the basics that you should consider:
Clean and simple color palette
Live plants to bring in a living element
Natural (of the earth) materials like clay, wicker, wood, linen and cotton
Highly textured elements for interest
Rough hewn wood accents
Organic clean lines (or simplistic curves)
Intentional layers for casual coziness
Earthy color palette to accent main neutrals (or vice versa)
Minimalist base with functional additions
Vintage or antique accents for extra character
Unique modern lighting
Heavy use of materials like linen, jute, and sisal
Inclusion of natural stone or pottery accents
Reliant on a mixture of old and new
Contrasts modern aesthetics with layers of cozy organic materials
Focuses on function and comfort over high design
Elevates rustic accents as focal points
Gives a nod to nature with whimsical and unkempt styling
Highlights utilitarian items as part of the design (ex: wood cupboards for storage and display)
Combines opposing styles to create a humble, but beautiful, environment
Leather accents warm up a modern space
Stacked blankets are a functional and pretty display
Pattern play. Mixing patterns for unique visual interest
Including Nordic inspired elements, which are more modern but with an organic twist
Mix and match high/low pieces. Splurge on important things like a quality mattress and think budget friendly for smaller accents.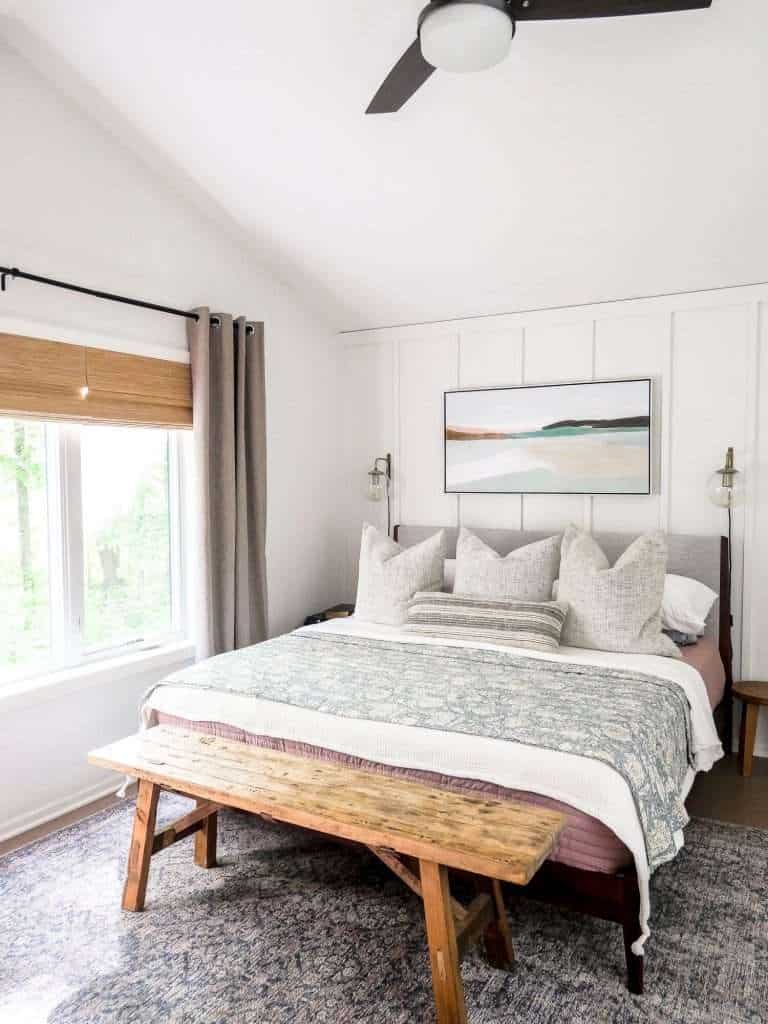 Now, let's use my bedroom as an example of these 25 suggestions!
How Can I Make My Bedroom Look Modern?
In my recent bedroom makeover, I've replaced my previous DIY headboard with this new modern headboard that offers clean, sleek lines.
Using a main piece of furniture that is modern will help anchor your modern design. This creates a focal point that sets the tone for the rest of the space.
Additionally, lighting goes a long way to modernize a bedroom.
My wall sconces are a more modern design, that also serve a functional purpose.
Artwork is another great way to bring in more modern elements. Truly, artwork can be any design statement you want. However, there is a great variety of modern art available and that's an easy way to incorporate modernism into your bedroom.
Additionally, a mainly neutral color palette gives off a modern vibe. It also gives the freedom to add in more earthy tones with smaller accents.
Shop Modern Decor

---

How Can I Make My Bedroom More Earthy?
On the other hand, you may want your modern organic decor to lean more earthy.
I find one of the easiest ways to do that in a bedroom is with an organic modern bed design.
Like you see in my home, use more modern furniture, but then pair it with organic bedding.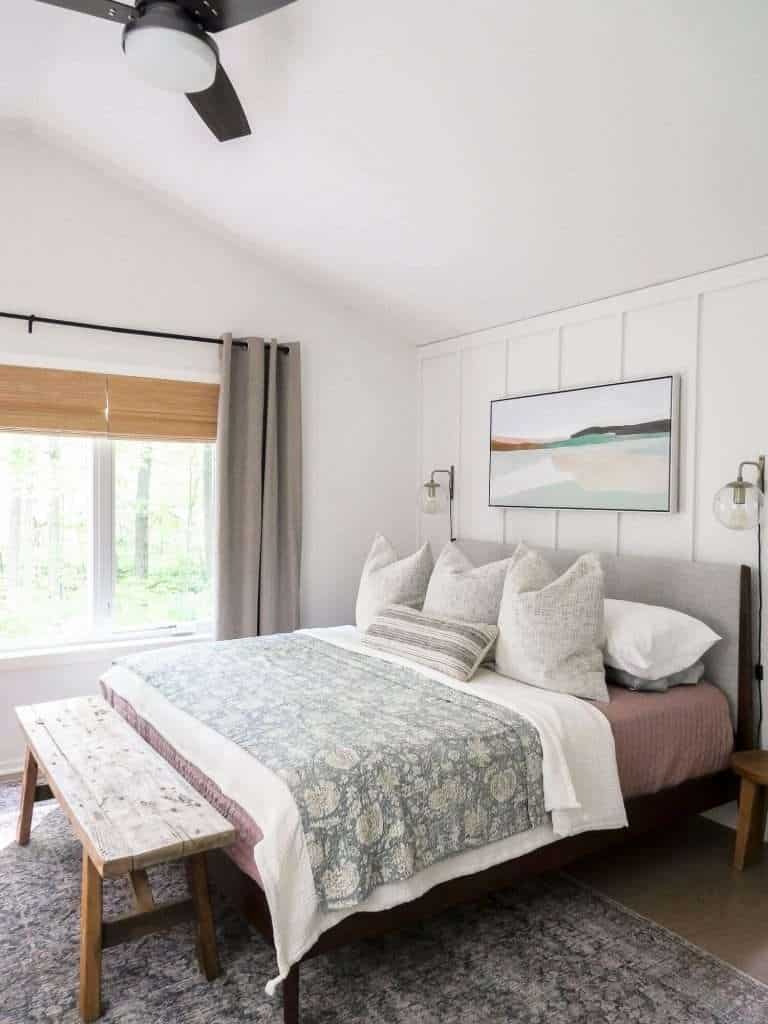 Lots of intentional layers, patterns and organic materials bring in a casual, cozy, organic feeling to your bedroom.
Personally, I prefer cotton and linen over silk or bamboo. However, material source is just a preference! You should also focus on the color scheme your bedding is developing as well as the textures it adds.
Shop My Bedding

---
Some additional ways to create a more organic and earthy feel in your bedroom is with wood elements, rugs, and texture.
My favorite vintage wood bench is the focal point of the organic design elements in my bedroom.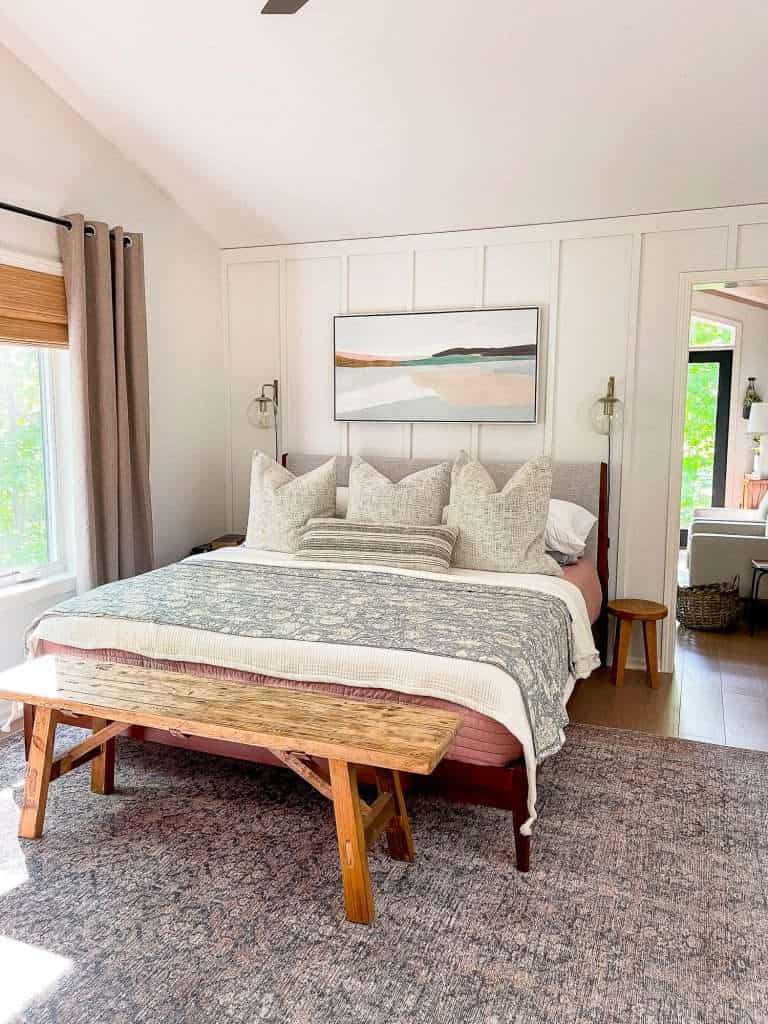 I also incorporate rustic wood elements with smaller items like a tiny accent stool as my bedside table.
Perhaps someday I'll also add rustic beams to our vault! But for now, these smaller pieces will do.
On the opposite side of the room we have wood cabinets that serve to store clothes and other items. Plus, they serve as functional display for our extra blankets.
The blankets and large wicker basket serve to add loads of organic texture to the space. I also add texture with a pairing of linen curtains and woven roman shades.
These smaller organic accents added throughout the room create an earthy environment that is casual and cozy, yet polished and put together.
You can also incorporate more earthy vibes in your bedroom with earth tones. Terra cotta, deep greens, blues, browns and creams are all great colors to choose from.
Shop Organic Elements

---
Learn More About Modern Organic Design
I hope you've enjoyed learning more about organic modern bedroom design ideas!
You can learn more about how I've incorporated organic modern interior design into specific rooms in my home in the posts below.
I'd love for you to stay connected with me by subscribing to my Grace Notes as well!
You can also follow along with me daily on Instagram and weekly on YouTube for more design inspiration!
~Sarah