The Airbnb Experience: At The Haven Cottage
I'm so excited to share our latest project with you! Join us for an Airbnb experience you'll never forget. The Haven Cottage is the perfect retreat for a family vacation in Michigan. Come take an Airbnb virtual tour!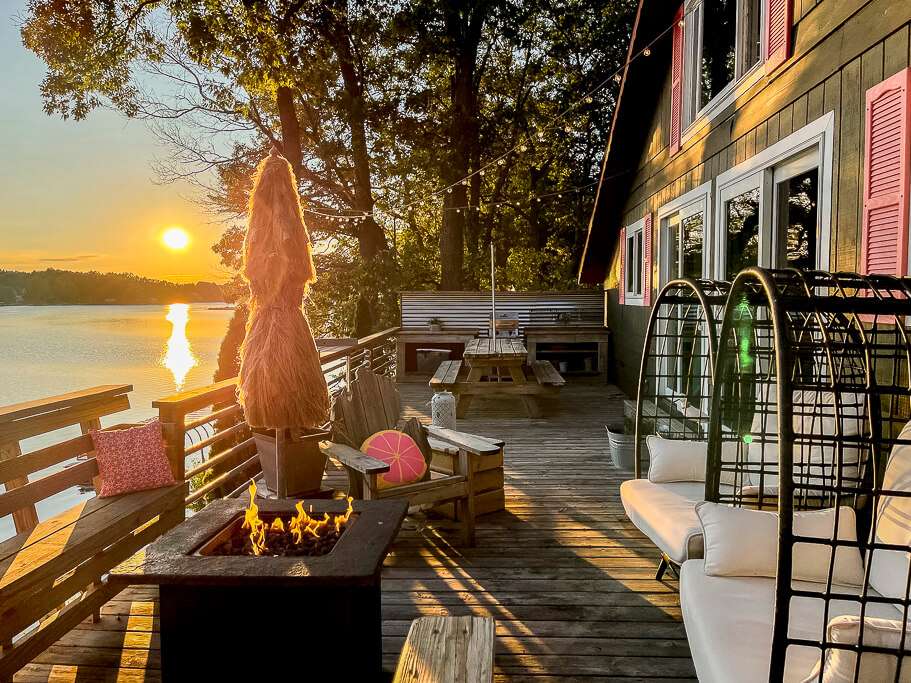 This post may contain affiliate links for your convenience.
Best Airbnb Experience in Michigan
Our goal in making the Haven Cottage available to rent is to be the best Airbnb experience possible for our guests.
We want you to feel like you're at a retreat.
A refuge.
A haven.
So as you plan your next vacation to Michigan, here are all the FAQs you need to know when staying with us.
The Haven Cottage FAQs
How Many Does the Haven Cottage Sleep?
The cottage sleeps 4.
Main Bedroom
We are offering one private room with king size bed on the main level. This bedroom has giant custom barn sliding doors and is off of the living area.
It includes a built in dresser and shelving area if you like to unpack during your stay. It also includes a closet with spare bedding for your comfort.
The Loft
In the loft, you'll find two additional twin beds.
The loft also includes a smaller TV and small cabinet.
Each bed has it's own reading light for nighttime convenience.
Is There a Full Kitchen?
Yes! Absolutely.
The Cottage has a full kitchen with full size refrigerator, stove, oven, microwave, toaster, and coffee maker.
While you're cooking, you can also enjoy direct views of the lake!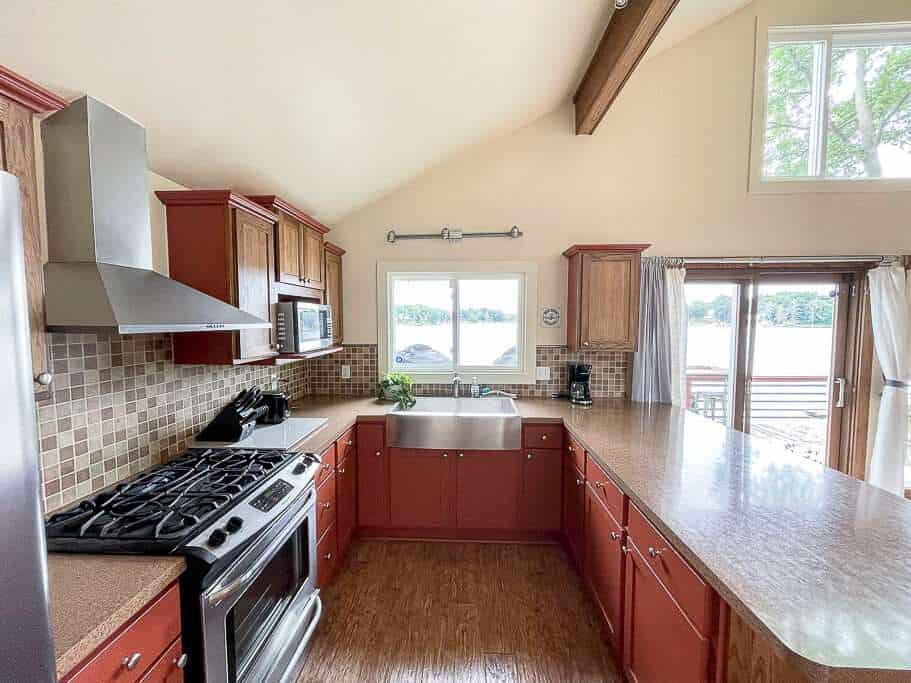 Additionally, we have everything you need to cook full meals (if desired). This includes pots and pans, dishes, utensils, mixing bowls, and food storage containers.
The pantry will be stocked with the basics: salt and pepper, some spices, and coffee.
The indoor dining space is found at the kitchen bar with four stools. No additional dining table is available at this time.
Do you Offer TV & WiFi?
We offer high speed internet. Wifi instructions will be provided at booking.
We also offer a large flat screen TV viewable from both the kitchen and living spaces. The majority of streaming apps are available for you to use with your personal logins!
Is there a Full Bathroom and Laundry?
Yes! We have a full bathroom with double vanity sinks, a walk in shower stall with handheld removable head, and toilet.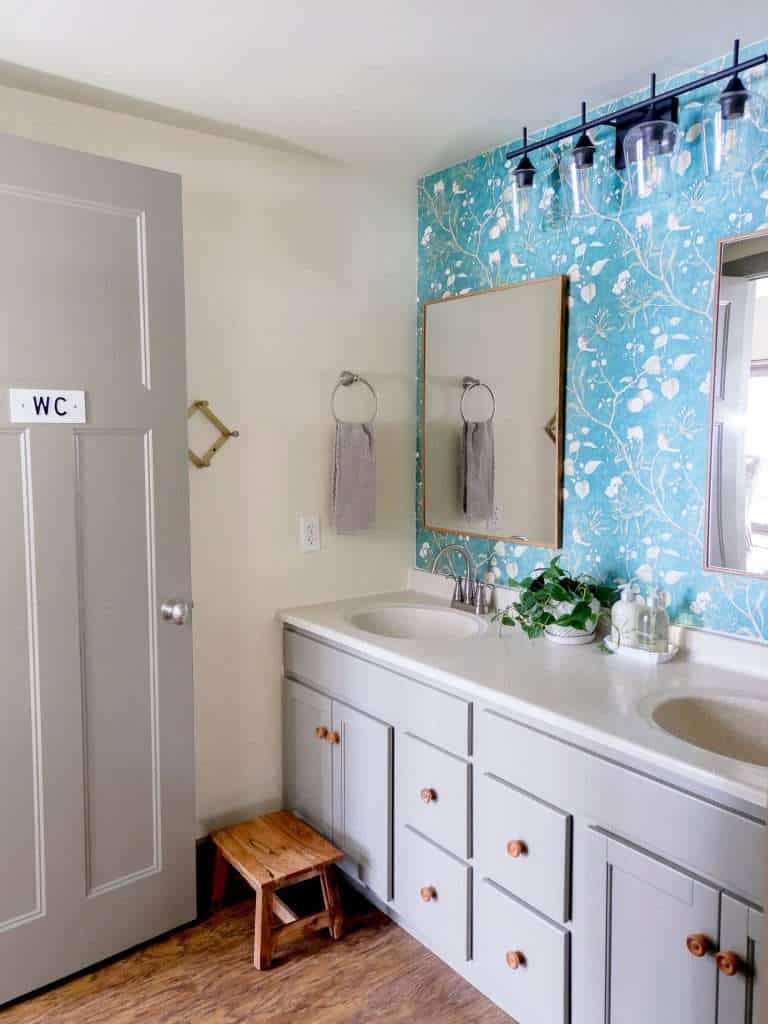 Additionally, we offer in-home washer and dryer with folding counter.
Is there an Outdoor Shower?
Pretty close!
While we don't offer a full outdoor shower, there is a foot washing station to remove all that sand from our private beach before coming indoors.
The Full Michigan Airbnb Experience
Now let's head outside and to the surrounding areas!
Where are You Located?
Our location is a rural extension of the greater Grand Rapids Airbnb location.
Located in Trufant, MI, we are on Rainbow Lake.
Spend the day on our private beach or kayaking the lake, then enjoy sunsets on the deck.
Our cottage is 40 Minutes to Grand Rapids for a day trip. And 10 minutes to the nearest city with all amenities including grocery, restaurants, movie theater, shopping and more.
Guests will enjoy a guidebook for things to do in the surrounding area upon arrival.
As a Michigan Airbnb, we have something to do for every season.
Starting at the Haven Cottage, you will enjoy lake views right from our large deck and private sand beach.
Enjoy sunsets each evening from the comfort of our deck. On chilly nights, you can warm up with our gas fire pit on the deck, or roast marshmallows in our wood burning fire pit with s'mores station.
Enjoy the mornings overlooking the lake in comfortable oversized egg chairs. And then picnic at our outdoor picnic table each afternoon and evening.
Do You Offer a Grill?
Yes! We have a gas grill and plenty of space for all your outdoor cooking needs.
Can I Bring a Boat for a full Airbnb Experience?
Yes!
We have kayaks available for guest use. However, you can also bring your own water toys.
Rainbow Lake is an All Sports lakes with a public launch. You are able to dock your boat at our private dock (seasonally).
(Please note: We are not liable for damage or theft of personal property brought to the Haven Cottage if you do choose to dock with us.)
Are Beach Toys/Chairs/Towels Provided?
Yes!
Since we have a private sand beach, we also offer beach chairs. A small selection of beach toys are available for the kids to play and create with. And beach towels are included with the linens as well.
What is There to Do in The Surrounding Areas?
The cottage is located in a rural area surrounded by beautiful farms. You can enjoy a walk or bike ride around the lake on a slow dirt road. Swim in the lake. Ice fish in the winter. And more!
If you want to venture out for day trips, consider some of these local attractions:
Trufant Flea Market & Farmer's Market (every Thursday 8am-12pm April-September): 5 minutes
Links at Bowen Lake Golfing: 5 minutes
Brookside Golf Course: 5 minutes
Charlie's Ice Cream and Grill: 7 minutes
Greenville Movie Theater: 10 minutes
Greenville Lanes Bowling: 10 minutes
Frugthaven Farms & Kaffebar/Cidery: 10 minutes
Greenville (Meijer Grocery, Walmart, Hobby Lobby, Marshalls, Walgreens, Restaurants): 10 minutes
Deer Tracks Junction Adventure Park (seasonal): 25 minutes
Downtown Rockford (Quaint shops, river walk, park by the dam, local eats): 30 minutes
Grand Rapids Day Trip: 40-50 minutes
The Found Cottage (A local shop owned by Liz Marie Galvan): 50 minutes
How Do I Book The Haven Cottage as an Airbnb Experience?
Now that you have a little background on the cottage and location, let's get into the specifics.
Do You Have a Nightly Minimum?
We require a booking of 3 nights minimum, up to 14 days at this time.
Can I Bring My Pet?
We currently have a no pet policy.
Can I Host an Event at The Haven Cottage?
The cottage is currently available as a private family vacation rental. Please inquire if you are looking to host a small gathering to see if we can accommodate your needs.
Pricing and Availability
Haven Cottage Update 2023
We have sold the cottage to some dear friends who we are so excited for!
They are thrilled to take on the cottage as their own Airbnb and continue to welcome guests to Rainbow Lake. The cottage furnishings, and most of the amenities, remain the same at this time.
We loved hosting over 30 families in the year that our cottage was open to book! And now we invite you to stay again with the new owners.
Bookings are now available with the new ownership, Al and Wendy. We are so grateful for your support in the past and hope you'll join Al and Wendy again in the future.
Blessings,
Aaron and Sarah
Seasonal pricing and calendar availability for Al and Wendy's listing can be found on Airbnb.
---
We can't wait for you to enjoy all that Michigan country living has to offer.
You Might Also Be Interested In…
This cottage has been a labor of love to update it as we prepared for guests. If you'd like to see the renovation process, check out these projects!
And, if you're new to Grace In My Space, make sure to check out all the blog has to offer for interior design tips, DIY tutorials, decorating ideas and more! You can follow along daily on Instagram and weekly on YouTube as well.
~Sarah