How to Decorate a Loft | Top 10 Things to Consider
Do you have an awkward loft space to design? Figuring out how to decorate a room with angled ceilings or awkward obstacles can be tricky. However, there are several tricks to help turn those obstacles into opportunities! Learn how to decorate a loft (even with angled ceilings) with these top 10 things to consider.
This post contains affiliate links for your shopping convenience.
The Haven Cottage Loft
If you haven't been following along on YouTube, we recently started renovating a quaint lake cottage to offer as a retreat on Airbnb. You can catch up on the renovations here.
Today, we are tackling how to decorate a loft in our cottage! Similarly, all the same concepts and principles would apply for how to decorate an attic bedroom, or any room with slanted ceilings.
Let's start by taking a look at how the loft looked before.
The cottage loft is small with many obstacles.
The largest wall has a window taking up most of the space, plus the exit to the staircase in front of it (see above). Then, the adjacent walls have very low angled ceilings with the angle starting three feet off the ground.
Opposite the window wall is a wall with a large chimney on it, breaking up the space. Needless to say, this is a difficult room to design around!
So let's dive in to how to decorate a loft space with multiple obstacles with these 10 things to consider.
Creating purpose in the space
Functionality first
Layout
Design as (or instead of) decor
Focal point
Intentional color palette
Double duty furnishings
Making awkward spaces blend into the background
Creating opportunities out of obstacles
Using the ceiling as a 5th wall
How to Decorate a Loft and Turn Obstacles into Opportunities
Create Purpose for the Space
First, let's start with creating purpose in your space. Often, the biggest obstacle to decorating a loft is figuring out how to use the space.
In our loft, it was necessary to use it as a bedroom. However, lofts can be great options for rooms with various purposes. They can be a multi-use space or have a defined purpose. Consider these options for your space if you're having a hard time deciding:
Home office
Teen hang out
Bonus game room
Study/library
Playroom
Guest room
Media room
Functionality First
Once you've decided what the purpose of the space is, focus on functionality first.
The function of the room will drive the design. For example, in our loft we needed the space to function for two children as a bedroom.
That meant that two beds had to fit in this small space.
Traditionally in design, the beds would go on the focal point wall. However, the focal point wall in this space wouldn't allow the beds due to a window and staircase.
Instead, I flipped the room around and put the beds on the wall that would allow the room to function with proper flow.
Depending on the purpose you've chosen for your loft, here are some things to consider when thinking about functionality:
How do you want to move around the room?
Do you need storage?
What furniture is necessary to accomplish the function of the room?
Write all of the functionality-related necessities down as you brainstorm the space.
Once you've determined how the space needs to function, you can move on to layout!
How to Decorate a Loft Using Proper Layout
Now that you know what furniture you need as you decorate your loft, you can figure out layout.
Make sure that as you design where furniture will be placed, you are allowing for movement within the room. The flow in a space is essential for it to "work" properly.
This may mean that you break some design rules, like we discussed above. But if your room doesn't function and doesn't allow for proper movement around the room, then it will not be a space you want to use or serves a purpose for your family.
This is one of the main principles I discuss in my book, Designing a Life: From House to Haven.
Many times people will put design (form) over the functionality of a room. However, that does not use the space to its full potential. So ensure that as you are designing the layout, it will still function properly.
Using Loft Design as Decor
Once you have the functional areas of the loft determined, let's start talking about design!
Sometimes you have loft spaces that are huge and spacious with tall ceilings and glorious potential. However, more often than not the average loft space is small and awkwardly shaped with obstacles.
In those cases, here are a few design tips to help you use the design of the room as the decor.
Create a Focal Point
When you have a space that is hard to decorate with traditional home decor, create a focal point to steal the show.
In our loft, I created a focal point with a wallpaper accent wall.
From that focal point, I was able to guide the rest of my design. A focal point can be a great way to pull complementing colors into the room. It is a nice statement maker and draws the eye to a main area of the room.
This helps keep the eye from bouncing to other more awkward areas of the room.
For instance, in our loft the wallpaper keeps the eye going up to the ceiling, rather than putting the focus on the angled ceilings. It gives the room height.
Intentional Color Palette
Next, create an intentional color palette. Since lofts tend to be awkward, you should choose your color palette to enhance your design choices rather than detract from them.
Choose 2-3 main colors to create a cohesive palette. In our loft, I used the wallpaper to guide my color palette. Black and cream anchor the room and repeat across the wallpaper, bedding and area rug. Then, that allows me to intersperse pops of accent colors as the seasons change.
Shop the Room Sources

---
If you love color and want to create a more vibrant design, continue to stick to 2-3 main colors so the room doesn't feel chaotic. Using 2-3 main colors with varying shades of the same anchor color can keep a room feeling cohesive but still playful and interesting.
How to Decorate a Loft with Double Duty Furnishings
Next, as we continue to look at how to use the design itself as decor in a small space, consider how you can use one piece of furniture for more than one purpose.
For example, as I decorated the loft in our cottage I only had room for one piece of main furniture besides the beds. I chose to place a small antique cabinet in between the beds.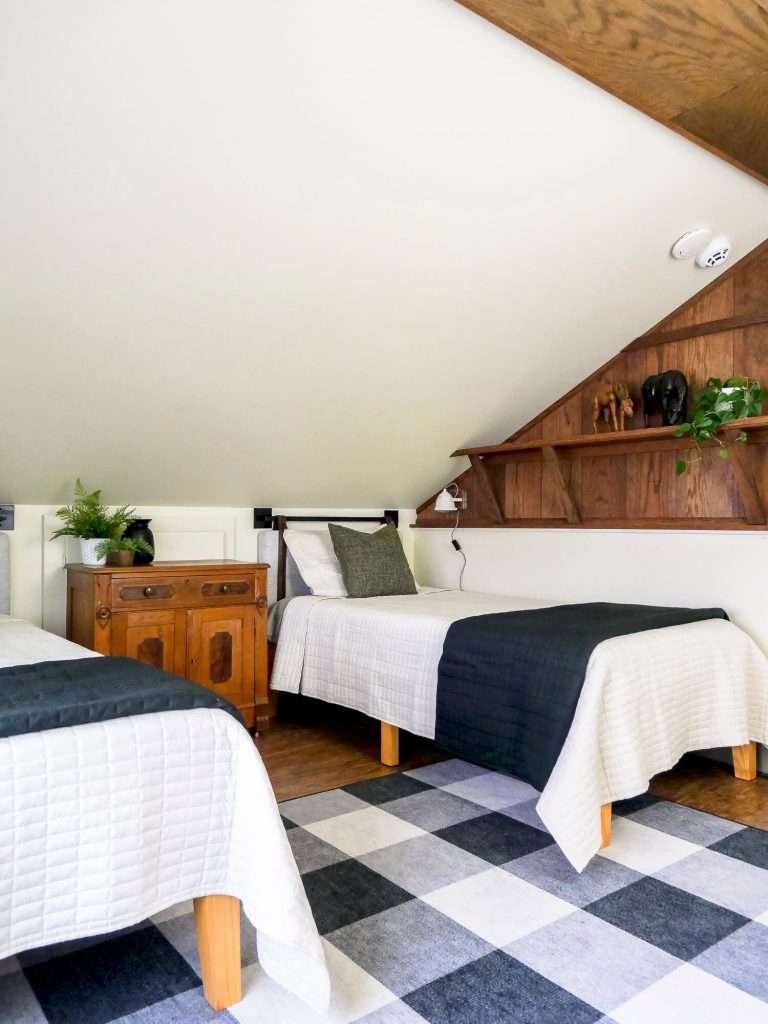 This serves as both a nightstand and storage. You could do the same with a small dresser.
Another example of furniture that can serve double duty is a futon serving as a bed and lounging area. You just have to get creative!
Make Awkward Spaces Blend into the Background
As you design around obstacles, think of ways to make awkward spaces blend into the background.
For example, previously this attic storage door was called out with a vibrant red paint. This strong contrasting color really calls attention to an awkward element of the room. Instead, I painted it (along with the rest of the red trim in the room) differently.
The red door was painted the same color as the wall so that it blends into the space. Similarly, the window trim was painted the same color as the walls so that it wasn't being called out. Instead, it allows the wallpaper to be the focal point on that wall.
How to Decorate a Loft by Creating Opportunities Out of Obstacles
Once you've streamlined some of the design elements of a room, it's time to tackle those obstacles!
In our loft, the chimney was an obstacle. Originally, it was painted red and really broke up that side of the room. It felt heavy and awkward.
We painted it to fit the color palette of the room and help it blend in. Then, we used it as we would a wall. It is the only space in the entire loft that would fit a full length mirror, so the functionality won out!
As you design around obstacles, think about how you can turn them into design opportunities!
Use the Ceiling as a 5th Wall
One of the main obstacles of how to decorate a wall with a slanted ceiling is the ceiling itself.
Consider using the ceiling as a 5th wall. In our loft, we brought the same color of the walls onto the ceiling. This helps create cohesiveness and brings height to the space.
Conversely, if you use a darker color, you can create a cozy environment with a tucked in feeling.
If you are using wallpaper, consider bringing it up onto the ceiling. That is an amazing way to really make a statement in a loft with angled ceilings.
Practical Loft Home Decor Ideas
Now that we've discussed 10 things to consider when deciding how to decorate a loft, let's talk about incorporating practical home decor ideas into a loft bedroom.
When you are working around obstacles, it is time to think outside the box.
One of the obstacles we had to overcome was being forced to place the beds on the wall with angled ceilings. Since there was only three feet of wall space before the ceiling starts to angle, it didn't allow for traditional headboards.
Instead, I found these wall mounted headboards that could fit with our bed frames pushed up to them.
Additionally, the low ceiling made it impossible to have nightstand lamps. Instead, I used these mini sconces mounted to the wall. They serve as nighttime lamps, but are also plugged in to switch-operated outlets. So we can turn them on when entering the room.
To combat curtains getting in the way of walking or making the bed, I installed this black out roman shade. It has amazing black out power and tucks up neat and tidy when not in use.
On the opposite side of the room, we have one shelf that can serve to hold decor, books, or storage.
Hooks are also an amazing way to add practical and accessible storage to a loft space.
Loft Sources & Paint Colors
I hope this walk through of the design process in our loft has been helpful to you. Make sure to check out more about this topic on YouTube!
You can shop all of the home decor in the loft here or via the images and links above.
Loft Paint Colors
Wall Color: Bone White by Benjamin Moore
Trim: Studio Clay by Sherwin Williams
Fireplace Brick: Perfect Taupe by Behr
Stay Connected
Thanks for stopping by the blog today! Make sure to subscribe below to sign up for my newsletters and get access to all my subscriber freebies!
You can follow along with me daily on Instagram and weekly on YouTube as well!
More Bedroom Design Ideas
If you are looking to get ideas specifically for a loft bedroom, check out some of the other bedrooms in our home for inspiration!