How to Decorate a Niche in the Wall So It Doesn't Look Dated
Do you struggle to decorate a wall niche? Decorating a niche in the wall can be tricky as they are often awkward spaces. However, it doesn't have to be that way. You can create a beautiful accent from a dated design with these tips. Learn how to decorate a niche in the wall with these simple tips and a beginner DIY project!
Post may contain affiliate links for your convenience.
How to Decorate a Niche in the Wall
Ever since we moved into our home, I've wondered how to decorate the niche above our fireplace in the dining room.
We remodeled the dining room by taking down a wall and removing the indoor hot tub. As if that wasn't awkward enough.
However, we were still left with the niche above the fireplace that felt dated.
So we started by painting the entire room in the color Shiplap by Magnolia Home to make it feel cohesive and more subdued.
Over the years, I learned how to decorate a niche with a few tricks. There are two different camps on wall niches. Your first step is to determine which camp you're in:
Embracers: Embracers are willing to embrace wall niches as an opportunity to create a focal point and highlight specific decor.
Maskers: Maskers aren't a fan of niches and want to try to mask them or help them blend in to the room.
Tips to Embrace a Niche in the Wall
If you want to make the most of a wall niche, there are a few ways you can highlight the space.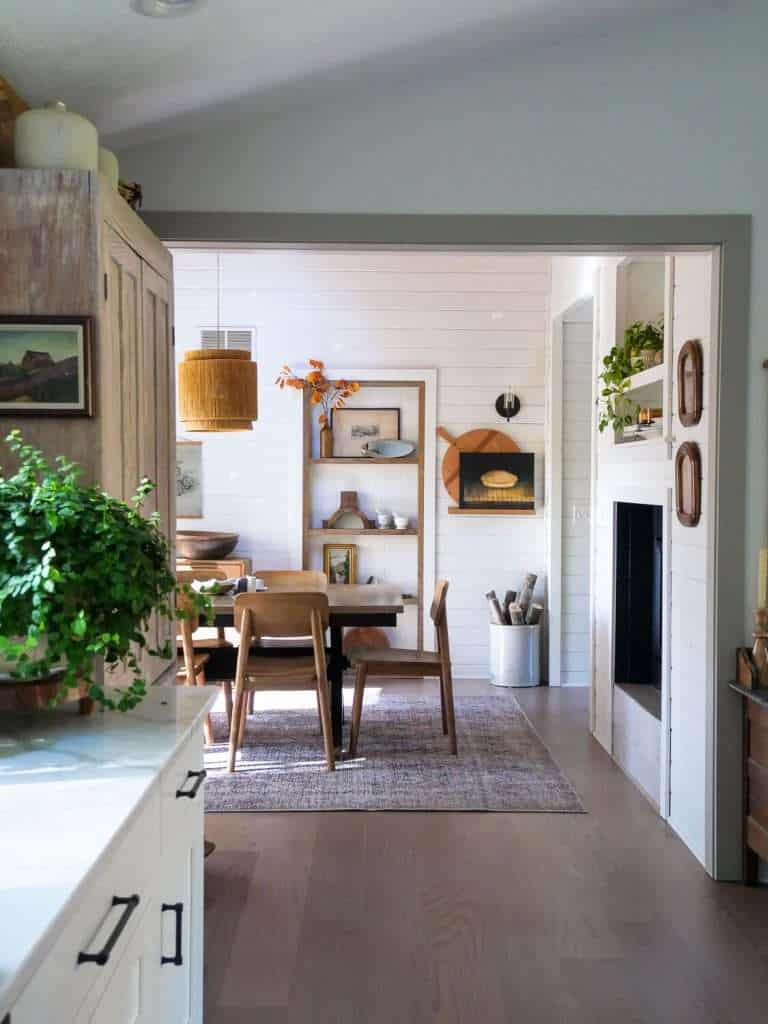 Create contrast with the surrounding space. You can do this by:

Painting the inset niche a color that contrasts the walls around the niche.
Wallpapering the back of the niche with a fun pattern.
Adding contrasting trim around the niche to make it pop.
Painting the back of the niche 2 tones darker than the surrounding walls for a more subtle highlight.
Adding millwork to the niche in a pattern.

Create a focal point within the niche with statement decor.

Draw attention to the space with bold artwork.
Add a large floral arrangement that fills the entire nook.
Include a sculpture or other interesting conversation starter.
If near a window, create an indoor plant sanctuary with multiple houseplants.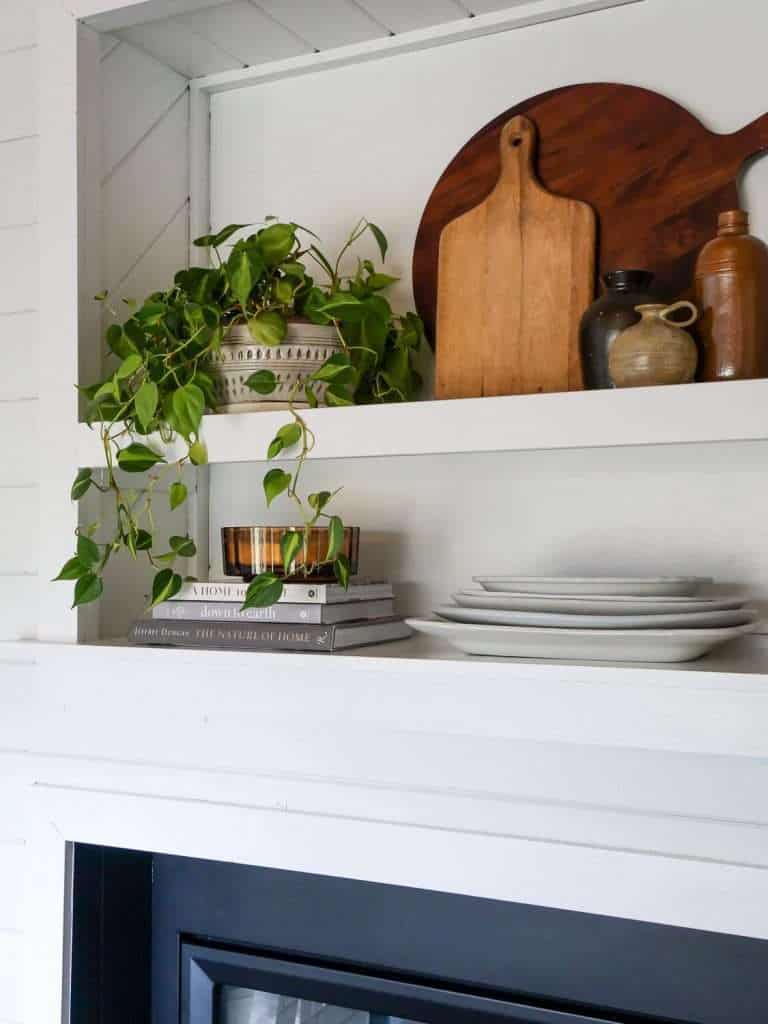 Tips to Mask a Niche in the Wall
Now, even though we are still going to cover how to decorate a niche in the wall, it can also be accomplished more subtly.
Here are a few ways you can tone down, or mask, a wall niche.
Blend the niche with the room. You can do this by:

Painting it the same color as the walls.
Removing trim and creating a seamless transition with the wall.

Fixing any obvious architectural differences (ex: removing an arch if it doesn't go with the style of the home).
Covering the niche fully with wall art that is larger than the niche itself.
Removing any existing pattern or contrasting wallpaper.
How do you decorate a large recessed niche?
No matter which camp you're in, there are many ways to decorate a large recessed niche.
You can use some of the tips above, or you can take it a step further, like I've done.
Since the niche above my fireplace is so large, I've always felt that there was a ton of wasted space in the height.
So, I decided to break up the niche and build a shelf!
How to Build a Shelf in a Wall Niche
Adding a shelf to a wall niche is one of the simplest ways to create a floating shelf.
It is so simple because you can easily use the recessed portion on both sides to create simple supports.
I happened to find a table leaf in my shed that was the exact length I needed to add a shelf to my fireplace niche.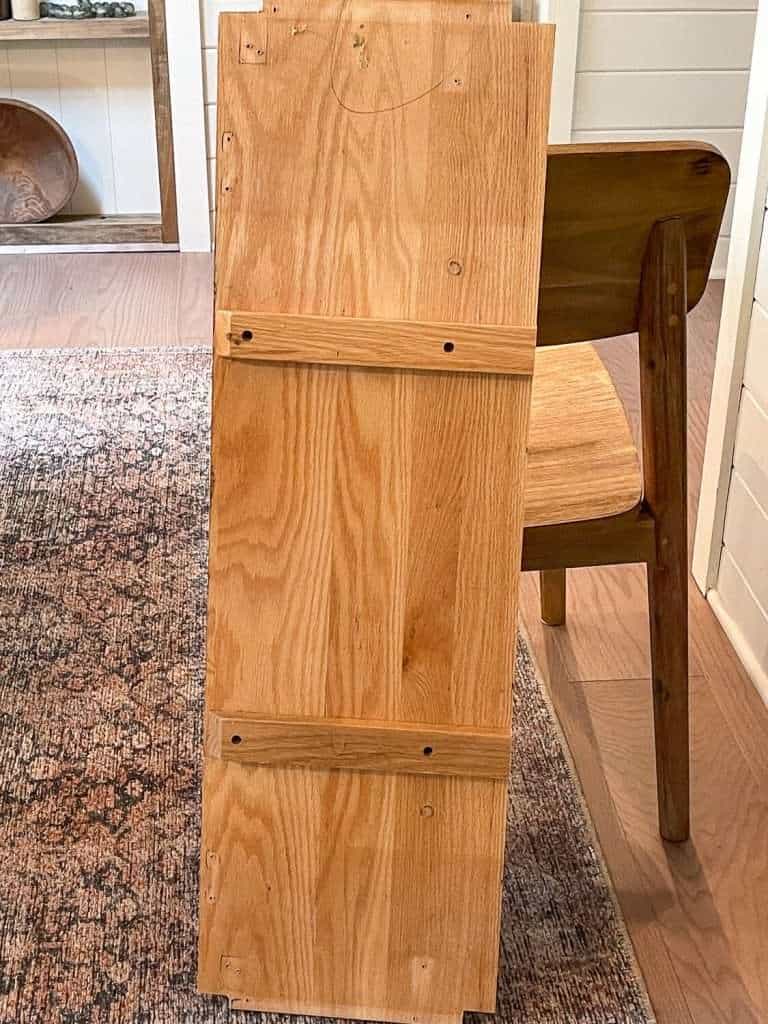 I simply cut it down to size, used my jig saw to cut the corners to fit my specific nook construction, and then installed it with side supports.
Obviously, it will be rare for everyone to have the perfect size piece of scrap wood in their shed. However, this is a very simple project to head into your local lumber yard with measurements and a plan!
Once I cut my leaf to size, I screwed 1x3s into each side of the nook to use as supports. The table leaf rests on those supports.
Next, I added a 1×3 to the front to give it a chunkier, built-in look.
For my niche, I wanted to keep some height. So, rather than install the shelf in the middle to create equal spacing, I installed it with a 1/3 to 2/3 ratio.
This allows me to use the lower portion for small items or platters, and the top can still accommodate a larger piece of art or tall floral arrangement.
Niche Before & After
Let's take a look at a quick before and after from the same angle to analyze some of the changes I made to this niche.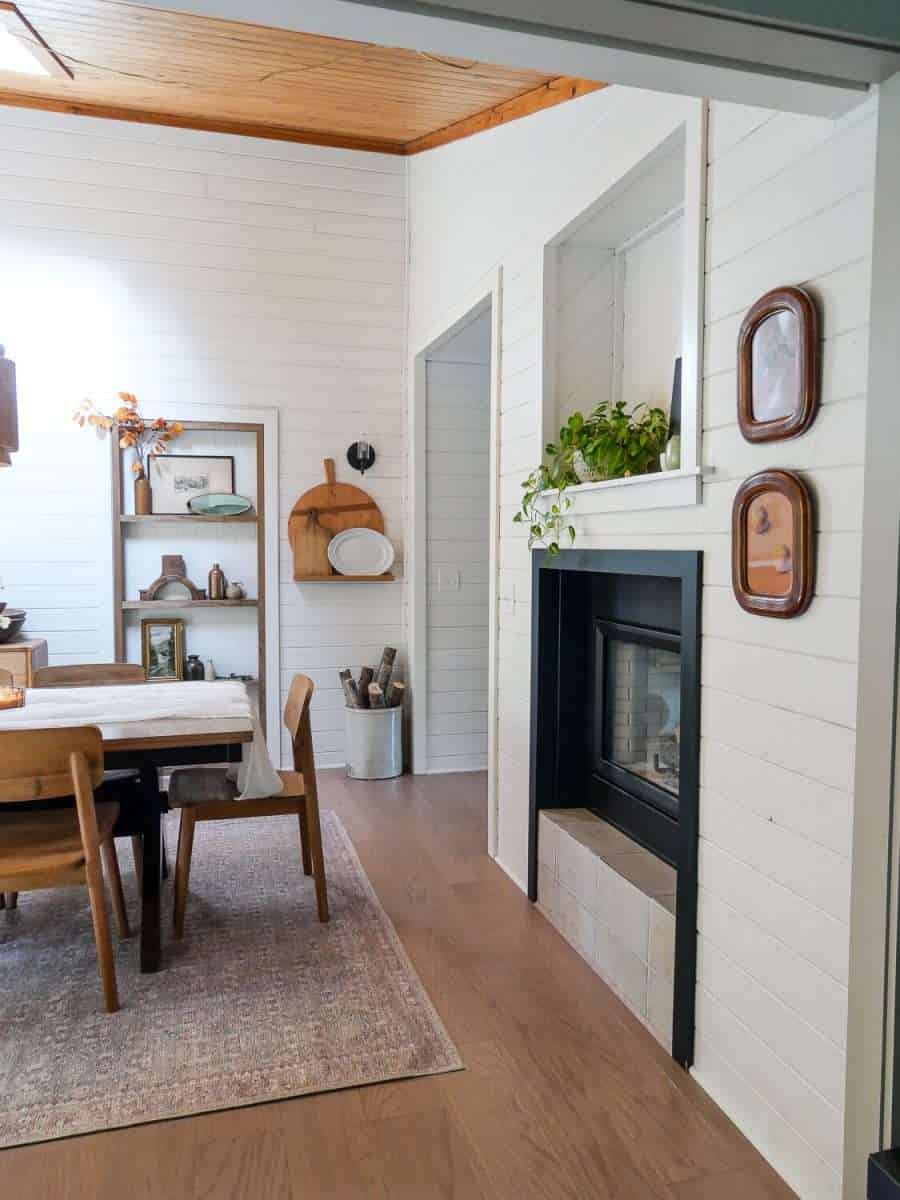 As you can see, I did a few more things than just add a shelf. During this project, I:
Painted the lower trim from black to white to help it blend in to the space better.
Added underlayment to the back of the niche to streamline it and lose some of the eye catching chevron pattern that was there before.
Added a shelf for more practical decorating space.
My main goal in this project was to help mask the nook, but also to not waste its potential.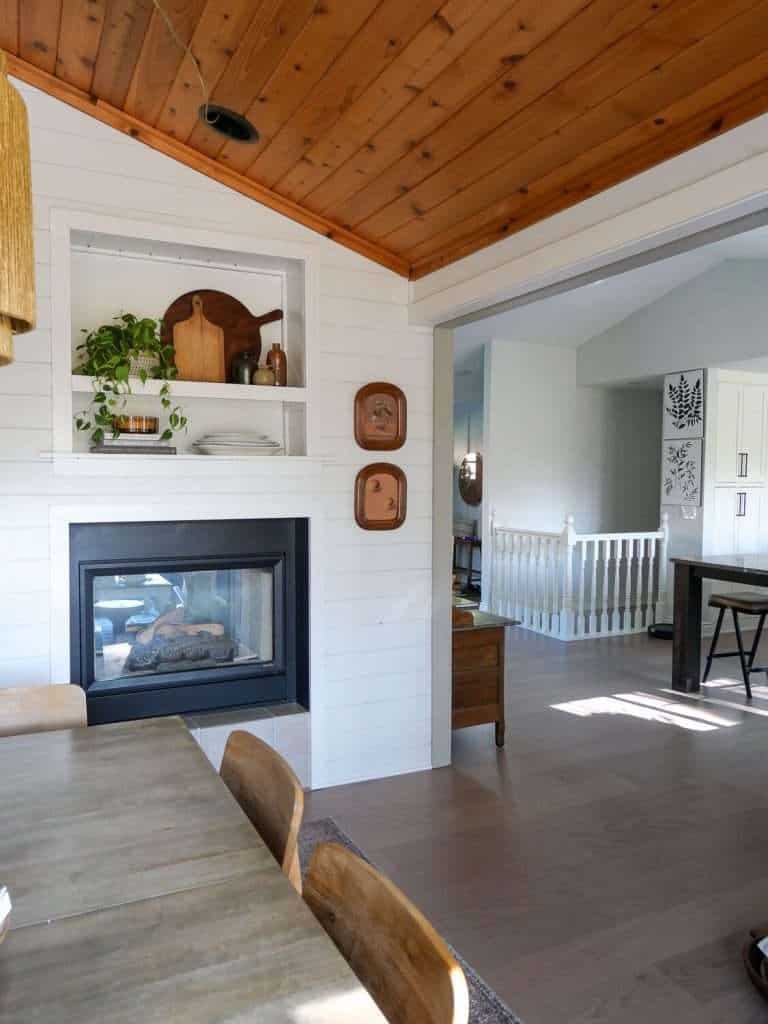 Someday, I'd like to bring the stone around from the other side of this double sided fireplace to make it completely streamlined. Until that day, these small changes do help me enjoy this slightly awkward niche a bit more!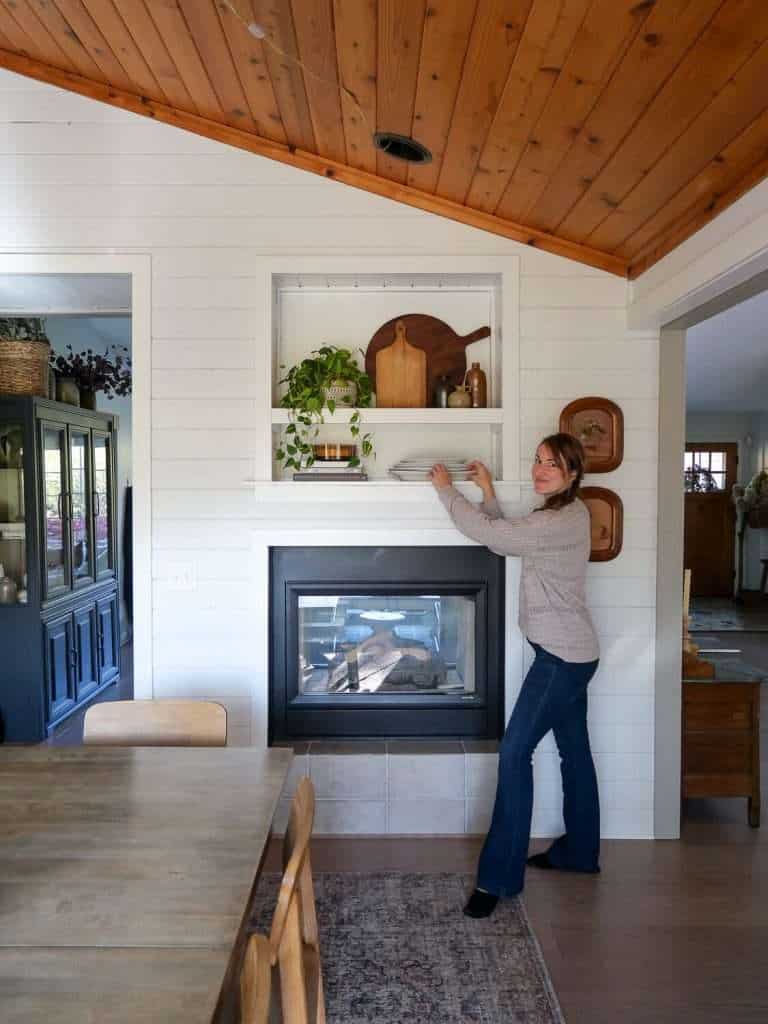 Specific Niche Decorating Tips
Here are a few specific tips to decorate a niche with layering, like I've done.
Add layers both vertically and horizontally

Stack books, platters, bowls, or other like items
Layer taller items in the back, bringing forth similar items that are smaller in the front (Ex: my cutting boards)

Add something living (or faux but looks real)

Plants, flowers or greenery elevate a niche as something beautiful and interesting to look at

Think practically for the space it's in

My niche is in a dining room, so platters and cutting boards make sense
A living room niche would better display beautiful artwork
An entryway niche would welcome guests with a floral arrangement
A kitchen niche may work best to display spices or cooking utensils
A bedroom niche would be a great space for family photos

Don't neglect the space around the niche

If your niche is at the right height, a console table below it would help tie the space together
Adding small artwork that doesn't compete on the sides can make the niche feel intentional and like a focal point
Flank a niche with beautiful sconces to highlight your decor
How do you cover a recessed niche wall?
Now, if you were in the mask it camp, then I'd venture a guess that you've wanted to simply remove your wall niche altogether.
If that's the case, it can be done!
You simply need to essentially build and frame in a small wall. Then, you can add drywall (or whatever material your wall is made from) and patch the hole to create a seamless wall.
This article will help you if you try out this larger-scale project.
You'll Also Enjoy…
Thanks so much for stopping by the blog today! I hope this article on how to decorate a wall niche was helpful to you!
I think you'll also enjoy these articles next.
Make sure to subscribe to get my Grace Notes directly to your inbox and to access all my insider perks. You can also follow along daily on Instagram and weekly on YouTube!
~Sarah