10 Creative Ideas to Make Your Windowless Bathroom Bright and Airy
Are you struggling to design a windowless bathroom that feels bright, airy and inviting? Today I'm sharing 10 creative ideas to make the most out of a small, poorly-lit space. From strategic lighting to decor tricks, you'll learn how to create a bathroom that feels open and welcoming.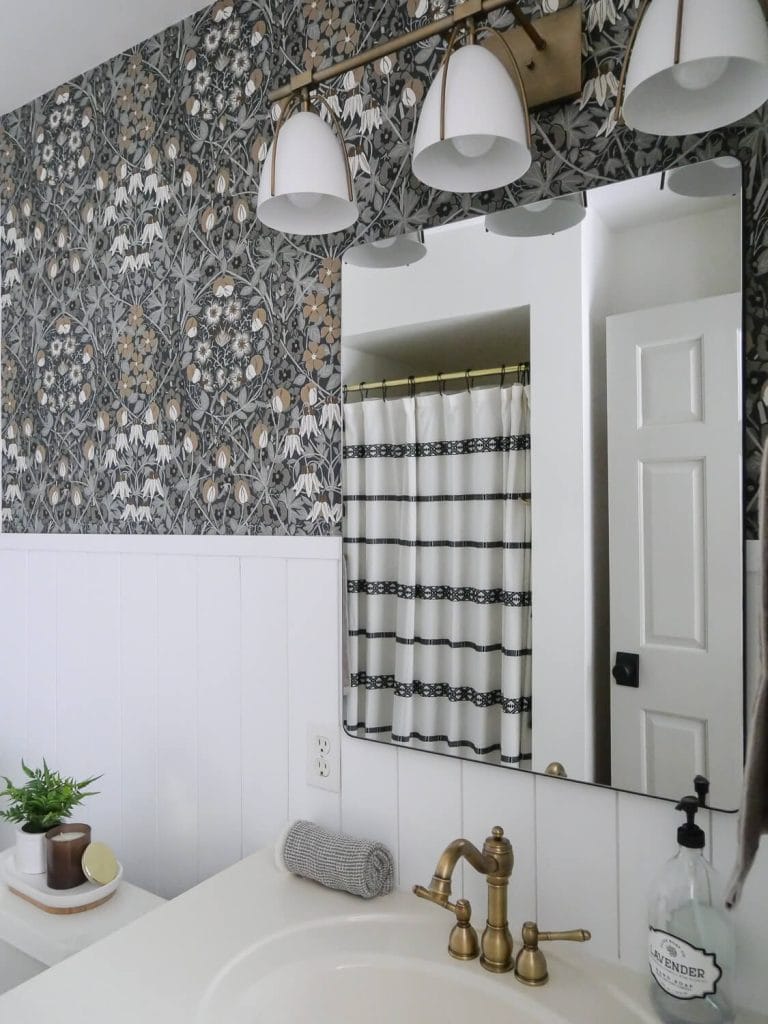 This post may contain affiliate links for your convenience.
Small Basement Windowless Bathroom Makeover
Do you dread entering your windowless bathroom? Are you tired of feeling confined and gloomy every time you step inside? That's definitely how I felt about our small basement bathroom.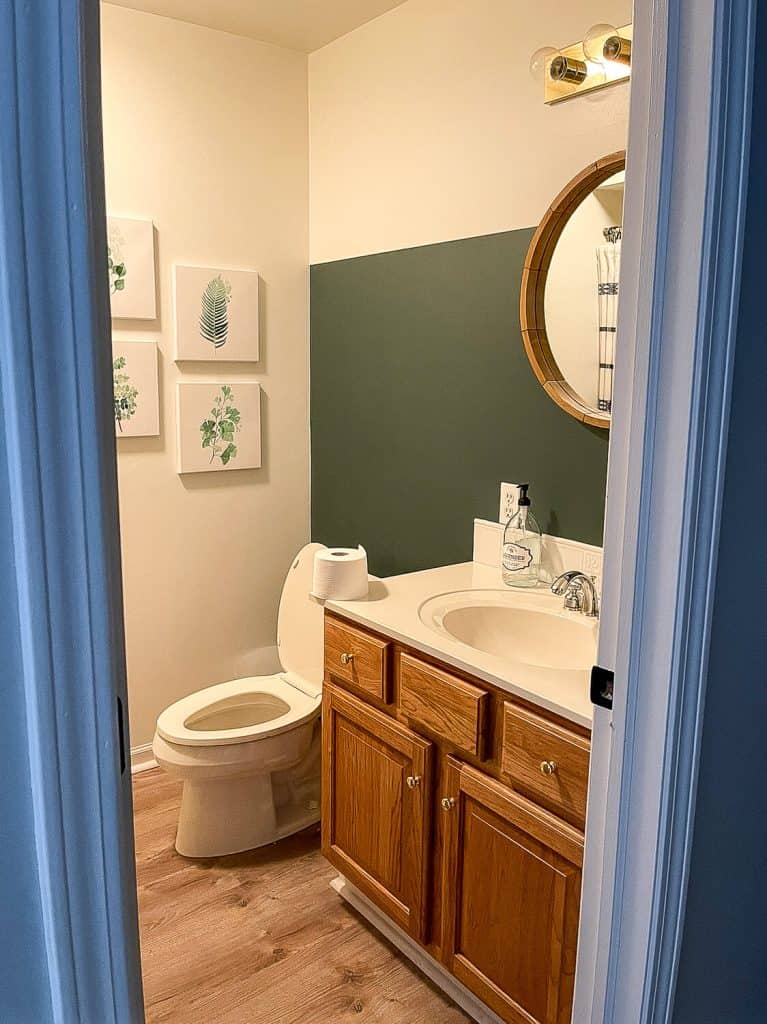 However, with the right techniques, you can turn your dim and cramped space into a bright and airy oasis.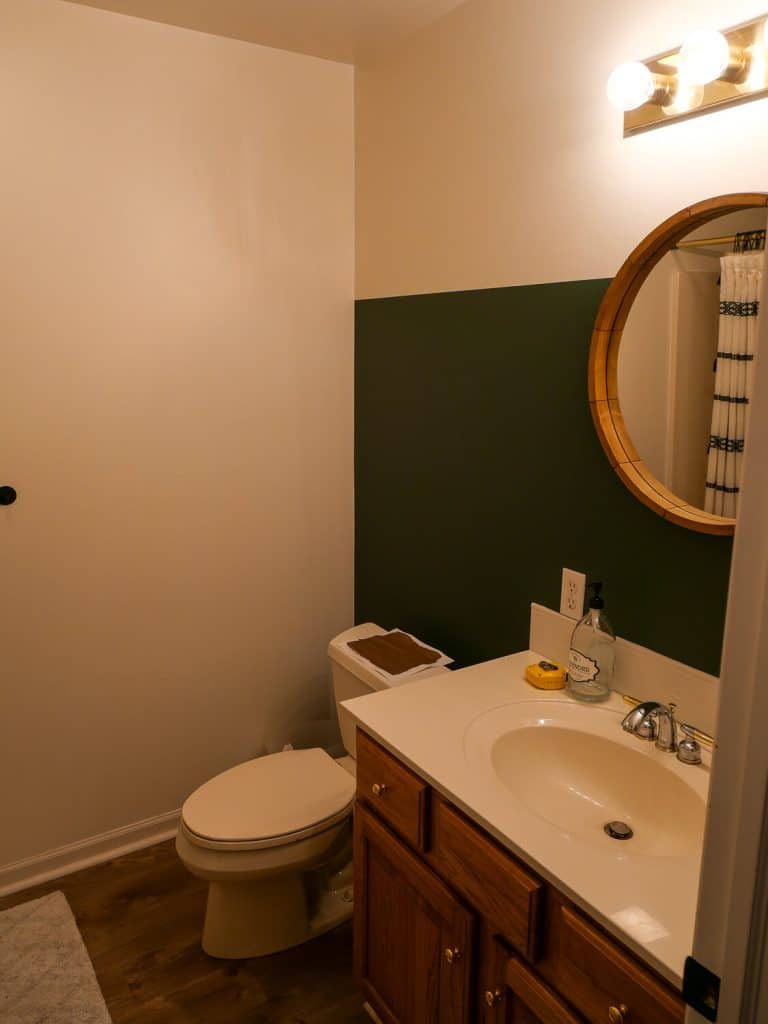 In this article, I'll give you 10 creative windowless bathroom ideas to maximize your small bathroom's potential. Most of them, I've employed in my own bathroom remodel.
10 Creative Ideas to Make Your Windowless Bathroom Bright and Airy
1. Choose the Right Lighting
One of the most crucial elements in brightening a windowless bathroom is the lighting.
With the right lighting, you can create an illusion of space and give your bathroom a warm and inviting ambiance. Consider the size of your bathroom and the type of lighting that would work best for you.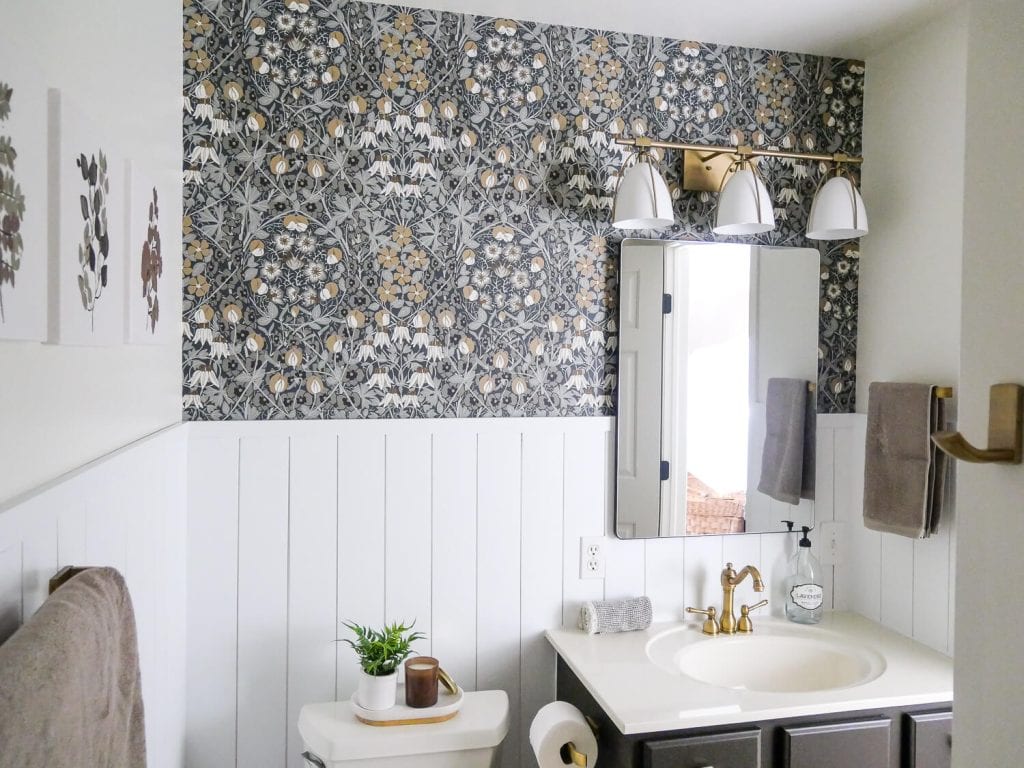 Lighting Options
Wall-mounted sconces or vanity lights are an excellent option for small bathrooms as they provide ample lighting without taking up too much space. You can also flank mirrors with sconces for optimal lighting to get ready each day.
If you have a larger bathroom, you can consider installing recessed lighting to highlight specific areas and create a layered effect. Alternatively, pendant lights can add a touch of glamour and high design to your bathroom while illuminating the space.
Bulb Temperature and Brightness
Apart from the type of fixture, you should also consider the brightness and color temperature of the lighting. Soft white and warm white bulbs can create a cozy feel in your bathroom, while cool white bulbs can make the space appear more spacious.
Take care in choosing your lighting temperature as warm lights can make whites yellowed and cool lights can make whites have a blue hue.
Dimmer switches can also be a great addition to your windowless bathroom lighting as they allow you to adjust the brightness to your liking.
Fixture Orientation
In addition, consider how to install your light fixtures. Some wall fixtures have the option to install facing up or facing down. Installing vanity fixtures facing up will point light towards the ceiling. This has the potential to brighten the whole room, but isn't ideal for makeup application…etc.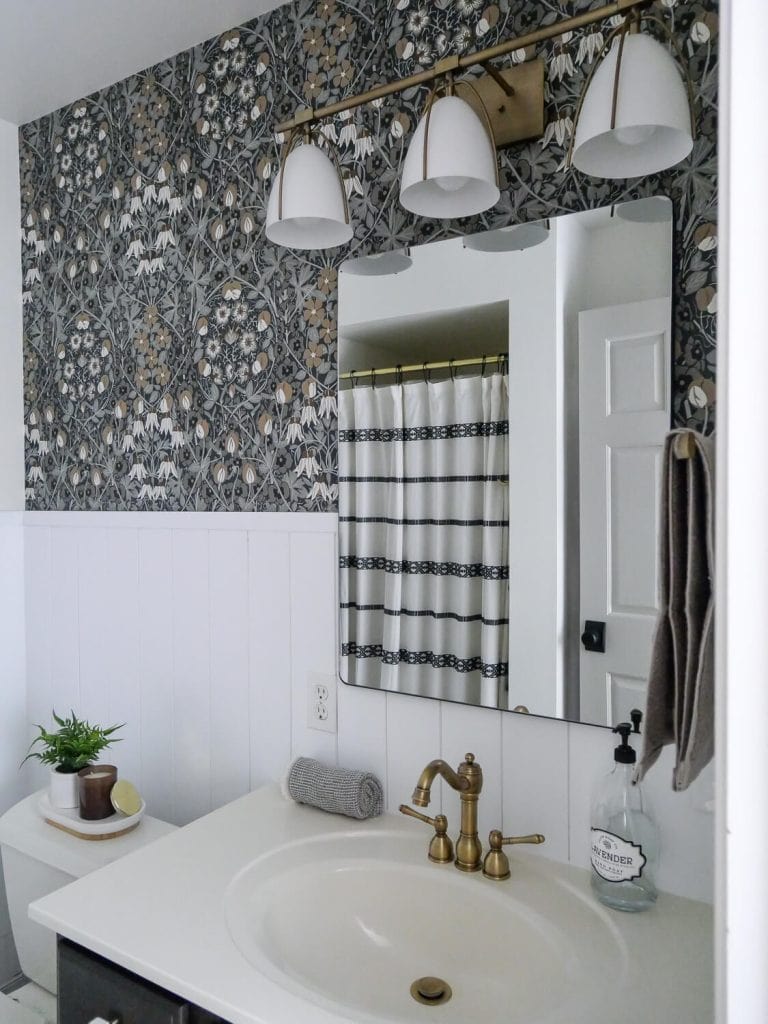 Conversely, installing fixtures pointing down is great for getting ready each day, but if your globes aren't opaque, they may limit how much light reaches the rest of the room.
It's often best to have more than one type of lighting in the space when there are no windows. It's ideal to have recessed ceiling lights in addition to vanity lights or wall sconces.
Now that you know what to consider when choosing the right lighting, you can confidently transform your windowless bathroom into a bright and welcoming space.
2. Add Mirrors to Create the Illusion of Space
Adding mirrors to your bathroom can also create the illusion of space and make your bathroom feel larger than it actually is. This is especially helpful if you have a small bathroom as it can visually enlarge the cramped space.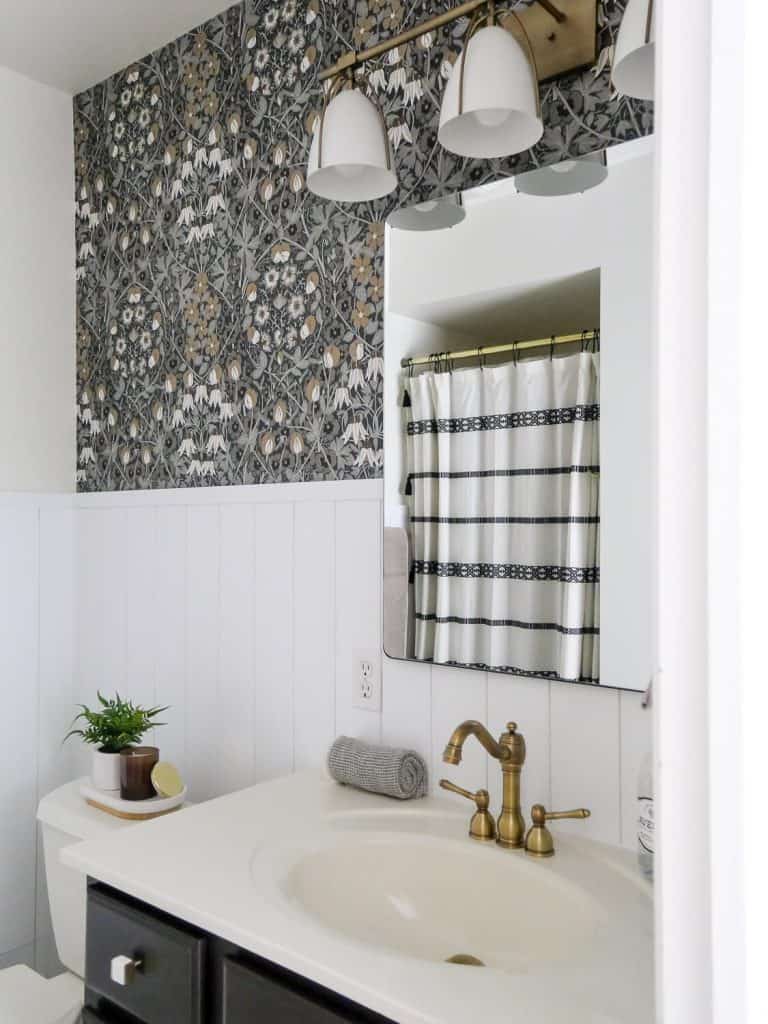 To maximize the illusion of space, consider placing a large mirror across from a light source. This will reflect the light and create an airy and open feel.
You could also add multiple mirrors in different shapes and sizes to create a dynamic and interesting look as wall decor. Or, install one large floor mirror opposite a vanity mirror so they play off each other.
3. Use Light, Neutral Colors in a Windowless Bathroom
Using light, neutral colors is another effective way to make your windowless bathroom brighter and airier. Choosing colors such as white, beige, or light gray will reflect more light and create a sense of cleanliness and openness in the space.
One approach is to use the same color on your walls, floor, and ceiling. This will create a seamless, cohesive look and maximize the illusion of space. You can also add pops of color and texture with accessories such as towels, shower curtains, or rugs, but be careful not to overdo it and introduce too much clutter.
By combining light, neutral colors with the previous tip of using mirrors, you can create a bright and refreshing bathroom that feels much larger than it actually is.
In my bathroom makeover, I added bright white in a semi-gloss to the shiplap and kept the top a creamier white to pull in my almond vanity top, toilet and shower stall. Since these weren't in budget to replace, I wanted to make them feel intentional with the addition of the same color elsewhere.
To take it to the next level, consider adding some greenery to introduce a natural touch and further enhance the feeling of openness in the space.
4. Incorporate Plants for a Natural Touch
Adding some greenery is a simple yet effective way to make your windowless bathroom brighter and airier.
Incorporating plants not only adds a natural touch to the space but also helps promote relaxation. Since we are designing a windowless bathroom, faux plants do the trick nicely.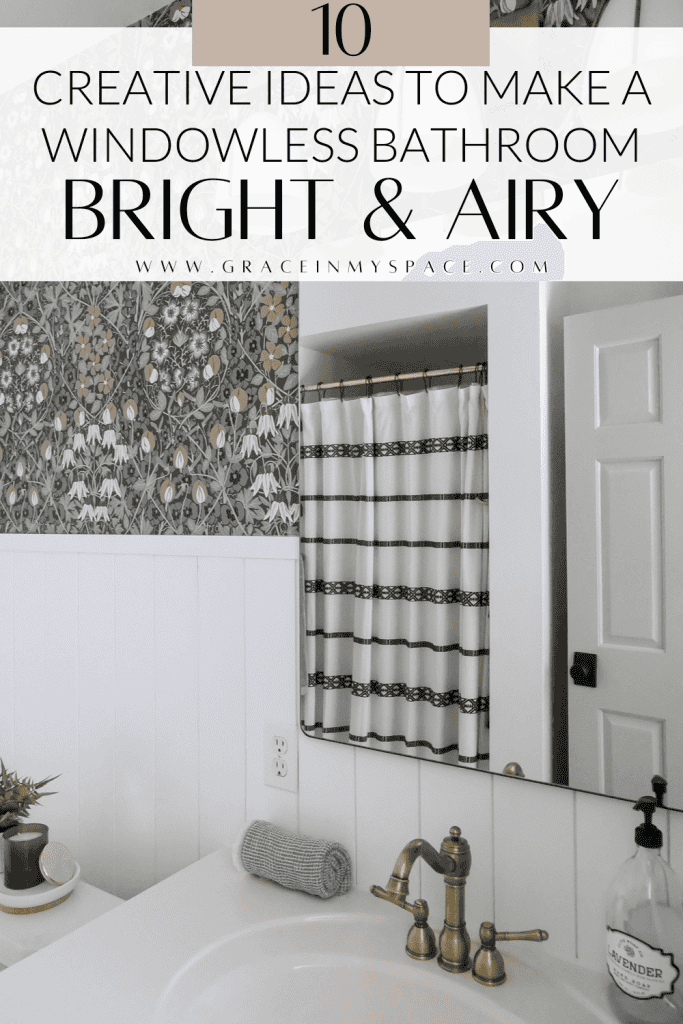 However, some great options for low-light bathroom plants include snake plants and ZZ plants. Snake plants are known for their air-purifying qualities and can tolerate low light and infrequent watering. ZZ plants are low-maintenance and can survive in extreme conditions, making them a perfect fit for a windowless bathroom.
If you're new to plant care, make sure to check out all my beginner friendly plant tips.
By incorporating plants in your bathroom, you can create a serene and refreshing ambiance that will make your daily routine more enjoyable. If you want to take it a step further, consider hanging a plant or two from the ceiling or using a plant stand to add some height and dimension to the space.
5. Include Pops of Bright or Bold Colors
Another way to add some personality and energy to your windowless bathroom is to include pops of bright or bold color. This can be achieved through accessories such as towels, bath mats, shower curtains, and even wall decor.
Adding a bold hue like yellow, pink, or blue can instantly liven up the space and make it feel more inviting.
However, it's important not to go overboard with color. Instead of using bright colors throughout the entire bathroom, consider adding them in small doses. For example, you could choose a shower curtain with a bold print, but keep the towels and bath mat a more neutral color.
By including pops of bright color, you'll be able to inject some personality and style into your windowless bathroom without overwhelming the space.
On the other hand, you could choose bold colors that have a more moody tone. I updated our bathroom vanity for $20 with a can of paint!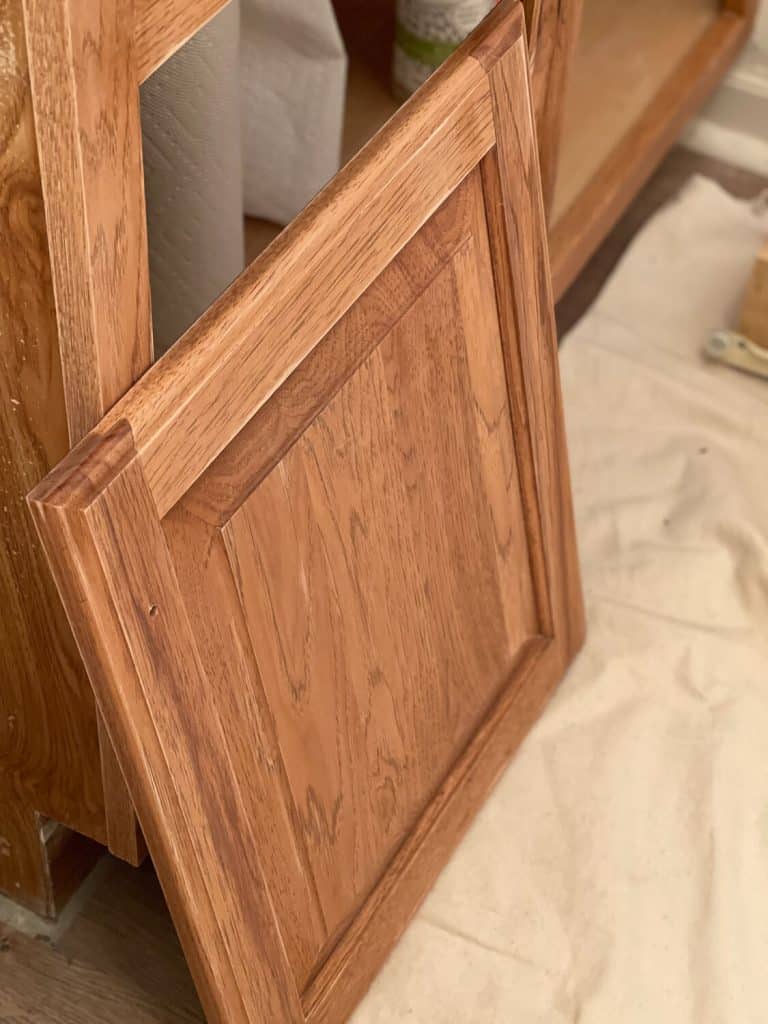 Painting a bathroom vanity a bold color makes a statement and can modernize outdated cabinetry. You can learn how to paint a bathroom cabinet in this tutorial.
6. Eliminate Clutter With Smart Storage Solutions
In small spaces like a windowless bathroom, clutter can quickly accumulate and make the space feel even more cramped. To combat this problem, consider incorporating smart storage solutions that can help keep your bathroom neat and tidy.
Wall-mounted shelves and cabinets can give you more storage space while taking up minimal floor space. You can also use baskets or trays to organize small items like toiletries and makeup.
If you have a pedestal sink, consider installing a small cabinet or shelving unit above it for additional storage.
If you have a small vanity like me, adding a simple tray creates a designated zone for soap or toiletries that don't feel like clutter. See all of my best tips for preparing a bathroom to host guests with my all inclusive guest bathroom essentials list.
By keeping your bathroom organized and clutter-free, you'll be able to make the most of any pops of color or accent pieces you've added.
7. Install a Skylight or Light Tube
A skylight or light tube is a great way to bring natural light into a windowless bathroom.
We have a sky light in our primary bathroom and it always astounds me how much light in brings in. Even at night the moonlight shines through.
These are especially helpful in bathrooms that are located in the center of a building, as they don't have any exterior walls to let in sunlight. Skylights can be installed directly into the ceiling, while light tubes can be installed into an existing opening, like a ventilation shaft.
Not only do skylights and light tubes provide much-needed natural light, but they also make the bathroom feel much larger and more open.
8. Create a Feature Wall
Installing skylights or light tubes is an effective way to brighten up a windowless bathroom. However, these features alone may not be enough to make the room feel airy and spacious.
This is where a feature wall comes in.
Feature walls come in many different options.
Wall treatments
Wall moulding
Murals
Accent color
Wallpaper
Floor to ceiling tile
And more! In my basement bathroom, I added a wall treatment with shiplap.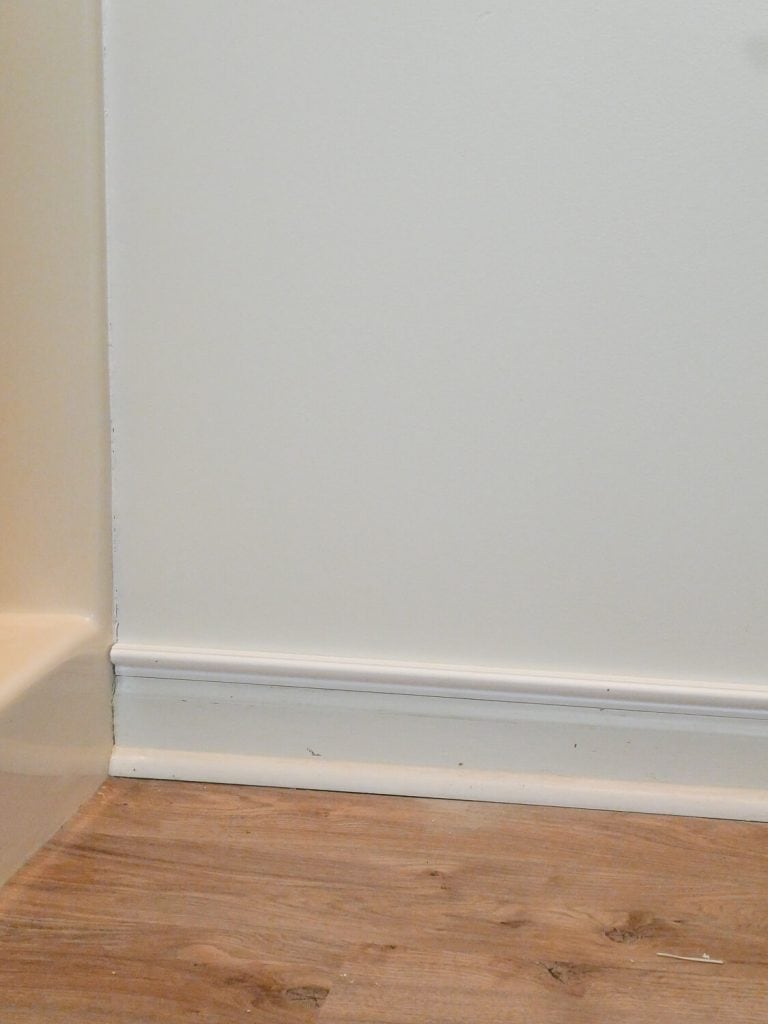 Vertical shiplap is an excellent way to draw the eye up and create the illusion of a taller ceiling. Especially when installed floor to ceiling.
I chose to install mine a few inches above a half wall so my next feature, wallpaper, could steal the show.
If you'd like to learn how to install shiplap, make sure to check out this full tutorial, plus some tricks and tips.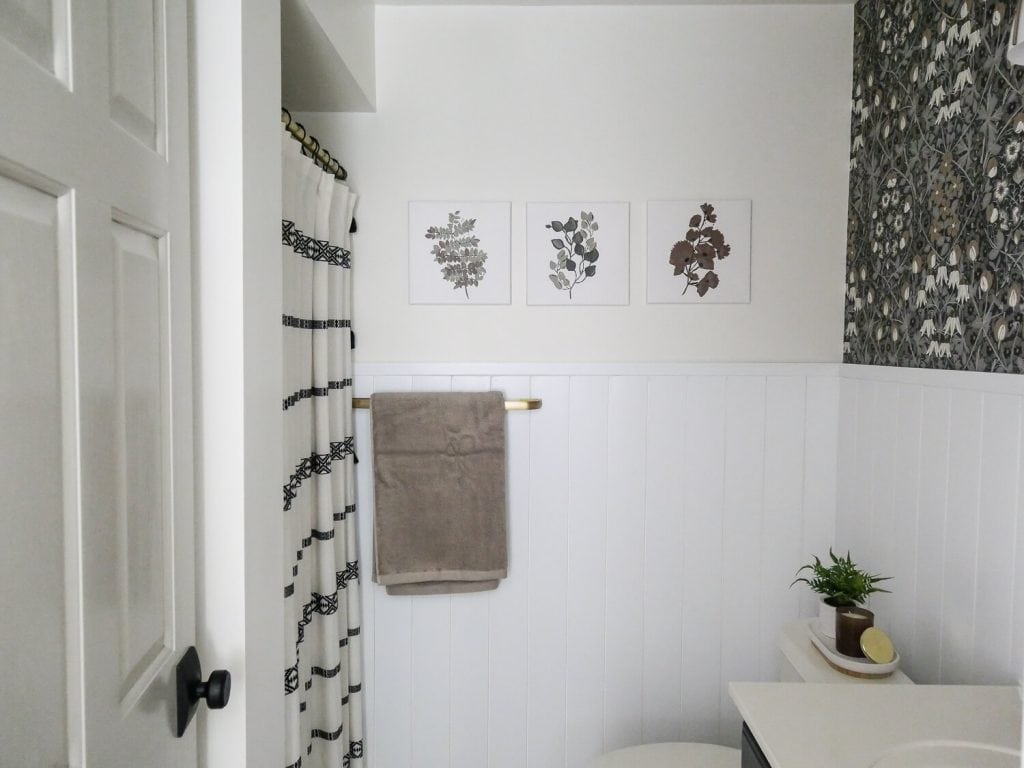 9. Use Pattern With Wallpaper or Bold Tile
A bold wallpaper or colorful tile can add depth to the bathroom and draw the eye away from dark corners. Not only does this create visual interest, but it also takes advantage of the natural light already present in the room.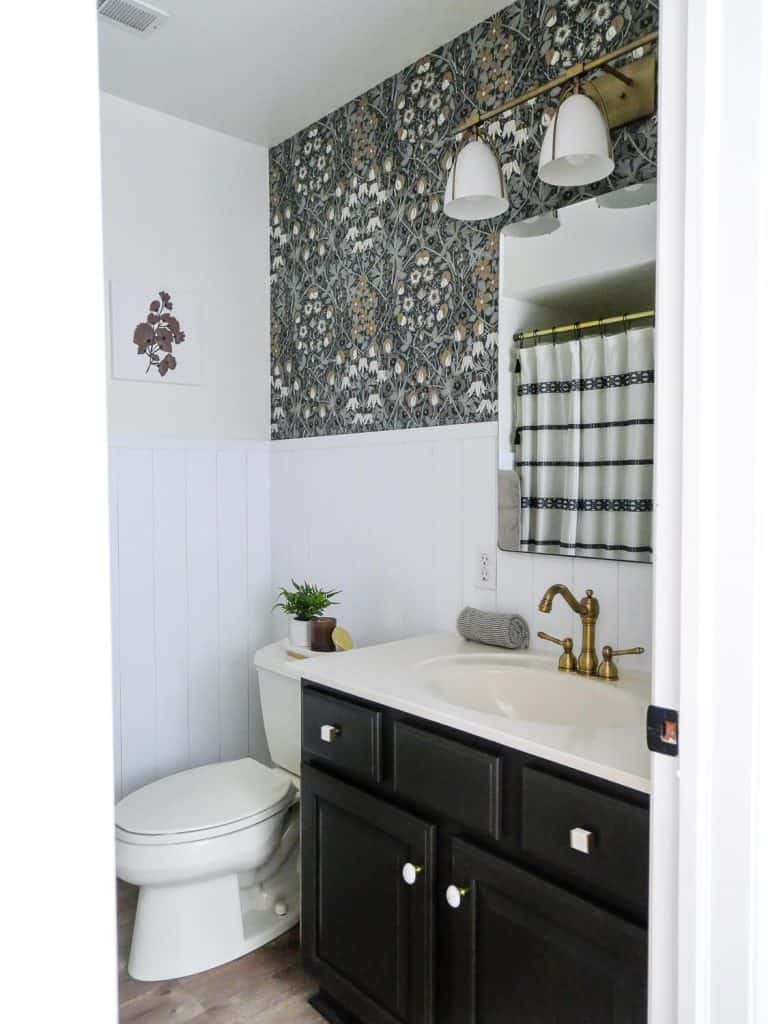 Additionally, adding personality to the walls of a small bathroom with wallpaper allows your space to feel decorated, even if you don't add any countertop or wall decor. This is a fabulous way to keep the room interesting while functional.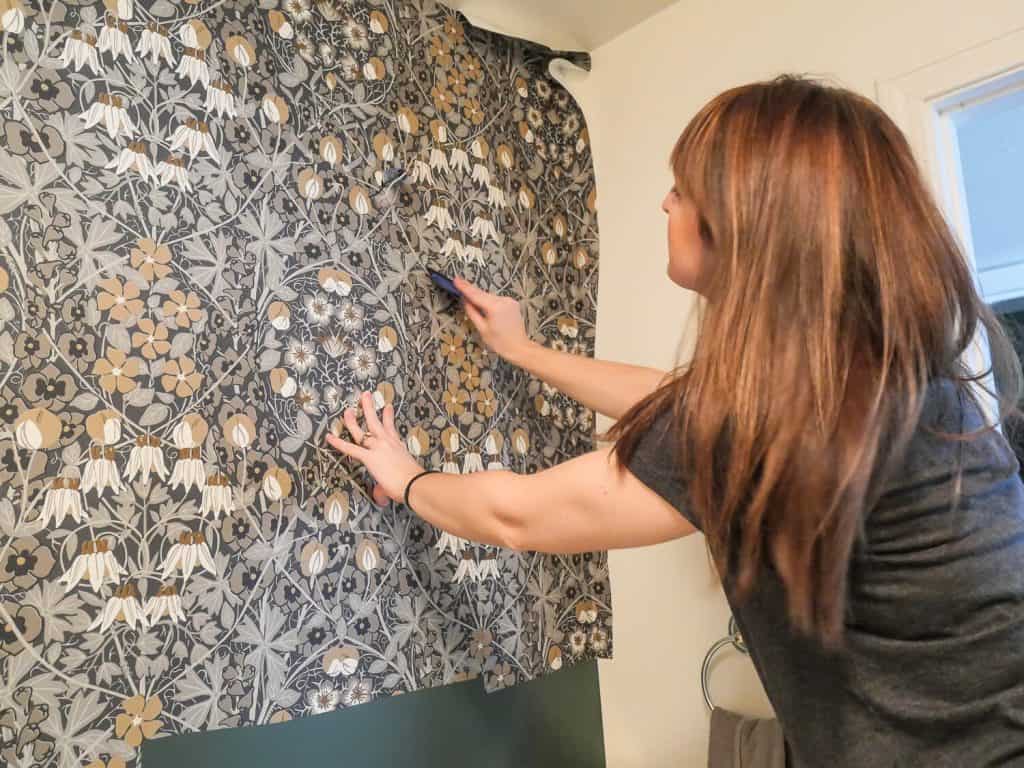 You can learn how to install peel and stick wallpaper in this tutorial.
10. Consider an Open-Concept Design for a Windowless Bathroom
Finally, one way to take your windowless bathroom design to the next level is by considering an open-concept layout.
Removing unnecessary walls or doors can create a more spacious feel and allow natural light to flow more freely throughout the space. An open-concept design can also provide better ventilation, which is especially important in a windowless bathroom where moisture can accumulate quickly.
When considering an open-concept design, keep in mind the practical aspects of your bathroom routine. Think about the placement of fixtures and storage areas to ensure that they remain functional and accessible.
Ultimately, whether you opt for an open-concept design or stick with a more traditional layout, there are plenty of creative ideas to make your windowless bathroom brighter and airier.
By leveraging natural light, incorporating functional storage solutions, and adding a feature wall or two, you can transform your bathroom into a welcoming retreat that feels more spacious and inviting.
My Basement Bathroom Source Book
If you are looking for any details on my own personal windowless bathroom makeover, check out the source book below!
Vanity Paint Color: Black Mocha by Behr
More Bathroom Design Resources
Transforming a windowless bathroom can seem like a daunting task, but with the right techniques, it's possible to make the space bright, airy, and inviting.
By incorporating strategic lighting, mirrors, plants, and storage solutions, you'll create the illusion of space and light. Adding pops of bright color or a feature wall can add personality, and an open-concept design can maximize space.
With these tips, your bathroom will feel like a sanctuary, leaving you refreshed and rejuvenated.
Remember, a little creativity can go a long way in making even the smallest spaces feel welcoming and comfortable.
Check out these additional posts for more bathroom design inspiration!
Stay Connected
Thanks so much for stopping by the blog today! I hope you enjoyed seeing my small windowless bathroom makeover. This bathroom makeover was done on a $700 budget and 100% DIY.
Here are all my tutorials detailing how to accomplish each DIY I did in this bathroom makeover.
Make sure to subscribe to get my Grace Notes directly to your inbox and to access all my insider perks. You can also follow along daily on Instagram and weekly on YouTube!
~Sarah