Easy Updates for Fireplace Makeovers on a Budget
Fireplaces are an amazing asset in a home, but an outdated design can detract from a space. We have an amazing wood burning fireplace in our guest house that I'm excited to update for week 3 of the One Room Challenge! Here are some easy updates for fireplace makeovers on a budget!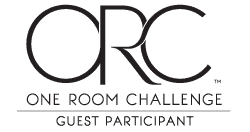 Guest House Remodel
If you're new to my guest house remodel, make sure to visit the first two posts in the series to see all the before photos and design plans! And, make sure to check out all of the ORC participants for hundreds of projects that are going to be amazing!
Fireplace Mantel Plans
Let's start by taking a look at our existing wood burning fireplace. It is well built, however the design aesthetics are not my style. The orange stained mantel had to go!
It literally assaulted my senses every time I looked at it. In my opinion, it detracts from the stonework because it is so bright.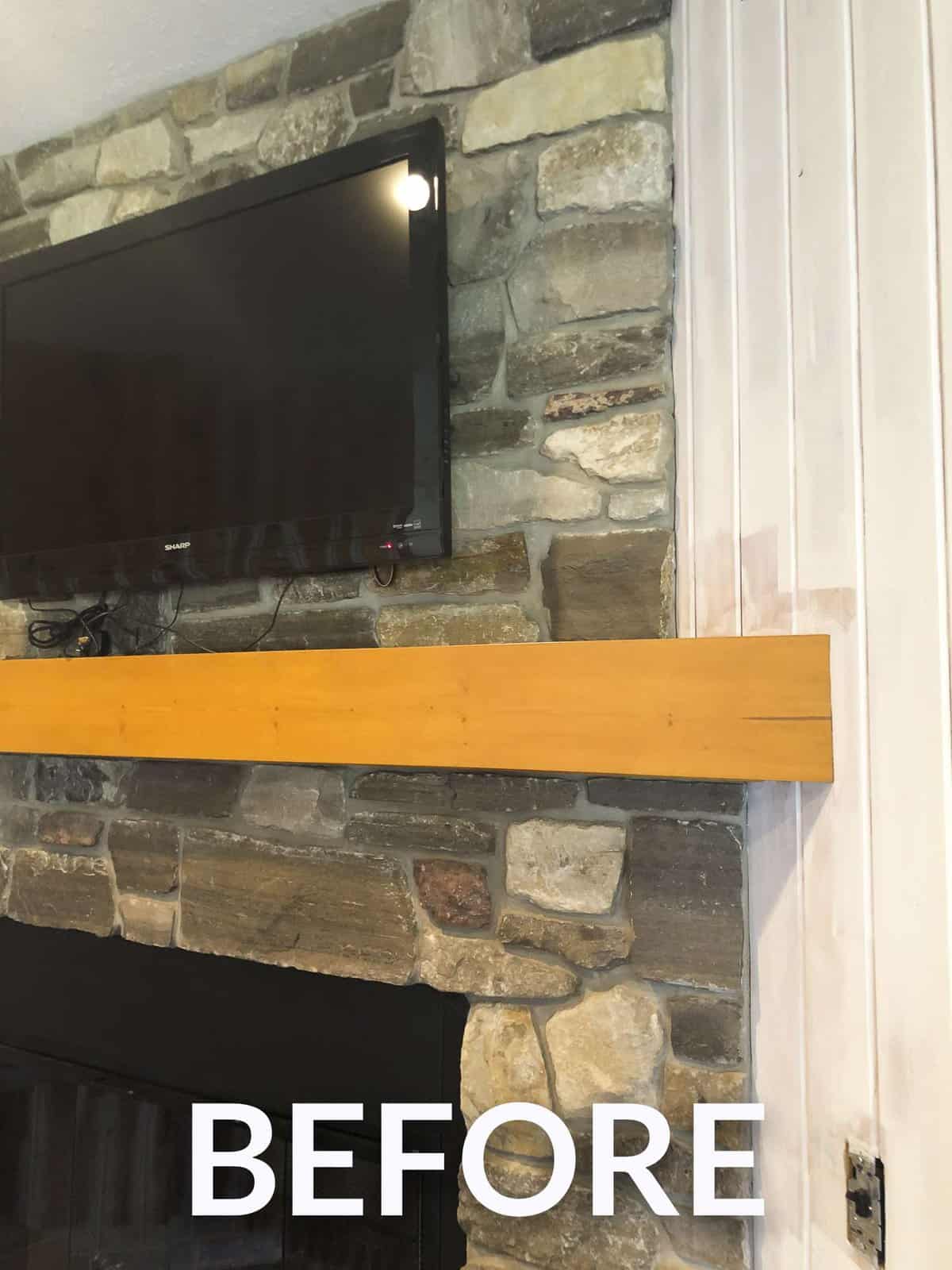 My initial thought was that I would simply sand down the mantel and re-stain it to a calmer color. And that began my brainstorming for easy updates for fireplace makeovers on a budget!
Fireplace Makeovers on a Budget
I've updated my fair share of fireplaces over the years. In our previous home, I designed a brand new fireplace from scratch after our house fire. You can see that design in our remodel story, however it certainly was not a budget update. I just LOVED that stone though. I would use it again in a heart beat.
Then, in our current home, I've done two fireplace updates that were much more budget friendly. And that brings me to some ideas for a budget fireplace makeover!
Replacing or Refinishing a Mantel
There are two basic ways to update a mantel. You can either replace it altogether, like I did with our upstairs fireplace, or you can refinish the existing mantel.
Replacement Mantel
If you'd like to see what an amazing transformation it can make to replace an outdated mantel, make sure to check out my barn beam mantel update. This cost me $10 for the new mantel and $100 for the bracket system. Not too bad for a budget mantel update!
Refinishing a Mantel
In our guest house, I sanded down the existing mantel to remove all the orange stain. This was an extremely messy project, but not difficult or expensive!
No more orange! It took me approximately an hour and a half to chew through all that stain. In hindsight, I think I should have stripped it rather than sanding. However, each option is extremely budget friendly.
The mantel was built of affordable knotty pine, so it has some texture and character to it that wasn't visible before.
Taking the mantel down to the raw wood allowed me to see what I was working with and formulate a plan. I decided to simply re-stain the mantel to a more toned down color that would help the stone pop!
I used Miniwax Special Walnut and applied a very light coat. I like to use my husband's old undershirts as my staining rags because it's a great way to reuse instead of throwing them out.
It also helps me control how much stain I apply. I simply dip the rag in the stain, swipe it on, and then rub it in.
Changing the color of the mantel made a huge difference! It makes the stone pop more since the mantel itself is more subdued.
Fireplace Stone
Now, let's talk about that stone! While the stone is lovely, it is not my style. I wouldn't have chosen the red and orange hues. However, with the updated paint and mantel, the stone coloring is more palatable for me.
My husband likes the stone as is, so I'm torn on whether or not to do my next suggestion for fireplace makeovers on a budget: german schmear!
Our upstairs fireplace has a river rock hearth. River rock, unfortunately, is also a stone that I'm not a fan of on a fireplace. You can see how I updated it with an affordable german schmear for an example of how much this technique can change the look of stonework!
Another affordable way to update a stone/brick fireplace is by painting it or white washing it. I know SO many people would say that painting stone is a "design sin"; however, I say, if you don't love it then change it!
Updating fireplace stonework with paint is extremely affordable and can be a quick and budget friendly makeover until the time when you can fully replace it. Chances are, you will love the look and want to keep it in the end anyway!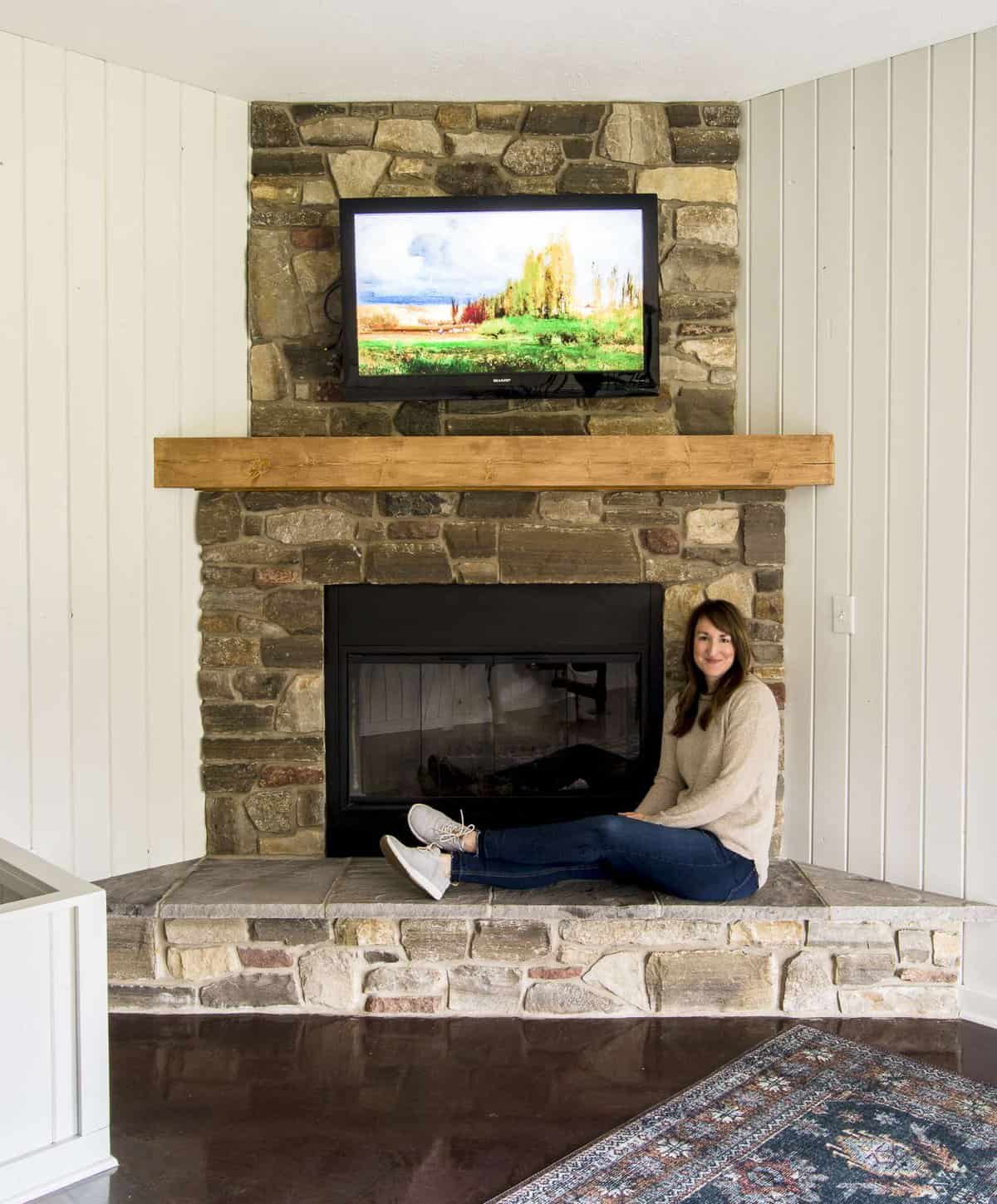 I Would Love Your Vote
So, my friends, I'd love your vote! Adding a german schmear treatment (or, over-grouting) to the stone would give this space a more earthy European feel, like this example from Chris Loves Julia.
I think it would tone down some of the reds and oranges since I can apply as much mortar to those stones as I want to mask the hues. On the other hand, I could leave it as is for a more cabin feel!
The rest of the guest house will have modern furniture that has a hint of rustic to it. You can see the full design plans here.
If you choose to update your stone with this method, you can get away with this budget friendly fireplace update for under $200 depending on the size of your fireplace!
Stay Connected
Thanks so much for stopping by the blog today! And, for one more update on this space, how about this before and after? The paint is on the walls! I chose Soft Secret by Behr and it has some green undertones that will work well with my rug.
I can't wait to continue the remodel! Stay tuned for 5 more weeks of this project!
One Room Challenge Update
The project is complete! If you missed the 8 week process, catch up with the links below!