Guest House Remodel | One Room Challenge
Our guest house is an amazing bonus space and extension of our home. However, it's design is not my style and lacks function for our family. I'm excited to remedy those problems over the next 8 weeks! Follow along with our guest house remodel as part of the One Room Challenge!
Guest House Remodel | Befores
Today I'll be sharing all the before photos of our guest house. I'm thrilled to be participating as a guest in the One Room Challenge. You can find so many talented designers and guest participants to follow along with over the next 8 weeks here.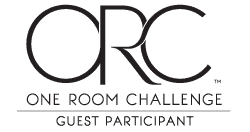 Bonus Space Purpose
When we bought our home, the guest house was a complete surprise and bonus space. At this stage in life, we don't need to have a mother-in-law suite, nor do we need the extra square footage for our family.
However, the 38 acres of land sold us on the purchase of our fixer upper. If you're new to Grace In My Space, you can tour my home to see what we have already remodeled over the last two years via my virtual home tour!
It has been a labor of love to slowly update each space in our main house. Consequently, the guest house has sat untouched for two years. At this time in our lives, we use it infrequently when we want a change of scenery or a cozy fire.
It also hosts a brood of kiddos ages 5-11 bi-monthly for our small group gathering that we host. Adults are in the main house…where it is quiet…and the kiddos get full reign of the guest house for their learning and craft time. It has worked quite nicely to serve as a bonus space for large gatherings for the last two years.
But now, it's time to make it fit our family!
Guest House Plans
Over the next 8 weeks I plan to remodel the guest house with a mixture of good ol' DIY, contracted help, and ingenuity. As you can see, paint will be the number one goal for this space.
While knotty pine in smaller doses can create a cozy cabin feel, having it in the entirety of the 500 square foot space is completely overwhelming.
I'm excited to transform the feeling of the room with paint to allow some of the beautiful focal points of the room shine.
The spiral staircase and stone wood burning fireplace currently feel out of place in this woodsy aesthetic. Updating the walls will modernize the room immediately.
Of course, the furniture and decor will also be updated. When we moved in we were blessed to be gifted a set of hand-me-down furniture to hold us over until we were ready to remodel. And the rugs…..let's just say they were perfect for a dozen kids to eat and play on for the time being.
Design Dilemmas
Beyond the standard update of paint and furnishings, I'm determined to tackle a few design dilemmas for this space. There is a fine point where form must meet function, however, some of the "function" in our guest house needs to be masked.
Unsightly Wall Heater
Since the guest house doesn't have traditional HVAC, I've had to contend with a wall heater taking center stage. I hope to come up with an alternative solution that will combine its functionality with a little bit of ingenuity to create an art focal point.
Pink Countertops
I also have lovely pink countertops in the bathroom to resolve.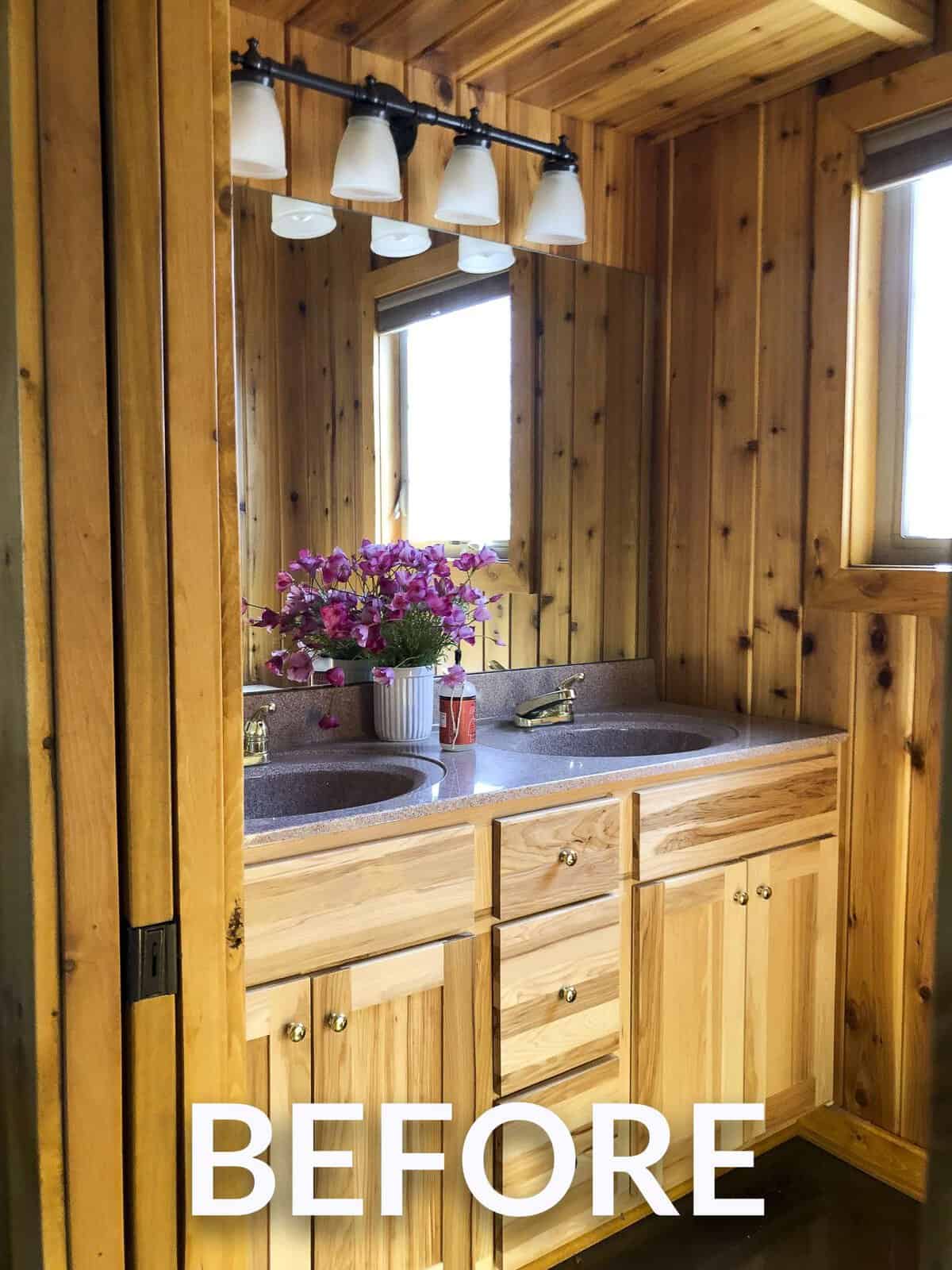 My dream would be to replace them, however, this guest house remodel is being done on a budget and with limited resources due to COVID 19. So, I've come up with a budget friendly solution to this issue.
Kitchenette Extension
Similarly, I plan to do minor updates to the kitchenette on a major budget.
This guest house remodel will be done in stages. It is technically all one room, however I plan to treat the kitchenette as a separate space for the One Room Challenge.
I'll be updating portions of it, but a complete remodel will be delayed for another time.
Reddish Brown Floors
The final design dilemma that I'll be working around is the reddish brown floors. In a perfect world, and perhaps at some point down the road, I would lay wood floors in the guest house.
The stained concrete flooring is extremely durable and would work perfectly in this space, if the previous owners would have chosen a different color finish. It simply isn't my style!
The red/brown/green iridescent stained concrete will be difficult to design around; however, I plan to design with new floors in mind that will also work with our current situation. That way, when we update the flooring in the future, the design will still work!
Stay Connected
I'm excited to really get this project underway! If you follow me on Instagram, I've been sharing some of the projects I've already tackled on Instagram stories. They are saved in my highlights if you want to catch up!
Make sure to subscribe to the blog to get my weekly updates and tutorials over the next 8 weeks delivered to your inbox. Next week I'll be sharing all the design plans!
Thanks so much for stopping by the blog today!
One Room Challenge Update
The project is complete! If you missed the 8 week process, catch up with the links below!