Top 10 Timeless Countertop Design Decisions to Consider
Timeless countertops add incredible value to your kitchen design. Beyond designing for resale, choosing a timeless countertop will play a huge role in an overall timeless kitchen for years of enjoyment. Here are the top 10 design decisions to consider when choosing kitchen countertops.
This post may contain affiliate links for your convenience.
Benefits of Designing a Kitchen With Timeless Countertops
There are three main camps in the design world.
Design solely for your own personal enjoyment
Design with trends in mind
Design for timeless looks that stand the test of time
Personally, I think it's possible to blend all three and get the best of all worlds. While there are benefits to each option, there are also cons to consider.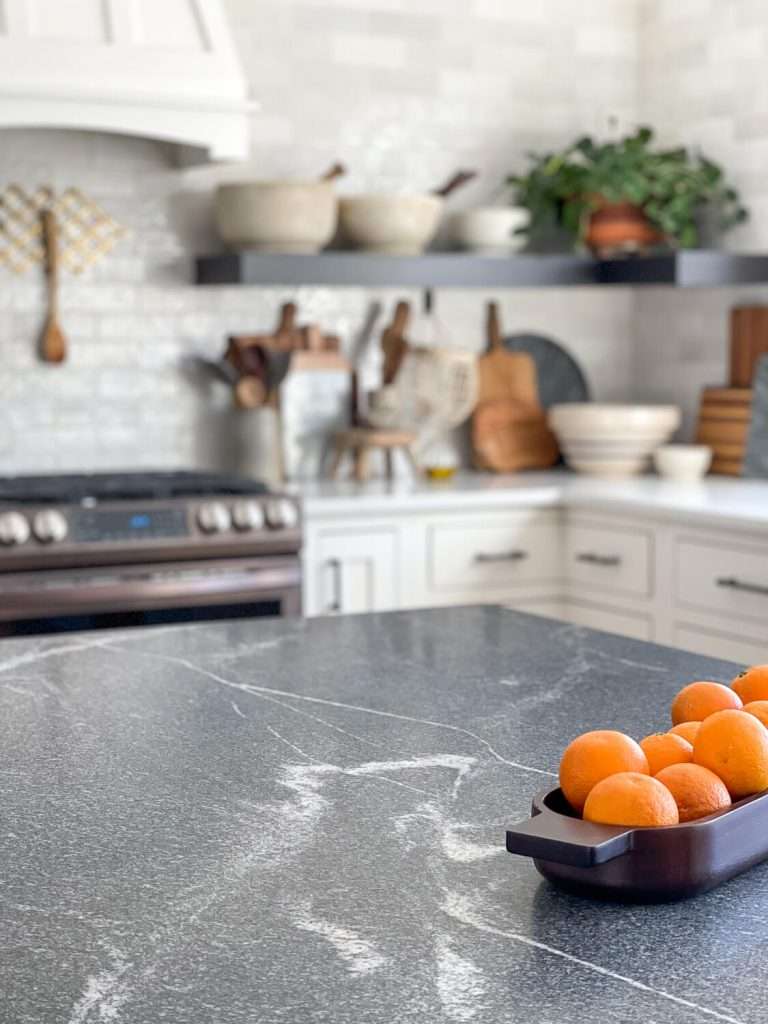 For instance, what is trendy today will be dated in two years. Only ever designing for longevity can lack creativity and stall progress. And, if you design an entire house in your own personal and unique style, it may not be ideal for resale if it's not a common look that appeals to many buyers.
So, let's start today's article with what the benefits are of designing a kitchen with timeless countertops (as opposed to trendy or unique countertop choices).
Timeless countertops will work with many design styles should your preferences change in the future.
Choosing a timeless design opens up opportunity for higher resale value down the road.
Timeless kitchen countertops will literally stand the test of time, making them a practical choice for a highly functional kitchen.
Since countertops are an expensive element of a kitchen remodel, you only want to buy them once! Choosing timeless options will allow you to save money and keep the same counters if you ever want to change other elements of your kitchen in the future.
Many timeless options are made from natural materials, which add so much character, charm and uniqueness to a timeless kitchen design.
Top 10 Design Decisions for Timeless Countertops
Now, let's quickly list the design decisions you will need to make when searching for timeless countertops.
We can break this down into ten main categories.
Material type
Color
Patterning
Finish
Durability
Edge Profiling
Cost
Customizability
Compatibility with a backsplash
Maintenance level
1. Best Material Type for Timeless Countertops
First, your main decision is going to be what type of material to install for your countertops.
When looking for timeless countertops, we can easily look back historically to see what people have used for centuries.
Before the explosion of the design industry being for the everyday person rather than the elite, kitchen countertops were chosen for their durability, longevity, and practical nature.
In the 1800s, kitchen countertops were utilitarian in nature and usually made of wood or metal. It wasn't until upscale kitchens began to be incorporated into homes that luxury marble and fine woods were used.
Victorian work surfaces were typically slate, soapstone, wood or zinc. Then, in the 1920s, tile and stainless steel started entering the picture.
Laminates, formica and melamine entered homes in the 1930s, and quartz didn't really explode in popularity until the 1990s.
When looking at that span of over 200 years, it's easy to see which materials have stood the test of time.
These three materials will be your jumping off point to help you reduce your choices. The next 9 design decisions will continue to narrow it down!
2. Kitchen Countertop Color
The next decision to make for a timeless countertop design is the coloring.
Most designers would encourage you to keep your countertop coloring neutral if you want it to have the best chance at longevity.
These color schemes give you the most flexibility in the rest of your kitchen design choices.
3. Keep Patterning Simple
The next decision you will have to make is what level of patterning your countertops have.
This will be 100% dependent on the type of material you choose.
Many natural stones have a wide variety of veining, flecks and specks and abnormalities.
For the most timeless look, keep the patterning simple. Rather than choosing a marble that has crazy veining, try something more subtle. Instead of highly speckled granite, find one with less busyness.
While some may say that natural stones like marble will always be timeless, there are a lot of trendy looks that might not stand the test of time because of over-the-top veining.
The simpler the patterning, the less trendy the look.
4. The Best Finish for Timeless Countertops
Next, let's talk about the finish. There are quite a few choices, depending on your material type.
Wood: Ranges from Matte – High Gloss
Stone: Honed v. Leathered v. Brushed v. Polished
Metal: Hammered v. Smooth
In my opinion, the more subtle the finish the more timeless your countertops will be.
High gloss, polished, and hammered finishes tend to feel more high design and trendy.
Less obviously visible finishes, like honed stone or satin wood, will let the other elements of your kitchen design take center stage. This takes the focus off of the countertops, which can help them remain timeless if they aren't the main focal point of the kitchen.
5. Durability
Number five on the list of design decisions for timeless countertops: durability.
Why is this important? Because you want your countertops to last a lifetime! There are many durable options, but the most durable remain the same as our number 1 list.
While wood is not indestructible or maintenance free, it is the easiest to repair and refinish if damage is done.
Granite and quartz are two of the most durable natural stone countertop options. If you'd like a comparison between the two, make sure to check out my article on the pros and cons of granite v. quartz.
Finally, metal is very durable. Though, it can scratch, etch or dent easily to cause visible damage. It simply depends on how you plan to use your kitchen!
6. Edge Profiling decisions
If you are choosing to have a natural stone countertop fabricated, then they will need you to decide what kind of edge profiling you want.
Most showrooms will have examples of this so it is easier for you to decide. You'll need to choose the edge detail, the corners, and the sizing.
For example, my kitchen countertops have a 3cm edge profile with a Ridgeline flat eased edge and 3/4″ rounded corners. This is an example of a variety of choices your fabricator may have to choose from.
In general, the more curves added, the more interesting; but, also the more apt it is to date the countertop. Straight edges can feel modern, but they will also last a lifetime!
7. Cost Variation for Timeless Countertops
Chances are, if you're in the market for a kitchen remodel then you want to spend once and be done! Kitchens are easily one of the most expensive rooms in a home to remodel. And countertops are high on the list for expensive materials.
Your least expensive option for countertops will be wood, with the highest being marble and other natural stones.
Thankfully, even amongst the more expensive natural stones, you'll still find budget friendly options to choose from.
Your best option is to take your dimensions into a local showroom and have them give you a quote for three different types of materials. This will help you narrow down what is in your budget so you can take the next step forward.
8. Is Your Countertop Customizable?
You might wonder, what does customizability have to do with a timeless countertop? Wouldn't a customized look be more trendy and less timeless?
Not necessarily! While you can go overboard with customizations, you want to be able to design your kitchen countertops so they are the jewelry of your cabinetry. You should be able to:
Create clean corners that match up well
Have discrete seams and joints
Work around awkward built ins or corners so the countertop is consistent
Carry veining from one transition to another (ex: up a full height backsplash)
COUNTERTOP DESIGN
Designing a Full Height Backsplash
If you want to bring your countertop material up onto the walls, consider a full height backsplash.
Some stone types don't allow you to design so veins or patterns match up. This can cause a disruption in the flow and isn't for everyone. Keep these types of customizations in mind when thinking through any problem areas in your kitchen!
9. Choose Countertops that Are Compatible with a Backsplash
Number 9 on the list is very important for an overall timeless kitchen.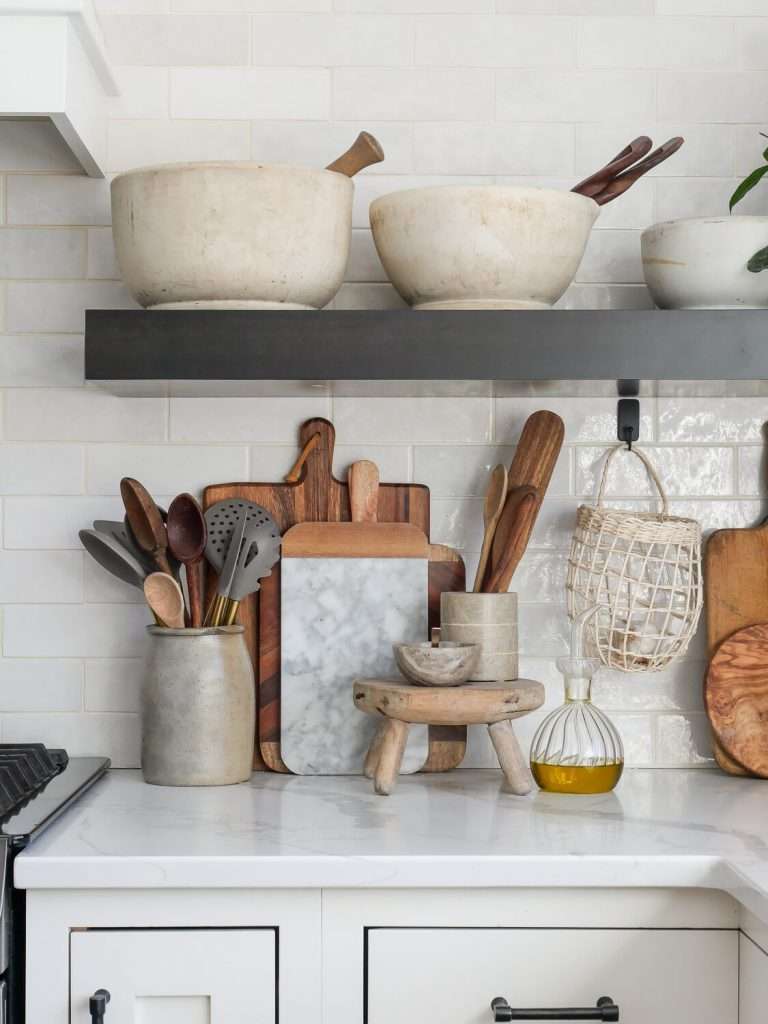 While you won't want to change out your countertops frequently, you may want to switch up your backsplash!
Choose a timeless countertop that gives you the flexibility to install a variety of backsplash designs.
This is why neutral colors with subtle patterning goes a long way in a timeless countertop. By keeping the countertops more subtle and timeless, it gives you the flexibility to choose bolder choices and colors in your cabinetry or backsplash design.
10. Consider the Maintenance Level
Last on the list of considerations is the maintenance level of your kitchen countertop.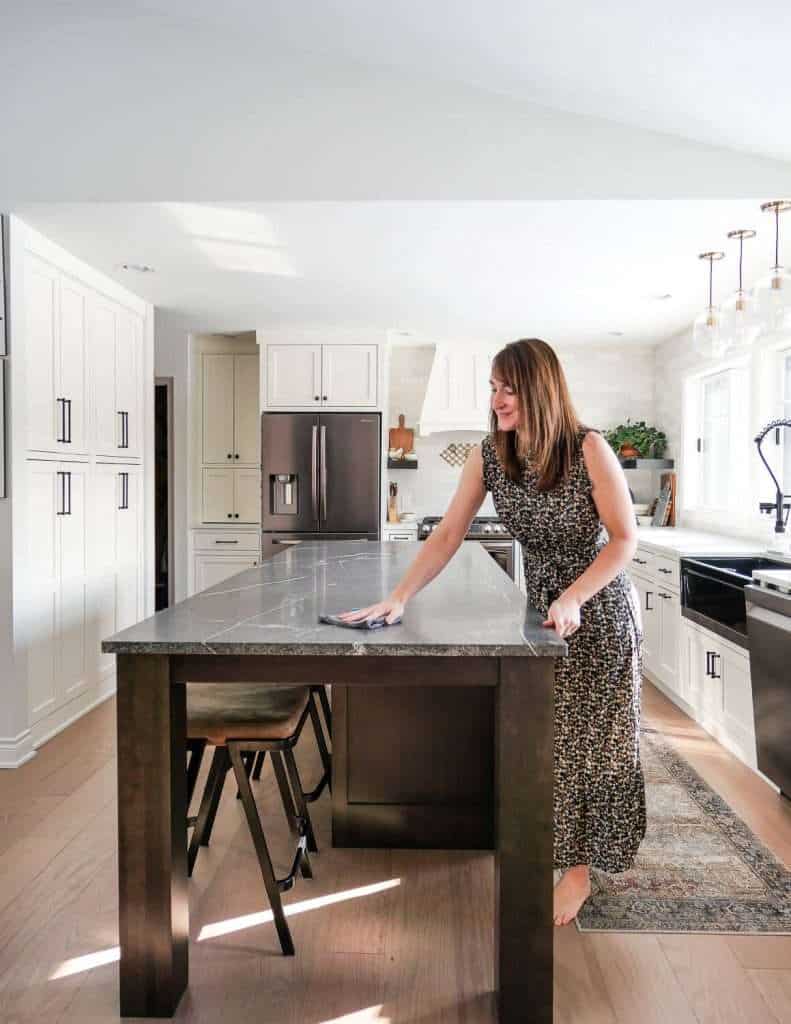 This is a personal preference. Some people would choose marble or soapstone countertops for all their benefits and simply deal with the way it shows wear and tear. Some people would much rather pick a quartz or granite look-a-like to have less maintenance and more durability.
That was me! Make sure to check out the best quartz and granite choices if you want the look of marble or soapstone below.
MAINTENANCE FREE COUNTERTOPS
15 Quartz Countertops that Look Like Marble
If you want the look of marble with less maintenance, check out these 15 marble look a-likes!
MAINTENANCE FREE COUNTERTOPS
10 Best Granites that Look Like Soapstone
If you love soapstone, but don't want to deal with the maintenance, consider these granite options!
Quartz is often touted as the most durable countertop material. However, I'd say granite is also high on the list.
Wood is likely the least durable in a kitchen because of frequent contact with water. Though, an excellent sealing routine and attention to maintenance can make a wood countertop last a very long time.
Frequently Asked Kitchen Countertop Questions
Now that you've walked through the 10 main design decisions to choose a timeless countertop, let's cover some FAQs.
What is the Most Timeless Countertops?
Some people really don't want to walk through the process and just want to be told a straight answer. I get it.
Though, I find there is unparalleled value in walking through the whole journey as a home owner to make an informed decision.
There are so many benefits and drawbacks to each type of countertop. No one option is perfect.
So, I'd choose your top two material choices and then make a list of pros and cons for each. It is up to you to decide what pros outweigh the cons.
In my kitchen, I've chosen granite and quartz as the most timeless options. In my opinion, they tick all the boxes. The colors and patterns I chose are subtle enough to stand the test of time, while adding interest and not falling flat.
They go well with a variety of colors and design styles, are highly durable and virtually maintenance free, and were in budget.
What Countertops Never Go Out of Style?
Choosing kitchen countertops that never go out of style is best done with a natural stone.
Natural stone has been used for centuries, offers a huge variety of coloring and patterns, and is extremely durable. It is an excellent choice and you just need to narrow down which natural stone best fits your lifestyle.
Granite: needs to be sealed regularly, but virtually maintenance free otherwise
Marble: take care not to use acidic foods or abrasive cleaners as etching is a common issue
Soapstone: unparalleled beauty, but a soft stone that needs regular oiling
Quartzite: with a glassy appearance, this natural stone needs regular sealing
Limestone: can stain easily, take care not to spill acidic foods or use harsh cleaners
While quartz is an excellent choice as well, and one that I've used frequently, it is man made. However, as quartz fabrication progresses, they are developing more natural looking designs to choose from.
What Color Quartz is Timeless?
If you want to go totally maintenance free, quartz is a great timeless option.
The most timeless color quartz are shades of white or a very light grey.
If you'd like to learn more about adding white quartz to your home, here are the 20 pros and cons of white quartz in a kitchen.
Which Countertop Adds the Most Value?
Since a kitchen remodel is a great investment in your home, it is reasonable that you'd want it to bring value.
Stone countertops add the most value to a home. Quartz, marble, soapstone, and granite are all viewed as high-end countertop choices. These stones will bring more value than wood, laminate or metal countertops.
What is the Most Practical Countertop?
If you're looking for the most practical choice, go with quartz.
There are many benefits to quartz being a man-made stone. It is non-porous, which means it does not stain. (If you've ever encountered a "stain" you can't get out in your quartz, make sure to check out how to clean quartz like a pro!)
It is also heat and scratch resistant, and very strong and durable. There is a huge variety of colors, patterns, finishes and edge profiles to choose from so you get the exact look you want.
My Kitchen Design Sources
If you're looking for any of the kitchen materials or decor in my kitchen, you can source it below!

More Kitchen Design Details
Thanks so much for stopping by the blog today! I hope this information on how to choose timeless countertops has been helpful to you.
I'd love to know, what is your top choice for a timeless countertop?
If you're looking for more details on kitchen design and decorating, make sure to check out all my kitchen resources!
Thanks for stopping by the blog today! Make sure to subscribe to get my Grace Notes directly to your inbox and to access all my insider perks. You can also follow along daily on Instagram and weekly on YouTube!
~Sarah