Simple Autumn Living Room Decorating Ideas for the Everyday Home
Do you want to learn how to decorate your living room for fall, but you don't have a lot of time? These simple autumn living room decorating ideas can be completed in just a few minutes!
No need to pull out 100 pumpkins, full corn stalks or messy florals. These tips for autumn living room decorating will have your home feeling festive in no time.
This post may contain affiliate links for your convenience.
Autumn Living Room Ideas
The living room is one of the top social spaces in a home. Besides the kitchen, most entertainment happens in the living room. Plus, we spend our everyday lives gathered in our living spaces.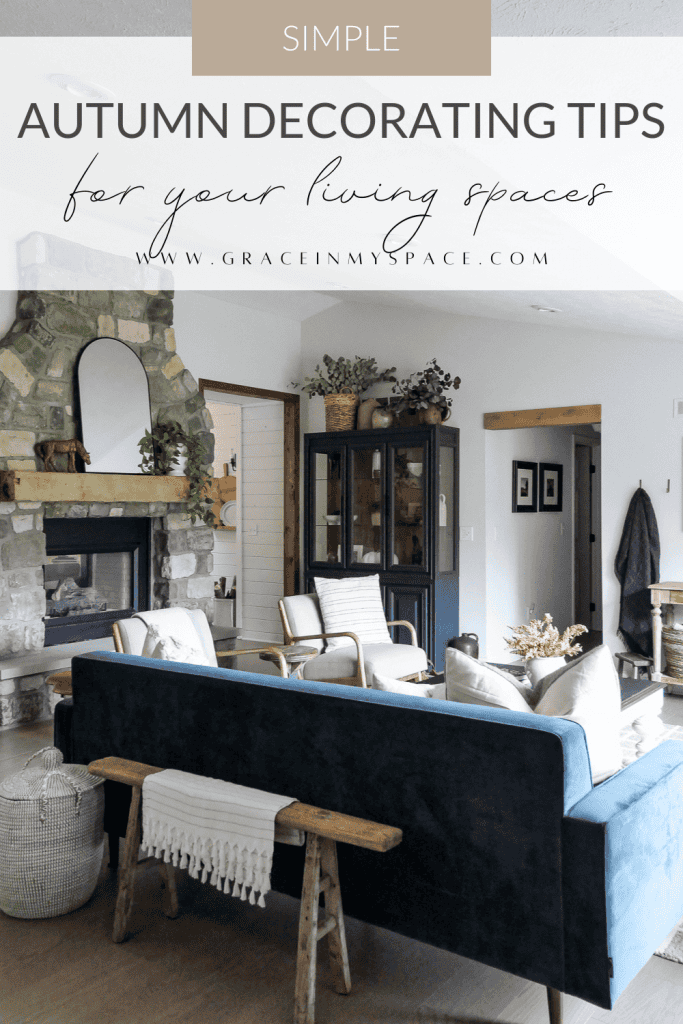 So, it makes sense to decorate those high traffic areas of a home for the seasons. However, high traffic areas also mean that a lot of decor can easily become a cluttered hindrance to everyday living.
Today I'm going to focus on how to decorate your living spaces for autumn without all the fuss. Get a fall look in just a few minutes!
How can I decorate my living room in autumn?
Autumn decorating ideas are everywhere on Pinterest, Instagram, and with a quick web search.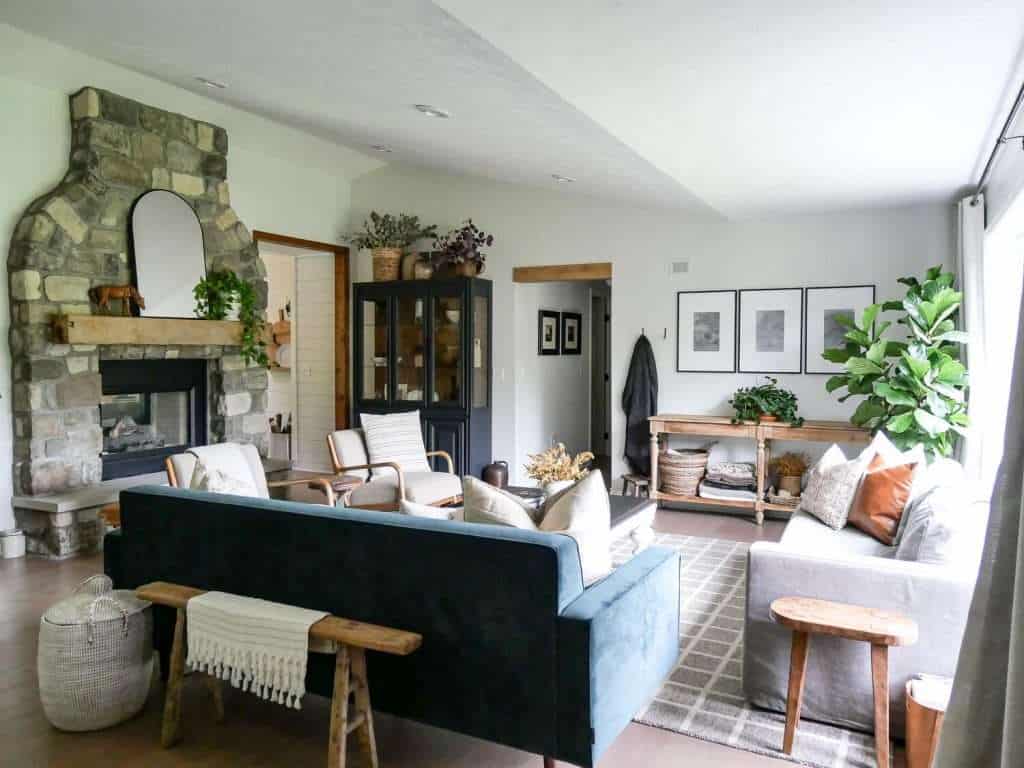 But what if you just want to create a subtle autumn look? That isn't as easy to find.
The key to autumn decorating in your living space is to first clear out overtly summer colors or florals. Make space for fall decorating ideas to be able to be implemented. Store items that you don't want out for the season and clear as much clutter as possible.
This way, when you add your fall decor, you won't feel as overwhelmed or like it doesn't "fit."
Top 5 Autumn Living Room Decorating Ideas
Here are my top autumn living room decorating ideas you can accomplish with very little effort.
Swap pillow covers to fall themed covers or a fall color palette.
Store away lightweight summer blankets and pull out medium weight throw blankets with autumn colors or patterns (think plaid, checkered, nubby textures, wool…etc).
Add one or two arrangements of faux florals in plums, mustard, orange, brown or deep green hues.
Rely on black and white to anchor a space for a more modern autumn look.
Incorporate only one or two overtly fall decor items, such as a ceramic pumpkin or fall artwork.
That is it! Swap out a few pillow covers and blankets, add an arrangement, and place a pumpkin or two strategically. Fall decorating does not have to be layered and complicated. Especially for a modern home!
Cozy Autumn Living Room Decor
Now, since two of the five tips have to do with coziness, let's talk quickly about what makes a living room cozy for autumn.
How do I make my room COSY for autumn?
Coziness isn't just about being warm.
Of course, you can light a fire to create an amazing cozy atmosphere. You could light candles to add fall scent and a warm glow. And you can warm up the space with a warm color palette of browns, creams, mustard and reds.
However, real coziness in a living room usually means that you are comfortable and at ease.
For some that might mean having a side table next to their favorite chair with the perfect space for the book of the month and a cup of hot cider. For others, that might mean lots of throw pillows to situate perfectly behind them for an afternoon nap.

You determine what cozy means to you, and then take the steps to incorporate it into your home.
For me, cozy means lots of pillows and blankets.
(Side note: I can't tell you how often people ask me if I actually use my pillows or if they are just decor. Pillows that can't be touched feels like I'm at a prickly grandma's house with plastic on the sofa. Don't be a prickly grandma. Use those pillows to create a comfortable space for your family and guests!)
Michigan starts getting cold in October and that usually lasts well into April. So blankets, and lots of them, are a must!
Here are some of my favorite places to purchase blankets and pillows.
Handy tip
Pillow covers are my favorite. Buy enough good quality down pillow inserts for your space, and then only purchase pillow covers (rather than full pillows) when you want to swap the look for the seasons.
Pillow covers can easily be folded and stored in neat piles and take much less space than full pillows in storage. Or, simply keep the pillow covers ON your pillows and layer a new one overtop to store them all right in your living room!

What month can you start decorating for fall?
This age old question comes up year after year. When should I start decorating for fall?
To some, this is a personal choice. However, others just want to follow the rules and get a real answer!
Head to this post to learn 5 ways to know when to start decorating for fall.
You'll Also Enjoy…
I hope this article on simple autumn living room decorating ideas was helpful to you! If you're looking for more fall decorating inspiration, make sure to check out these articles next.
Make sure to subscribe to get my Grace Notes directly to your inbox and to access all my insider perks. You can also follow along daily on Instagram and weekly on YouTube!
~Sarah