Best Organic Modern Spring Mantel Decorating Ideas
Do you love the look of organic modern style, but aren't sure how to apply that to fireplace mantel decor? Today, we are going to learn how to add organic modern design to a fireplace mantel. Here are the best organic modern spring mantel decorating ideas anyone can do! (Plus, a few other decorating styles added in to spur your creativity!)
This post contains affiliate links provided for your convenience.
Spring Mantel Decor Ideas
You're likely here to take a look specifically at organic modern style mantel decor. However, make sure to get inspired by these other talented bloggers and designers! I'm joining up with Krista from The Happy Housie for her Seasonal Simplicity Spring Home Tour.
In addition to my home, you can click through to each blog post linked at the bottom of this post. You will be so inspired in multiple ways with different decorating styles!
Organic Modern Spring Mantel Decorating Ideas
This year, my spring mantel looks a variety of ways. This is the last time it will be decorated with the current fireplace design. So, I decided to try a few different looks to share!
In the coming weeks, we are completely remodeling our fireplace to add stone and I'm excited to share it with you.
For now, let's take a look at my organic modern spring mantel decorating ideas.
Main Design Elements of Organic Modern Design
There are a few main elements to consider when implementing organic modern design. You can get a full breakdown of this design style in these posts:
For my spring mantel decorating ideas this year, I wanted to be sure and include these organic modern elements:
Modern
Organic
Spring Specific

Tulips for that needed spring nod
Brass to warm up the design
The key to the organic modern decorating style is combining warm and cold, old and new, organic and man-made. This gives the space interest, character and contrast.
My barn beam mantel also really helps achieve the organic modern look because it is a naturally weathered mantel and full of character. You won't believe how this barn beam mantel came to be in our home! You can learn more about it in this post.
If you want to learn even more "design rules" for mantel styling, make sure to grab my free mantel style guide download below!
4 Other Decorating Styles for Your Spring Mantel Decor
While I was playing around with my spring decor this year, I decided to pull together an entire YouTube video on how to decorate a spring mantel with multiple decor styles.
Make sure to check the video out here.
Here are the outcomes of a few ways I styled my spring mantel.
Farmhouse Spring Mantel Decor
Warm up a mantel with more wood tones for a farmhouse or modern farmhouse look.
I love how antique and vintage decor is an absolute staple of farmhouse design.
Bohemian Spring Mantel Decorating Ideas
For this boho look, I reinstalled my floral wall art I DIYed years ago.
You can see how I made this very affordably here!
It is a very simple foundational backdrop for your mantel and then you can layer in plants, decor or any element that screams spring!
Traditional Spring Mantel Decor
Next, let's do something very simple and traditional.
This classic looks is very minimalistic with focal point art and live plants. You can shop this artwork with code GRACEINMYSPACE for 15% off!
And, you can learn all about indoor plant care in this post if you are a newbie! Pothos plants are great beginner plants.
Natural Spring Mantel Decor
A final option to consider is to think outside the box and use your spring mantel to propagate plants! You can learn all my best propagating tips in this post. I've done this for years and it is a great way to grow new plants for free. Even better to give them away to friends!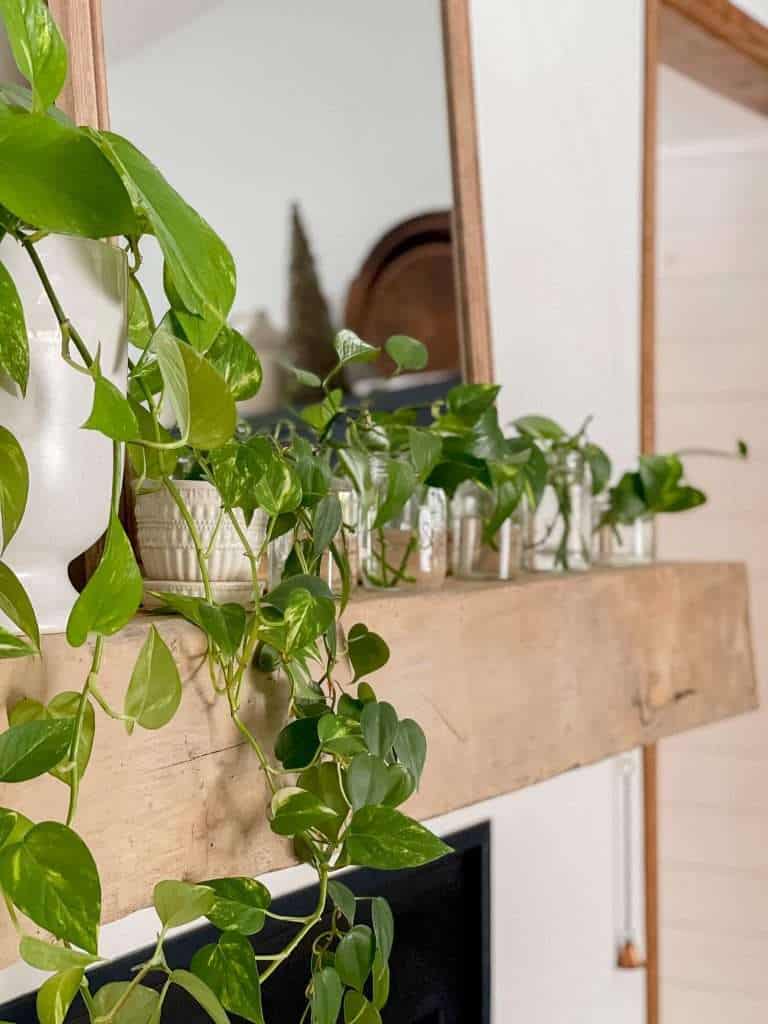 Stay Connected
Thanks so much for stopping by the blog today! I hope that this gives you some spring mantel decorating ideas that you can take and implement in your home.
Make sure to subscribe to the blog to access all my insider perks. Plus, subscribe to my YouTube channel for weekly videos and follow along on Instagram for daily projects!
Today some of my friends are sharing their Spring and Easter mantel decor ideas too! Be sure to visit their posts by using the links below the images.