Simple Rules for Decorating a Small Porch | Fall Decorating Ideas
Do you have a small porch you want to decorate for fall? Small porches can be challenging spaces to decorate. However, there are just a few simple tips that will help your fall decorations for your front porch be stunning every time. Learn these simple rules for decorating a small porch for fall on a budget.
Post may contain affiliate links for your convenience.
fall front porch decorating ideas on a budget
Let's lay the framework for how I decorate my small front porch for fall. In my mind, it is 100% about being budget friendly, beautiful and welcoming to guests.
Those three tenants frame my choices.
Whether I'm using front porch pumpkin decor, simple topiaries, dried branches, or a full blown fall theme with hay bales and corn stalks. Each time I consider my fall decorations for our front porch, it must meet my three goals:
Budget friendly
Beautiful
Welcoming to Guests
How do you Decorate for Fall on a Budget?
So let's talk budget first.
Autumn is one of the easiest seasons to decorate for free. Creation is filled with beautiful colors, drying branches and leaves, and autumn flowers.
It is so simple to step outside and forage for items that you can use as decor. Here are a few of my favorite things from nature that provide free fall decor:
Dried Annabelle hydrangeas add green hues
Dried Limelight hydrangeas add pink and white tones
Dried branches pruned from a tree with berries adds interest and texture
Autumn wildflowers can create a simple bouquet or wreath for a front door
Golden leaves freshly fallen are whimsical as nature intended
Usually, at least half of my small porch fall decorating ideas are born from free items I find around our property.
In Michigan, autumn is a very short season. Summer extends nicely through September. But we usually experience extreme cold, or even snow, by November. So one to two months isn't long to invest a lot of money into for my fall entryway decorating ideas.
After all, free is my favorite number.
Small Porch Fall Decorating Ideas
Next, let's talk about creating something beautiful and welcoming for guests.
An empty front porch is sometimes necessary to allow for full functionality. If your front porch is especially tiny, then you might not have room to add anything but a beautiful door wreath that doesn't take up space.
However, I often feel that the most welcoming entrances are those that have a touch of personality. It makes the house feel like a home when you see someone's personal touches on display.
What do you put on front porch in fall?
So that begs the question, "what do you put on a front porch in fall?"
Thankfully, there are as many answers to that question as there are decorating styles!
Get the look of my fall front porch:
Some people prefer a more modern look while others love traditional fall decor. Depending on your personal preference, you can add just about anything to your front porch decor for fall.
Here are a few ideas.
Traditional Harvest Decor

Corn stalks
Hay bales
Carved Pumpkins
Warty Gourds
Wagons
Apples
Firewood
Flannel

Natural Fall Decor

Dried flowers
Pumpkins
Gourds
Corn husk wreaths
Mums

Modern Autumn Decor

Lanterns/Candles
Mums
Neutral Pumpkins
Simple floral wreaths
Urns with pumpkins or topiaries
Porch swings
Coir doormats
How do you make a small porch Look good?
Now, there are a lot of options to decorating a small porch for fall.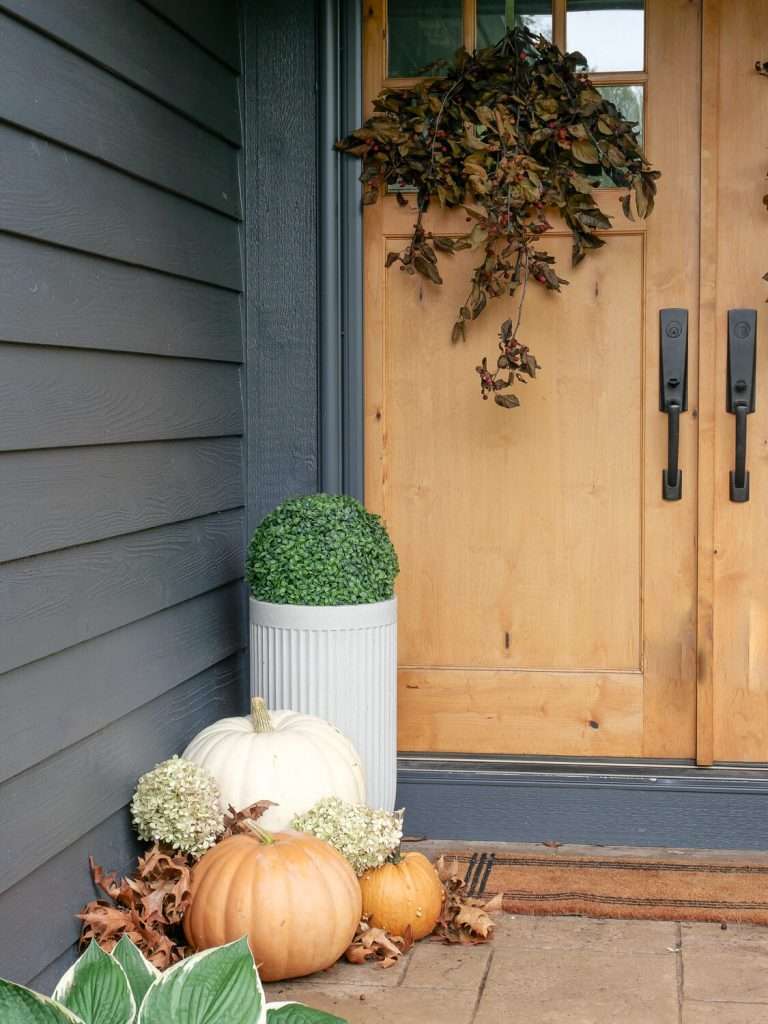 Thankfully, there are some very simple rules that I follow every time to create a look that is welcoming and beautiful.
Create balance with the front door
Work in groupings
Vary height
Stick to a simple color scheme
Know when to stop
This year I decorated my front porch a variety of ways before I found the one that stuck.
Above you can see one option.
This option was my attempt to use a branch that had dried beautifully. However, it was top heavy and couldn't resist our strong winds, even with heavy weights in the planter.
So, I ended up cutting up the branch and creating these free door swags.
With that different use of the branches, it freed me up to balance the door more efficiently.
As you can see, I also added a coir mat. This is a welcoming foundation and a great item for functionality as guests enter.
I kept the color scheme simple with green, browns and orange. And then, I added height with the plants and created groupings on each side of the porch.
This simple formula is all it takes to create a beautiful and welcoming front porch for fall, but on a budget!
You'll also note that it isn't over done. Many times, we add and add and add because something doesn't feel right. However, knowing when to stop (or when to take things away) is a big key to success for small porches.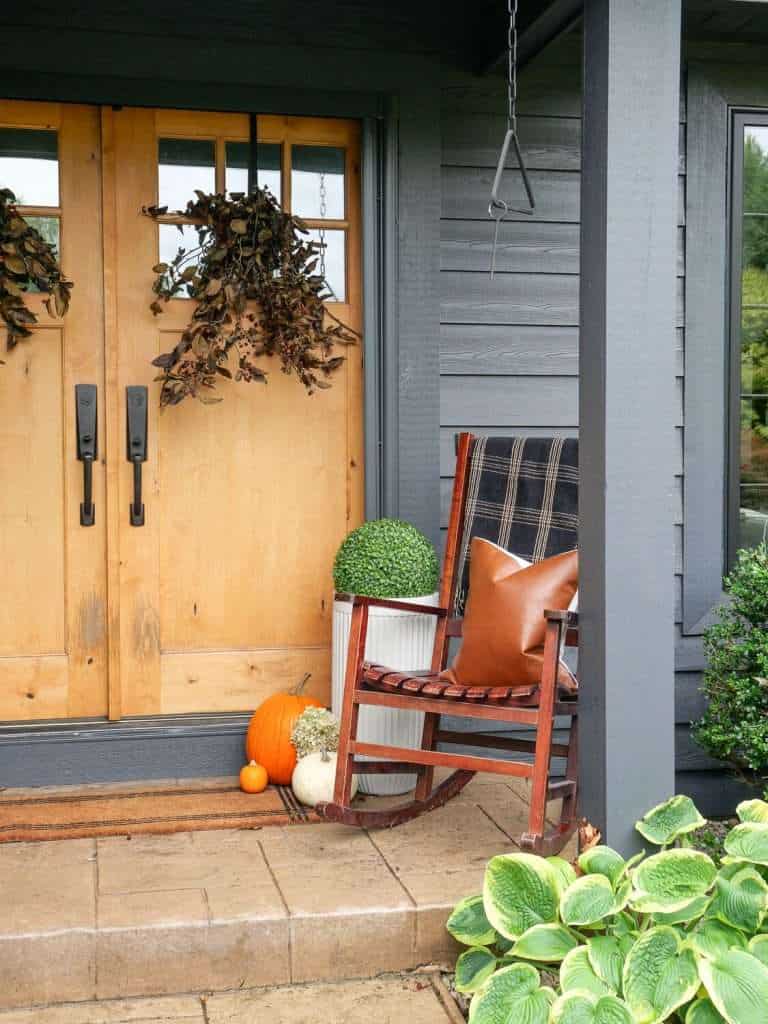 A small porch overcrowded with decor quickly becomes a hindrance to guests. Not to mention, for daily use if it's your main entrance.
So balancing form and functionality is key with porch decor.
You'll Also Like…
I hope these simple tips for small porch fall decorating have been helpful to you!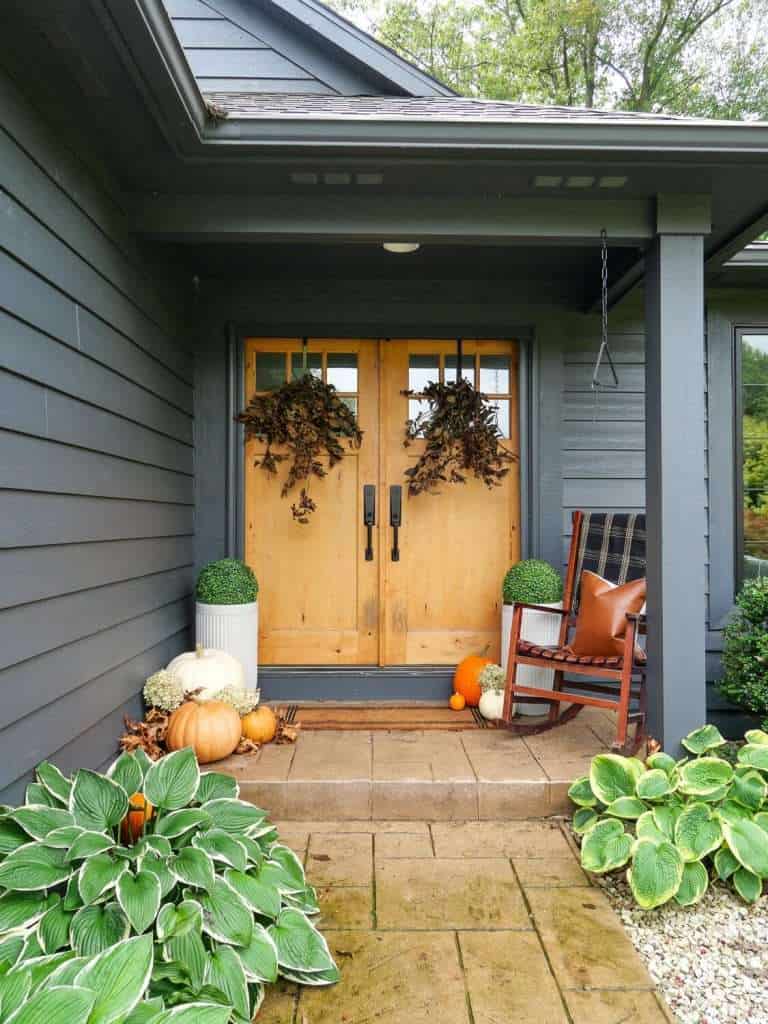 If you want to see more fall front porch decorating ideas, make sure to check out these articles next.
You can also visit my fall decorating archives here.
Make sure to subscribe to get my Grace Notes directly to your inbox and to access all my insider perks. You can also follow along daily on Instagram and weekly on YouTube!
~Sarah