I'm so excited to finally have my first post up revealing my new kitchen! If you love the modern farmhouse design style, then this post is for you. Here are tips for how to use a black farmhouse sink to anchor your kitchen remodel design. Plus, how to mix finishes for a cohesive and sleek look!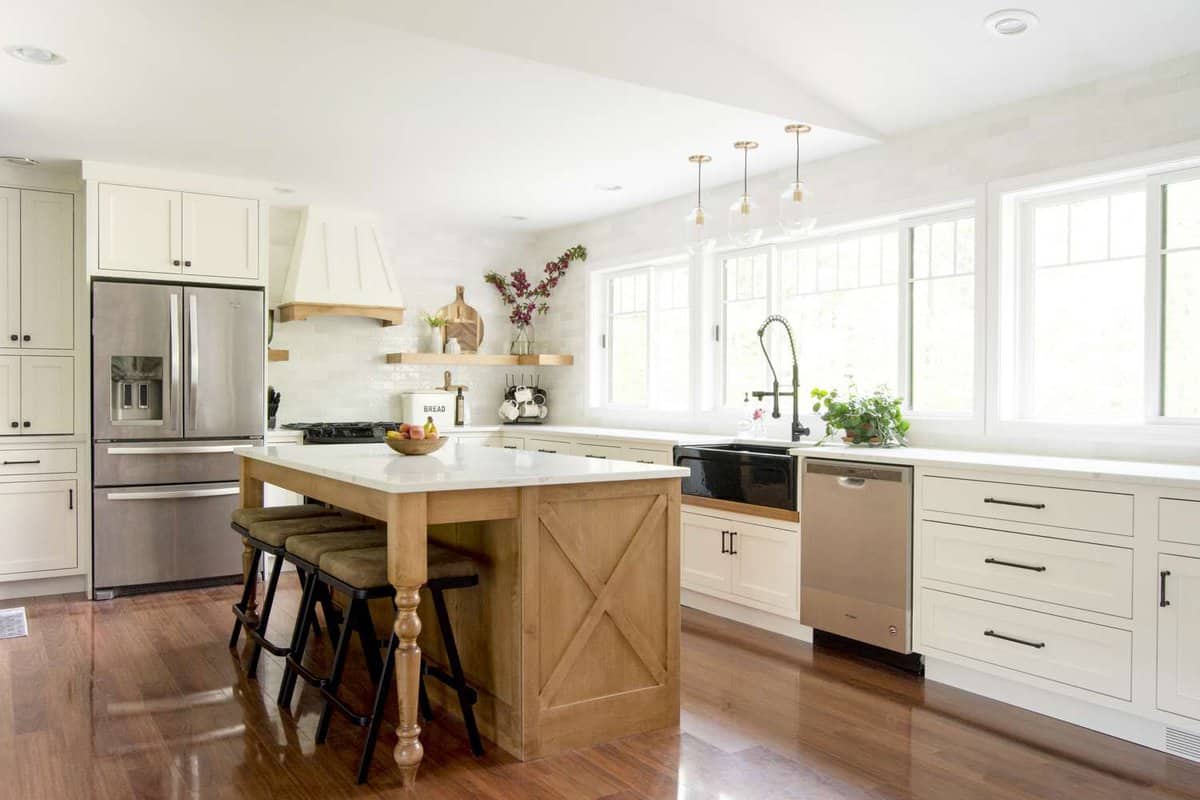 This post is sponsored by Signature Hardware. All thoughts and opinions are my own. Post may contain affiliate links where I earn a small commission on your purchases at no additional cost to you.
Modern Farmhouse Kitchen Design
I've finally been blessed with the opportunity to design my dream kitchen. In our previous home the kitchen was my favorite space to design; however, I had quite a few limitations I had to adhere to.
So, while it was an absolutely beautiful and functional kitchen, it didn't have all the design elements I originally wanted. However, one element it did have is a black sink, which you will see is what I centered my design around in our new kitchen once again.
This time around, I planned the kitchen details to be exactly what I wanted in an achievable manner. You can see my entire kitchen design plan in this post (where you can also see what this kitchen looked like before). That is where it all began!
Black Farmhouse Sink
My anchor piece for my kitchen remodel is this gorgeous fireclay farmhouse sink from Signature Hardware. I chose this sink for three reasons.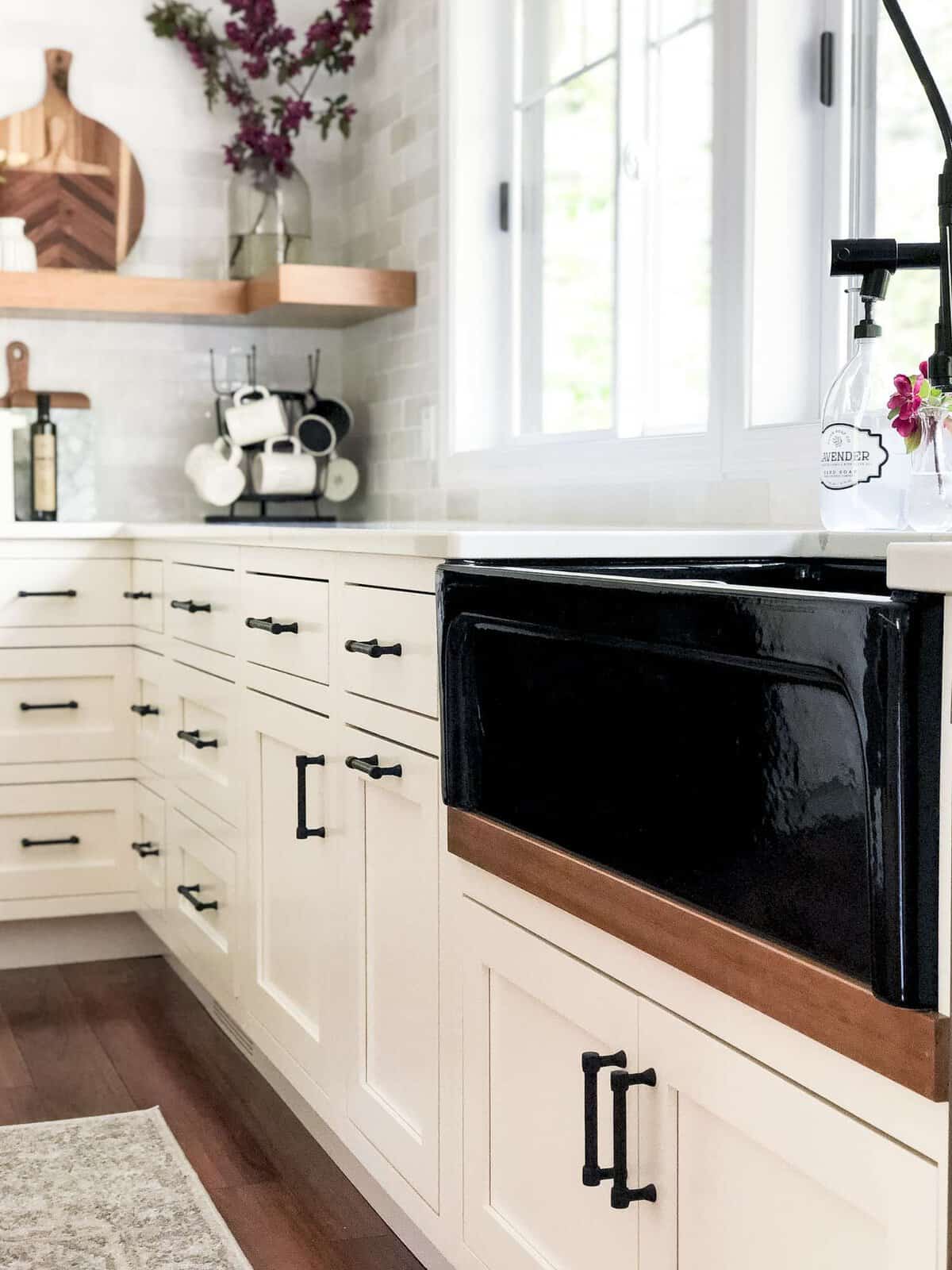 A black sink is easier to keep clean than white sinks.
The apron front sink offers high design and functionality simultaneously.
A fireclay farmhouse sink is durable, extra deep and easy to maintain.
Not only that, but it is stunning. I love the casement front that adds a fun design element. Conversely, if you want a clean and more modern look, this sink is also reversible for a smooth apron front.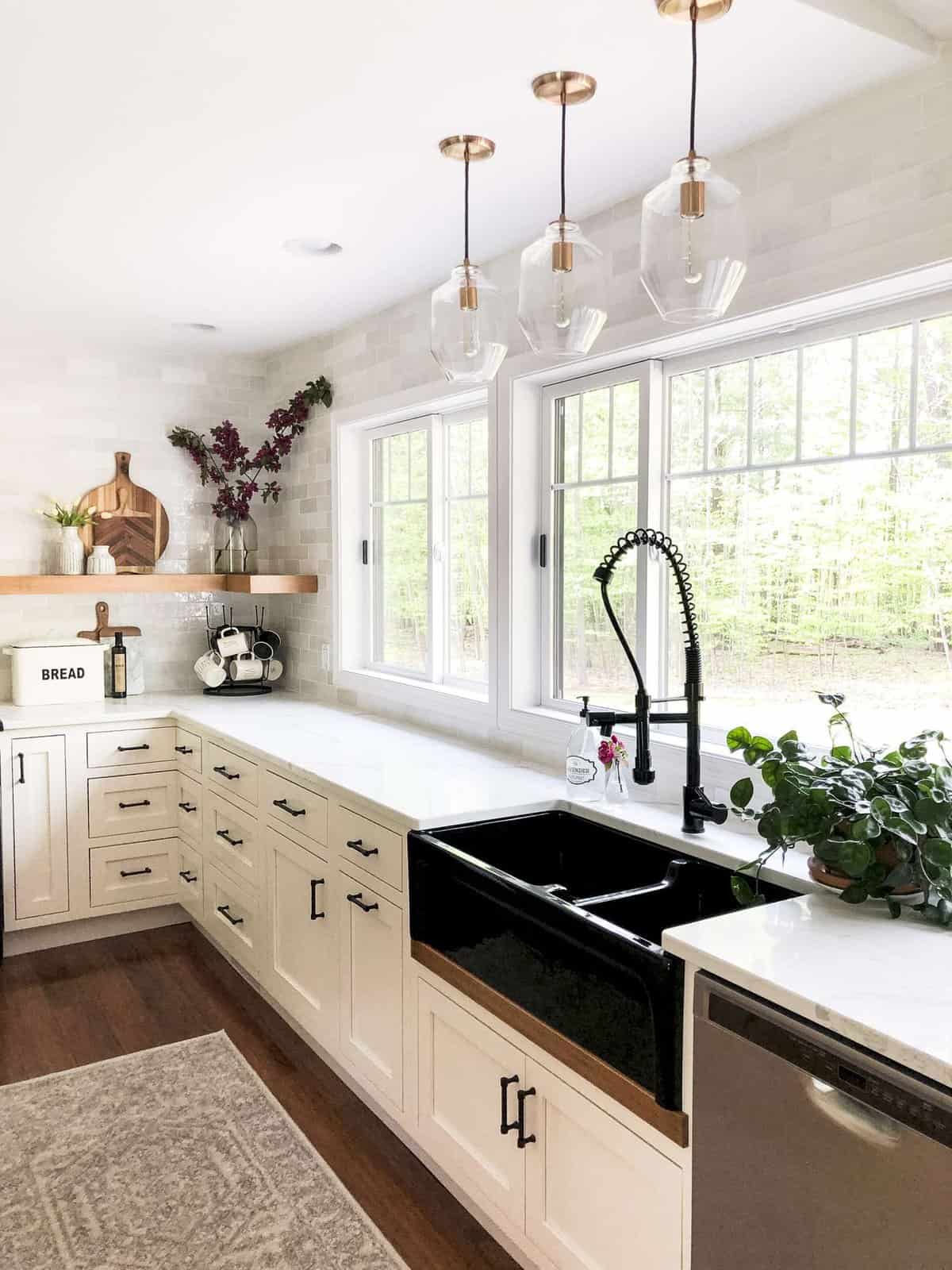 I chose my black farmhouse sink as my anchor for the entire modern farmhouse kitchen design because it is the embodiment of modern farmhouse! It has a farmhouse sink functionality coupled with the sleekness of modern design style.
The black color also gives the kitchen an anchor point since it was placed at the center of the room. The striking design draws your eye to it immediately, and I love that!
Mixing Finishes for a Monochrome Design
The second area I wanted to touch on in my kitchen design is how I mixed finishes on my hardware! Originally, I had considered using brass pulls on my cabinetry. However, I ended up choosing these beautiful pulls in dark bronze to keep my design monochrome. I also loved that they came in three sizes so I could customize how long the pull is for each drawer size!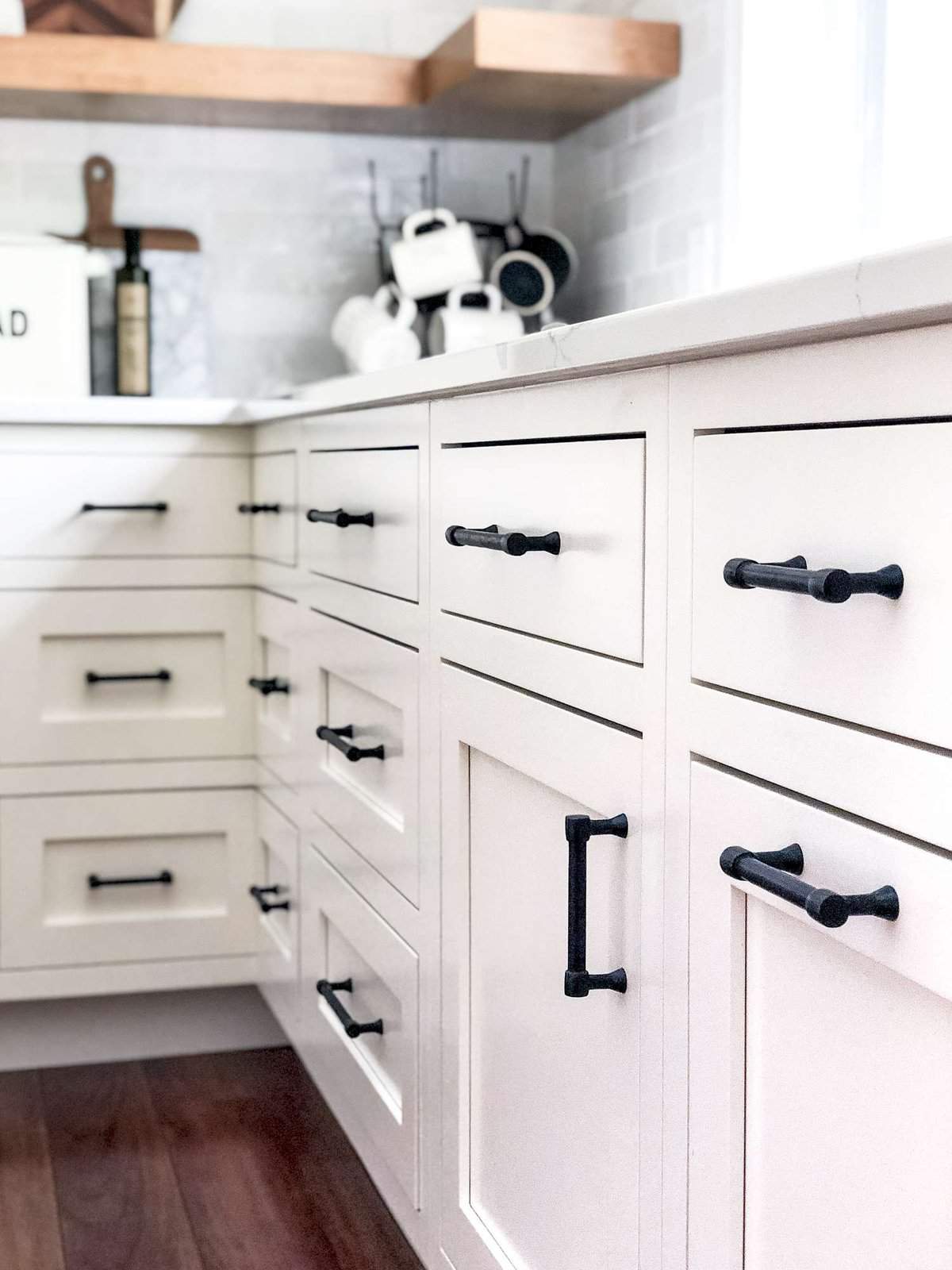 Additionally, I chose the Levi spring spout faucet in black. I love this faucet because it has so many options. You can choose to spray and have the spout running at the same time. You can regulate the water flow directly from the spout or by the handle. And you have the option to swing both the arm and the sprayer wherever they are needed.
Now that I've given you the pros of these beauties, this is why I chose them! Simplifying my kitchen design elements to include black, white and wood was my top priority. It is the epitome of modern farmhouse style, but more importantly, it is just what I love!
I talk about the importance of designing from your heart versus following trends in my book, Designing a Life: From House to Haven. That was so important to me in this design process. Keeping the design simple with three basic, but classic, colors allows me to add interesting elements with decor.
As you can see, black was a staple in my design. However, all of my black elements have a different finish! My black farmhouse sink is high gloss. The beautiful dark bronze pulls have a rustic finish to them. And my industrially designed faucet is a matte finish.
This allows each of these elements to remain interesting instead of being bland and basic.
Pro Tip: Don't be afraid to mix the finishes within the same color family to add interest and personality to your design.

Sarah Symonds…aka, ME 😉
I want to give a huge thank you to Signature Hardware for partnering with me on my kitchen design! The elements I chose to incorporate into my kitchen from this amazing company absolutely make the space!
This was such a fun project to design. I've determined that if I could design kitchens full time I would be in a little bit of heaven. 🙂 Thankfully, I now get to enjoy this one as my own! I can't wait to share more of the details with you in upcoming posts! Stay tuned and subscribe to be notified of project updates!
Thanks for being here my friends,