Christmas Star Decorations for a Magical Display
There are few things more magical and cozy than glowing lights. This year calls for something a little extra special to be added to my Christmas decorations, and I love how it turned out! Learn how to make Christmas star decorations for a magical entry! Plus, a simple way to create a cordless lighted Christmas star display.
This post may contain affiliate links where I earn a small commission on your purchases.
Christmas Star Decorations Display
Last year, I loved how I used wreaths in a non-traditional way to decorate my entryway. It created a beautiful entrance and a welcoming display for guests.
So this year, I wanted to do something just as magical. I came across these beautiful paper stars at a much more affordable rate than many I've seen before.
I love that it comes in a pack of 8 with the option for gold, silver or white accents.
Then, I came across a larger size Christmas star with similar color options. And I thought it would look so beautiful to combine the sizes and colors for a beautiful glow!
How to Assemble These Christmas Stars
When my beautiful Christmas star decorations arrived in the mail I was excited to get started on the project! I went to assemble them, thinking it would be simple, only to discover that I needed more than 2 hands.
After a few frustrating attempts and ripped stars, I figured out how to do it easily. I'll save you the frustration and let you see how I did it in this video!
How to Hang Christmas Star Decorations
These Christmas star decorations were very simple to arrange. I simply used elastic stretch cord and thumb tacks to hang my star decorations.
I arranged the stars in two rows. The back row is all at the same height except two larger stars to give it substance. I hung this row by tacking one end of the cord directly into the ceiling.
Just tie a knot around the tack and push or hammer it into the ceiling. Then, slide all your stars onto the cord, twisting once between stars to create a little loop on the star cord. This helps hold it in place and not slide around once it is fully hung.
Add as many stars as needed for your space, and then tack the other end of the cord into the ceiling. Make sure that it is taunt. Since the cord is slightly stretchy, the weight of the stars will make it sag if it isn't tight.
Next, add a second row of stars. Let the cord sag a little more than the back row so the stars hang slightly lower. Finally, add in a few stars that hang even lower to give it height variation.
And you've made a beautiful Christmas star display!
How to Make a Cordless Lighted Christmas Star
Now, this display is beautiful on its own! But, it makes it even more magical to light them up. However, I didn't want to have cords hanging everywhere, ruining my Christmas star decorations.
See that small black box in the corner by the door? That is my solution!
These cordless twinkle lights are perfect for this situation! It was the perfect length for my entry, but I'd definitely recommend this longer set of lights if you want extra glow or need to span a longer length!
Since it is battery operated, I just used command velcro strips to attach the battery pack to the wall and spread the lights throughout the stars! They are draping on the cord, and I tucked a few lights into the stars themselves so they glow from the inside.
Entryway Christmas Decorations
What do you think of how it turned out?
We have a small entry that transitions directly into the living room. So I love being able to create a display that defines the entry.
I also hung this simple modern tree sign for a pop of color.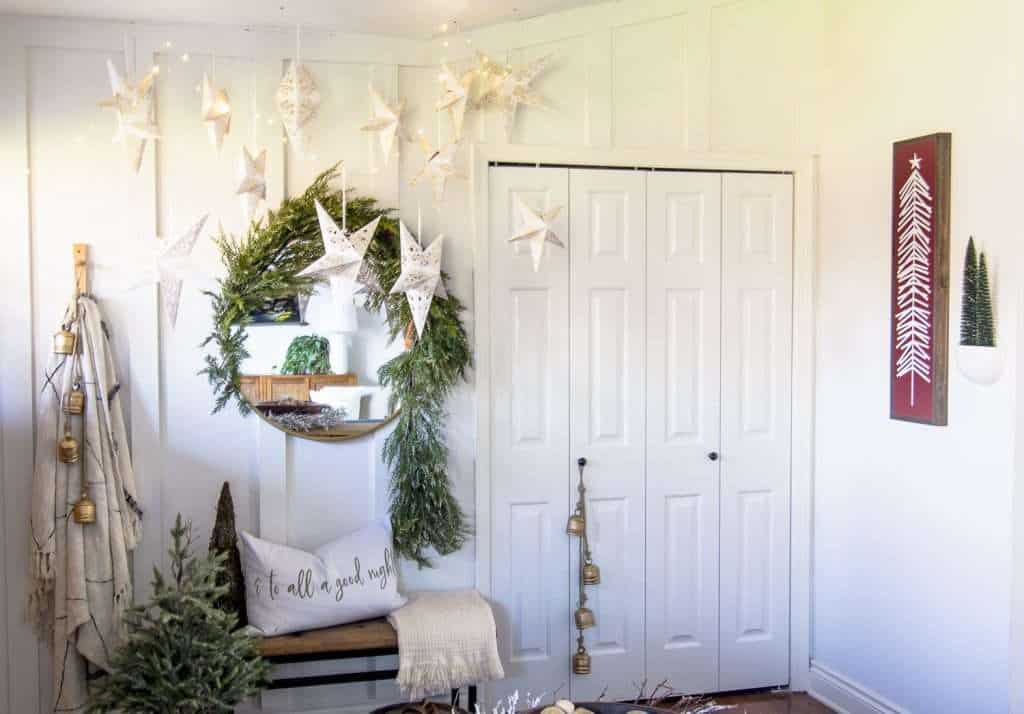 You can use code GRACEINMYSPACE for 15% off my favorite sign shop!
I'm excited to continue decorating for Christmas! This entryway display is just what I needed to get in the Christmas spirit.
Other Christmas Decor Sources
If you're looking for details from my entryway or living room, you can find sources below!
Other decor sources can be shopped via the images below.

Stay Connected
Thanks so much for stopping by the blog today! I hope you enjoyed this idea for how to use stars in your Christmas decor this year! This display could be placed just about anywhere you want to create a magical glow.