Do you always end up with dry venison steaks? Chances are you're using the wrong cooking method! When I was a newbie wild game chef, I always overcooked my venison because I was using the wrong cooking method and treating it like beef. Here are the top 3 ways to cook moist venison backstraps every time, plus a nice venison steak marinade using balsamic vinegar.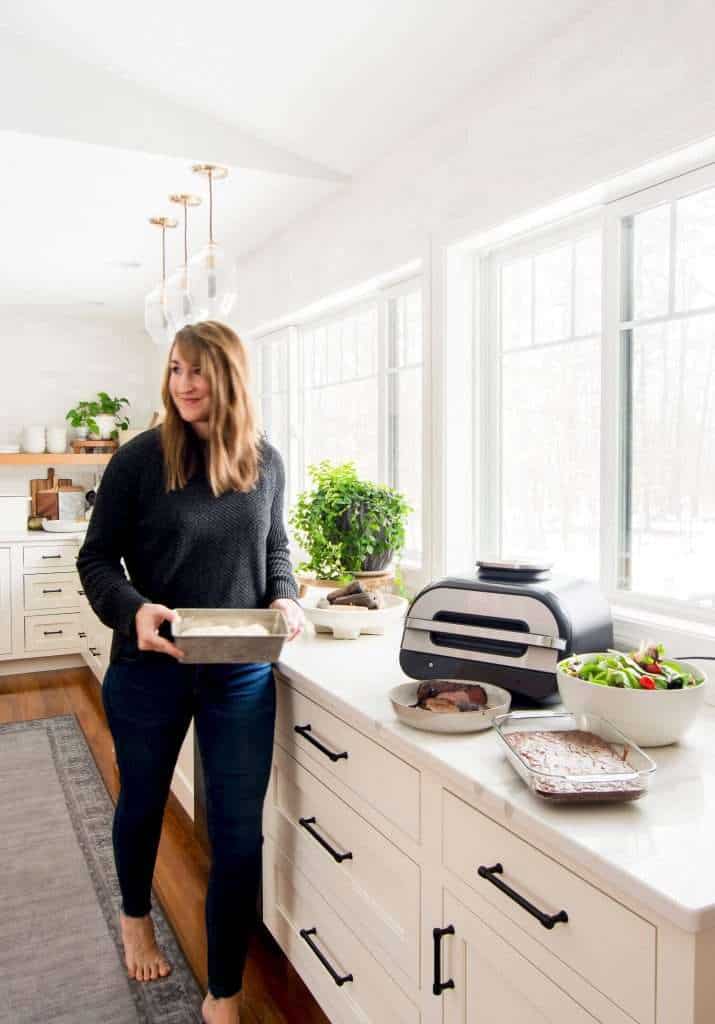 What Are Backstraps on a Deer?
Venison backstraps are a cut of meat that is found along the back of a deer, alongside the spine. They are often confused with a tenderloin cut of meat. While they aren't the same as a tenderloin, they are considered one of the most tender cuts of meat of a deer.
What Spices go well with Venison?
Many times new venison eaters are afraid the meat will taste gamey. While venison does have a different flavoring than beef, using certain spices that compliment it can help tame the stronger flavor.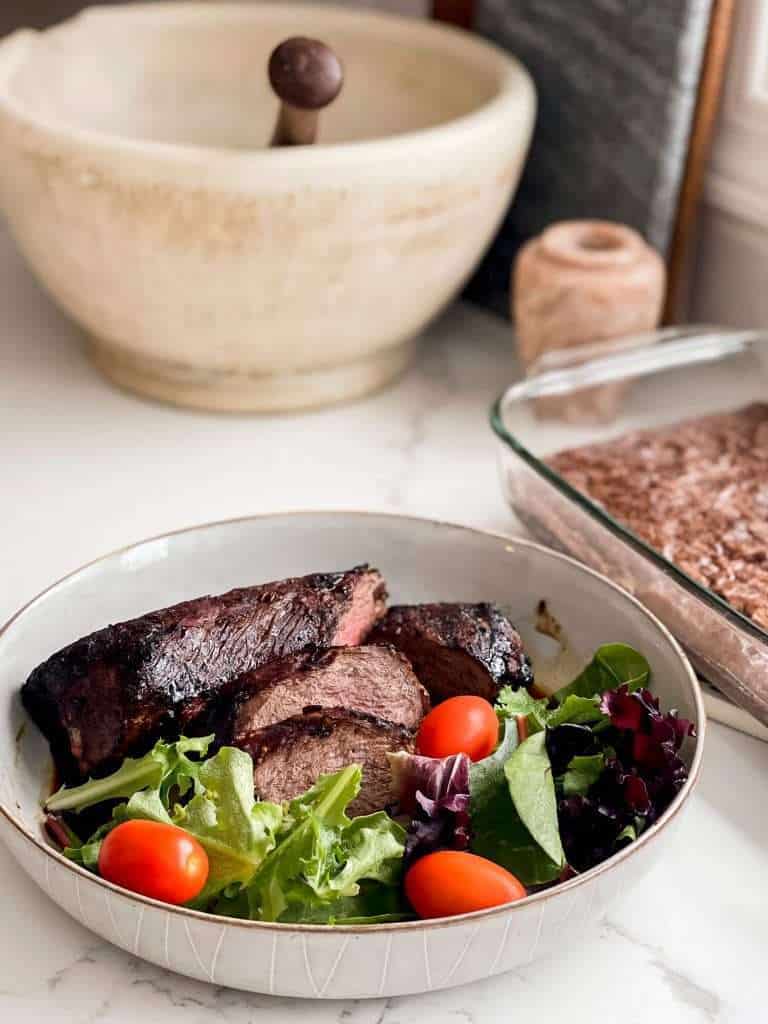 Rosemary, sage, shallots, garlic, salt, savory, and various peppers are my favorite go-to spices to pair with venison. If you like to mix it up and add interesting flavors to your meat, try adding spices like cinnamon, nutmeg, cloves or fennel.
Parsley is also always a nice garnish.
What is the best way to cook deer backstrap?
Venison lovers all have their own opinion about the best way to cook venison backstrap. Some love to sear it, some will only grill, and others swear by smoked backstrap. I'm going to share my top 3 ways to cook moist backstraps next from much research and experience!
No matter the cooking method, there are a few things to take into consideration when cooking venison backstrap to ensure that it stays moist and tender.
If you're a hunter, let it rest a few days after processing rather than cooking it immediately.
If frozen, fully thaw in the fridge rather than defrosting in the microwave.
Marinade at least 24 hours using a mixture of spices or my venison marinade recipe below.
Never overcook!
Using these four tips will go a long way to ensure your backstrap doesn't become dry and tough. Once you're ready to cook, the top three methods for cooking deer backstrap are searing, grilling or searing it in a dutch oven and finishing in the oven. These offer the most control in cooking so that you don't overcook your meat.
What temperature should venison backstraps be cooked at?
The biggest element to pay attention to when cooking venison backstraps is the temperature. Venison backstrap temperature should never rise above 140 degrees Fahrenheit. Your final target range is 130-135 and it will be cooked medium rare. It is best to use a meat thermometer when cooking venison since it is easy to overcook!
For those who balk at eating meat that isn't well done, venison backstrap is not for you! If you cook venison steaks past medium they will be dry and tough. It took me awhile to get used to seeing the pink middle, but I promise they taste delicious and are so tender this way!
Venison Marinade Recipe
Now, let's chat about how I like to cook venison backstraps! My favorite method is either searing on the stovetop or grilling. For both of these cooking methods, I like to put together a simple venison marinade recipe with items that I always have on hand. I use this for beef steaks as well and it is adapted from this recipe.
For 2 lbs of venison backstraps, mix together:
3 tablespoons olive oil
3 tablespoons Worcestershire sauce
2 teaspoons minced garlic
3 tablespoons balsamic vinegar
3 tablespoons soy sauce
2 teaspoons honey mustard
1 tablespoon lemon juice
1/2 teaspoon each salt and pepper
Once well combined, place your backstraps in a shallow dish and cover with the marinade. Cover the dish and let it rest in the refrigerator for 24 hours, flipping the meat once and recoating with the marinade about 12 hours in.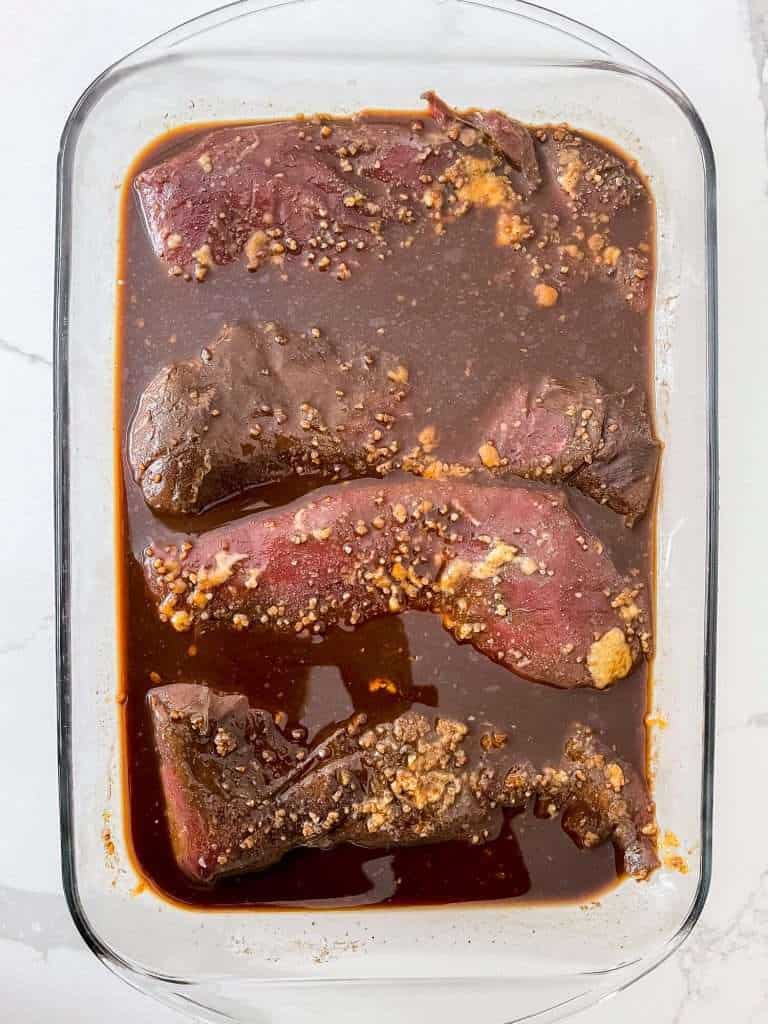 Venison Meat Marinade
Yield:
Marinade for up to 2 lbs meat
A simple meat marinade perfect for venison and beef using commonly found ingredients.
Ingredients
3 tablespoons olive oil
3 tablespoons Worcestershire sauce
2 teaspoons minced garlic
3 tablespoons balsamic vinegar
3 tablespoons soy sauce
2 teaspoons honey mustard
1 tablespoon lemon juice
1/2 teaspoon each salt and pepper
Instructions
Mix together all ingredients.
Place meat in a shallow dish and cover with marinade.
Cover, and let rest in the refrigerator for 24 hours.
After 12 hours, flip meat and recoat with marinade.
Refrigerate for remaining 12 hours.
Venison Backstraps Recipe
Now for my deer backstrap recipe! Venison backstrap recipes on the stove top are my favorite because of the simplicity. I also love using my Ninja Foodie Indoor grill during the winter time. If you're looking for some of the technical details for how to sear venison backstraps, I'd highly recommend this article. I found it very helpful when I was new to cooking venison.
No matter what cooking method you choose, first marinade your backstraps with the recipe above. Then, you can sear it in butter or you can grill it.
Searing Venison Backstraps
If you choose to sear it on the stovetop, first place 4 tablespoons of butter into a large skillet. Heat the butter on medium high heat.
Let your marinated backstraps come to room temperature while you are preparing the butter. Take them out of the marinade and pat them dry to remove the excess marinade. This works best for searing. Once the butter is hot, place the backstraps into the skillet and sear each side until a nice crust forms.
Each side will only need 3-5 minutes depending on the thickness of your cut of meat and how hot you let your pan get. Rather than trying to time your cooking, use a meat thermometer to monitor how your backstrap is cooking.
Meat will continue to cook even after removing it from the heat. This is called residual cooking. So, make sure to remove your meat from the pan once it hits 125-130 degrees. It will continue to cook and finish 5-10 degrees higher once you let it rest.
After you've removed it, let it rest at least 5 minutes. This helps the meat soak in the juices so it stays moist and tender.
If you are a fan of tenderloins, make sure to check out my pork tenderloin recipe as well! It is a family favorite.
And, when you subscribe to the blog, you'll get all of these yummy recipes sent straight to your inbox!
Grilling Venison Backstraps
My second favorite way to cook venison backstraps is on the grill. Since we live in Michigan, grilling can be a bit chilly in the winter time. So I've been using the Ninja Foodie Indoor Grill to grill all our meats. I've made salmon, chicken breast, pork and venison in it and they've all turned out perfect!
What I love about it is it has a built in smart thermometer where you can set the temperature you want to cook to, and it guides you along the way, telling you when to flip your meat and when to take it out to let it rest. It even accounts for the residual cooking time so your meat isn't overdone. It has been perfect for temperamental meats like venison.
It also has the cooking options to air crisp, bake, roast, broil, and dehydrate, so it is extremely versatile.
Whether you choose to grill with an indoor grill or outside, the process is similar to cooking on the stovetop. However, for grilling, feel free to leave the marinade on the meat rather than wiping dry.
Place it on a hot grill and cook on each side for 3-5 minutes. Use your meat thermometer to monitor when it hits 125-130 degrees and then remove it from the grill. Let it rest for 5 minutes before serving.
See all those yummy juices! That means it is going to be so moist and tender!
What should I serve with venison?
I like to keep my sides simple when serving a meal with meat as the main course. A nice garden salad, fresh bread, and asparagus are my favorites! Of course, a little dessert never hurt anyone either.
What to do with leftover venison?
If you have any leftover venison, which we rarely do, there are a few ways I love to make it into another meal or two!
First, slice it thin and then serve it cold on top of a garden salad. Serving it cold actually amplifies the amazing flavor!
Slice into 1 inch rounds and reheat in hot butter on the stovetop. Since this is actually a cooking method, make sure you only leave it in the pan for about 30 seconds on each side. Otherwise you'll over cook it rather than just reheating it.
Slice it thin, let it come to room temperature, and then use it for steak tacos!
Want more dinner recipe ideas?
Fast and easy dinner recipes are basically the only way I cook dinner. If it takes longer than 30 minutes, it's out. So if you're looking for more easy weeknight dinners, take a look at some of my favorite family meals. And if you are a venison-only red meat family, remember that you can swap out beef recipes for venison pretty easily.
And I'm also joining several blogging buddies who are all sharing their own simple recipes today! Make sure to visit their blogs linked below for more delicious ideas.
CitrineLiving 11 Magnolia Lane
Decor To Adore Pink Peppermint Design
Worthing Court Grace In My Space
Our Southern Home A Stroll Thru Life

Stay Connected
Thanks so much for stopping by the blog today! I hope you enjoy your venison backstraps! The next time we cook ours, Aaron wants to try smoked backstrap. Meat smoking is one of his passions and we've never tried venison before. I'll let you know how it turns out!
Make sure to subscribe to the blog for more recipes.