10 Simple Modern Boho Living Room Ideas
Playful interior design adds so much personality to a home. I love light and bright interiors as much as the next girl, but pops of color and hints of playfulness are so fun to incorporate too! So while trends change and design styles come and go, I like to add little elements of my favorite accents to keep things fresh. Here are 10 simple modern boho living room ideas that can be used to spice things up in your home!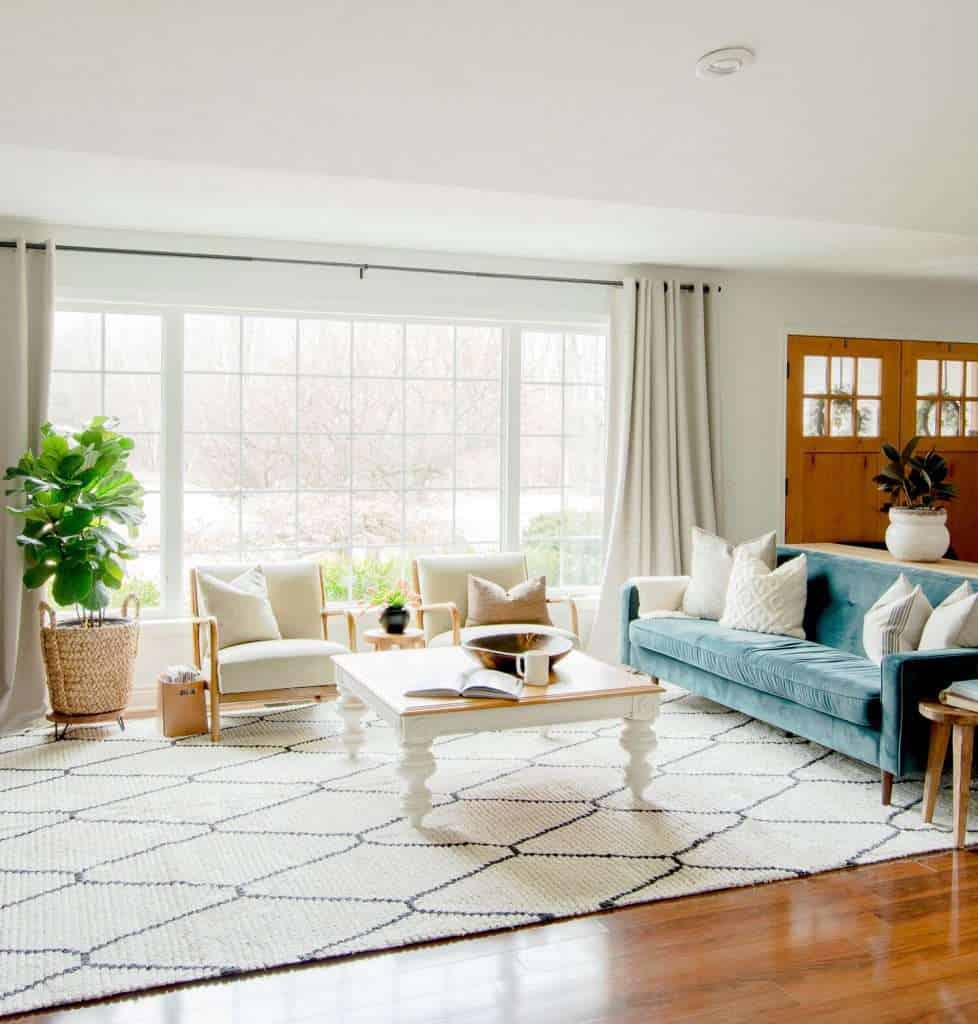 This post may contain affiliate links where I earn a small commission on your purchases at no additional cost to you.
What is modern boho decor?
Before we dive too deep into my modern bohemian living room ideas, let's define what modern boho decor means. This design style has been birthed from a huge trend towards bohemian design in the last few years. However, many are toning down the playfulness of boho design with sleeker accents. Thus, modern bohemian was born!
Modern design focuses on sleek elements with clean lines and more minimalistic accents. Conversely, bohemian design has tons of personality, is playful and shows off individual personalities.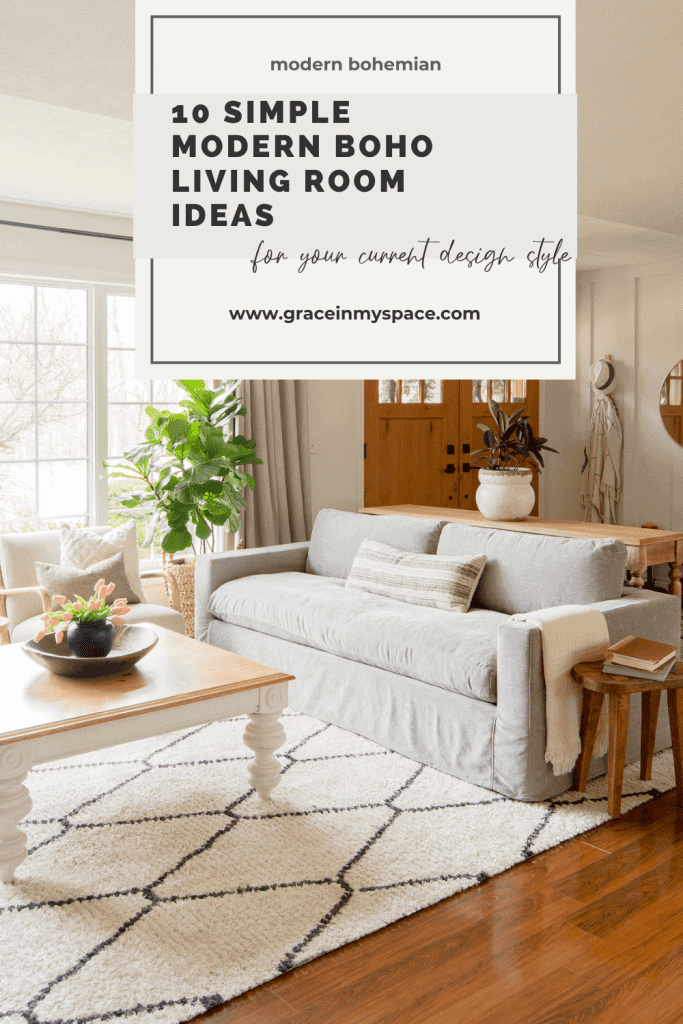 When you combine the two together, you get a more polished and mature look that is still fun and whimsical.
There are different levels of modern boho decor, and I tend to lean towards a sleeker version with my mid century modern boho living room.
How to create a modern boho living room
There are lots of ways to create a colorful boho living room with some modern flare! Today, I'll key in on 10 simple ways to design a modern bohemian living room.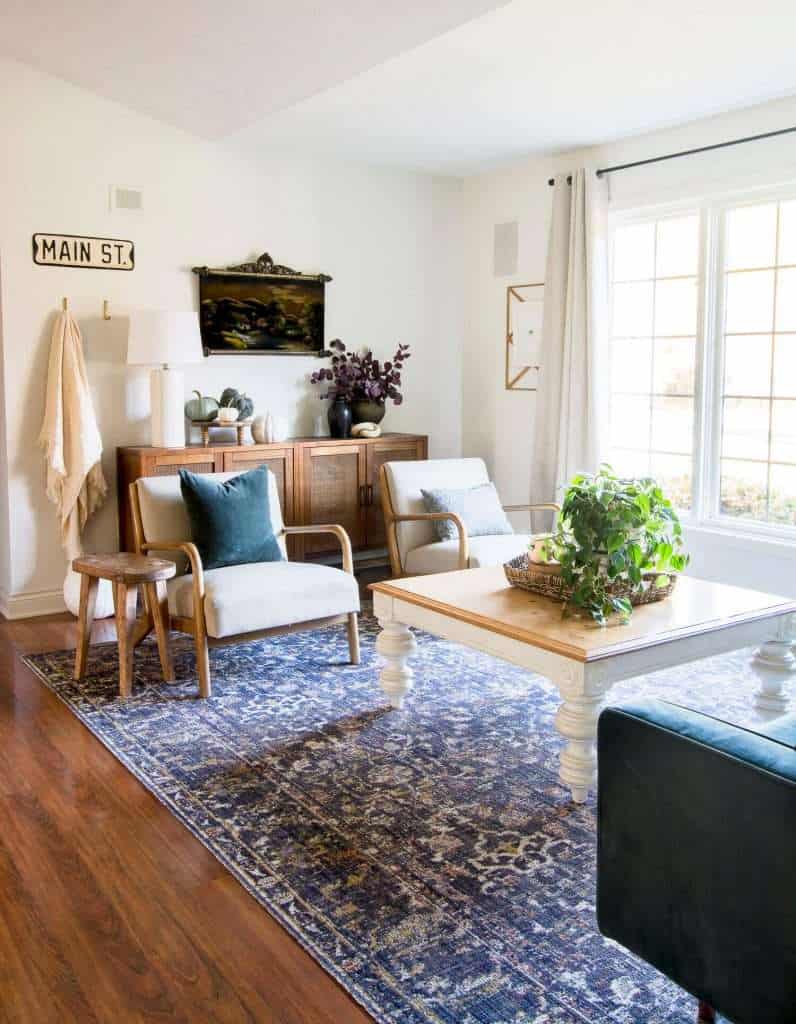 The first step is to decide which design style will be your primary style to lay a foundation for the room. My primary style in my mid century boho living room is bohemian. It mixes lots of fun, colorful and playful elements with vintage pieces to ground the space.
Then, I incorporate some more modern accents to polish the look. Pieces like these marble bookends are timeless, sleek and add tons of interest.
Here's a further breakdown of how this looks in 10 steps!
1. Boho living room furniture
My modern bohemian living room has one central focal point that is the perfect mixture of modern and bohemian: my velvet sofa. The clean lines are very modern, with a touch of mid century, while the high texture and pop of color scream bohemian. Anchoring the room with one statement piece of modern boho furniture goes a long way in setting the tone for the rest of the room.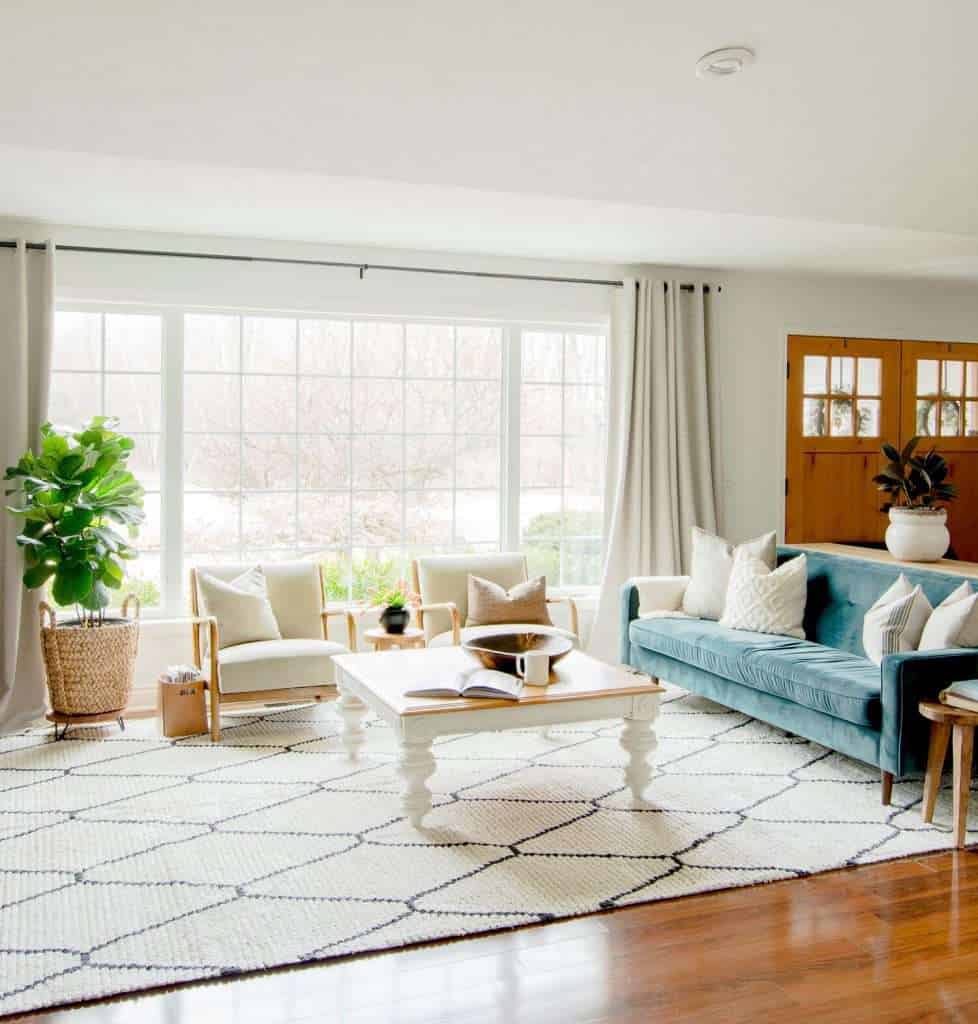 2. Add In Live Plants
I can't go any further without stating that if you want a bohemian look to your living room, you have to include plants! Preferably live ones. There is something so uniquely bohemian about plants. They are slightly unruly, never perfect looking, and very fresh.
I have spent the last several years growing my collection of live plants and now they are my go-to decor accent, no matter the design style I'm trying to achieve.
If you are new to caring for houseplants, make sure to download my free plant care guide for beginners.
This guide will help you pick the right beginner plants and care for them as you develop more knowledge on how to keep indoor plants thriving. I also have tons of free resources on the blog if you're looking for in depth tips and tricks!
3. Mix in Vintage Pieces
One of the elements that make a modern boho living room design is incorporating vintage pieces.
Vintage or antique artwork, furniture, rugs, textiles and home decor accents bring a settled and charming factor to a living room design.
Whereas modern design can feel stiff and cold, and bohemian design can feel over-the-top and chaotic, vintage pieces add calm and nostalgia to pull it back together.
4. & 5. Cozy Textures and Plush Fabrics
At this point I'm sure you've realized that there is a pretty large juxtaposition between modern and bohemian design. So when you are designing your living room for a modern boho feel, the goal is to marry the two opposing designs so that they blend and create a comfortable space.
One of the easiest ways to do that is with lots of cozy textures and plush fabrics.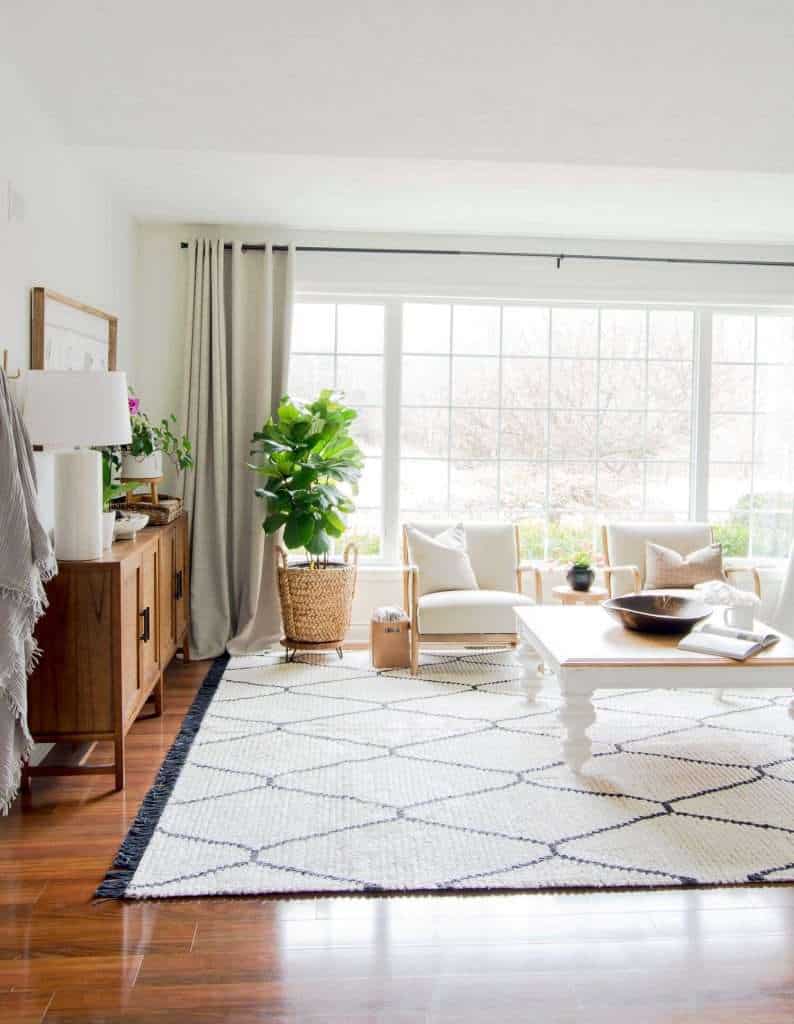 You can see the difference that the two different area rugs I've shared in my living room make! One is vintage bohemian with lots of color and texture. The other is more modern with a plush fabric that still holds boho details.
You can find both of these Loloi rugs at two different sources by clicking the images below.

---
Depending on the look you're going for, choose a rug with lots of texture or a plush fabric to pull the design together.
6. Clean Lines in a Modern Boho Living Room
While most of the elements we've discussed so far tend to lean towards bohemian design, incorporating clean lines keeps things modern. Pieces of straight line furniture, like my cabinets, modernize a space more than furnishings with ornate details, like my coffee table.
Other ways to incorporate clean lines are in sleek cylinder lamps, straight arm accent chairs, simple marble bookends, and straight legged tables. I love that these clean lined elements are easy to incorporate into different designs because they are simple and unfussy, making them less of a stand-out piece.

---
7. Color in a Modern Boho Living Room
I think it's obvious by now that color is important to create a modern boho living room! My sofa, accent pillows, throw blankets, and plants all bring in the color in my room.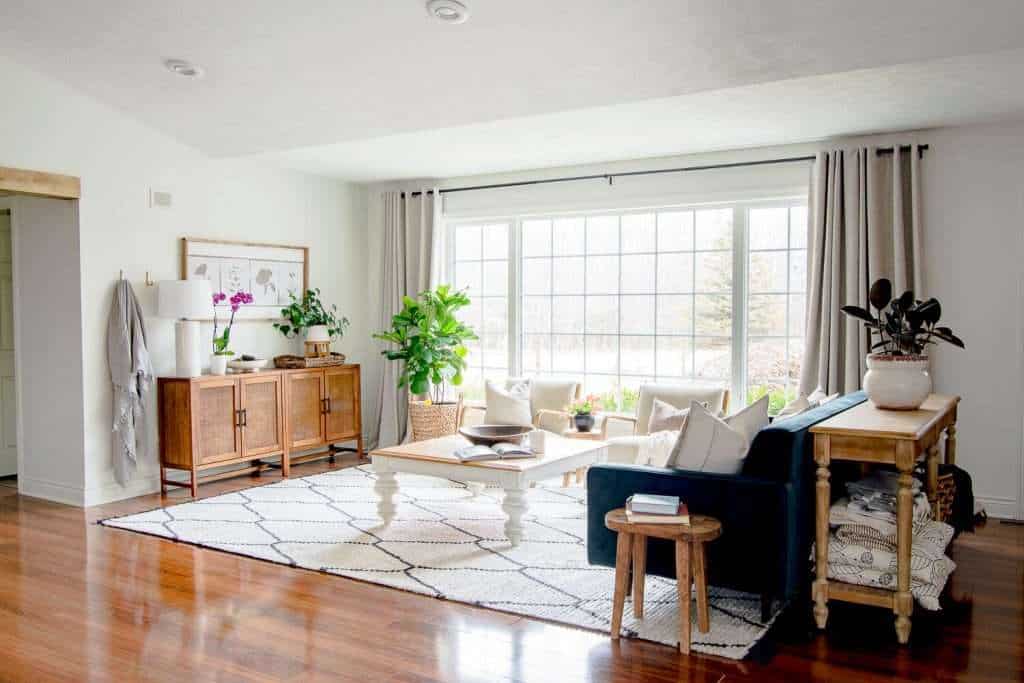 Many people think that you must have tons of color everywhere, including on the walls, to create a modern bohemian living room. However, you can accomplish the same vibe with dramatic pops of color inside of a neutral color palette.
On the other hand, you can certainly add vibrant colors through wall murals, accent walls, fun drapes, or painting an entire room! This will just depend on your personality and what speaks to you.
8. Rich Wood Tones
As you combine different design elements, make sure you consider how to add wood tones. Rich wood tones help create a cozy environment. It is one of those anchors that marries the two design styles together.
I inherited a rich wood laminate floor, so most of the rich tones in my living room come from the floor. However, I also like to incorporate it with cabinetry, vintage wood bowls, and other smaller accents.
9. Playful Designs
The most well-known trait of modern bohemian design is that it feels very playful with lots of personality. There is nothing staunch or stagnant about it. While it can look polished, it is never boring.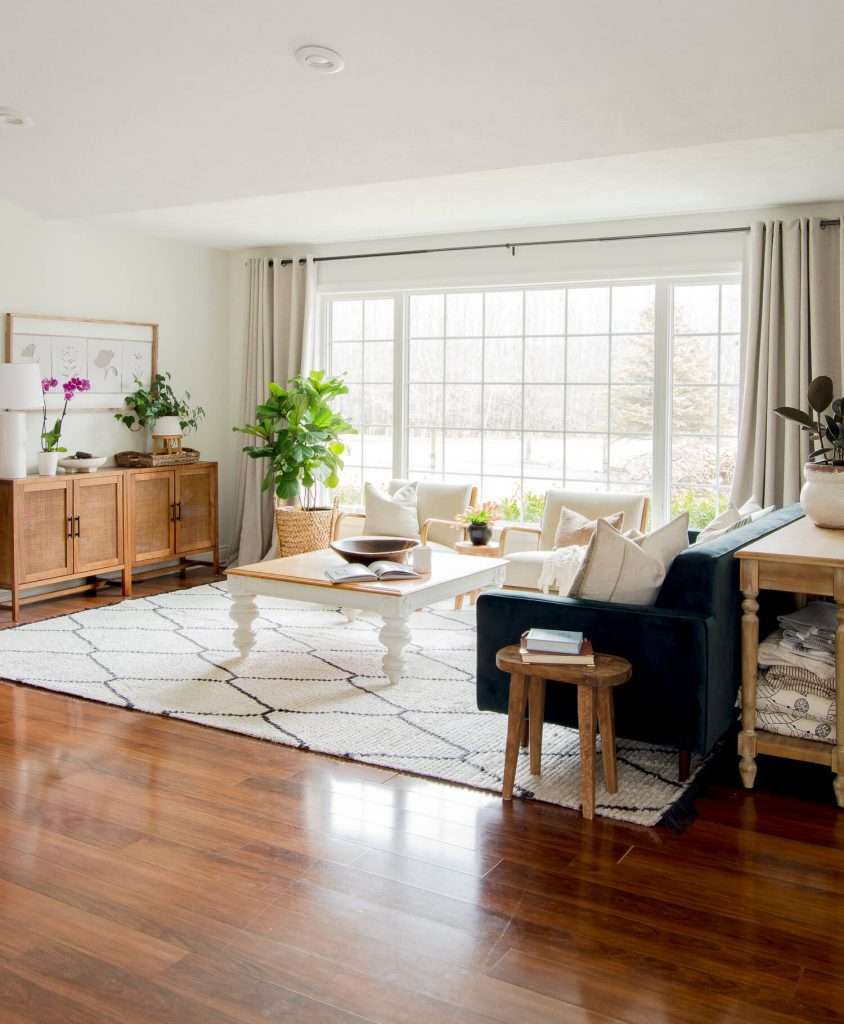 You can accomplish this element of design in your modern boho living room by:
Adding playful patterns in accent textiles or curtains
Incorporating unexpected wall hangings like this DIY silhouette artwork
Styling shelves full of personality and color
Using plants with lots of color and a whimsical nature
10. Light & Airy, Organic Elements
The last idea to consider to create your modern bohemian living room is to keep it light and airy with organic features.
Remember how we discussed that there are different levels of creating this modern boho design style? I'm heading into a new phase of my living room with this beautiful slip cover sofa anchoring the way! It has modern structured arms, with a casual bohemian pillow top backing. It blends both styles beautifully with an organic vibe.
I swapped my velvet couch to the other side of the room so they face each other. They blend the two styles so nicely.
Bringing in a light and airy feeling works with any design and is the number one way to draw people into a space!
Stay Connected
Thanks so much for stopping by the blog today! I hope that these 10 modern boho living room ideas give you a starting point to design your own space!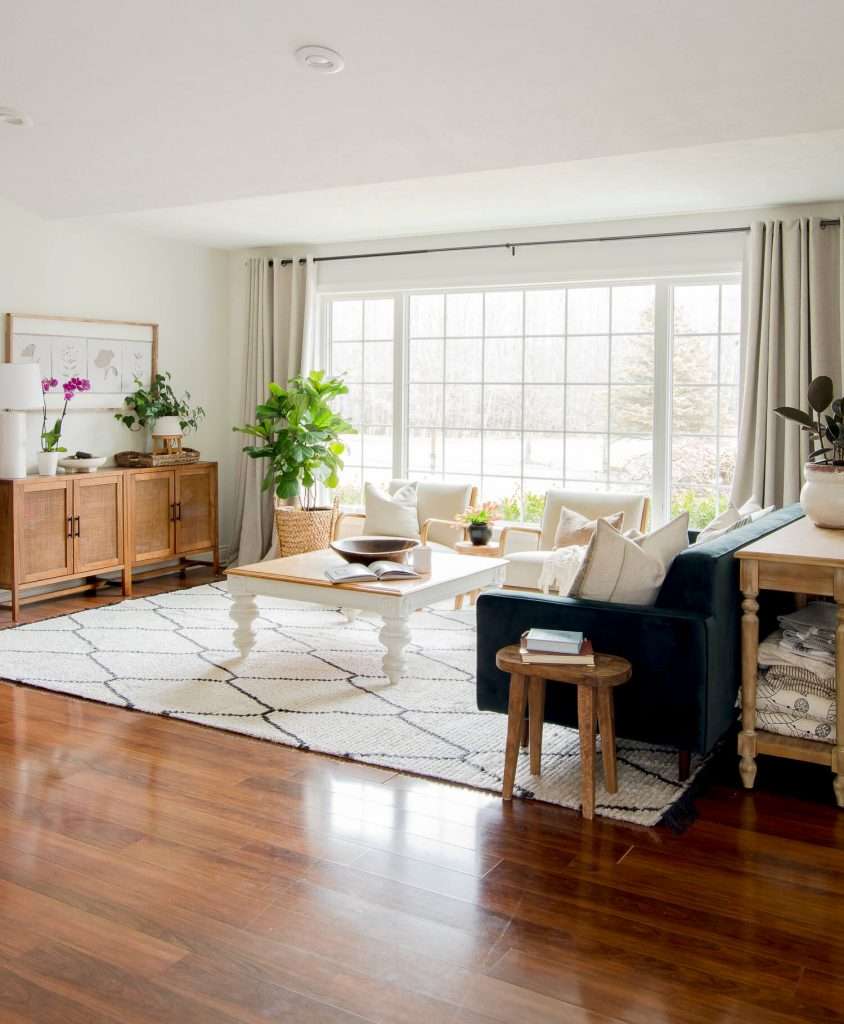 Make sure to subscribe to the blog for design and DIY inspiration sent straight to your inbox and follow along with me on Instagram where I tackle these types of projects first-hand!