5 Easy Weeknight Dinners for Family | Dinner Planner
Easy weeknight dinners for family is what every busy parent needs! I personally am not a fan of spending more than 30 minutes on cooking dinner, so I'm excited to share my favorite recipes to get a healthy meal on the table fast. Here are my top 5 easy dinner recipes for a simple weekly dinner planner. Plus, a downloadable ingredient shopping list!
This post may contain affiliate links where I earn a small commission on your purchases at no additional cost to you.
Healthy Family Meal Planning
If you're like me, I like to have a simple meal plan for a week. A dinner planner that I can reuse throughout the year is so helpful to get easy weeknight dinners for family on the table fast.
I like to be able to get 2-3 meals with a protein as the main dish that I can pair with simple and nutritious sides.
Shop My Kitchen Decor

---
For that reason, I have a few staple recipes that are my go-to dinner ideas. They are meals that my family enjoys, are healthy, and I can get on the table in 30 minutes.
I hope that this list of my top 5 best dinner recipes is helpful to you as you come up with your weekly family meal plan!
Make sure to Pin it for later and share with your friends!
Easy Weeknight Dinners for Family
I wanted to provide a few different protein options! So pick your favorite proteins from the list to add your weekly meal plan rotation.
Today I'm focusing on:
Pork tenderloin recipe
Turkey burger recipe
Chicken recipe
Venison backstrap recipe (could substitute beef tenderloin)
And a couple of stew options with protein!
Plus, make sure to check out this simple Taco Quiche Recipe!
Flavorful Pork Tenderloin
For the first dinner idea, make a large meal quickly with this delicious pork tenderloin recipe.
I love how simple this recipe is. It requires very few ingredients, yet results in a high flavor, moist and tender main dish.
I pair it with simple sides like roasted potatoes and asparagus, a side salad, or fresh dinner rolls.
Simple Balsamic Pork Tenderloin
Additional Time:
10 minutes
A simple balsamic pork tenderloin recipe your whole family will enjoy! This fast weeknight meal is moist, flavorful and tender.
Ingredients
1.5 lb Boneless Pork Tenderloin
3 TBS Balsamic Vinegar
Olive Oil for Drizzling
Thyme
Tin Foil
3 Gloves Garlic
Instructions
Preheat oven to 450.
Trim silver skin from the pork tenderloin.
Cover a 9x13 baking pan with raised sides with tin foil and place pork into pan.
Cut 3-4 1 " slits into the meat.
Place chunks of garlic into the slits.
Drizzle pork with olive oil until lightly coated.
Drizzle balsamic vinegar onto pork.
Sprinkle 1-2 TBS McCormick grill mate on top of meat, to taste.
Sprinkle with thyme.
Bake in preheated oven for 20-25 minutes.
Let rest covered loosely with tin foil for 10 minutes to reconstitute.
Notes
Pork tenderloin can quickly go from undercooked to overcooked. Slice into meat after 20 minutes or use a meat thermometer to determine if it is cooked thoroughly. If it needs more time, check it every 3-4 minutes until done.
Nutrition Information:
Yield:

4
Serving Size:

6 oz
Amount Per Serving:
Calories:

180
Parmesan Crusted Chicken
The next go-to recipe I use for my easy weeknight dinners is parmesan crusted chicken.
I love the versatility of this dish. It can be cooked several ways, which you can find detailed for you in this parmesan chicken article.
I usually serve this protein with a side salad and baked potatoes, roasted potatoes or sweet potatoes. Any quick side starch or vegetable pairs wonderfully with this recipe.
Parmesan Herb Crusted Chicken
Additional Time:
5 minutes
A moist parmesan herb crusted chicken done in 30 minutes or less! The perfect weeknight dinner for the whole family.
Ingredients
4-6 Thin Cut Boneless Chicken Breasts
Salt & Pepper to taste
3/4 c. Mayonnaise (not miracle whip)
1/2 c. Grated Parmesan Cheese
Dash Red Pepper Flakes
1/2 tsp. Lemon Juice
1 tsp. Poultry Seasoning, this is my favorite
2 tsp. Italian Herbs
4 tsp. Breadcrumbs
Instructions
Sprinkle salt and pepper onto room temperature chicken breasts to taste.
Mix together remaining ingredients, except the breadcrumbs.
Choose your cooking method: Bake, grill or air fry
Top chicken breasts with topping mixture.
Sprinkle breadcrumbs on top
Cooking time & temperature determined by cooking method.
Notes
Thin cut chicken breasts work best for this recipe. You can adjust all spices to taste!
Nutrition Information:
Yield:

4-6
Serving Size:

1 breast
Amount Per Serving:
Calories:

300
Moist Turkey Burgers
The next meal is a bun-less turkey burger. I suppose that you could always add a bun! However, I like to serve just the patty as a stand alone main dish.
It is so full of flavor that it doesn't need toppings or condiments. Of course, it would also be an amazing base for a full burger with all the fixings. Beats, fried egg and caramelized onions would be amazing flavors to pair it with.
Serve it with sweet potato fries, quinoa, or roasted vegetables.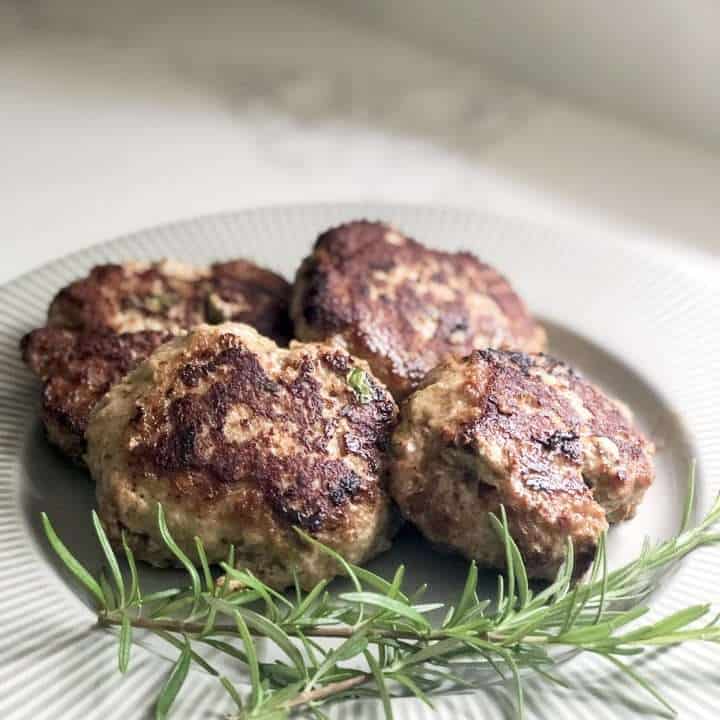 Moist and Flavorful Turkey Burgers
If you're looking for healthy dinner recipes then this is the perfect addition to your menu. This moist turkey burger recipe is simple, fast, and flavorful!
Ingredients
1 lb. Jennie-O Lean Ground Turkey
1/4 c. Italian Breadcrumbs
1 Tbsp. Lemon Juice
2 Tbsp. Low Sodium Soy Sauce
2 Tbsp. Minced Green Onion
2 Cloves Minced Garlic
1 Egg White
Fresh Parsley or other herbs
1 Tsp. Miracle Blend Seasoning
1-2 Tbsp. Olive or Canola Oil for frying
Instructions
Combine all the ingredients in a large bowl.
Mix thoroughly with your hands and form into four equal patties.
Place patties in heated oil.
Fry 5-6 minutes on each side or until outside is browned and middle is cooked fully.
Notes
Flip burger back and forth until middle is fully cooked to avoid over browning.
Venison Backstrap
The next staple weeknight dinner recipe we enjoy is venison backstrap. You can learn all about how to properly cook venison backstrap in this article if you are new to cooking this meat.
If you aren't a venison fan, you can also use this same recipe (including this amazingly simple homemade marinade) on beef tenderloin.
I like to pair it with sautéed seasonal vegetables from our garden and a garden salad. Top it with roasted or sautéed mushrooms for extra yummy flavor!
You'll find three ways to cook this dish in this article.
Easy Weeknight Dinners for Family | Stews & Soups
Next, I love adding in stews or soups. Especially in the fall and winter months!
Here are my top two favorite stews or soup recipes for families.
Pork Pozole
If you've never had this Mexican soup, you will love trying pork pozole. It is a simple dish with loads of flavor!
I wasn't positive that my kids would go for it, but they loved it! It is served best topped with cheddar cheese and with a side of fried tortillas for dipping.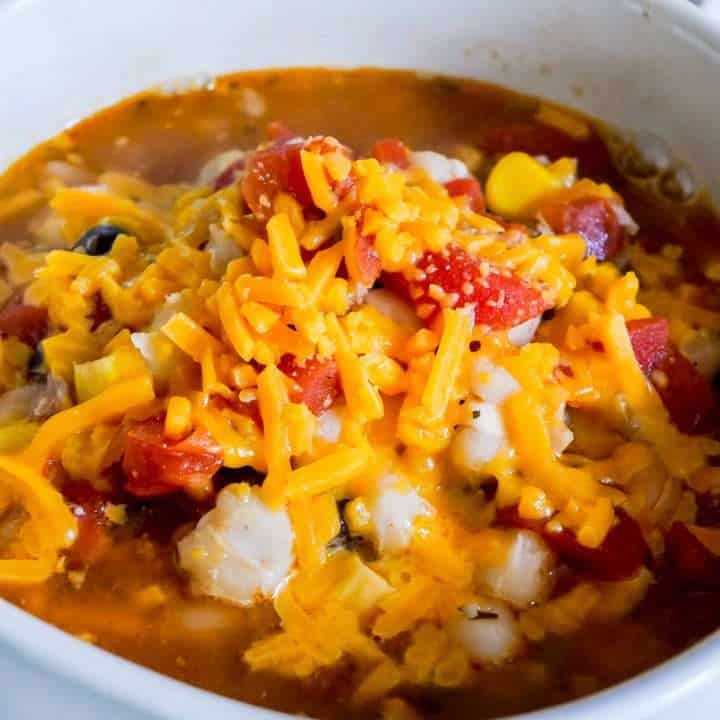 Pulled Pork Soup | Pozole Pork Hominy Stew
Additional Time:
6 hours
5 seconds
Total Time:
7 hours
10 minutes
5 seconds
Pozole pork hominy stew is a delicious Mexican soup that is the perfect recipe for leftover pulled pork soup! I discovered it while on the hunt for ways to use leftover pulled pork. I hope you enjoy this simple dinner recipe for the whole family!
Ingredients
Pork:
2 lb. pork shoulder, shredded and seasoned with:
1 tbsp cumin
1 tsp garlic powder
1 tsp paprika
salt and pepper to taste
Pozole Ingredients:
1 tbsp canola or olive oil
1/2 red onion chopped
4 cloves minced garlic
2 roma tomatoes, chopped roughly
6 cups chicken or vegetable broth
14 oz white kidney beans, drained and rinsed
14 oz black beans, drained
14 oz canned corn
28 oz hominy, drained
28 oz diced tomatoes, undrained
1 tbsp oregano
2 tsp cumin
1 tbsp green jalapeño sauce
1 tsp kosher salt
pepper to taste
Instructions
First, cook your pork per your preferred method, or use leftover pork like I do. Place your pork in your dutch oven with the spices and 1/2 cup of water. Roast it, covered, at 275 for 5-6 hours. Once it is cooked, remove it from the dutch oven, shred the meat and reserve the cooking juices.
Chop your red onion and roma tomatoes.
Heat oil in your dutch oven and sauté the red onion on medium heat for about 3 minutes.
Add the garlic and sauté about 1 minute, followed by adding the roma tomatoes and sauté for 2-3 minutes.
Add all of the remaining ingredients to your dutch oven and stir well. Bring to a boil and then reduce heat and cook for 30 minutes, stirring occasionally.
Add in your shredded pork and stir well to combine. If you cooked your pork for this dish, add the reserved pork juices as well. Simmer for 30 more minutes.
Adjust salt and pepper or other spices to taste.
After it has finished cooking, serve your pozole pork hominy stew topped with cheddar cheese and flour tortillas on the side.
You can also garnish with cilantro and lime juice, if desired.
Notes
You can adjust this recipe to accommodate chicken instead by simply swapping out the meats. Pinto beans can also be used as substitute beans.
Nutrition Information:
Yield:

6-8
Serving Size:

1 1/2 cups
Amount Per Serving:
Calories:

500
Traditional Chili
The next stew that we love as a family is a traditional chili. This chili recipe gives you the option of cooking it on the stove top or in a crock pot, depending on your timing needs.
Classic Chili Recipe
Total Time:
8 hours
10 minutes
This classic chili recipe is a dump and go dinner idea! It can be cooked in the slow cooker or on the stove top and is sure to satisfy with its hearty, flavorful and filling ingredients.
Ingredients
1 lb. Ground Beef
1 Clove Garlic, Minced
1 Small Onion, Chopped
1 tsp. Salt
2-2 1/2 tsp. Chili Powder
1 Bay Leaf
1 tsp. Worcestershire Sauce
1 tsp. Italian Seasoning
2- 16 oz Cans Tomato Sauce
3- 16 oz Cans Dark Red Kidney Beans (Drained)
1 Large Can Stewed Tomatoes
Instructions
Brown the ground beef and chopped onion until cooked thoroughly.
In the last minute of cooking, add minced garlic to the meat and cook.
Drain the ground beef.
Place beef mixture into crock pot (or large soup pot depending on your preferred cooking method).
Add remaining ingredients to the crock pot or soup pot.
Stir well.
Crock Pot: Cook on low 8-10 hours
Stove Top: Simmer on low 2-3 hours, stirring occasionally
Serve topped with cheddar cheese if desired
Nutrition Information:
Yield:

6-8
Serving Size:

1 Cup
Amount Per Serving:
Calories:

250
It is not overly spicy, which is wonderful for families with younger kids.
Easy Weeknight Dinners | Ingredient Shopping List
I hope that these ideas for staple meals in your weekly meal plan is helpful to you! Make sure to subscribe to the blog to download my printable ingredient shopping list! This includes everything you'll need to make the pork, chicken, venison and turkey burger recipes.
You'll also gain access to all my free printables, DIY tutorial plans and much more!
Gotta Have Dessert?
Me too. You're in good company. What's a healthy dinner for if you can't enjoy a dessert after? 😉
Here are my favorite recipes for breads and desserts that you can enjoy with your meal!
Stay Connected
Thanks so much for stopping by the blog today! I hope these easy weeknight dinners for your family spark a new energy in you to get healthy meals on the table.
I'd love to know which dinner recipe is your favorite after you've tried them out!
Make sure to subscribe to the blog for more to come! And, you can follow along with me daily on Instagram and weekly on YouTube!
Happy cooking!