Cozy Christmas Bedroom Decor Ideas (2022)
Do you decorate your bedroom for Christmas? I usually would not go all out to add Christmas decor to the bedroom. However, this year I wanted to give it a try! I hope these cozy Christmas bedroom decorating ideas can inspire you as well!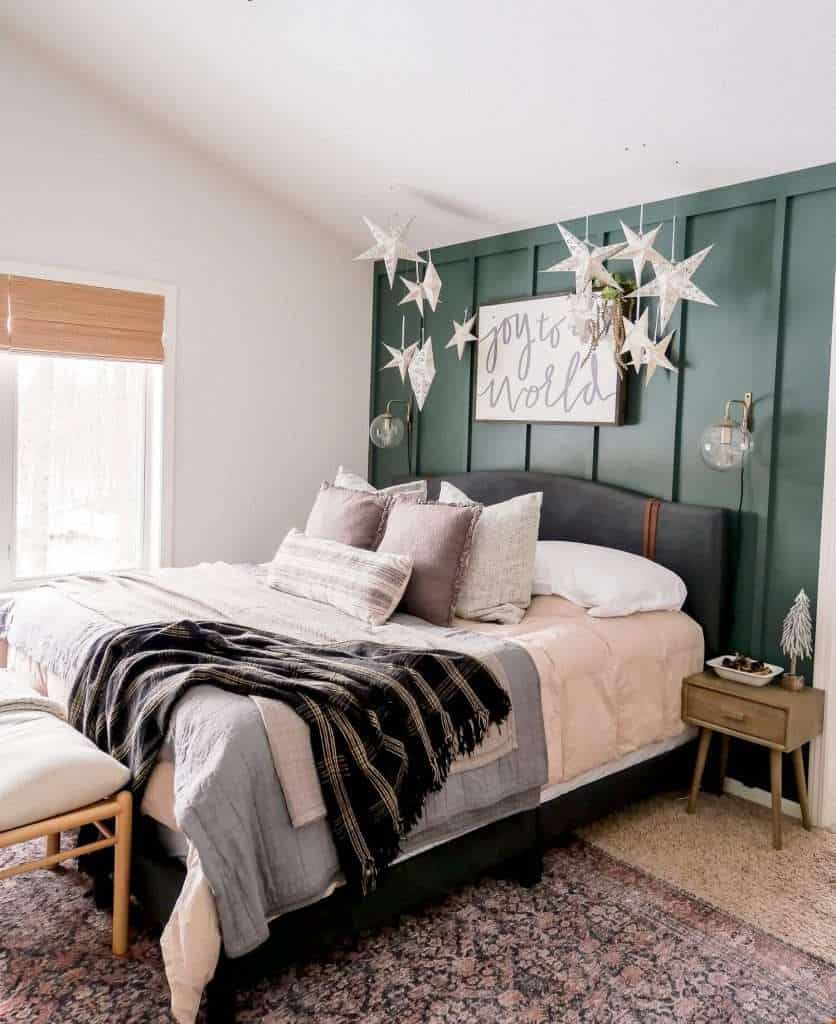 Whether you are decorating your room, a guest room, or kids rooms for the holidays, it's always nice to make it cozy.
Affiliate shopping links provided for your convenience at the end of this post.
Cozy Christmas Bedroom
Typically, my Christmas room decor is very minimal. In year's past I've just hung a holiday sign and called it good.
This year, I wanted to add a bit more intentional pizzazz.
I remembered how much I loved having these stars hanging in my entryway for Christmas last year. So, I decided to give them a try for a Christmas bedroom idea!
Other than the fact that fishing line is a pain to work with, these were very easy to hang.
I simple strung them up with clear fishing line first. This helps them look like they are floating like real stars.
Then, I used thumb tacks and pushed the line directly into the ceiling.
I flanked either side of this Joy to the World sign from my friends at Joyfully Said. You can use code GRACEINMYSPACE for 15% off their signs!
I think these stars add so much coziness to the space. I think I'll add battery operated fairy lights to them like I did last year for an extra magical touch.
Christmas Decorating Ideas in the Bedroom
With the big star display, I felt like the rest of the bedroom only needed small Christmas accents to complete the space.
While over the bed is usually the main focal point in a bedroom, I like to also create one more smaller focal point.
For us, that second focal point is these floating shelves.
You might have a second focal point of a dresser, bookcase, desk, reading nook…etc. to focus on.
I have these photographs I took in Portugal displayed year round. I like to leave a little space for seasonal decor on the shelves to change the look up easily.
This year, I simply added some cozy glowing orbs, a deer figurine and some bottle brush trees. It is SO simple to create a cozy feeling with these main elements.
Items that glow

Lamps
Candles
Lighted trees
Lighted orbs

Metallic decor
Plush textiles
Extra blankets
Warm color hues
Cozy accent rugs (yes…even over carpet)
I love sharing how to create a cozy haven with my readers. If you're looking for a streamlined approach to styling your home, make sure to sign up for my free e-course below!
Cozy Bedding and Textiles
The final step to creating a cozy atmosphere in your bedroom for Christmas is the bedding.
Traditionally, I would just focus on cozy bedding for Christmas and the winter months. This year it was fun to also decorate some other spaces! But, really…the bedding is what has my heart.
And it's what creates the coziest environment the fastest.
If you want to see how I pulled this whole space together, make sure to watch my YouTube video as we decorated my bedroom for Christmas together!
Now, I live in Michigan. So multiple layers of bedding is a necessity for me. If you are in a warmer climate, you might not need this much defense against the cold. That's part of what I love about building a cozy bedroom. You can go all out or you can just focus on the basics, depending on your needs.
My bedding basic necessities are:
Breathable sheets
Down comforter
Heavyweight quilt
Lightweight muslin blanket
Extra throw blanket (for those extra cold nights)
If you want to "dress the bed", then I also add layers of euro throw pillows.
And that's it!
Three key elements to creating a cozy bedroom for Christmas:
Christmas decor focal point (ex: stars & sign)
Christmas accents (ex: shelf decor)
Cozy bedding (Doesn't need to be Christmas themed to still be cozy!)
The beauty in this is that you can do one of these ideas or all of them and you'll still be adding cozy (but low-key) touches to your bedroom for Christmas.
Bedroom Decor & Bedding Sources
I hope you've enjoyed seeing a few simple ideas for how to create a cozy Christmas bedroom. Below you will find shoppable affiliate images if you want to snag any of these items for your self! Just click the image to shop.

---
More Christmas Decorating Ideas
Thanks so much for stopping by the blog today! I'd love for you to join my subscriber community here on the blog, or follow me on Instagram and YouTube where I share projects and styling tips in real time!
If you're looking for more Christmas decorating ideas, make sure to check out the posts below! I also have 5+ years of Christmas decorating in my archives.