10 Minute Christmas Kitchen Decorating Ideas
Christmas kitchen decorating ideas should be simple and quick so you can focus on holiday festivities! I love adding small touches of Christmas decor to my kitchen, but I definitely don't want to spend a lot of time there. So I've rounded up some very easy and quick kitchen cabinet Christmas decorations, as well as ideas for the whole room. Enjoy these easy 10 minute decorating ideas!
For your convenience, I've provided affiliate shopping links at the end of this post for my decor sources.
Fast and Easy Christmas Kitchen Decorating Ideas
Are you ready to decorate? I decorated my kitchen for Christmas in 10 minutes using these simple, but impactful, decorating ideas.
While I would still consider my Christmas kitchen decor fairly simple, you can pick and choose from these 5-10 minute ideas, or do them all!
Make sure to check out my YouTube video where I talk more in depth about creating spaces of rest with our decor as I decorated this kitchen with you!
How to Decorate Kitchen Cabinets for Christmas, Fast!
Decorating cabinets for Christmas seems to be the number one area that most people focus their Christmas kitchen decorating ideas.
Kitchen cupboard Christmas decorations can look a variety of ways. Here are some ideas I've seen in the past.
Wrapping paper as Christmas kitchen cabinet decor. (Literally, wrap each door. While creative and fun….not a 10 minute idea.)
Ribbons tied in a bow on each cabinet.
Star decals placed strategically on cabinet doors.
Garland hung above each cabinet.
Bells hung from ribbons on each kitchen cabinet door.
While all of those options can be beautiful, I always opt for classic and simple Christmas wreaths for kitchen cabinets.
Ironically, I don't have a lot of upper cabinets. Which, is where you would traditionally use cabinet Christmas decorations.
However, this year I was excited to do this 2 minute trick on my newly added DIY cabinet I refinished this summer.
Simply take a ribbon and cut to length so your wreath is hanging in the upper 1/2-1/3 of your kitchen cabinet door. Then, using either a thumb tack, nail, duct tape, or command strip, attach the ribbon to the upper inside of the door.
I always love using velvet ribbon for Christmas. This year, black has an extra classy look as I attempted to stay fairly neutral in my Christmas decorating.
Now, I feel like this idea for how to decorate kitchen cabinets for Christmas is already well known. But I had to include it! A classic never goes out of style. Plus, it's so easy to change the look with different style wreaths.
Kitchen Island Christmas Decor
Next up, let's decorate the kitchen island for Christmas. Or perhaps it's a peninsula. Or maybe just a countertop! Basically, these ideas work for decorating your kitchen countertop for Christmas no matter what shape or style you have.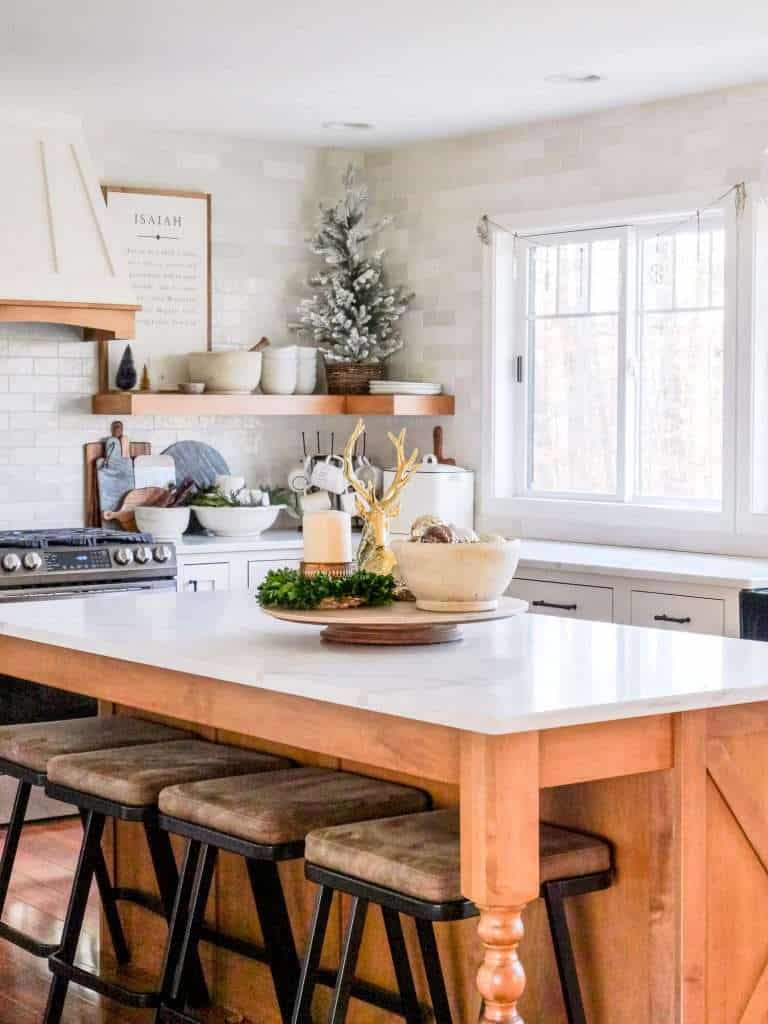 Our kitchen island is about 84″ long. Its size is great for prep space and island eating, but it's not great for loads of decor.
I like to keep our island fairly clutter free since it tends to be the drop zone of life.
In 5 minutes, you can pull together a beautiful island centerpiece for your Christmas decor using these main staples:
Tray, tiered stand, pedestal or lazy susan to corral items into one easy-to-move space.
Greenery
Holiday decor staple (ex: reindeer, bells, star, Santa, snowman…etc)
Candles or battery operated candles
First, start with something that can help corral all the pieces you want to use on your island. I like pedestals or trays because they are easy to pick up and move when you need your island space back.
Next, add in an odd number of the remaining decor staples. (Groupings look best in odd numbers.)
I chose to add greenery around my elevated candle for the first item, then I added a deer and bowl of ornaments.
And, voilá! Super simple kitchen island Christmas decor that can be moved out of the way as needed.
Kitchen Shelf Christmas Decorating Ideas
Next, let's tackle kitchen shelving.
We have one floating shelf that I use for everyday dishes with a smattering of seasonal decor.
I don't want to lose my storage for our plates and bowls, so I simple added in three really quick Christmas additions.
Christmas sign (use code GRACEINMYSPACE for 15% off my favorite sign shop!)
Christmas tree
Bottle brush tree grouping
I also may have a small cutting board problem… ahem, collection. But those are my everyday items to display that work year round!
Adding these three Christmas elements took 2 minutes! It is such a simple way to arrange Christmas decor on a shelf, while keeping your storage space open for dishes.
And of course, I have my collection of antique mortar and pestles out year-round. I absolutely adore the charm they add.
Christmas Kitchen Decorating Ideas for Windows
Last, but not least, decorate your kitchen windows for Christmas!
This year I did a very petite and subtle snowflake garland (which happens to be hard to see in a photograph). Plus, the same wreath I did on my cabinet for the center window.
Adding these elements to your kitchen windows is very festive, super fast, and keeps countertops clutter free!
More Ideas for Window Decor
You can see some other varieties I've done in year's past for how to decorate kitchen windows for Christmas here:
Christmas Kitchen Decor Sources
I hope some of these ideas have been helpful as you seek to get some fast Christmas kitchen decorating ideas! If you are looking for decor sources, simply click the affiliate images below to shop available items.

---
If you're looking for kitchen materials and sources, check out my kitchen design FAQs.
Stay Connected
Thanks so much for stopping by the blog today! I'd love for you to join my blogging newsletter list to stay up to date on much more Christmas decorating to come.
And make sure to follow along with me daily on Instagram and weekly on YouTube for real-time DIYs, design tips and decorating tutorials.