3 Steps to A Christmas Kitchen That Still Functions
Styling Christmas kitchen decor can be a stumbling block to some. It can be difficult to reconcile decorating a kitchen for Christmas when it's main purpose is to be functional. So I'm breaking it down into 3 steps to create a cozy Christmas kitchen, without it overtaking your workspace!
This post may contain affiliate links where I earn a small commission on your purchases.
How to Use Christmas Kitchen Decor Without Sacrificing Functionality
Every time I decorate my kitchen, I do it with intention. I never want to sacrifice functionality, and clutter in the kitchen drives me bonkers. So, when the Christmas season arrives and clutter becomes the norm, I know I have to be even more intentional.
The keys to creating a cozy Christmas kitchen that still functions is to use the vertical surfaces to their fullest extent, and to keep mobility in mind!
Ironically, this is the fourth time I've decorated my kitchen for Christmas this year! I had to style it earlier in the fall for some photoshoots, but each time I've decorated it I used the same principles.
You can see three ways I styled it earlier this year in this article.
3 Steps to a Styled & Functional Christmas Kitchen
1. Dress Up Windows
The first space that can easily be decorated without sacrificing functionality is the windows. When we remodeled our kitchen, my must have was a wall of windows. I just love the natural light and wanted to enjoy the views of our back woods.
Whether you have one small window or windows larger than mine, you can use them to spruce up your kitchen for Christmas quickly!
I chose to use clear cord to hang these neutral ornaments across the entire window. By alternating them with wreaths, it keeps it interesting and moves your eye along the span of windows.
This is such an easy way to dress up the space without impeding functionality. Windows are one vertical surface that many people overlook, but can make such a big statement!
2. Choose A Specific Shelf or Cupboard to Focus On
Many times, people decorate every square inch of their kitchen only to find that it is no longer functional. I like to keep my decor to one specific shelf. Perhaps you have cupboards instead, but the concept is the same!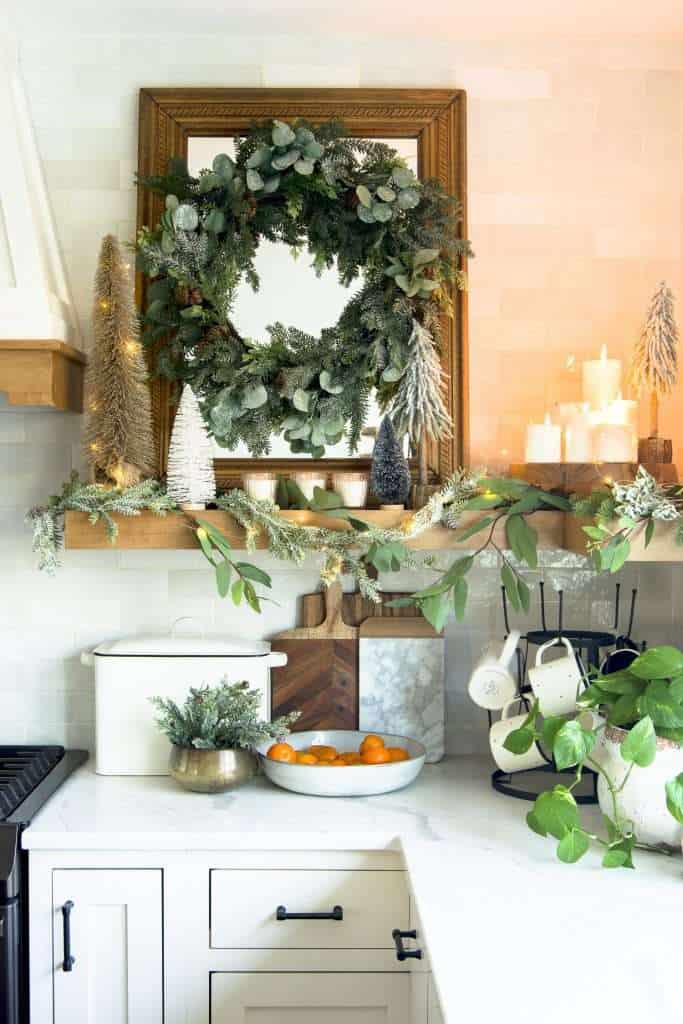 This is another vertical surface to focus on in the respect that it's off the countertops and out of the way.
I like to drape simple greenery with fairy lights and then use a combination of trees and candles to create a cozy glow.
You can see how I've also used another vertical surface within the shelf by layering a wreath on the mirror. You can also put wreaths directly on the wall or vent hoods for a festive touch!
Many people enjoy putting wreaths directly on cupboard doors as well. That can be beautiful as long as they are attached so that they don't impede functionality!
3. Keep Decor Mobile
The easiest way to decorate for Christmas in the kitchen is on a mobile platform. This year, I used my marble lazy susan to create a mini forest of bottle brush trees.
Especially on the island, I like to have a simple centerpiece that I can quickly whisk out of the way when we are using the kitchen.
The only other decor I use on the countertops is this cute stool with DIY snow globes. It takes up minimal space and is out of the way of my normal cooking area.
Stay Connected
It's as simple as that! Utilize vertical space, choose where to add decor sparsely and wisely, and create mobile vignettes! I hope these kitchen Christmas decorating ideas have been helpful to you as you decorate your home!
If you're looking for more Christmas decorating ideas, make sure to browse my other posts this year! There are many more to go, so stayed tuned!