Decorating Tips for Home Design Implementation
Do you need help creating a haven within your home? Today I'm finishing my 3 part series on how to create spaces you love by giving you decorating tips for design implementation.
If you missed the first two articles in this series, make sure to start with post 1 and follow the series for full instruction on how to create spaces you love! And joining me are four other bloggers each sharing their own implementation process. You can find links to their articles and decorating tips at the end of this post!
Posts in this Series
Post 1: Inspiration | Post 2: Realization | Post 3: Implementation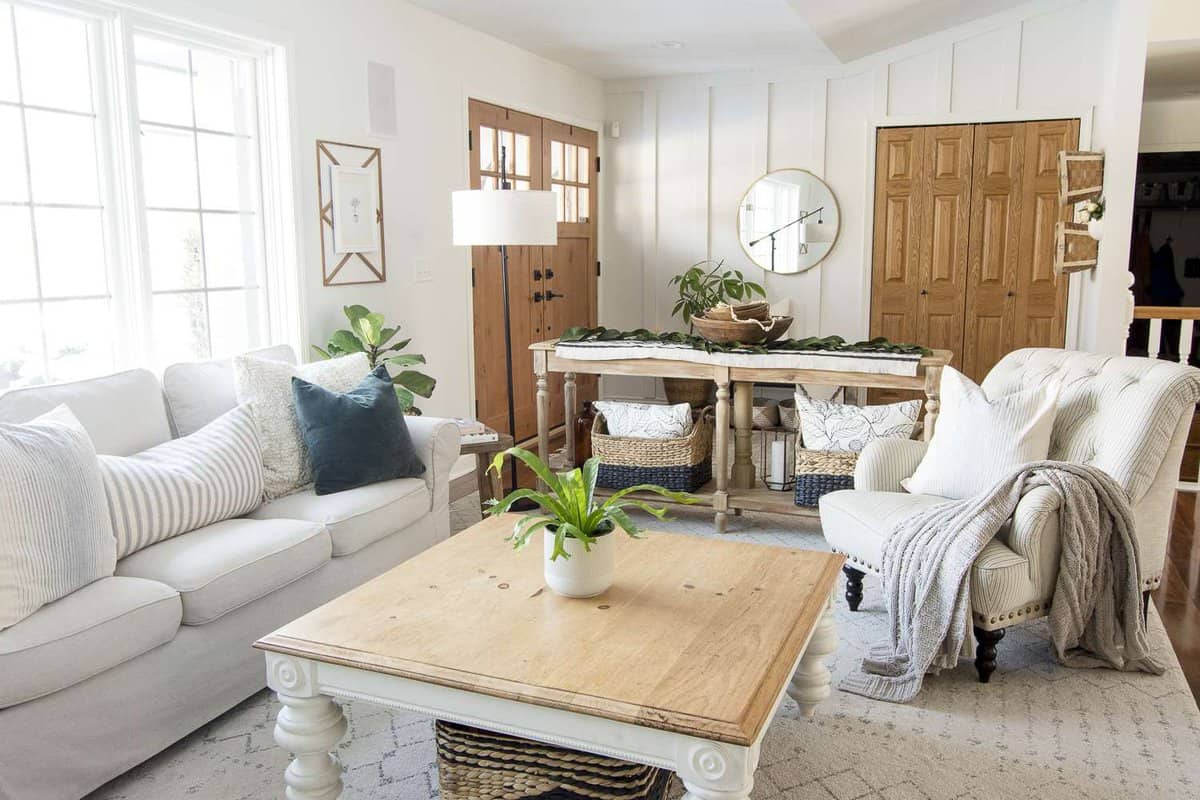 This post may contain affiliate links where I earn a small commission on your purchases.
Let's Recap
Before we talk about simple decorating tips to help you move your dream to reality, I want to recap a few things we learned in the first two posts.
Create inspiration boards.

Analyze the exact elements you're drawn to in the photos.

Establish your goals for the space.
Define any barriers to creating your dream space.
Tackle the large projects first.
Shop your home for items that will help accomplish your goals.
Test various looks.
Decorating Tips
Once you've gotten this far you are ready to implement your design! If you remember from my first post, I've been using my entryway refresh as an example for this design process. My goals were to add board and batten, greenery, warm textures and balance.
And this is what I came up with! However, my very first decorating tip is this: Don't fret if you can't find what you're looking for.
Give Yourself Time
Time is your friend for the average homeowner. Yes, occasionally it is not ideal to have to wait to finish a space. In my instance, I couldn't decide on a final design by the time I needed to publish this article! How's that for ironic. 😉
However, I did make it this far in the design journey. I shopped my home and found quickly that I had the majority of what I needed to accomplish my decor goals. I kept the existing bench, added warm texture baskets I was using in a closet, and included a money tree plant that my daughter has neglected in her room for the past 4 months. (I'm a lifesaver…)
However, I was still undecided on the wall decor. Going from a collected gallery wall to a single mirror made my layer-loving heart do a little jig. And that is why time is your friend.
Much of the time we tend to rush design decisions just to get it "done" only to regret it later on. So take your time with your design plan. Sometimes it needs to come together naturally. Let's continue with more specific decorating tips!
Consider Scale and Balance
My second decorating tip is to consider scale and balance. Balance was one of my goals for this space so I tried out a few different pillows to see which I liked better.
Option 1
Option 2
Both are perfectly fine for this space, however adding the square pillow next to this gorgeous throw blanket offered a better balance to the bench. On a practical note, it also gave more space for guests to sit when removing shoes.
Additionally, the only purchase I made for this project (besides the wood for the board and batten) was this modern round mirror. If you read my second post in this series, then you know I already owned two mirrors I was using as possibilities. However, neither of them were the proper scale. One was too small to stand alone on the wall, and the other was too large and overwhelmed the space.
So after measuring my working wall space I was able to find the properly sized mirror. I also like how this mirror adds a modern touch to an otherwise warm palette of woods and whites. This leads me to my third decorating tip.
Don't Be Afraid to Mix Design Styles
One of the biggest themes in my book is that design is meant to be fluid. Change is interesting, exciting, and it can help your home tell a story. Saddling yourself to one design style stifles your ability to be creative and use pieces that make your heart sing.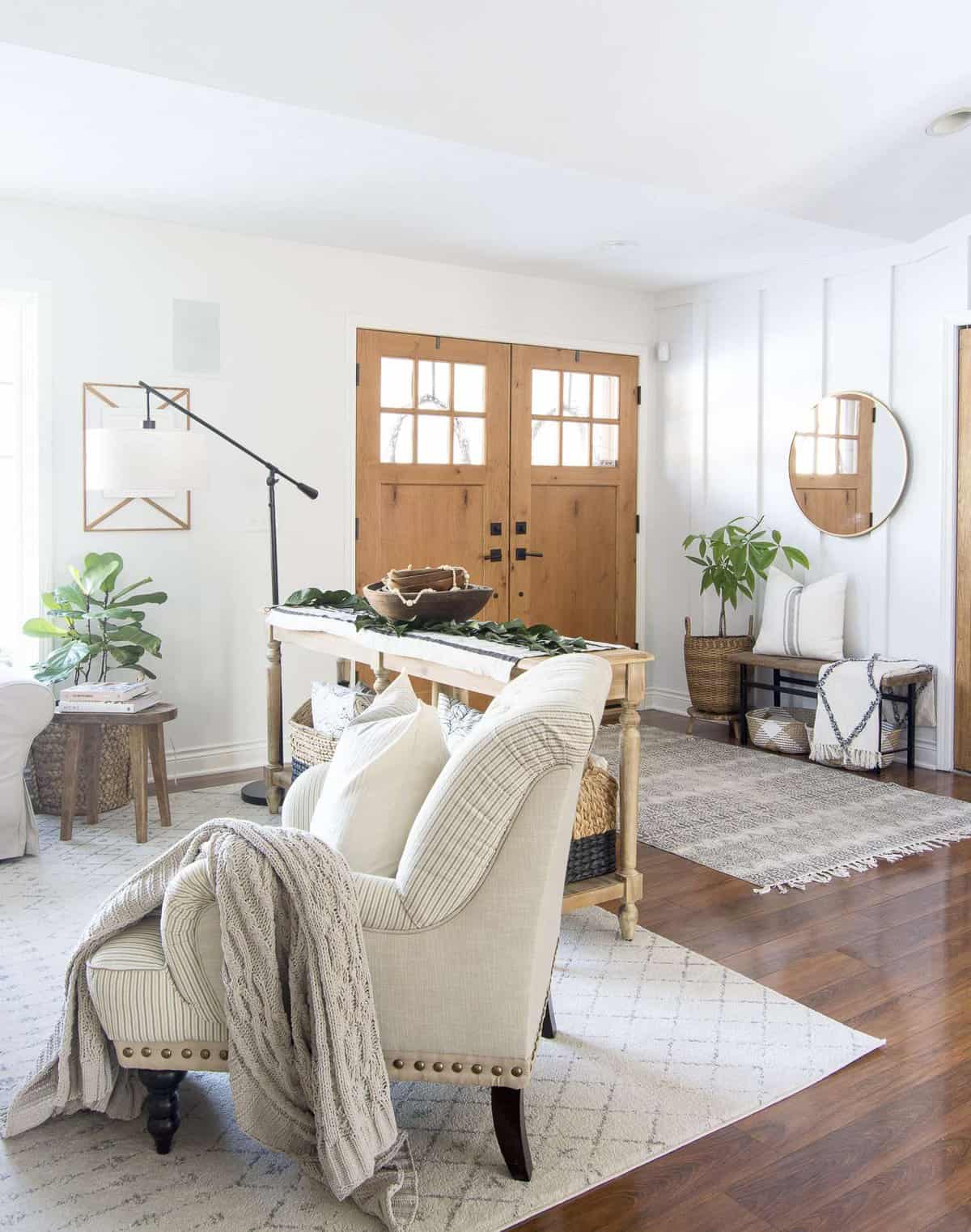 Let's take my entryway as an example again. Since my entryway flows directly into my living room I typically design them in tandem. Looking at my current room I easily identify the following design styles: modern, farmhouse, rustic, cottage, traditional, bohemian, vintage, eclectic.
The reason they work together is because I've stuck to a cohesive color palette of natural hues, whites and wood tones. This also allows me to add pops of color whenever I want to change the feeling of a space or decorate for the seasons. This leads me to my final decorating tip.
Consider the Space in Relation to the Rest of Your Home
As I was designing this space I realized that I felt claustrophobic in my entryway, even though it is very open! So I took a moment to assess what would be causing that.
Originally I thought that it was because my closet doors to the right of the new board and batten wall were wood. Sometimes dark wood tones can dampen the lighting in a space and make it feel smaller.
After more consideration, I decided to try moving some furniture around in the adjoining room. And voíla! By considering how the entryway felt in relation with the rest of my open concept home, I was able to determine that my arrangement of the couch was the culprit.
When I first moved in, I designed my living room to be a conversational area with the couch backed up to the entryway console table. By moving the couch away it made the space feel more airy, open and inviting. And the best part, rearranging furniture makes a big impact while being completely free!
Bonus Design Tip
I hope that these decorating tips have been helpful to you as you create spaces you love! My final tip is to revisit your design at least two weeks later.
Design should evolve through the practical consideration of everyday living.

Sarah Symonds

Part of creating a haven includes ensuring that your space is meeting your personal and family goals. Your home isn't designed to be a showpiece. It is meant to be a tool to create a haven for everyday living!
So make sure to revisit your design a few weeks after living with it. Take note of things that aren't working the way you'd hope and establish new design plans to fix those problems. Remember, design is meant to be fluid! Don't let a failed design paralyze you from making changes that will meet your needs.
I talk about all of this and more in my book, Designing a Life: From House to Haven, if you're interested in 10 steps to becoming a haven maker!
Shop My Home

Complete Guide to Creating Spaces You Love
This series, and sharing these final decorating tips, have been a joy for me to write! I hope that it has helped you feel confident in moving forward in creating spaces you love. Please make sure to head to my fellow bloggers' articles next to glean more information from their design perspectives!
Grace In My Space | Aratari At Home | City Girl Meets Farmboy
She Gave It A Go | Mid County Journal