DIY Christmas Decor | Free Printables
Hi Friends! I'm back with another freebie for you with the easiest DIY Christmas decor project out there. If you have a printer and a pair of scissors you're good to go. I know that I'd rather spend my money lavishing my family and friends with gifts during the Christmas season so I like to get creative with my decor. So I thought I'd pass on this simple DIY Christmas decor project to you as well!
Post may contain affiliate links where I earn a small commission at no extra cost to you on your purchases.
I first had the idea to use mini clipboards as wall decor when Magnolia came out with their spring issue of the Magnolia Journal. I just loved their little botanical prints and so I cut them right out of the magazine and voila: wall decor for $0.




Now that the holidays have arrived it was high time to switch out my spring prints (somehow they made it through fall!) and put in some Christmas ones. Sadly, the Magnolia Journal's winter issue only offered free prints that I wasn't a huge fan of. So I made my own!
DIY Christmas Decor
You are also getting a tiny sneak peek of some of my Christmas decor! I've decorated a few areas of my home already and this little nook is all about black, white, red and green.
Easy Decorating Quick Tips
So while I'm at it, I thought I would give a couple of quick tips on easy decorating ideas. First off, if you've never thought about it, rethink how you use your wreaths! I had two wreaths that were rather boring on their own but layered one on top of the other they are beautiful!
Wreaths are also not just for doors! Hang them in windows, on chalkboards, or from a focal point in your home like the fireplace.


Quick Tip Number Two: When you buy thrifted decor make sure to look beyond color. Consider the shape and texture of an item first. If you don't like the color then you can always spray paint it! I found this tall cornucopia from a garage sale for $1 and spray painted the previous wicker color to white to make a tall Christmas tree!
Let's Talk Freebies!
And finally, take advantage of freebies! 😉 You knew I was getting there didn't you? My printables are free to my subscribers so sign up today and become a blog buddy! You'll get access to your printables in your welcome email.
(BONUS! I created these with black or light grey/white backgrounds so you can choose whichever fits your style!)
Simply download the print (up to size 8×10), cut it out, and frame it either in a traditional frame, on clipboards, or come up with your own creative idea!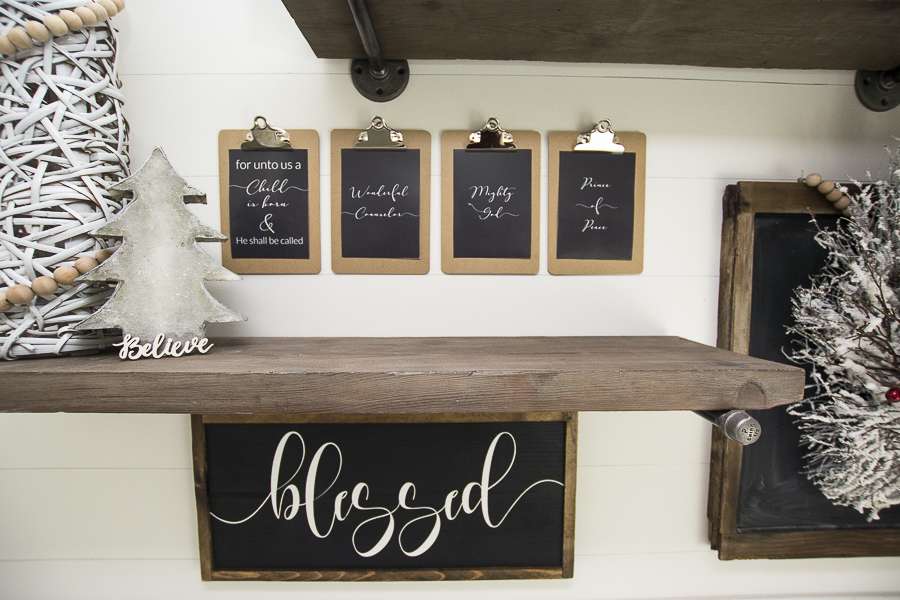 And if you're interested in how I created these DIY barnwood shelves out of scrap wood or how I created this faux shiplap in my nook then make sure to follow the links to my posts!
That's all for today my friends! I've got a full Christmas home tour coming at you December 1st with some amazingly talented bloggers! So stay tuned and take advantage of this easy DIY Christmas decor project!
Blessings,
{For to us a child is born, to us a son is given, and the government will be on his shoulders. And he will be called Wonderful Counselor, Mighty God, Everlasting Father, Prince of Peace. – Isaiah 9:6}
Shop the Post

SaveSave
SaveSave
SaveSave
SaveSave
SaveSave
SaveSave
SaveSave
SaveSaveSaveSave
SaveSave
SaveSave
SaveSave