How to Hide Kid's Craft Storage in Plain Sight
Do your kids love to be part of the action in your living areas? I know mine sure do! Forget the fact that I've designated a play room and given them each art desks in their own rooms. Nope, they want to do all their crafts in the main living space! So today I'm sharing 2 simple ways to hide kid's craft storage in plain sight!
Post sponsored in part by The Container Store. All thoughts and opinions are my own.
This post may contain affiliate links where I earn a small commission on your purchases.
Kid's Craft Storage Ideas
My kids absolutely love to craft and read. These childhood activities make my heart happy to see them enjoy! However, I've done my very best to hide their messes in designated spaces to no avail. They insist on being in the center of the house to make all their creations. What can I say, they love me. 😉
So after allowing the constant clutter and mess to get to me for many months I decided I needed to come up with a solution that worked for everyone! I want my kids to feel welcome in every inch of our home. I never want them to feel like they cannot live and do what they enjoy because mommy has made a space "off-limits".
You can read more about my strategy for decorating with kids in mind in my book, Designing a Life: From House to Haven.
So to remedy the constant messes, I came up with a stylish solution to kid's craft storage that I could hide in plain sight!
Before
Prior to coming up with my current solution, I had tried several organizational strategies. Baskets, bookshelves, designated "kid zones"…none of them corralled the clutter. Queue my stylish and practical solution! Hiding kid's craft storage in plain sight!
Craft Tote + Stylish Baskets
Since the living room coffee table seemed to be my kid's craft station of choice, I decided I would utilize the floor space under the coffee table. I found these beautiful baskets and measured to ensure they would fit under the table. Tucking these baskets away was my way of providing an organizational solution I didn't have to pull from a different room every time my kids wanted to craft.
The next step was to find a structured tote that would fit inside! Thankfully, the Container Store has a ton of functional options to choose from. I measured the baskets first so I could narrow down my search parameters to totes that would fit inside nicely.
This super satchel was the perfect fit for my baskets and provided the organization I wanted! The inside dividers are customizable to be able to separate crayons, markers, glue, scissors and other craft supplies.
Then I neatly tucked the tote inside the basket! I used the other basket for books, puzzles, and notepads because they easily stack inside of it.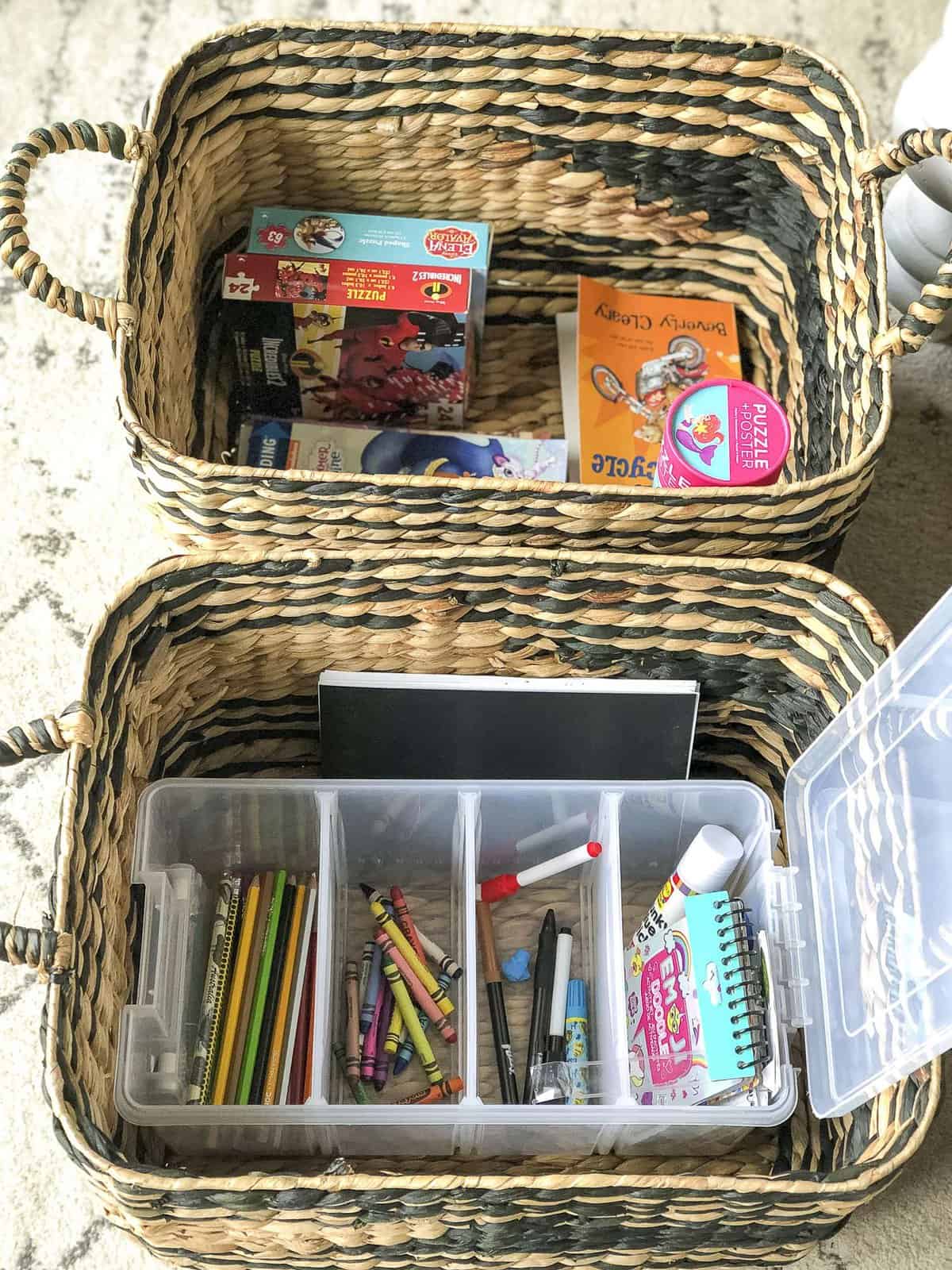 Now when my kids want to create artistic masterpieces they simply slide the baskets out from under the table and lift the lid! They don't even need to remove the tote from the basket. I think the biggest hurdle will be teaching them to actually use the totes to clean up. But so far they've been doing a great job!
When they are done, they simply slide the baskets back under the table to provide stylish kid's craft storage that hides in plain sight!
I love how large the baskets are to be able to hold all their supplies with room leftover. These would also be a great way to provide toy storage for your main living areas!
You can purchase these baskets here along with the coordinating tote here.
And if you're looking for other organizational strategies, you can see how I created a dual purpose utility closet in our entryway here! I love making the best use of a space so sharing how I took an under utilized coat closest and transformed it into a utility/guest coat closet is so fun! Enjoy!