Homeschool Organization and Living Room Storage
So many have been thrown into the homeschool life unexpectedly with the unprecedented COVID 19 stay at home orders. I'm sure I'm not alone in my unpreparedness for the chaos that homeschool life brought to our home.
So I went on the hunt for homeschool organization ideas that could double as living room storage in the long run. This idea keeps homeschool organization simple while enjoying long term storage solutions once life goes back to normal.
This post may contain affiliate links where I earn a small commission on your purchases.
Homeschool Organization Solution
Let's take a look at the tornado that became my main living area.
While I realize that homes are meant to be lived in, this was not working for me. Or my kids, to be honest!
I work best when my home is organized (or at least picked up). Clutter distracts me, makes for a chaotic learning experience, and inhibits my kids from getting the best from me as their new full time teacher. So, I had to do something about it!
Now, pending some unforeseen circumstances, I don't plan to homeschool long term. So I wanted to find a way to whip this new homeschool room into shape without spending money on items that would be unnecessary long term.
Living Room Storage as a Homeschool Station
Cue the new living room storage! I've actually wanted more hidden storage in our living room for quite some time to corral puzzles, books and craft supplies.
I was excited to find these pieces for 1/4 the cost of my inspiration piece and shared all those details in this post. I also shared my living room decor sources in that post if you're interested in where something is from!
On top of the normal supplies kids need for schooling, I also wanted a space that I could create a hidden charging station for all their online learning devices. The woven door fronts provide the ventilation needed to accomplish that goal so the devices don't overheat.
Homeschool Learning Organization
So let's take a look inside. The cabinets each have one adjustable shelf that can hold a good amount of storage. I chose to organize the interior of the cabinet with simple bins, trays and baskets.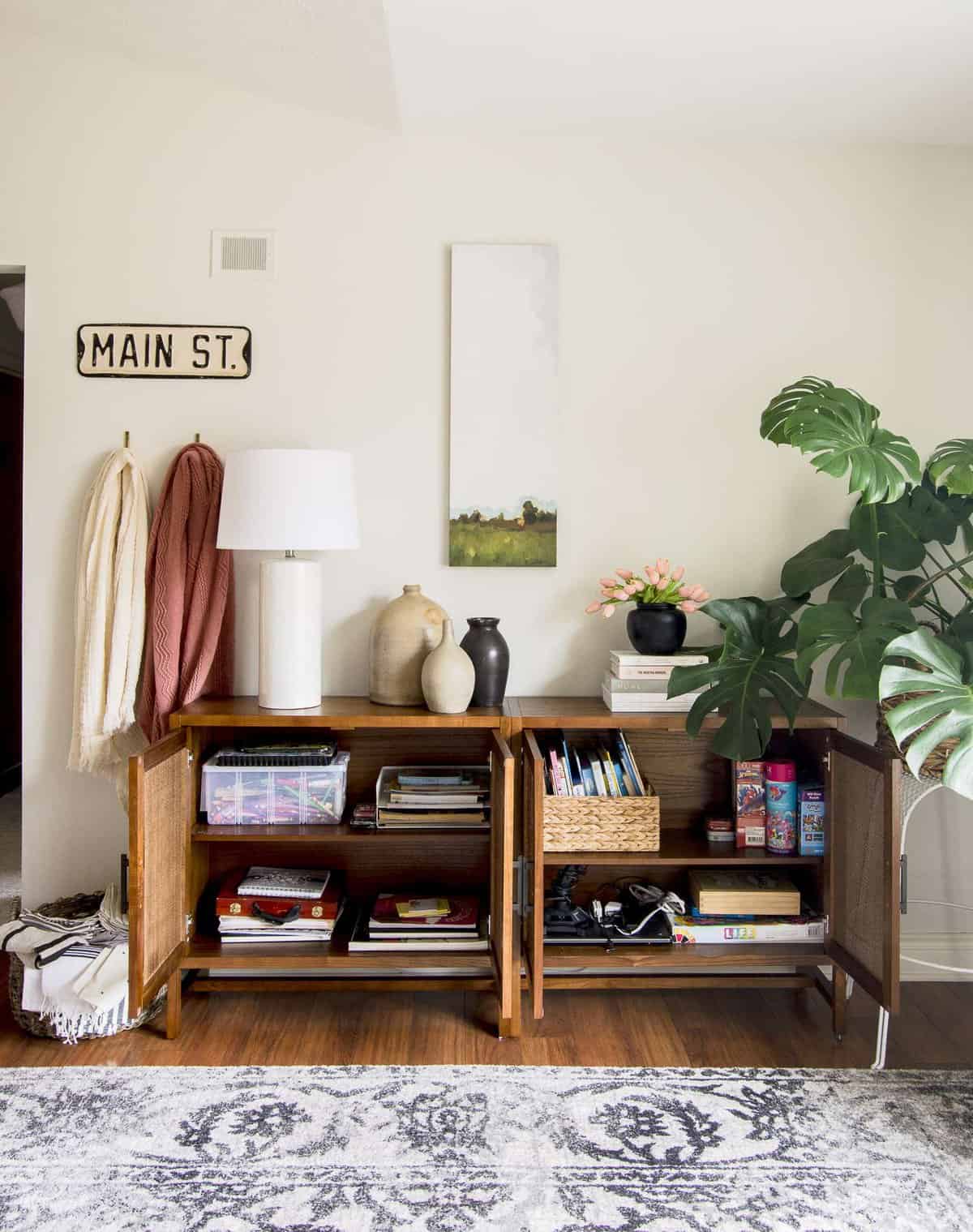 I may get a few more baskets and trays to keep puzzles and papers in, but stay at home orders had me using what I had on hand! Here are my favorites to give each item a home.
The other must-have for this homeschool organization station was a hidden charging station. With three devices specifically for homeschool use, I was constantly tripping over cords.
So, I assembled one of the cabinets with the backing situated so the hole was at the bottom. This allowed me to create a charging station on one side that hides all the cords within the cabinet.
It's not perfect, but it's a great start as we continue to do our schooling at home.
Shop This Space

---

---
Diving Deeper into Organization
We all know that organization is helpful throughout the home. Last year I dove deep into organization and took an online course called Love Your Home Again. It's a 10 module online course that helped me dive deeper into organization on every level. It covers all of the rooms in your home in an easy to follow method. It is all done at your own pace and it includes free printable checklists for each area.
I found it to be extremely helpful and worth the investment to reclaim my home. I've continued to work through each space in our house and, as you can see, recently tackled the living room. If you're interested in diving deeper, I found this course to be so helpful!
You can purchase it here and you have lifetime access.
Stay Connected
Now, my kids and I have the ability to keep our homeschool supplies organized as our living room is transformed into a homeschool room. The key will be getting them to actually put their stuff INTO the cabinets. If anyone has a magic trick for that….let me know. 😉
Thanks so much for stopping by the blog today!

Pin It For Later