Hello Friends!
Spring has F.I.N.A.L.L.Y arrived at my house. I swear I thought it never would. And since the weather outside has been so cold and dreary I haven't done a lick of spring decorating in my home. Well the sun has been out several consecutive days now and I figured it was about time.
Today I want to get down to the basics. Hence, Mantel Styling 101. For those of you design experts this will be pretty trivial. But I've had so many people ask me, "How do you take a collection of unrelated things and make them look like they belong together?" So here is my answer! I am no professional designer but I hope the things I've learned along the way will be helpful to you beginners out there.
First up, this was my drab mantel before I decided to style it for spring. A lot of dull winter colors here. Time for some pops of color!
First up, clear off everything. Even if you are planning to put some of it back up there. Starting with a clean slate is the easiest way to see the big picture as you go. And bonus for me! That means the mantel gets dusted. 🙂
Next, you will want to figure out what your focal point will be. For me, I had found this beautifully aged sifter and cute bottle set at an estate sale earlier in the week and I wanted to feature them somewhere. Couple that with an inability for me to have anything glass low to the ground because of my 2 year old's curiosity and up high on the mantel it will go! I typically like to place my focal point in the center because that is where the eye is naturally drawn.
After you have created a focal point you will want to follow some simple steps.
Gather some anchors. The focal point should shine but that doesn't mean you want the rest of your decor to be dull. You will style from the middle to the outside edges so I chose two anchors to go on either side. This will basically create three vignettes on my mantel.

A little height and a little color.

Make sure your decor varies in height. If everything is the same size it won't create any interest. Plus, if you have a tall fireplace like mine you will want to use up some of that space to draw the eye up. Someday I will have a gigantic mirror to place all the way to my ceiling. But today is not that day.
Add pops of color. Nothing says spring like color and flowers. And use lots of different textures and materials. I've included wood for warmth, glass for some glamor, black because you always need a little black, metal for some glitz and ceramics for the calm factor.

Use a variety of florals if you have them!

Add something living. (Like a plant people. Let's not get crazy here.) I love my jade plant because it has survived my black thumb and it always looks vibrant. Green is a favorite of mine for spring.

When in doubt, nothing says spring like a bird.

Group objects together to create mini vignettes. Basically, your entire mantel should be a cohesive vignette. But you will want to insert mini groupings within the bigger picture. You might have noticed in my before photo that I kept everything close together in one larger vignette. That is also an option but I wanted to change it up this time around.

Three vignettes make up the whole.

Odd numbers are best in a group. I don't know why. It is just more pleasing to the eye. There is probably some kind of science behind it. But for now, just stick with 3 or 5. (Except when you break your own rule and use 4 like I did on the right.) But let's be honest, I LOVE my African lady wood figurine because it holds sentimental value from my trip to Africa. So she just had to be included. But that is a story for another day.
And there you have it! A freshly styled mantel ready for spring (and probably summer). And the best part is, you can swap around pieces anytime you please as long as you keep some balance. Balance is a key in my book. And I didn't buy anything new for this re-style. Everything was taken from different spots around my home. Which means that other places get a fresh look too! (And for those of you who are wondering, my stone is not a different color on the top of the mantel! Yikes. Leave it to lighting to make my fireplace look two-toned.)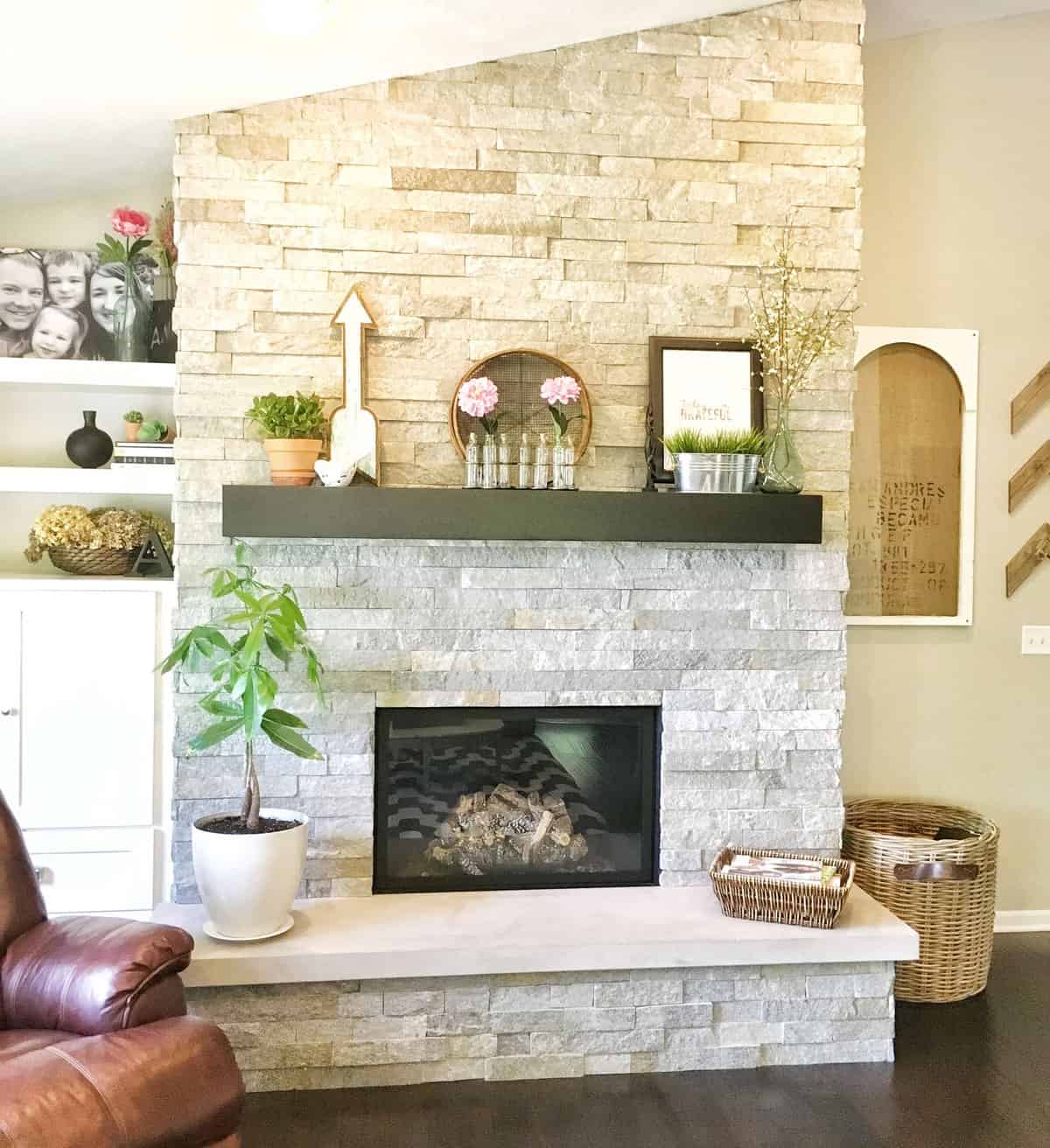 I hope this inspires you to go bring some colorful changes to your home this spring! Make today a great day!
Sarah
{For it is by grace you have been saved, through faith – and this is not from yourselves, it is the gift of God-Ephesians 2:8}