Playroom Ideas for Small Spaces
Do you have a small space you'd like to convert to a playroom? Here are simple playroom ideas for small spaces, plus toy storage bins that will fit!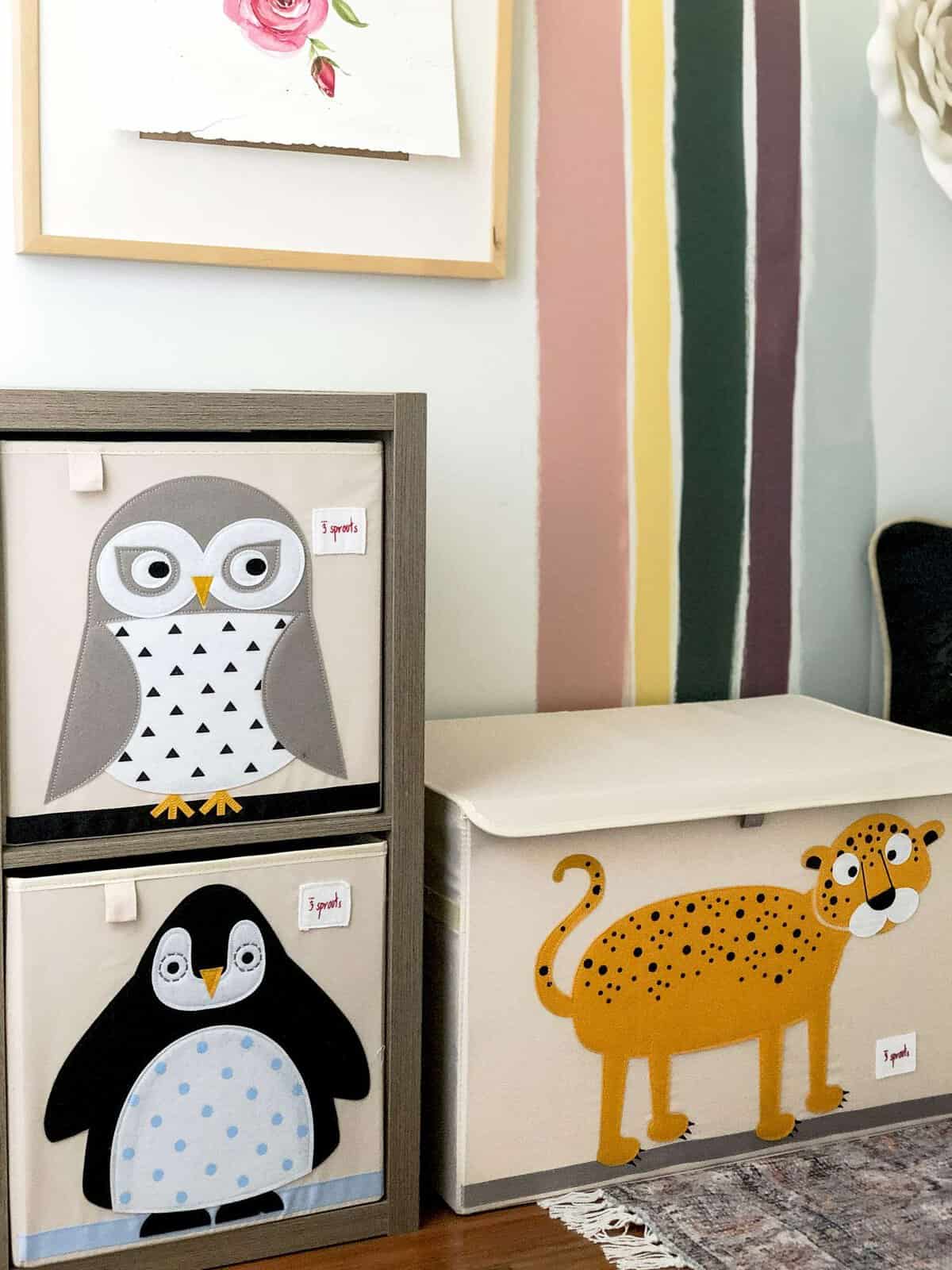 This post may contain affiliate links where I earn a small commission on your purchases.
Playroom Ideas for Small Spaces
When I was growing up we moved quite a bit. One of my favorite houses had a secret playroom in our attic that was my special space. I remember playing there for hours and loving feeling like I had my own secret hiding place.
So naturally, I wanted to give my daughter a similar experience. Her closet is quite long and large, but has an awkward space under the stairs that was always full of clutter.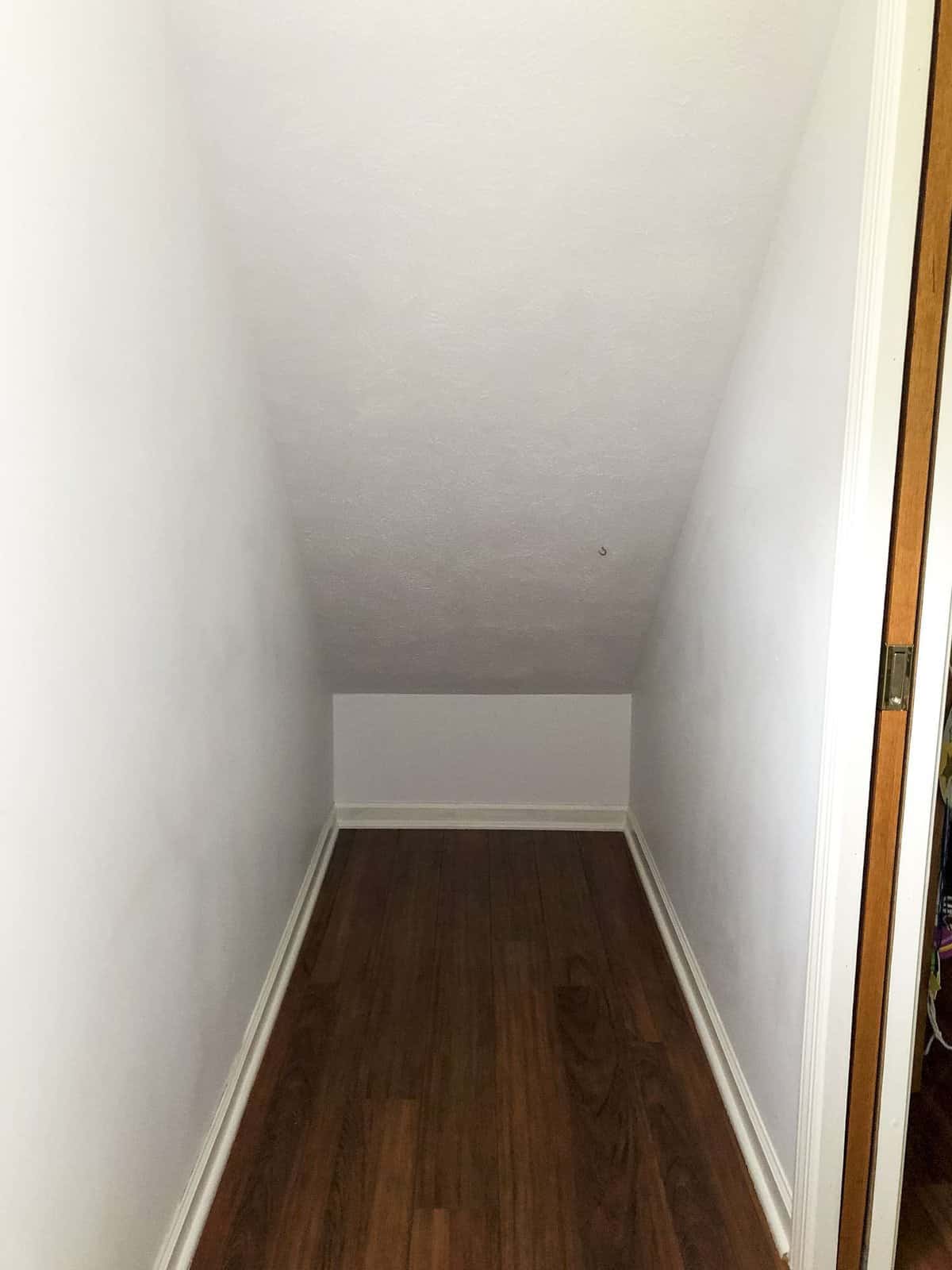 Rather than let that small space go to waste, I turned it into her own secret playroom!
Make it Magical
The first step in turn this closet space into a secret playroom was to add some personality. I bought a couple of samples and used leftover paint from previous projects to paint a rainbow entrance to her new space.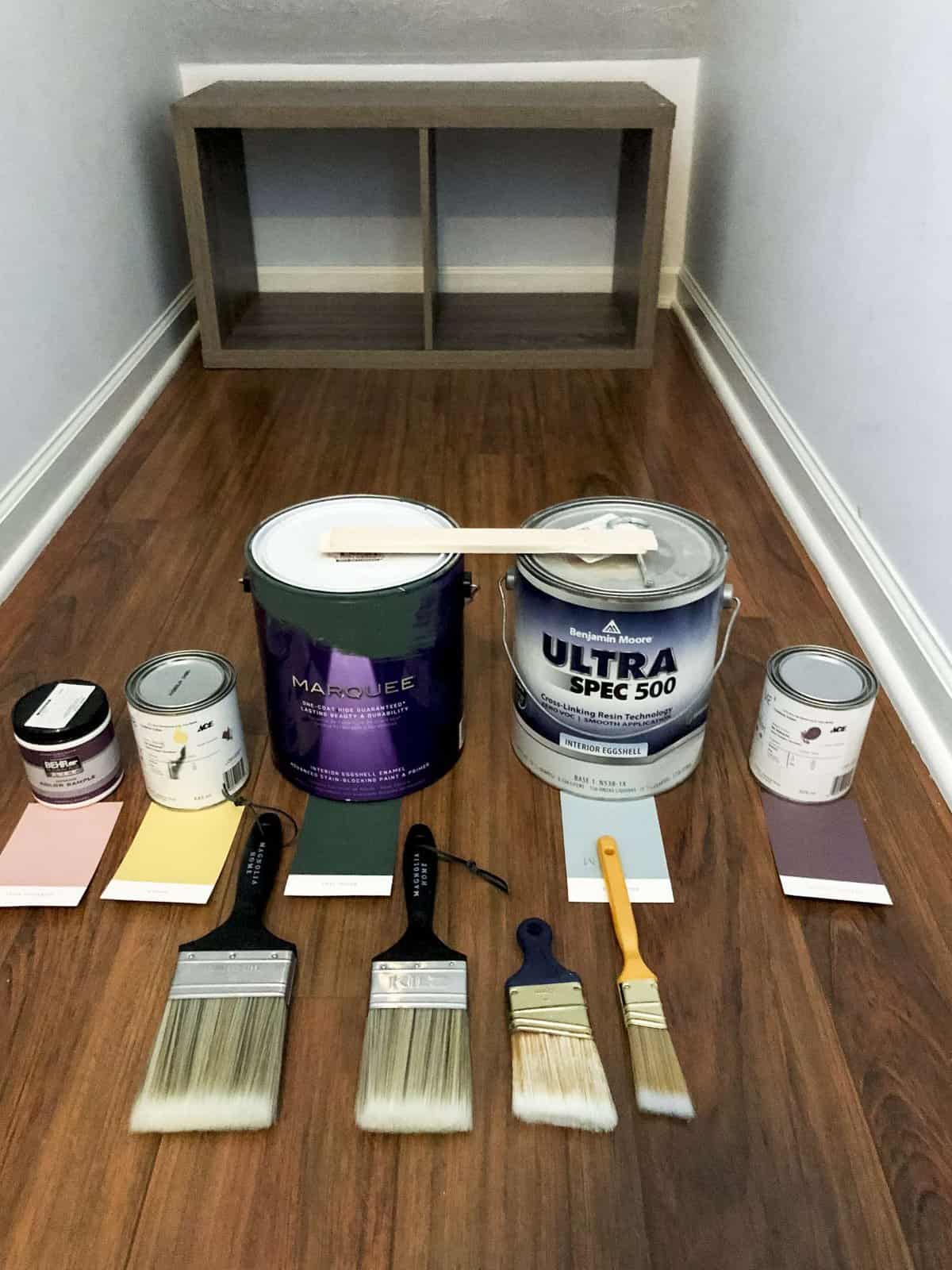 This was not for the faint of heart. Ask me to build things from scraps of wood, completely makeover a room in 2 days, or install board and batten for the first time, and I can do it!
Ask me to paint 5 lines….it's a no go.
However, that's why my blog is called Grace In My Space! It's so important to show grace to ourselves as we create a haven and to embrace the imperfections. And honestly, my daughter loved it, awkward mullet arch and all.
One tip I'll share is that when something isn't perfect, embrace the art of distraction. I added these simple globe lights and it immediately made the space more warm and cozy.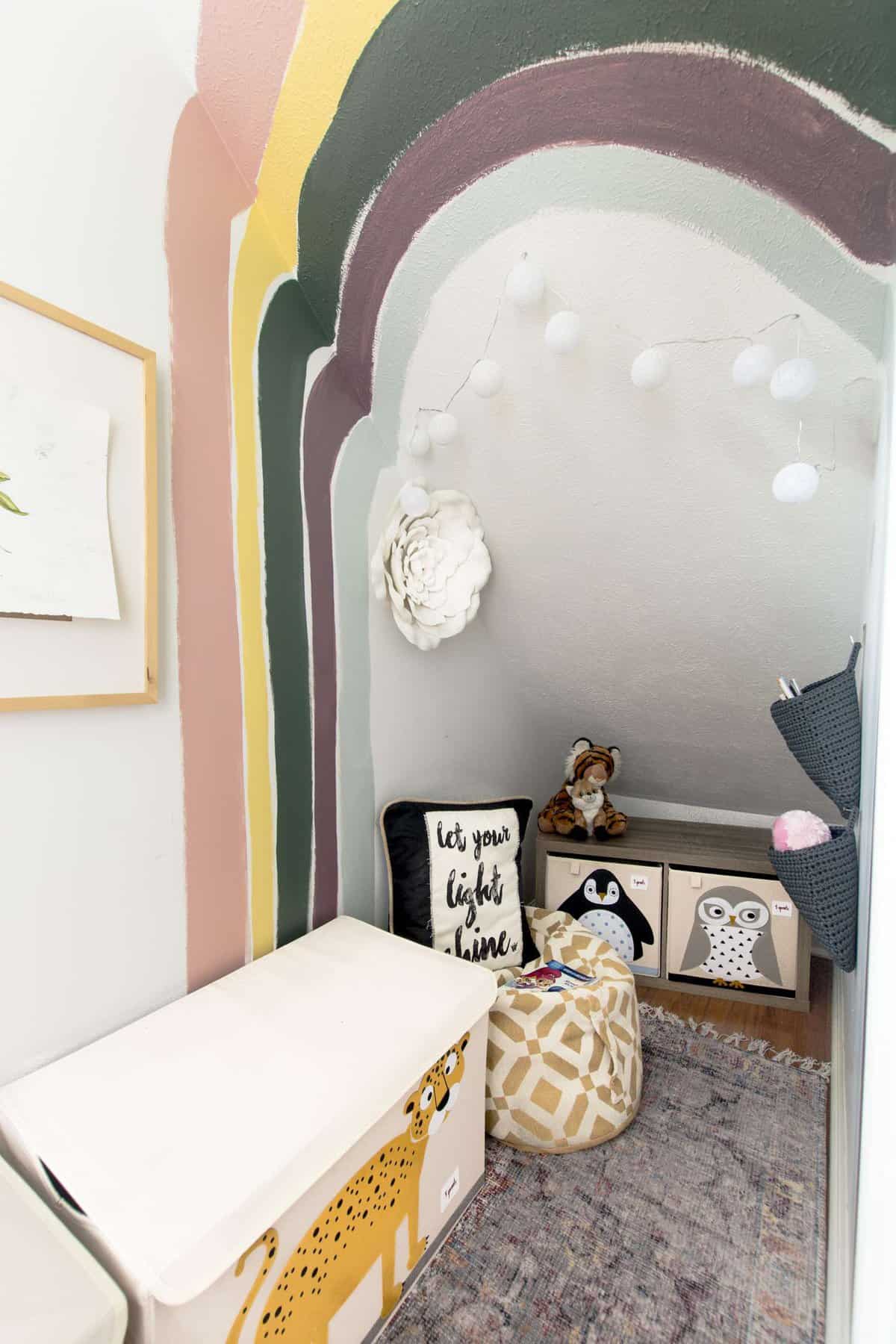 Organize it with Toy Storage Bins
Once I made it pretty, my second goal was to organize it. These playroom ideas work for any space, but I love these toy storage bins for small spaces.
I went with this cube organizer shelf (available in multiple colors) because it fit perfectly laying sideways under the low ceiling.
She needs lots of book storage, so we used these adorable storage cubes to store them. Then, we tackled the masses of stuffed animals with these toy chests.
Shop Toy Storage Bins

---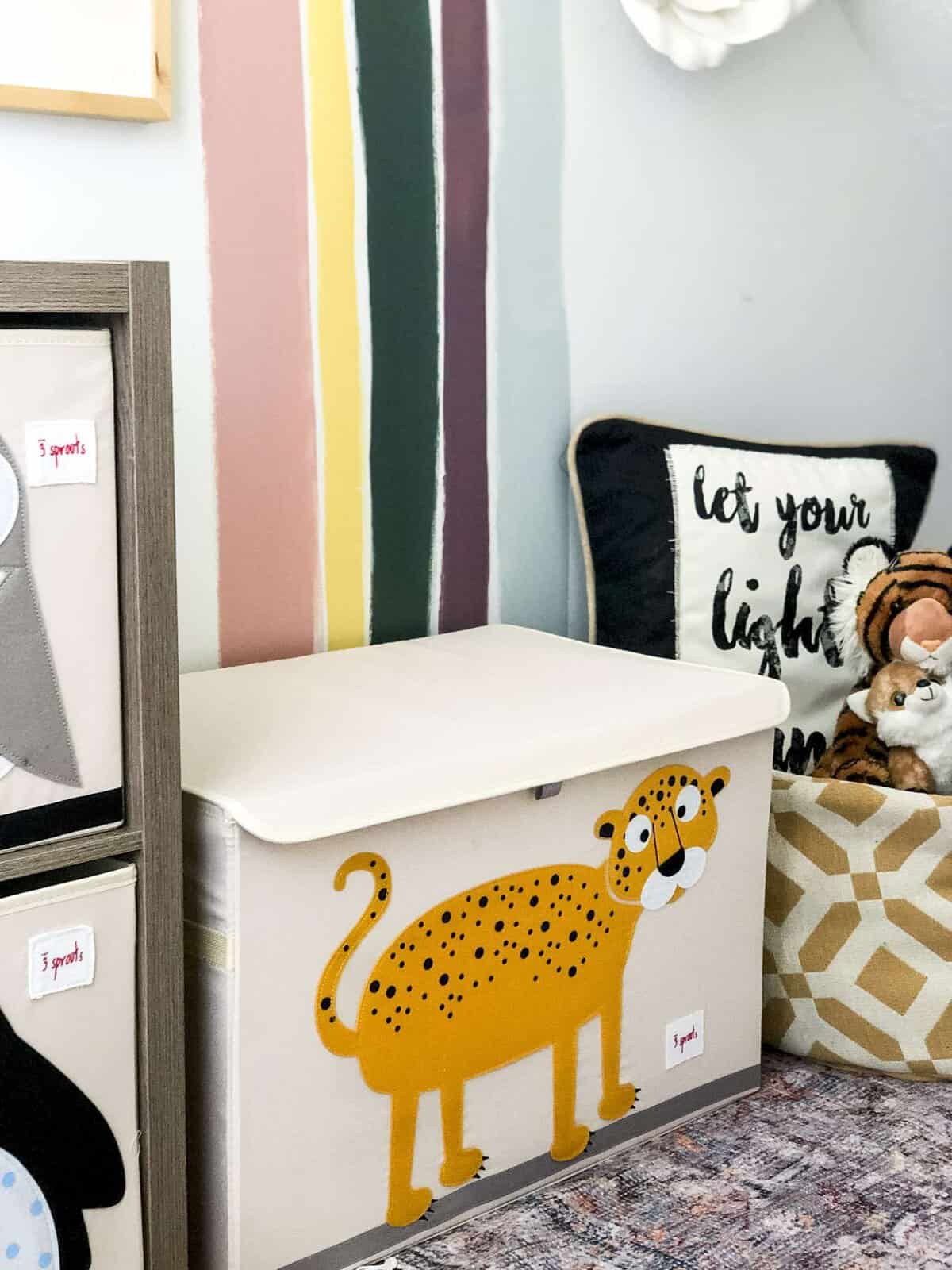 I tried the configuration a few different ways to see how it all best fit into this small space.
And in the end turned to placing the shelf in the back of the closet. This allowed for the best use of this small space.
Make it Cozy
The last step to creating this space was to make it cozy and comfortable for her. She wouldn't have enjoyed a space that was uncomfortable! So, I added a simple rug, comfy pouf, and some pillows.
She brings her blanket in here, settles in, and enjoys her cozy reading corner.
Shop Floor Poufs

---
You can see the rest of my daughter's room in this post!
Join the Community
I hope that this post has been helpful and given you some playroom ideas for small spaces! It doesn't take a large space for a child to make large memories.
Thank you for visiting the blog! I'd love for you to join the community of Haven Makers here on the blog and on Instagram!
Now it's your turn, what space do you remember cherishing as a kid?