Refined Rustic Dining Room Decorated for Fall
Do you want to refine your rustic dining room this fall? Here are easy ways to elevate your rustic style for a cozy dining room decorated for fall.
Joining me today are fellow bloggers sharing their own fall inspiration! If you're joining me from Designs by Karan, thank you for stopping by! Aren't her fall colors lovely?!
This post may contain affiliate links where I earn a small commission on your purchases.
Refined Rustic Dining Room for Fall
When we moved into our current home, we converted an indoor spa into our dining room. Part of that transformation included painting the pine walls white. When we did so, we chose to leave the knots showing to give it a slightly more rustic look.
Now that we've lived here a couple of years, I want to refine our rustic dining room by modernizing the space a bit more. Stay tuned for that! But, for now I want to share simple accents that elevate a rustic space without major renovations.
Infuse Cozy into your Rustic Dining Room
There is really no simpler way to refine a space than to add candles. I created my own DIY candelabra with this beautiful copper piece this fall and I love how it anchors the room.
And, we are so grateful to have a double sided fireplace to enjoy. I amped up the cozy-factor by creating a candle vignette in the inset cubby above the logs.
Adding layers of candles adds elegance to a rustic space. Plus, when lit they offer a romantic ambiance that can't be beat.
Shop the Look

---
Create a Living Focal Point
All too often I find myself depending on decor to make a statement in my spaces. However, often the biggest impacts are made with architecture and living accents.
Since we already have a lovely wood ceiling to make a statement, I chose to leave my vertical garden this fall to help refine our rustic dining room.
Plants immediately take a space from sterile to cozy and polished. Interior designers have been using live plants for decades to add that finishing touch to a space.
You can find my top recommended (easy to care for) plants rounded up for you!
Add Glass and Metal to Elevate the Space
My final tip is to add more glamorous elements to your rustic dining room. Metal and glass are both accents that elevate a space because of their texture and finish, yet seamlessly blend into rustic spaces.
My amber bottle collection is the perfect addition for fall. It is such a warm and cozy color but gives that touch of glamor to the space.
More Fall Decor Ideas
I hope these easy techniques are helpful as you decorate your rustic spaces for fall this season! If you're looking for more ideas for fall decorating, I've shared dozens of other spaces decorated for fall! I hope that they are helpful to you!
I'm so grateful you stopped by the blog today. You can follow along with me daily on Instagram where I share behind the scenes stories and inspiration!
And my blog subscribers have access to my free printable library, DIY guidebooks and exclusive discounts! Subscribe via the button below!
Make sure to head next to Kaycie at Grey Birch Designs to enjoy more fall tours!
For More Fall Inspiration…
Visit each of my friends' blogs below! There is fall inspiration for any style.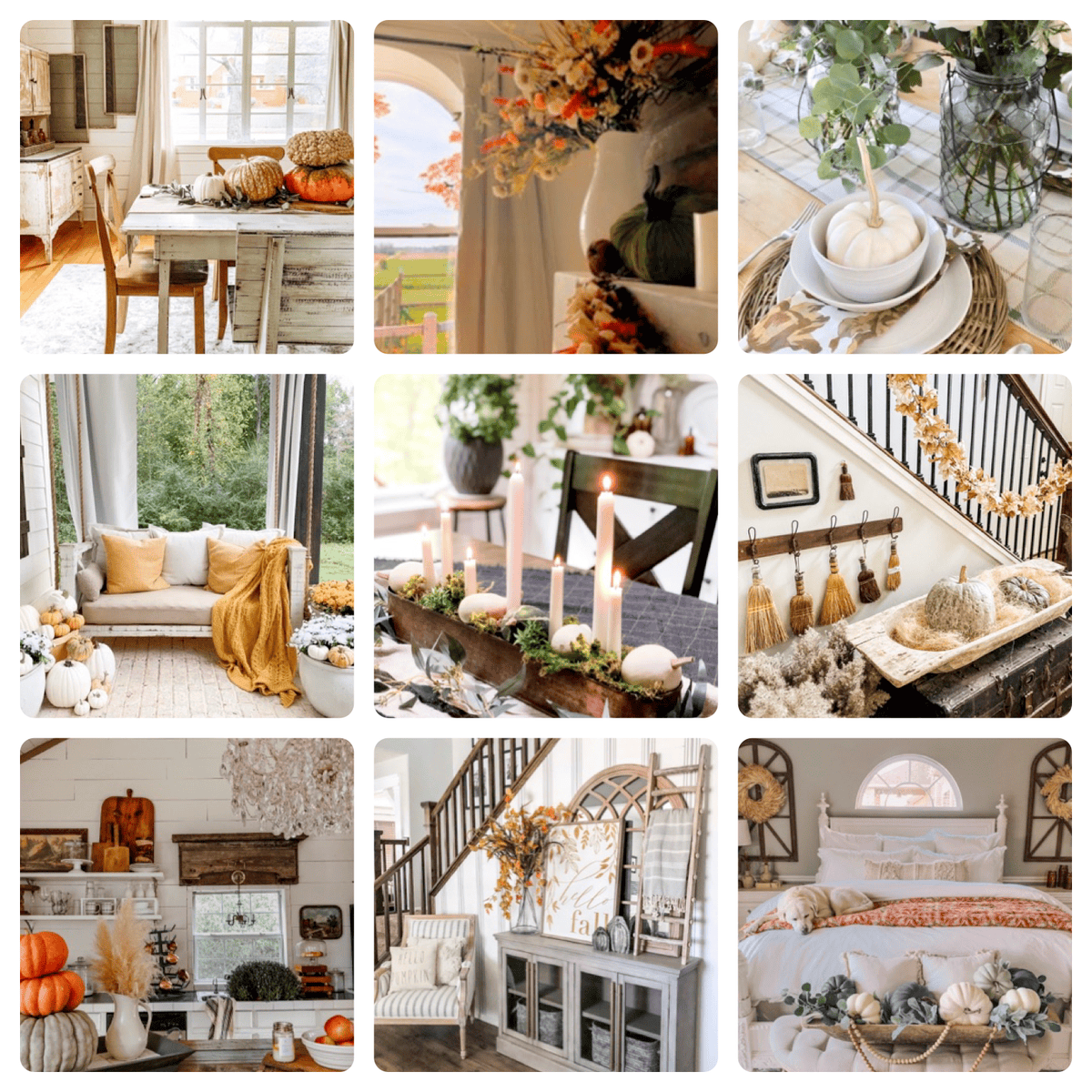 Charlotte's Happy Home | Cuter Tudor | Designs by Karan
Grace In My Space | Grey Birch Designs | Karlee Bowman
Life By Leanna | My Georgian Farmhouse | Selah Pines Farmhouse