5 Must-Haves for Farmhouse Mudroom Functionality (2023)
A farmhouse mudroom is a practical room with both form and function. The mudroom is traditionally a house's workhorse, but there are many ways to make it the most functional and organized space in your home. Today, I'm sharing the top 5 mudroom ideas for a functional and organized mudroom!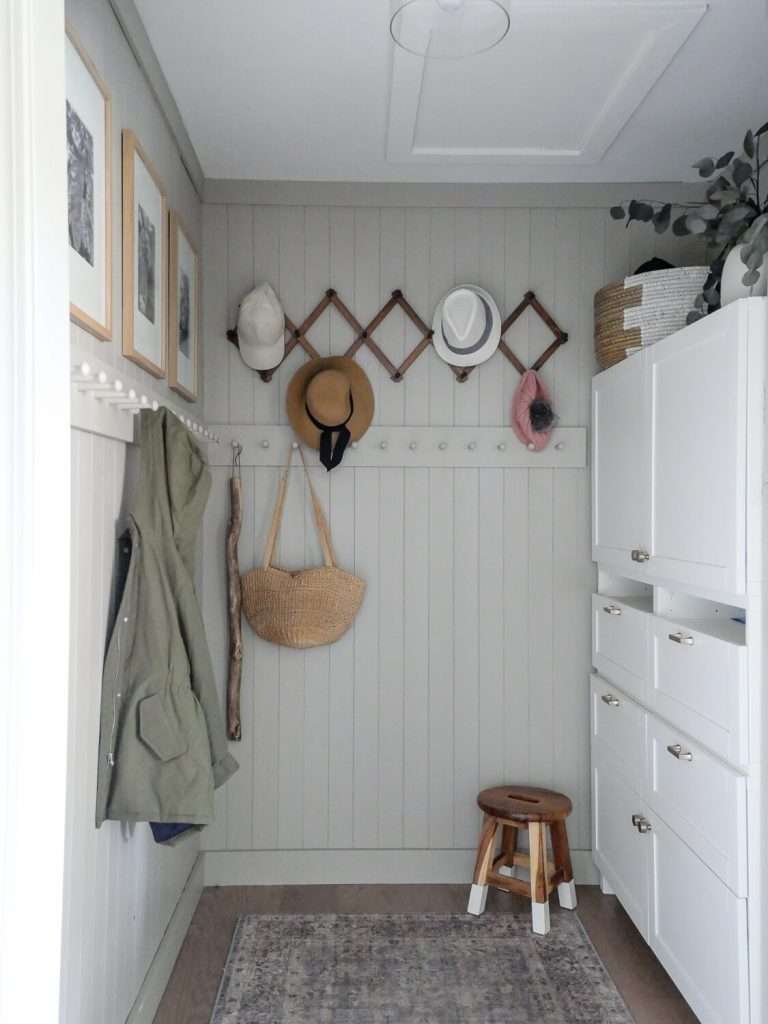 This post may contain affiliate links for your convenience.
Small Mudroom Remodel
If you're new to Grace In My Space, then you may have missed my farmhouse mudroom remodel.
When we moved into this home, the mudroom was a small and crowded space with lots of good-intended structure, but little functionality.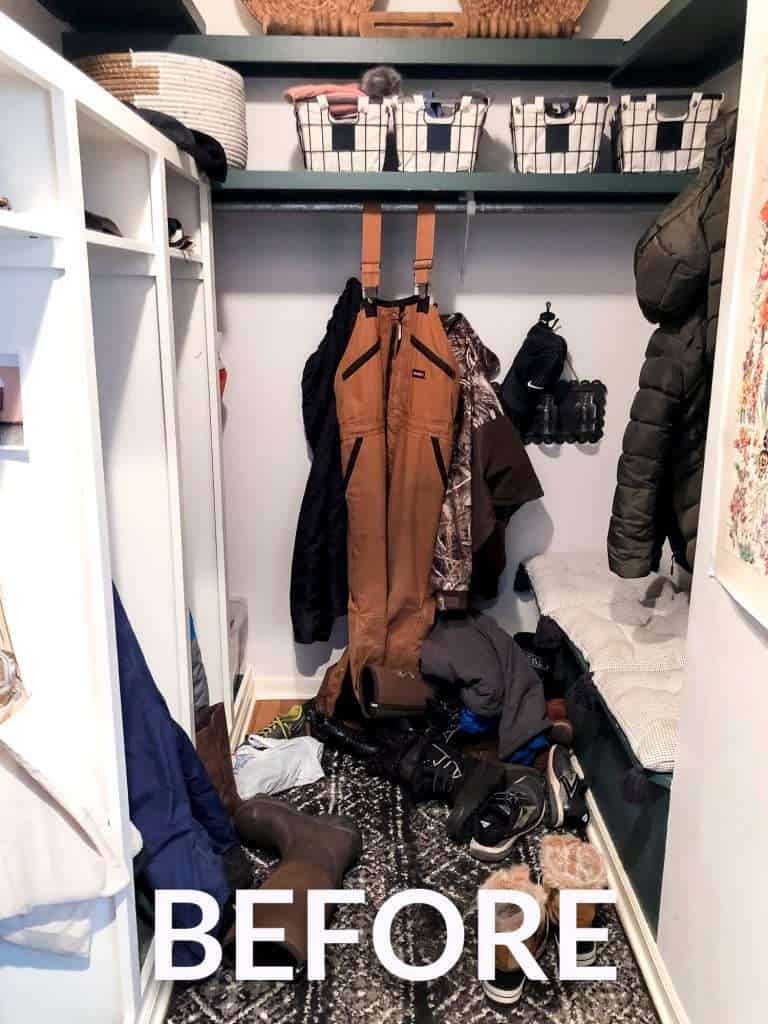 Keeping the same footprint, I remodeled the mudroom to fit our family's lifestyle and needs. Many of the changes I made seem counterintuitive (removing lockers and shelving), however, keep reading to see why this made the most sense for functionality!
You can get more details on every part of my DIY mudroom remodel in the articles below.
Top 5 Must Haves for A Functional Farmhouse Mudroom
Let me start by saying that there are a wide variety of ways to design a functional mudroom. But first, why include a mud room into your home design?
Do mud rooms add value?
Mud rooms can add a lot of value to a home. If you are building or remodeling, consider adding a mud room or multi-purpose room to your design.
These rooms are so helpful in keeping a home clean and organized from the clutter of everyday living.
Designing it for functionality will increase the ROI of your investment should you sell your home down the road.
How to Create a Functional Mudroom
So, how do you create a functional mudroom?
Most of your design decisions are guided by the size of the space you are working with, the needs of the family, and the design style you love.
However, no matter if you love a contemporary style, or you want a modern farmhouse mudroom look, these 5 factors will drive your design for a functional space.
1. Adequate Mudroom Storage
Mudroom storage can come in a variety of options.
One of the most common storage solutions for modern day mudrooms are individual lockers. As you can see, our mudroom had lockers when we moved in.
As I'm sure you've deduced, I also tore out these lockers.
While mudroom lockers are a terrific solution for many homes, they did not work in our small space.
Individual lockers are most practical in mudrooms that have a bit more square footage. Ours were extremely difficult to get to when more than one person was in the room for the simple fact that the lockers themselves took up too much floor space.
It only left about a two foot gap between the wall/bench and the lockers for us to walk through. For a family of four, this simply wasn't practical.
So instead, I opted to add open peg racks. You can see how I built my own DIY peg racks in this tutorial. It is a very beginner friendly and affordable project.
I made 130″ of peg rack for less than $30, and one morning of effort. This is 1/3 of what it costs in the store, and I was able to customize it for our needs.
Since this remodel in 2020, we've found this functional storage to be much more conducive to our family's needs.
With young children, I've found that they are much more likely to hang coats/backpacks/hats on a visible peg than they ever where to smash them into a tiny locker.
Additionally, just this year I've also added an accordion peg rack for baseball caps and hats.
Rather than take up the valuable coat real estate below, this has been a great solution for the ever growing collection of ball caps we have amassed.
Of course, if you have the space, adding shelving and cabinetry are both great ways to increase storage.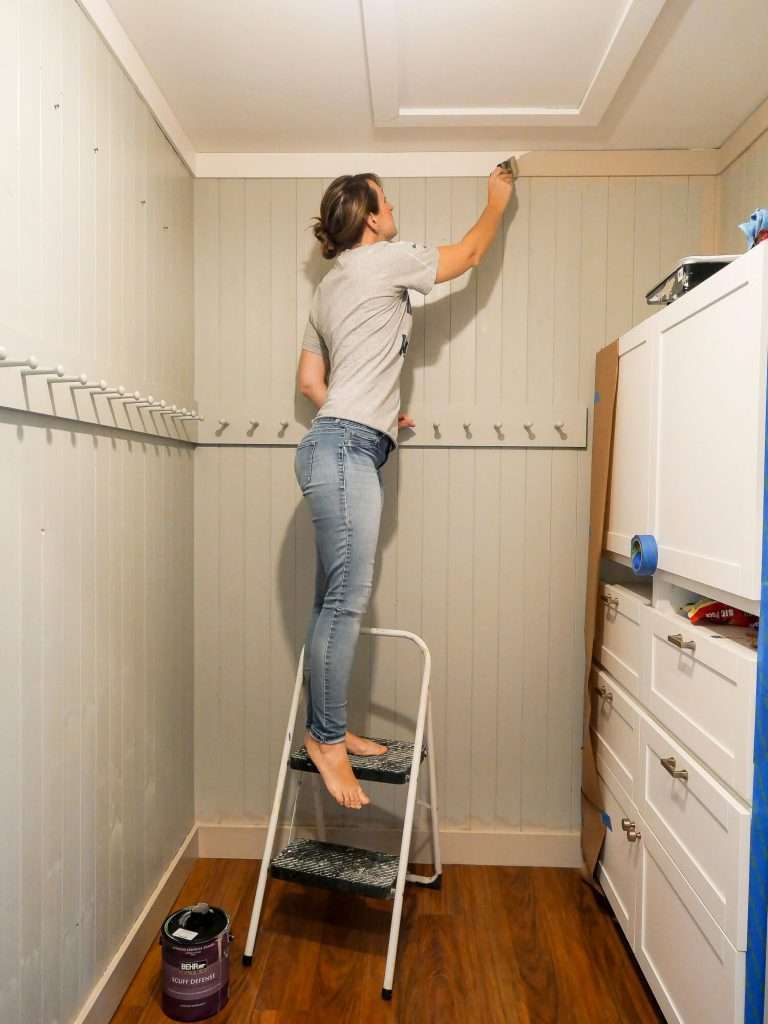 I made this DIY built in out of three Ikea pieces. This hack saved $2,000!
We have two bottom cabinets that hold dog food and shoes, a drawer for each family members' gloves and hats, and two upper cabinets for more shoe storage and odds and ends.
Closed cabinetry is a game changer for organized storage that is out of the way and not visible.
2. Farmhouse Mudroom Seating
The next necessity for a well functioning farmhouse mudroom is seating of some kind.
In our first mudroom, the previous owners had installed a built in bench with flip lid.
This provided great storage, however, I found it impractical for everyday use. My kids would pile their stuff on top, making it impossible to open the lid to access the storage.
Plus, it took up a lot of space vertically, that could be used for a taller cabinet like I replaced it with.
If you have a larger mudroom, a bench like this is still a great solution. It can also be used to store out of season items that you don't need daily.
If you have a small mudroom like me, then a small stool suffices for sitting to put on shoes.
It is ideal to have a space to sit for putting on shoes. This way, older members of the family aren't struggling and younger members aren't sitting in wet puddles on the floor.
3. Farmhouse Mudroom Organization
Now that we have sufficient storage, let's talk specifically about organization. As we all know, storage doesn't equate to organization!
The top items that need to be organized in a mudroom are coats, shoes, and accessories.
As I've shown above, even a small mudroom can be organized using pegs and cabinets. However, adding in storage with purpose goes a long way.
Baskets that hold specific items, designated pegs for backpacks or handbags, cabinets or shoe pegs for shoe storage, and drop zones for everyday items like keys, are all great ways to organize a mudroom.
Additionally, if your mudroom is a drop zone for paperwork, then add in some simple wall organizers as a command station.
4. How to Keep a Farmhouse Mudroom Clean
While there are many ways to add functionality and organization to a mudroom, the fact of the matter is that the nature of the room just makes it a dirty space.
Dirty shoes, wet rain boots, sweaty sports gear, muddy paws, snow soaked mittens…this is where the dirtiest life moments get dropped. Thankfully, there are a few tools that help keep a mudroom clean.
First, start by incorporating a weekly purge into your cleaning routine.
9 times out of 10, when I'm feeling like my small mudroom isn't functioning properly, it's just overcrowded with unnecessary clutter. Being a drop zone means that literally everything gets dropped here.
However, many times things that don't belong clutter up the space. So, go through your mudroom weekly and purge or store any items that don't belong.
Out of season shoes/outerwear
Paperwork
Returns that haven't been taken to the store
Toys/sports gear/items that could be stored in a garage or bedroom
Once you've cleared out any unnecessary clutter, there are a few tools that can help a mudroom stay clean.
Drying station: I love this system to dry wet boots/sports cleats/gloves/hats. This way, you are drying out the wet items that otherwise cause puddles and musty smells.
Boot tray: Gather wet boots and shoes into a tray that can contain messes.
Washable rugs: Mudroom rugs take a beating. Try a washable rug that has a high pattern and darker colors to help mask dirt.
And, if you have the luxury of a larger space, incorporate a pet area, mudroom sink and/or laundry station. In our last home, the laundry room was a part of the mudroom and I LOVED it.
If there is one addition I'd like to do in our current house, it would be to move our laundry room upstairs into our mudroom. It is so functional to combine the two spaces.
5. Mudroom Aesthetics that Make Sense
Finally, let's talk about how a modern farmhouse mudroom looks.
How can I make my mud room look nice?
As someone who loves home design, I can't go without making a space practical and pretty. The key to a mudroom design that functions is keeping the decor out of the way.
You can do this by:
Adding wall moulding or other architectural elements that give the room character.
Keeping decor to the walls rather than table tops.
Choosing aesthetically pleasing storage accessories like baskets and hooks.
Incorporating decor sparingly, like one simple vase of flowers or a plant.
Choose pretty scarves, coats, etc that you want to see out!
Since our mudroom is so small, I chose to focus the design elements on something architectural.
I added tongue and groove to the walls to give it loads of character without taking up any space. Then, I simply added a wall mirror (which is perfect for a quick look before heading out the door) and one simple vase of dried eucalyptus for some coziness.
Focusing on the architecture of the room rather than decor pieces keeps it a relatively clutter free zone.
One additional item that I use in this space is a motion sensor light bulb. This bulb comes on as soon as we open the door or enter the room. Which is perfect when coming home with arms full or to a dark home! It's my favorite functional addition to this space.
Recap: How to Design a Functional Farmhouse Mudroom
Let's recap quickly. Here are the top 5 must haves for a functional farmhouse mudroom. Plus, some supportive elements that can make those 5 necessities a reality.
Storage

Lockers
Peg racks
Built in cabinets
Shelving

Seating
Organization

Accordion rack
Shoe pegs
Baskets
Key hooks
Homework/paperwork station
Individual wall hooks

Functional Cleanliness

Weekly purge
Drying station
Boot tray
Washable rug
Pet area
Mudroom sink
Mudroom shower
Laundry room combo

Aesthetics

Shiplap walls
Framed family photos
Simple vase
Pretty baskets
Mirror
YOu'll Also Enjoy…
Thanks so much for stopping by the blog today! I hope this article on how to create a functional modern farmhouse mudroom, that's also pretty, was helpful to you!
I think you'll also enjoy these articles next.
Make sure to subscribe to get my Grace Notes directly to your inbox and to access all my insider perks. You can also follow along daily on Instagram and weekly on YouTube!
~Sarah