How to Make Your Everyday Dining Experience Special
So often we focus on making special occasions magical, but what about the everyday dining experience? It is easy to neglect busy weeknight meals in order to get something on the table. However, creating a fine dining experience doesn't have to be time consuming or complicated. Learn 5 tips to make your weeknight meals extra special!
This post is sponsored by Bed Bath & Beyond.
All thoughts and opinions are my own.
Why focus on everyday dining?
Before we chat about some tips for how to make your everyday dining experience more special, let's define the reason behind this post! Consider how many times you've planned a special occasion. Perhaps you entertain a lot and host 1 event a month.
Count them up, that's only 12 occasions a year. Now, think about how many meals you serve to your family on the average weeknight. That's hundreds of meals that we eat at home every year! And yet, the majority of us neglect to make them special.
So, I wanted to challenge myself to think of ways to make weeknight meals a little more fun and memorable for my family. Turns out, it really isn't that complicated!
Here are five ways to elevate the everyday dining experience with our families, in partnership with Bed Bath & Beyond! I love being able to partner with brands that are a one-stop-shop for home decor needs.
Spring Dining Room Decor Refresh
This spring, I wanted to lighten up some of the decor in our dining room. Bringing in simple additions of art, wall hangings, and curtains can totally change the feeling of a room.
I started by adding this beautiful wall hanging as you walk into the dining room. Did you know that the art I display on this wall actually also serves a practical purpose? Check out my post on how I hide electronics to see what lies behind this tapestry!
Next, I lightened up the room with beautiful neutral curtains. These drapes are a heavy enough weight to block light but offer a light and airy style that is perfect for warmer months.
Thankfully, Bed Bath & Beyond also offers this super affordable curtain rod long enough to span our large windows. It is so hard to find affordable curtain rods for large windows, but this one is perfect! I love how substantial the rod size is and that it offers extra support to avoid sagging in the middle.
The next and final addition of decor to our dining room is this beautiful artwork. I love the scale and unique sizing of this landscape. It is the perfect size for any small wall.
You can also see how I made this DIY flower wall in this post.
5 Ways to Elevate Your Dining Experience
Now, let's dive into five simple ways to elevate your dining experience for your family. Obviously, these tips can be used in combination or just pick one or two that make sense for you!
Either way, I hope that you get some inspiration for how to make your family feel special.
1. Add a simple centerpiece
If you do nothing else, the easiest way to add a special touch to your weeknight meal is to include a simple centerpiece.
I love this vase set from last year because it allows me to use one piece, as shown, or all three for a simple centerpiece. Add fresh or faux flowers and call it good!
So often we over-complicate decor and try to make elaborate tablescapes. And while those certainly have a place, sometimes all that is needed to put a smile on our face is a vase of flowers.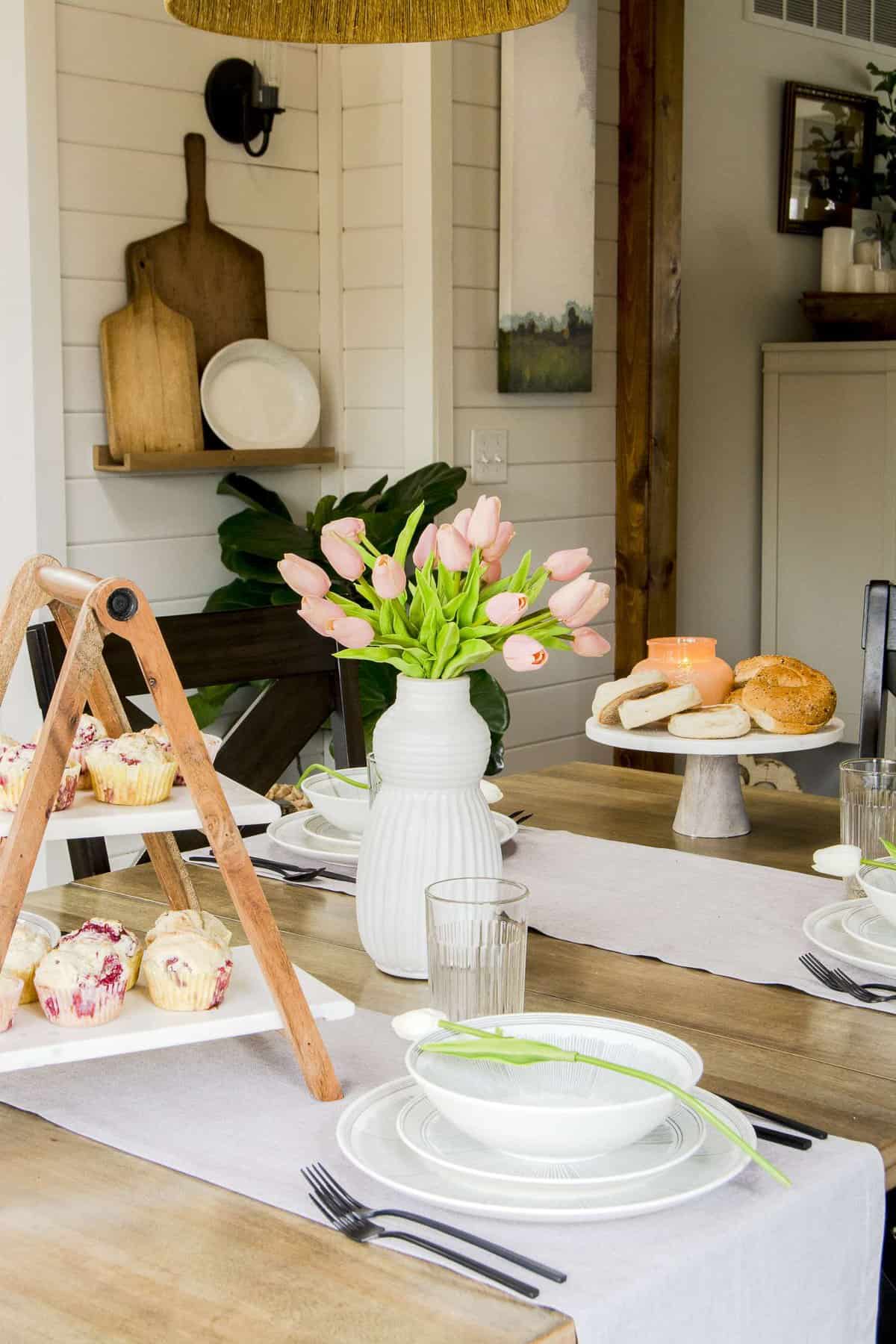 2. Add one special touch to your place setting
Next, consider your place setting. Do you usually serve straight from the kitchen to the table? Next time, try setting the table fully and bringing food to the table to pass family-style.
This is a great opportunity to teach your kids how to properly set a table as well! Perhaps it is a dying notion, but there is still something beautiful about a fully set table.
Adding one special touch to your place setting, like a faux tulip, is a simple way to communicate that you want to make this meal more of an experience than a necessity.
Add something that's easy to remove, and that is something your family would enjoy! It doesn't have to be something traditionally "pretty." Perhaps your kids love a certain character or past time. You can use this tip to set a theme for the table that your family would enjoy.
3. Use the good stuff
Does your normal dinner routine involve paper and plastic? No shame in that. But sometimes, it can make all the difference to just use the good dishes!
I've set my table with this beautifully detailed dinnerware set, heavy weight black silverware, and pretty glasses.
I also layered very simple table runners as opposed to a full tablecloth. I've always loved this look, since it is more family friendly.
But don't stop at the place setting! Make sure to pull out the good serveware as well! Rather than putting the whole pot on the table, put it into a pretty dish or serving stand.
Lately, I've been loving the marble and wood combination. The classy and earthy marble against a rich wood is such a beautiful contrast. This two-tiered tray can serve your handhelds while this marble pedestal can serve as a dessert stand or, in my case, brunch bread selection!
4. Serve something out of the ordinary
That leads me to tip number four. Sometimes the easiest way to make your everyday dining experience extra special is to serve something unexpected.
Personally, when I want to do something special for my family, my go-to is a charcuterie board. It's fast, it's simple, it doesn't involve actual cooking, and it's always a winner with the kiddos!
However, this time around I thought it would also be a fun idea to serve breakfast for dinner! It really doesn't have to be complicated or fancy. Sometimes just serving something that isn't made often does the trick to break us out of our dinner slump.
5. Serve Courses
My final tip for how to take a normal weeknight meal and make it feel more like a fine dining experience, is to serve actual courses. Maybe it's not a 5 course meal, but 2-3 can make it special!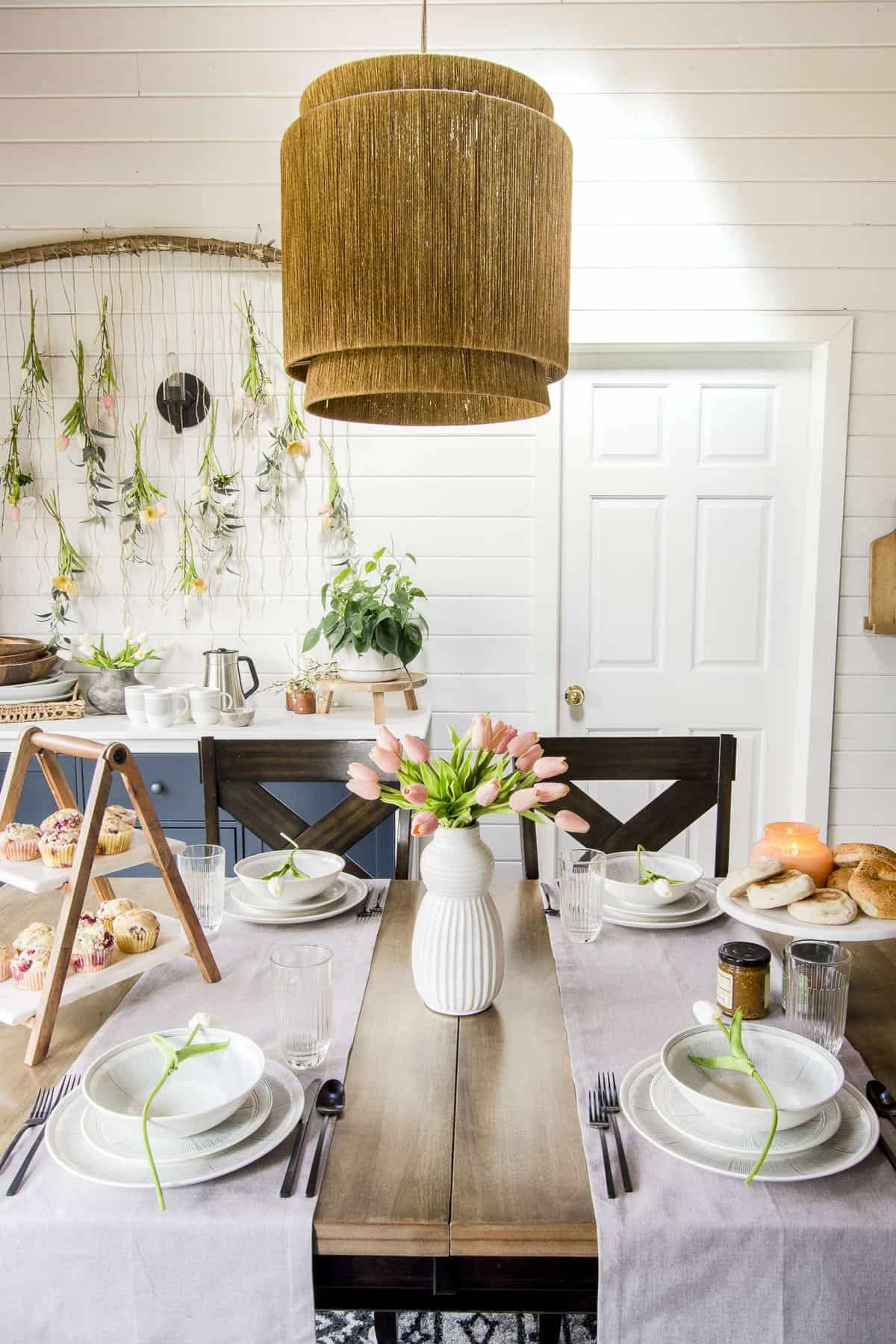 Serve a salad. Pause and enjoy time together. Serve the main meal. Pause and enjoy time together. Serve dessert. Enjoy the dessert. 😉 Dessert is where my heart lies, my friends.
I love this versatile marble bowl. I use it for course salts, special seasonings, or sugar when it comes time for coffee.
Serving actual courses isn't anything new. What it does is force us to slow down, when we're able, and to make mealtime more of an experience than a necessity.
It's a great way to connect with our families on a daily basis when we have a free night to slow down.
The Art of Slowing Down
Over these last few weeks my family has been learning the art of slowing down. It is not a pace that we are used to in our American culture, but it is certainly one that is worthy of intentionally seeking out.
I hope that these simple tips give you an easy way to do the same and make strong connections with your family during meal time!
Make sure to check out all the beautiful dining and decor options Bed Bath & Beyond has available. What is one thing you'd like to add to your dining experience?
Stay Connected
Thank you so much for stopping by the blog today! It's always an honor to have you here. Make sure to browse around the blog for more spring decor ideas as well!

Pin It For Later