Neutral Spring Decor Ideas for the Modern Farmhouse Home
I love two things in my home: a neutral color scheme and modern farmhouse style decor. However, so often I find that people think white is boring. Thankfully, neutral design doesn't have to be lifeless!
It can be an amazing backdrop to allow certain elements of design to shine. Learn how to create a modern farmhouse neutral spring decor design plan that is interesting and cozy!
This post may contain affiliate links where I earn a small commission on your purchases.
Spring Home Tours
Joining me today are wonderfully talented bloggers each sharing spring home tours that are sure to inspire. If you're joining me from Alicia at Thrifty & Chic, thanks for stopping by! Isn't her home so lovely?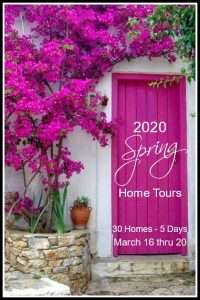 When you're done with my tour, please visit Christy from Our Southern Home next!
Neutral Spring Decor
Who else loves the calm that neutral decor can bring? It literally soothes me to be surrounded by earth tones, whites and creams. That is what is best for my home and the haven that I'm creating!
On the other hand, I love the warmth and life that subtle pops of color can bring. So, this year I'm mainly using a neutral color palette for my spring decor with very subtle pops of pink and green.
How to Make Neutral Feel Cozy
One of the common misnomers of neutral design is that everything must be white to be considered neutral. This is what I call the Hospital Effect.
All white everywhere is certainly neutral, but it also creates a very sterile feeling environment. It's also one of the most common mistakes of home makers who think that any dose of color will ruin their neutral color palette.
So, rather than focusing in on "only whites" for my neutral design, I keep a "natural over neutral" mindset.
The overarching colors in my spring living room decor are whites/creams, green, and earth tones (aka wood & natural color baskets).
In short, if you can find the color in nature, then it can be a neutral!
Nature v. Neutral
The neutral design style is less about the absence of color and more about feeding off of natural textures and colors.
Green or blue are common accents in neutral design because of the natural hues they offer. They are a perfect splash of color that can stand out in a sea of white and create a statement.
I love incorporating live plants for that very reason. It literally adds nature to my design to break up whites and creams. Plus, plants are a natural decor accent that go with any design style or accent color. Green always matches!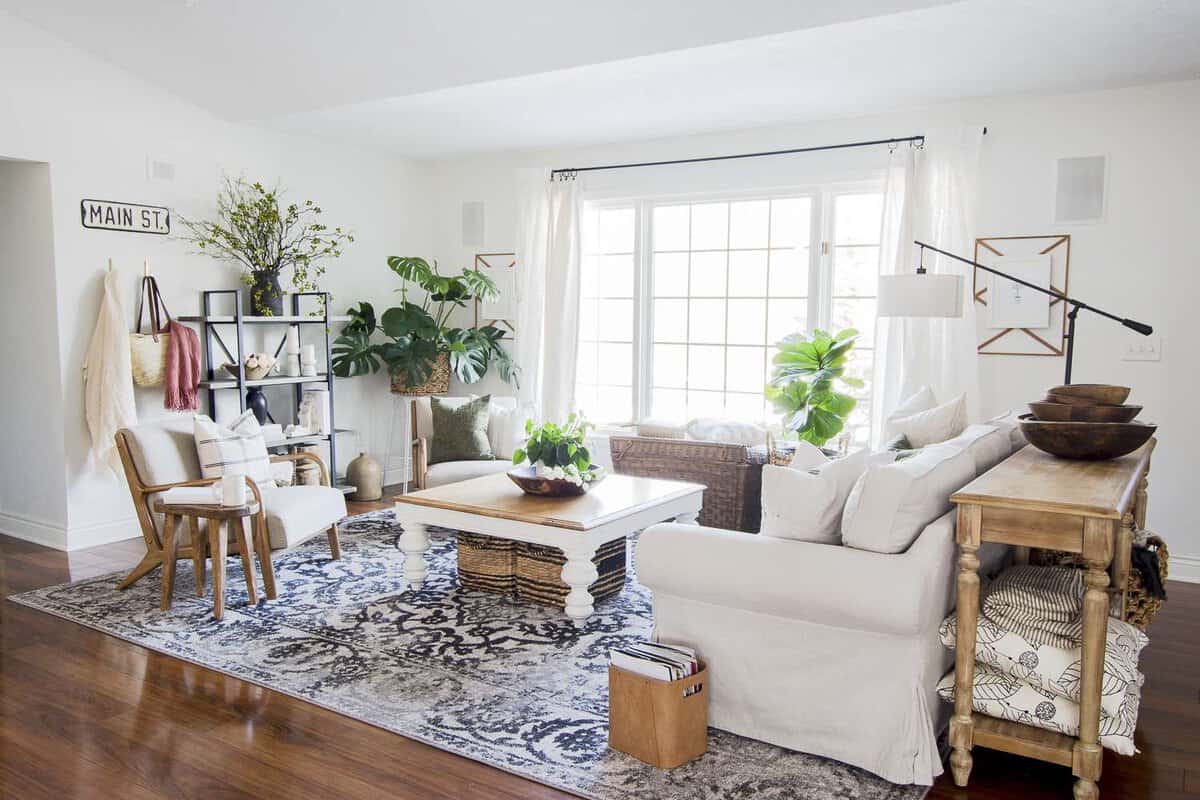 Favorite House Plants

---
Pink and Green
Take a minute and think about the natural colors. Green is always among them. Flowers are a great resource to see how colors pair together.
I personally tend to gravitate towards pink flowers in my own garden, so it's no surprise that my pop of color in the living room is pinks!
Now, think about what you prefer in your own garden. Maybe it's purple or yellow. Both of those colors, or any other you love, are great additions to a neutral color palette to bring life into your spring decor.
With minimal and strategic placement of these spring colors, you can easily warm up a space and add a little boost of color to your otherwise neutral spring decor.
Shop This Space

---
Using Florals and Plants in Spring Decor
A surefire way to make your home feel like spring has arrived is to incorporate flowers.
I've shared in my other spring home tours how to use florals and plants in unique ways to decorate for spring.
Make sure to head to these posts for more simple spring inspiration!
Stay Connected
Thanks so much for stopping by the blog today! I hope that these simple tips on how to use pops of color and natural elements in your neutral spring decor are helpful!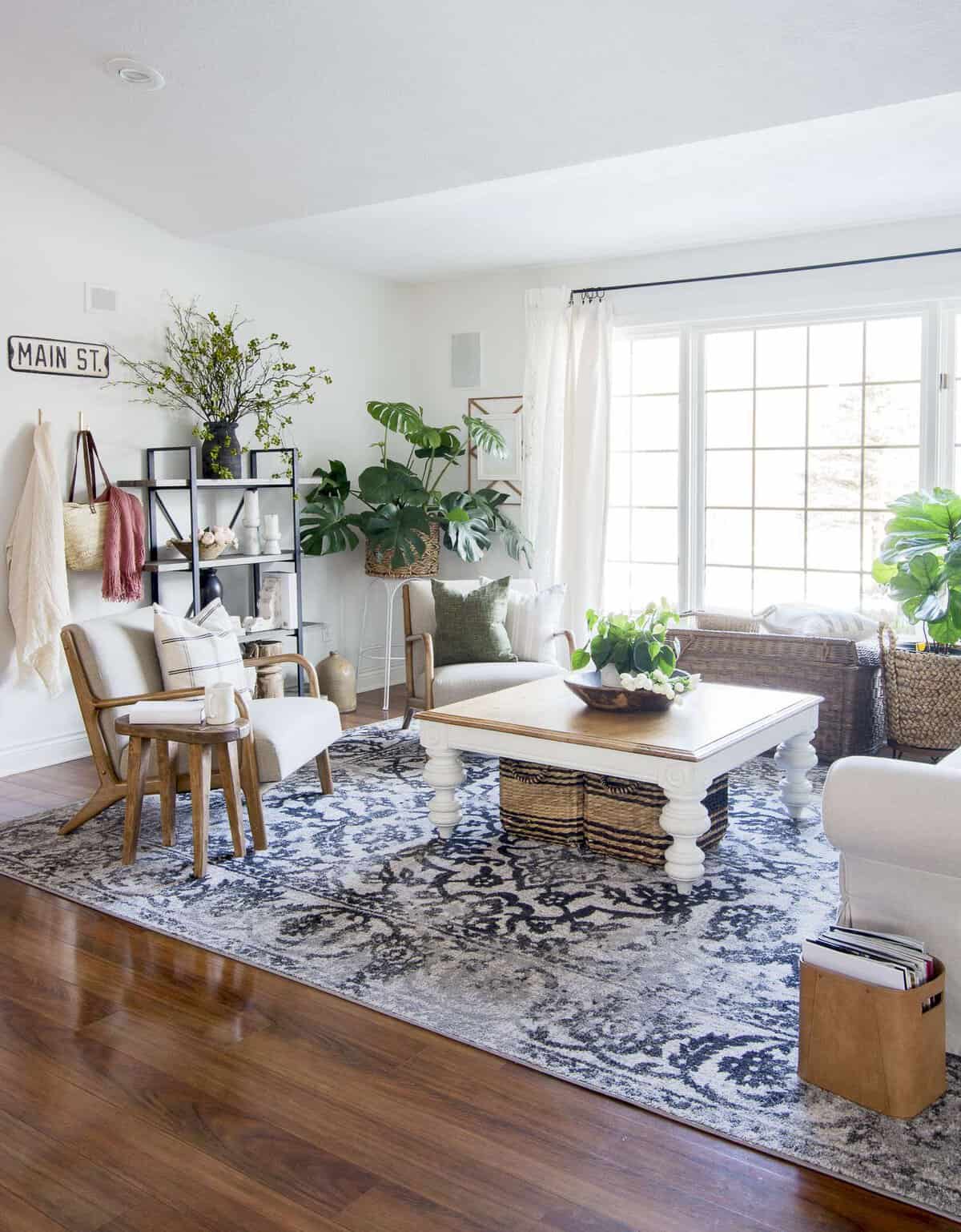 Make sure and stay tuned for more details on how I used this same method for my entryway decor!
Shop This Space

---
More Spring Home Tours
Make sure to visit my friends' homes as well for much more spring inspiration!
A Stroll Thru Life – Remodelando La Casa – Cuckoo4Design – Far Above Rubies – Southern Hospitality – Duke Manor Farm
Tuesday Lineup
House By Hoff – Pink Peppermint Design – ZDesign At Home – Taryn Whiteaker – Inspiration For Moms – Decor To Adore
Wednesday Lineup
Cassie Bustamante – 11 Magnolia Lane – Hymns & Verses – Modern Glam – Thrifty & Chic – Grace In My Space
Thursday Lineup
Our Southern Home – My 100 Year Old Home – Sanctuary Home Decor – Seeking Lavender Lane – Southern State Of Mind – StoneGable –
Friday Lineup
Thistlewood Farms – White Arrows Home – The Woodgrain Cottage – Life On Cedar Lane – Follow The Yellow Brick Home – Making Home Base