The Top 5 Ways to Hang Garland on a Mantel Securely
Securely hanging garland on a mantle isn't as hard as it seems! It can be intimidating to think about marring your mantel, so today I'm going to break it down into the 5 best ways to hang a mantel garland. This will depend on the type of mantel you have, as well as how heavy your garlands are.
Learn the top 5 ways to hang garland on a mantel, depending on your mantel type!
This post may contain affiliate links for your convenience.
Decorating a Christmas Mantel
Over the years, decorating my Christmas mantel has been the highlight of the season.
Our fireplace is central to our home, so it is the first thing people see when they enter in. In years past, I wasn't in love with our plain fireplace.
In four years, I did a few small tweaks to make it more my style. However, the plain drywall just didn't pack the punch I was looking for. If you're new to Grace In My Space, learn how I updated the fireplace for less than $100 in the articles below.
This is the first year that I get to decorate my Christmas mantel since we've installed our stone fireplace! I can't wait to show you a full look at my finished mantel. Make sure to subscribe below to be notified when my full mantel reveal is live!
However, for now, let's focus on how to hang Christmas garland on a mantel.
How to Hang Garland on a Mantel
Hanging your Christmas garland securely is of utmost importance.
The last thing you want to experience is putting all the hard work into decorating your mantel, just to have it come crashing down. Thankfully, it's much simpler than it seems.
The best 5 ways to hang your Christmas mantel garland are:
Nails (or Deco Nails)
Draped
With that said, there's more to it than simply choosing one. You need to choose the method that will work for your specific mantel type.
What Type of Mantel Do yOu Have?
First, what type of mantel are you decorating?
Barn beam or hand hewn (rough, unlevel, bumpy)
Traditional (smooth, painted v. stained, straight)
Material Type (tile v. wood v. concrete v. metal)
This is important because different types of mantels will work best with specific fasteners. Command hooks are great for smooth, flat surfaces. However, they won't work well for hand hewn beams or porous surfaces like concrete.
Another consideration regarding the type of mantel you have is what kind of damage some of these methods might do.
Authentic barn beam mantels already have lots of character, so what's one more nail hole? On the other hand, putting a nail into a traditional mantel where the damage will be visible is risky.
Common Garland Hanging FAQs
With that in mind, let's go over the top 5 ways to hang a mantel garland with some commonly asked questions.
How do you attach garland to a mantle?
There are 5 main ways to attach garland to a mantle. In addition to those 5 ways, bolded below, you will use some supporting materials (in italics).
As you read through the various methods for hanging garland, keep in mind that wire, clear zip ties or ribbon will all be used to bind multiple pieces together. And sometimes, to secure the garland itself to the method of attachment.
Attaching Christmas Garland Using Nails
Nails are the easiest way to hang a garland from a mantel if you aren't concerned about damage. This is how I secure my Christmas garland every year.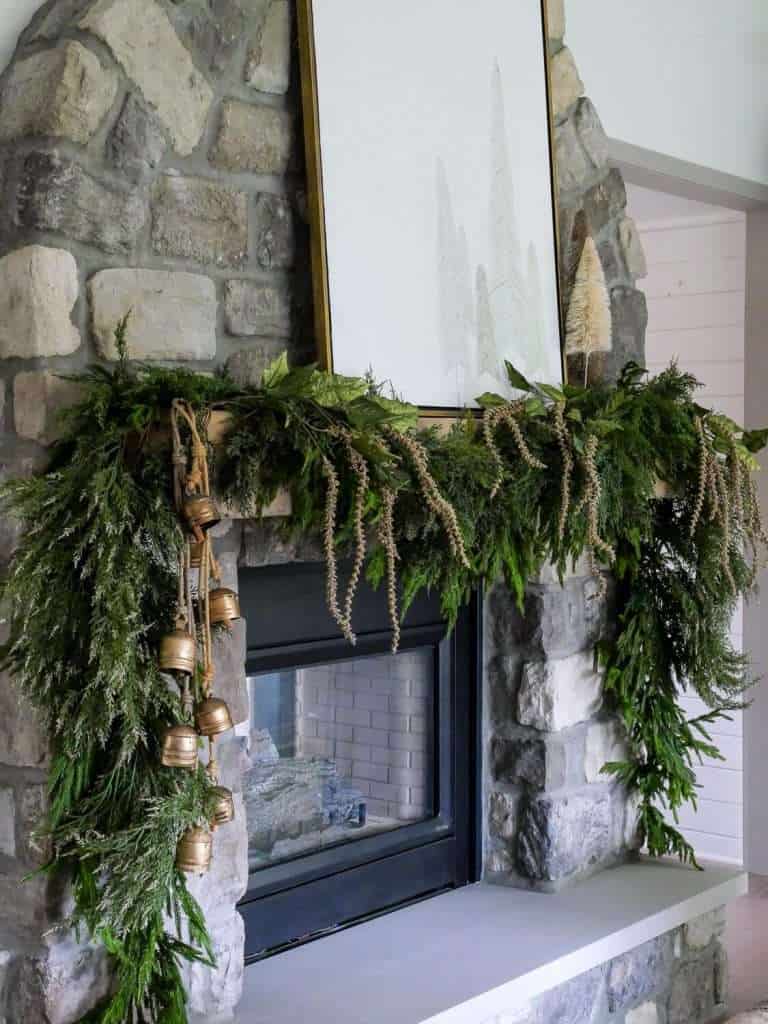 I place one nail straight up on the top corner of each side of the mantel. Those two nails hold the corners in place with tension. Even the bells are hooked over the top of the nail.
Then, I put one on the front face of the mantel in the middle to support the garland swag.
The rest of the stems and accessories are simply draped across or wired to the bottom garlands which are supported by the nails.
If you need to use wire to support your garland, look into Deco Nails or Crazy Tacks.
These both have the strength of a nail, but offer a little hook or lip for you to attach your wire to more securely.
How do you hang garland without damaging mantel?
I would venture a guess that you're likely in the camp of not wanting to use nails. One of the most common questions asked is, "How do you hang garland without nails?"
So let's cover hanging garland on a mantle without damage. The best ways to do this are:
Command Hooks
Draped garlands
How do you hang garland with Command hooks?
Hanging garland with Command Hooks has become the number one way to support mantel garland without damage or permanence.
The most important step to using Command Hooks to hang garland on a mantel is to clean your mantel surface sufficiently.
Dusting and wiping down your mantel is a good start. However, to really prep the surface adequately you'll also want to swipe some isopropyl rubbing alcohol on the areas you'll be using Command Hooks.
Cleaners can leave behind a film that is slippery for the Command Hook to adhere to. So, ensure you're taking the step of using rubbing alcohol rather than a household cleaner for the most secure bond.
After that, simply follow the directions on the box! Don't neglect the time frame for curing. I've been impatient in the past and have paid the price with some broken heirlooms.
Place your Command Hooks on the top, horizontal surface, of your mantel with the hooks facing you. Then, you can loop ribbon or wire on the hook and tension will hold it in place.
I use a similar method to hang wreaths on my kitchen cabinets, which you can learn about here.
How To Drape Garland on a Mantel
If you don't want to use anything to secure your garland to your mantel directly, simply drape it!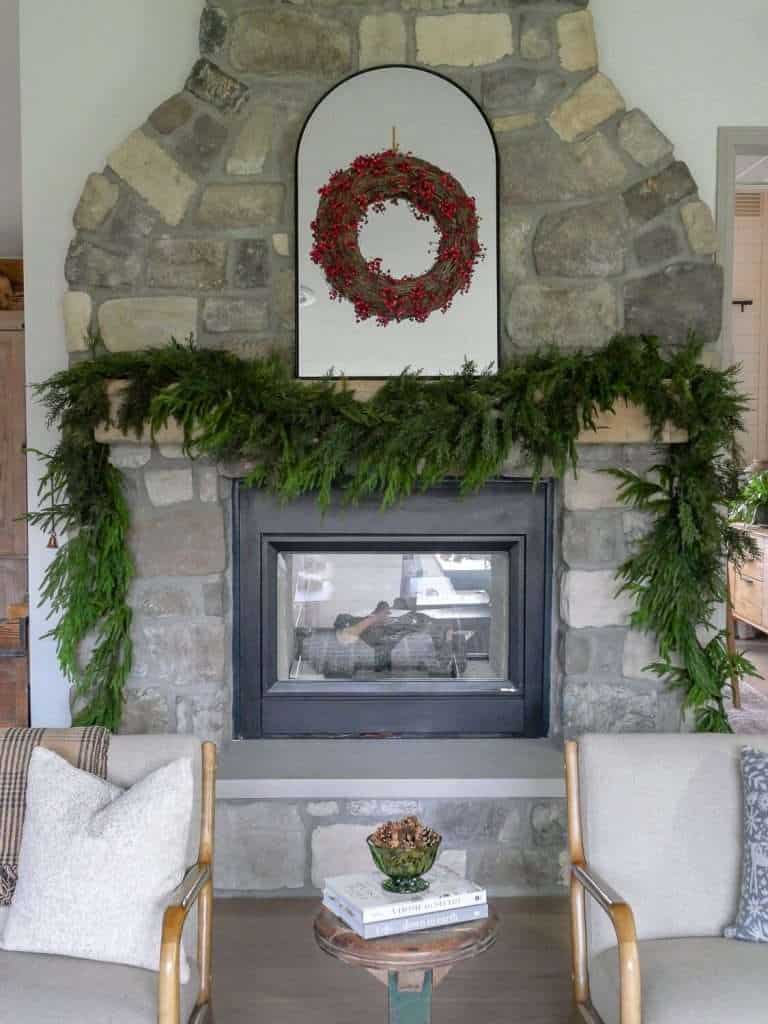 The draping method works best if you aren't swagging the garland. However, as you can see above, I simply pushed my sides back as far as they'd go and let it sag in the middle.
I wouldn't feel comfortable adding anymore weight to this garland without securing it. But if you're looking for a minimal look, then draping greenery alone is doable!
How do you secure heavy garland?
Now, if you have particularly heavy garland, you have a few options.
Nails will still work great.
Beef up your Command Hooks to the largest size with a 10 lb capacity (these are just harder to hide).
Or, you can use garland hangers. This set doubles as a garland hanger and a stocking hanger.
The only downside to these is that they do have limited capacity on mantel size, and the hooks are only on the front. So, if you wanted to swag your garland, it limits positioning.
You'll Also Enjoy…
I hope this article on how to hang garland on a mantel is helpful to you this holiday season!
I can't wait to show you my full mantel this year. In the meantime, you can get inspired with mantels throughout the last few years below!
Make sure to subscribe to get my Grace Notes directly to your inbox and to access all my insider perks. You can also follow along daily on Instagram and weekly on YouTube!
~Sarah