The BEST Way for How to Hang Wreaths on Kitchen Cabinets
Have you ever wondered how to hang wreaths on kitchen cabinets? Whether you are decorating for the holidays, or just love the look year round, this is the best way to hang a wreath on kitchen cabinet doors!
This post may contain affiliate links for your convenience.
How can I decorate my kitchen cabinet doors for Christmas?
Decorating kitchen cabinet doors is a great way to bring some holiday spirit to your kitchen, without taking up counter space.
My favorite way to decorate kitchen cabinet doors for Christmas is with wreaths.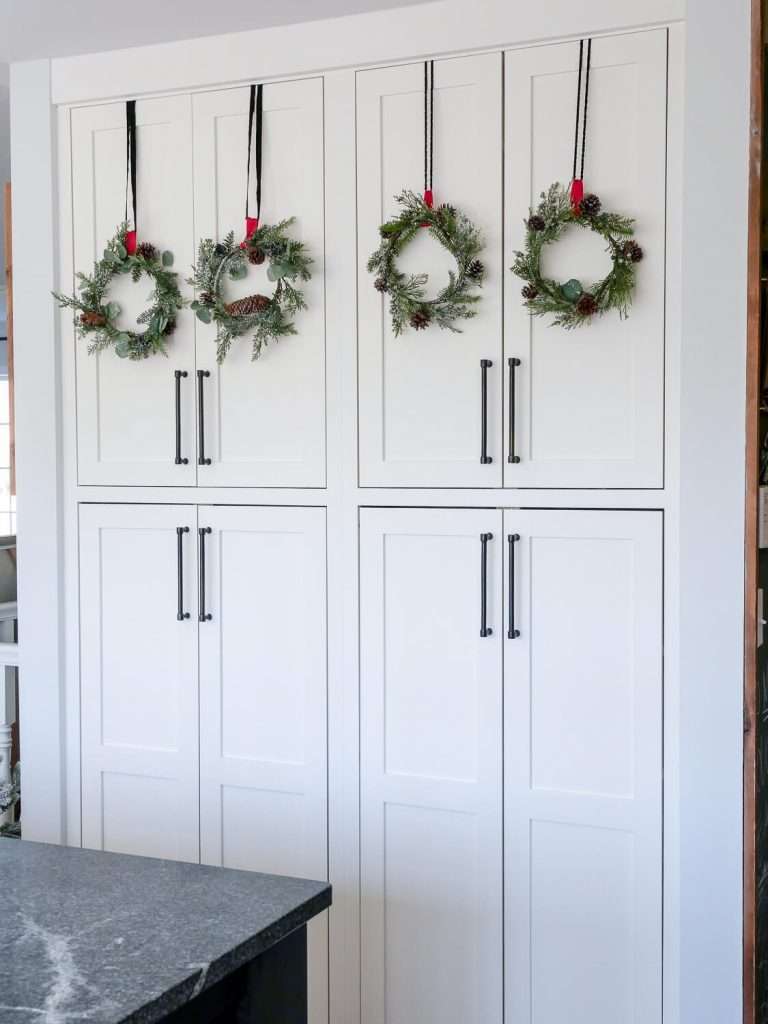 I choose mini wreaths for my pantry doors, and then go slightly larger for other cabinet doors. The key is to ensure that your wreath sits inside the frame of the door so that it doesn't become a hindrance.
If you have space above your cabinets that you want to decorate, consider it a perfect spot for collections like a Christmas village!
Learning how to decorate kitchen cabinets for Christmas is about showcasing your favorite things. So no matter what you use, just ensure that you have given it the proper height to show above the cabinetry. Then, try adding some fairy lights to light it up!
How to Hang Wreaths on Kitchen Cabinets
Thankfully, hanging wreaths is very simple! Let's discuss a few different ways to do it.
How to Hang Wreaths on Kitchen Cabinets with Nails
First of all, take into account what type of cabinet door you have.
In my kitchen, I have our custom cabinetry and then I have an antique cupboard I refinished.
For my custom cabinetry, you better believe I'm not using nails! However, for an old pine cupboard, it feels like just one more bit of character to use a nail. Especially since it's on the inside of the cabinet!
To use nails to hang wreaths on kitchen cabinets, simply tie a length of ribbon around the wreath and then nail both ends into the inside of the cabinet door.
I usually use upholstery tacks rather than small nails.
They are short and have a fatter end on them, which helps hold the ribbon in place. Their length is also perfect as they won't go through to the front of the cabinet door.
Using a nail to hang wreaths on kitchen cabinets is especially effective for heavier wreaths.
Plus, when you use ribbon, you aren't doing any damage to the front of your cabinetry.
Since most of us want to protect our cabinets from holes, let's talk about the best way to hang a wreath on your cabinetry!
How do you hang a Wreath without nailing it?
On the other side of my kitchen I have hung my mini wreaths with zero damage.
Additionally, you can see that I've also placed a wreath on my vent hood. I use the following method for both hanging wreaths with and without ribbons. I just have a slight variation for each option.
The answer: Command Hooks.
Can you use Command hooks to hang a wreath?
Many people are doubtful about command hooks. After all, will command strips hold the weight of a wreath?
However, they are my favorite method for hanging wreaths on kitchen cabinets because they leave no damage.
I have a special trick to save some money as well!
First, to hang a wreath with a ribbon, simply tie the ribbon around the wreath to the desired length. Then, tie a knot in the other end, forming a loop.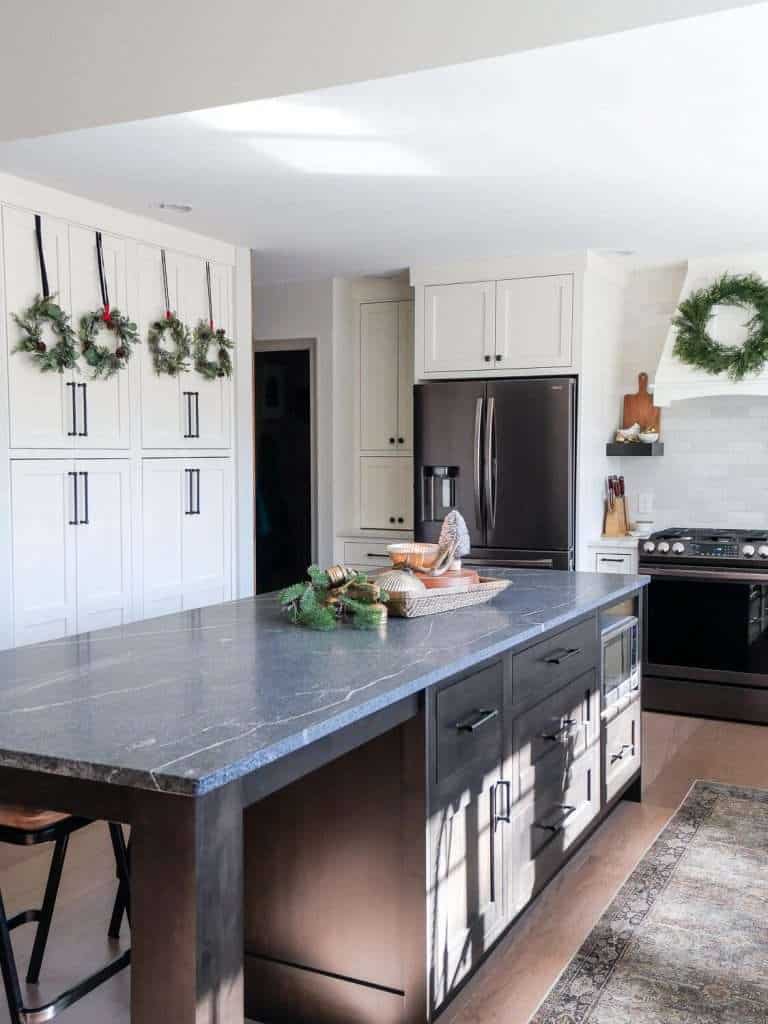 Once you've secured your wreath in the ribbon loop, place your command hook upside-down on the inside of the top of the cabinet door.
Once your command hook has cured for the hour recommended, you can safely place your wreath under the hook with the ribbon. Gravity will do the rest to keep tension on the ribbon!
Handy tip: One and Done!
Use
Use command velcro on the back of your command hooks!
Keep reading to see why.
Now, this method is perfect with a traditional command hook backing. However, I would rather use the velcro command strips on the back of my command hook!
Once Christmas is over and I'm ready to take down my wreaths, I can simply unvelcro the hook and leave the opposite side of velcro on my cabinets for next year.
Sometimes I place those specific hooks in my Christmas storage, or I continue using them in other places in my home throughout the year.
By doing this, I also only have to place my velcro once and it is in the perfect spot year after year. This is especially helpful when you have several cabinet doors lined up like I do. It avoids having to ensure they are even each year!
And with all my Christmas decorating, I like to shave every last second off my tasks that I can.
How to Hang Wreaths without Ribbon
If you're looking to float your wreaths, then you can still use a command hook!
My range hood wreath is secured with a simple medium size command hook. You can either hook it directly onto the wreath if it is skinny enough.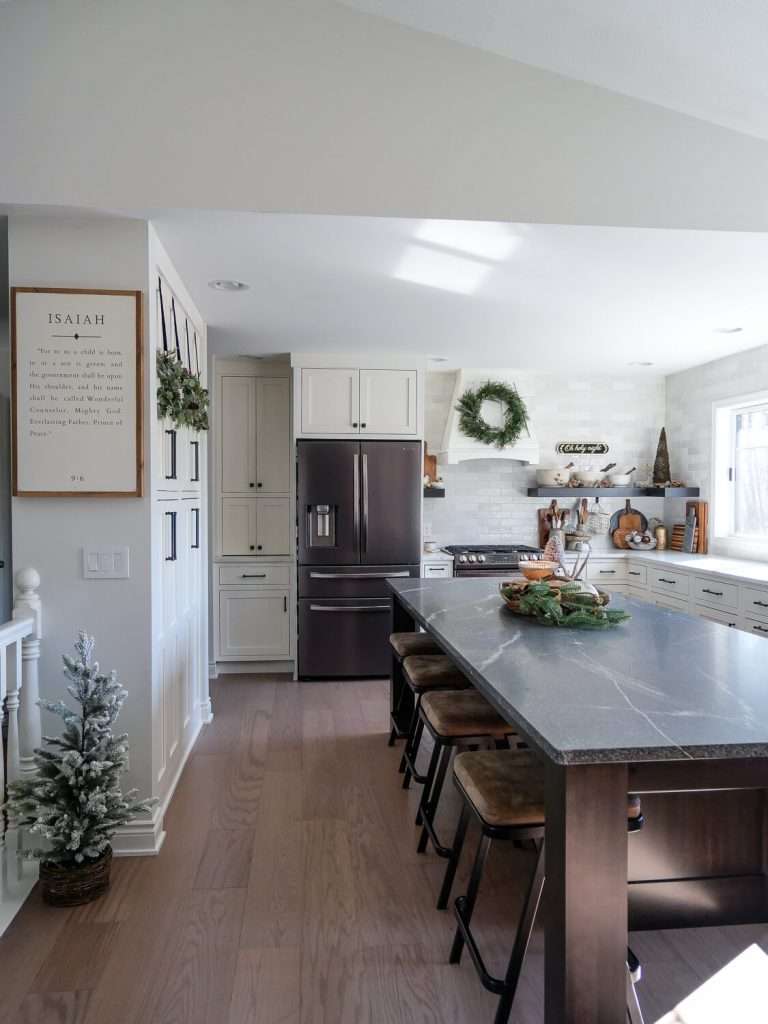 Or, if yours is too thick to fit inside the hook like mine is, add wire. I simply tied a tiny loop of floral wire around the wreath and then secured it on the hook.
You'll Also Enjoy…
I hope this post on the best way to hang wreaths on kitchen cabinets was helpful to you! Make sure to use that velcro tip to save yourself some time next year.
If you're looking for more Christmas and holiday decorating ideas, make sure to browse my entire archive!
Here are some articles you might like next.
Make sure to subscribe to get my Grace Notes directly to your inbox and to access all my insider perks. You can also follow along daily on Instagram and weekly on YouTube!
~Sarah