How to Create a Kitchen Island Christmas Centerpiece
Holiday Decorating Ideas
Learn 6 simple steps for creating a kitchen island Christmas centerpiece that is festive and beautiful, but also removable for convenience!
Creating a beautiful focal point on your kitchen island is so simple! I always love to decorate my kitchen for the holidays. However, I am not a fan of clutter in the kitchen. So today, I'm sharing 6 simple steps to get the look without sacrificing convenience.
Post may contain affiliate links for your convenience.
6 Steps to a Simple kitchen island Christmas centerpiece
Let's use this kitchen island Christmas centerpiece as an object lesson and take it step by step.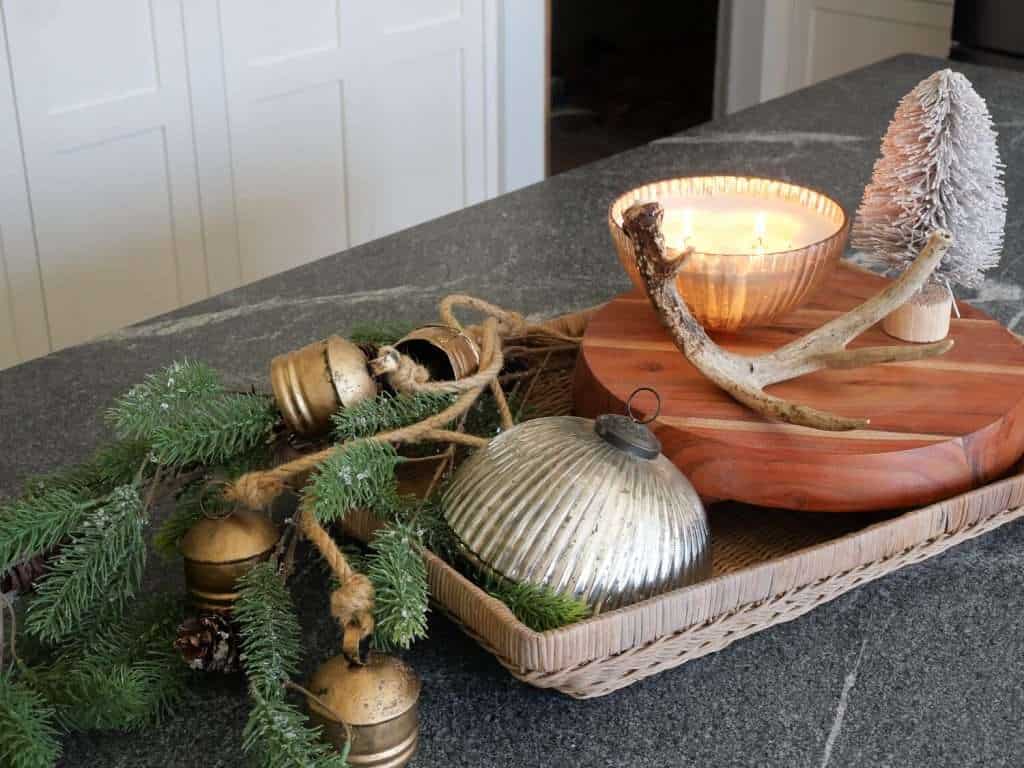 Start with a transportable foundation (i.e. tray, bowl, pedestal or other containment zone)
Add a section for height variation
Include a candle for a cozy glow
Add greenery
Incorporate metallic tones or an item with your main color for the season
Use one overtly Christmas-related item
Now let's break it down.
1. Lay the Foundation
Since you are styling a kitchen island Christmas centerpiece, the most important element is that you create a transportable foundation.
Kitchen islands are the central station for Christmas baking, holiday entertaining and family life. So, you don't want it to be cluttered with a bunch of Christmas decor that's always in the way.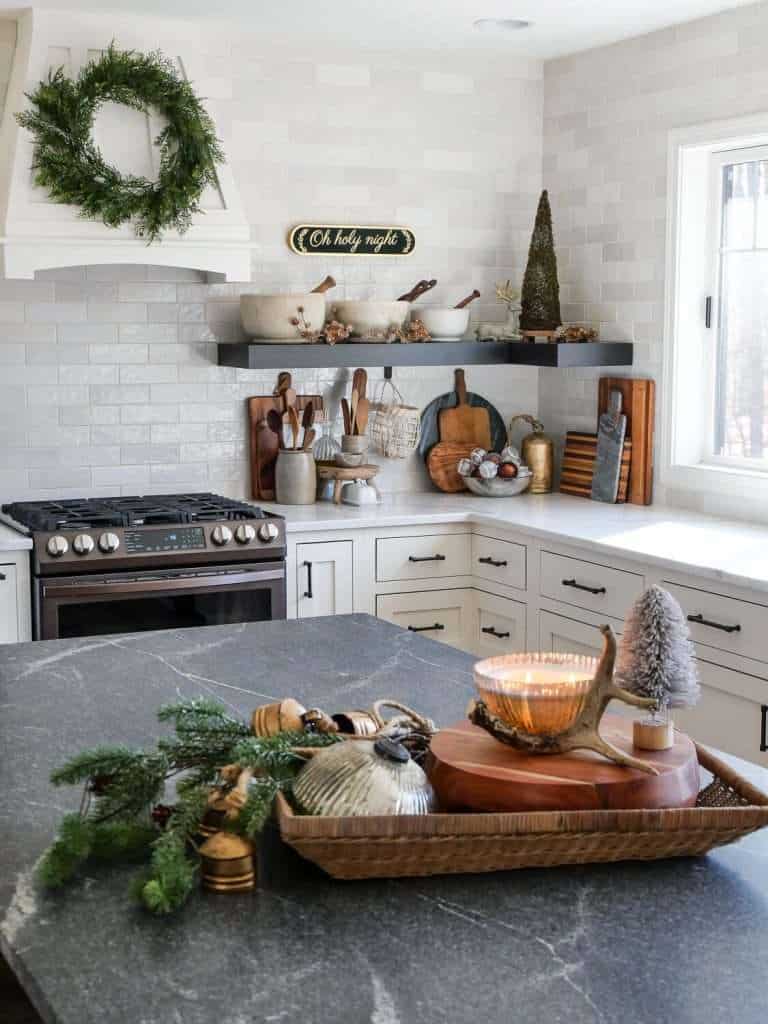 I like to lay the foundation with a tray, bowl, platter or pedestal. That way, I can easily pick up whatever I've styled and move it out of the way if I need the island to be clear.
Here are some great items that are perfect to use as a foundation and containment zone.
Centerpiece Foundation Options
2. Add Height to YOur Christmas Centerpiece
Next, section off an area where you can add a pedestal for additional height.
Obviously, this will only work if you have a large enough foundation. However, if you do have the space, adding a pedestal creates another zone where you can style something set apart from the rest.
If you don't have a large enough space, then add height with something simple like a bottle brush tree that is taller than the rest of your decor.
Adding height breaks up the space and creates movement through the centerpiece.
Here are some cute pedestal options.
3. Add a Cozy Glow
Nothing beats the flicker of a real burning candle. It is so cozy.
However, real candles aren't always practical on a kitchen island or in a centerpiece arrangement. Sometimes, we just need to fake it.
While my candle is real, here are some great options for adding a cozy glow without the fire hazard.
If you don't have space for a candle, consider intertwining battery operated twinkle lights through your greenery.
4. Kitchen Island Christmas Centerpiece Greenery
Next, layer in some greenery.
Perhaps you have access to pine, cedar or juniper in your yard! Just clip a few sprigs and nestle them into the rest of your decor for an instant festive look.
If not, purchase some quality faux greenery that will last you years to come. My favorites are linked for you here!
5. Add Metallic Tones or a Main Color
Next, layer in some metallic tones.
If you want a more wintery look, then stick with pewter, silver or black metals. If you want a warmer tone, add in copper, gold or brass.
Adding metallic items elevates your Christmas centerpiece with a touch of fancy. I like to use bells, reindeer, or ornaments to add in metal tones.
If you don't love the look of metallics, you can add a pop of color instead with the main color you've used throughout the rest of your house. A bowl of colorful ornaments would be a fun addition!
6. Add A Christmas related item to your kitchen island Christmas centerpiece
Finally, tuck in one overtly Christmas-related item.
Perhaps that is a Christmas tree, Santa Claus, reindeer, present, or a Christmas village.

It would be especially memorable for it to be a handmade item, a part of a favorite tradition (like an Advent calendar) or a vintage item. Make this piece something unique!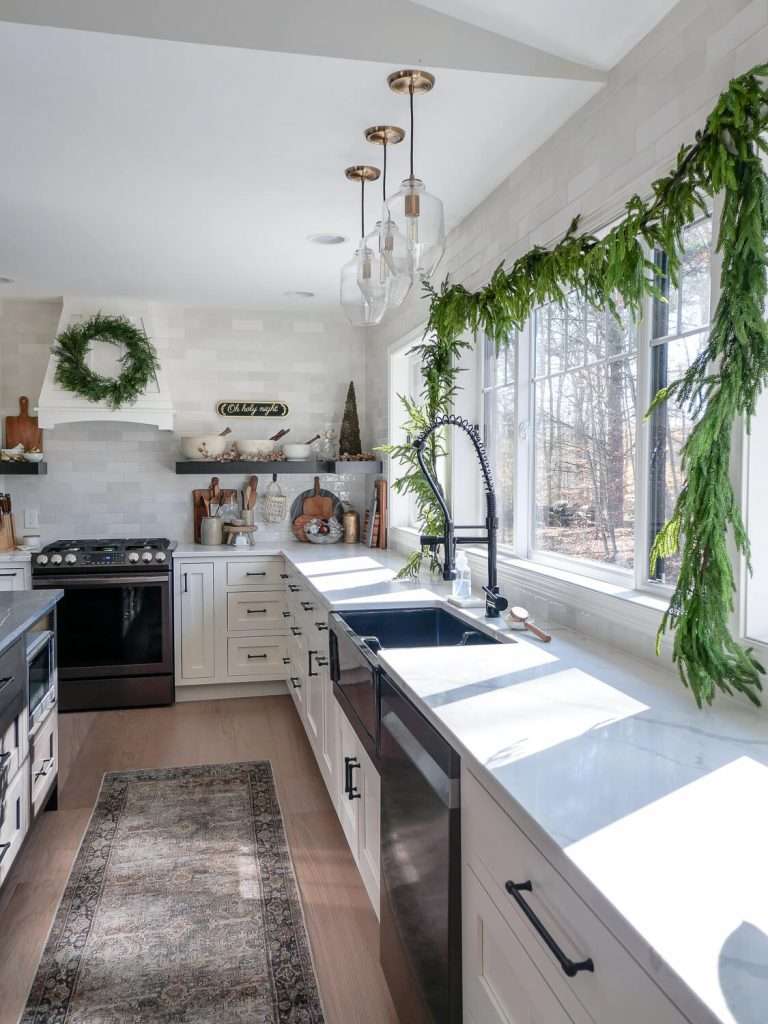 The finished look will be different for everyone! But that is what makes this method wonderful. Everyone can follow the same steps, and end up with something unique to their home.
You'll Also Enjoy…
I hope you enjoyed learning these 6 simple steps to a beautiful kitchen island Christmas centerpiece.
Of course, you can also do something very simple like a bowl full of ornaments, a vase of pine branches, or a tiered tray styled with your favorite collections. All that matters is that you have fun with it!
Make sure to subscribe to get my Grace Notes directly to your inbox and to access all my insider perks. You can also follow along daily on Instagram and weekly on YouTube!
If you're looking for more Christmas decorating inspiration, make sure to check out these posts next.
~Sarah