Top 15 Minimalist Christmas Decor Ideas 2022
Being a minimalist has become very misconstrued in recent years. What was once a lifestyle of purpose has become a decorating style of taste. Being a minimalist at heart means ensuring that every item you use has a purpose or meaning. But how does that jive with wanting to create a cozy home? These are the top 15 minimalist Christmas decor ideas that keeps your minimalist heart at ease, while enjoying the holiday spirit!
Post may contain affiliate links for your convenience.
How do minimalist decorate for Christmas?
When you think of Christmas decor, most people conjure up images of Santa and snowmen collections, full Christmas trees, mounds of presents, and cluttered spaces.
I'll admit, Christmas is my favorite season (and only holiday) to decorate for. I'm personally not what most would call a minimalist. I'm content to decorate a space simply because I enjoy it. That is my purpose: enjoyment.
However, most minimalists see extravagant decor as unnecessary, and even wasteful. So today, my goal is to help you create a cozy holiday home that is purposeful and minimalistic.
Here are some minimalist Christmas decor philosophies to get your brainstorming wheels turning. Think beyond physical Christmas decor to a broader definition of holiday decorating.
Choose one simple color scheme to stick to so as not to overwhelm your home visually.
Remove and store most of your year-round decorations to make space to replace a few areas with holiday related decor. This helps you cut down on the clutter from the start.
Rather than buying faux greenery, only use foraged greens and make your own garland and wreaths.
Consider what creates a cozy environment: focus on lighting, comfort, scent, and touch.
15 Minimalist Christmas Decor IDeas
Now, if you're looking for more concrete minimalist Christmas decor ideas, try your hand at adding a few of these items to your home this holiday season.
Real greenery
Realistic garland
Evergreen wreaths without embellishments
String of bells
Stack of blankets
Bowl of pinecones
Berry wreath
Single candle
Playful pillows
Single art piece
Deer antlers
Bowl of ornaments
Minimalist wire wreaths
Bare Christmas tree
Tray of pillar candles
Holiday Greenery
Let's start with the most basic, and yet most impactful, Christmas decor: greenery.
Whether you are foraging and clipping evergreens from your yard, or you buy realistic faux greenery, you will make a quick statement with beautiful garlands and wreaths.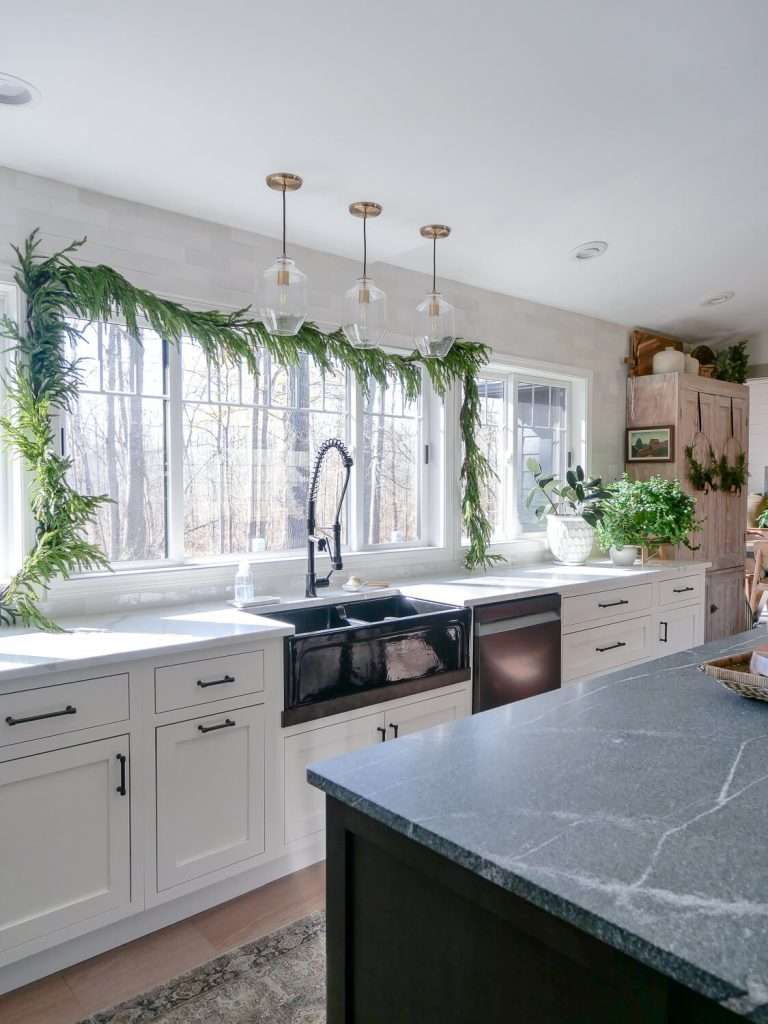 You can quickly dress up a space for the holidays with a simple placement of garland over a window, on a shelf, on top of a cabinet, or on a mantel.

Similarly, a beautiful wreath can pack a punch as well. The bonus to wreaths is that they are off of tabletops and surfaces, leaving space for everyday use.

Decorating Minimalist Christmas Decor with Comfort
Next, think about comfort.
Pillows and blankets are two of the most underutilized items that serve both a purpose and can be pretty.

Blankets and pillows come in so many shapes, sizes, materials, and weights. Choose wisely with blankets and pillows that will add some holiday festivity to your decor and be able to span into the winter months.
I always like to add a stack of cozy blankets that are accessible to my family and guests when they are visiting. They serve a practical purpose, but also look pretty when neatly folded.
Single Bowl or Tray of Decor
Most minimalists don't enjoy tchotchkes. However, a single bowl filled with pinecones, ornaments or a tray of pillar candles can go a long way in creating a cozy environment.

Make it purposeful by adding cinnamon sticks for scent. Or, create a cozy glow with candles to enjoy in the evenings.
Display a Bare Christmas Tree
A Christmas tree is a staple, even for minimalist Christmas decor.
You can keep it minimal with just a few baubles. Or, you can simply add lights and nothing more for a cozy glow!
Some of my favorite minimalist looks over the years have included tiny live norfolk pine trees on my kitchen counter. You can often find them at your local greenhouse, grocery store, or online at Walmart!
You'll Also Enjoy…
I hope that this article on how to add minimalist Christmas decor with purpose has been helpful to spark your holiday decorating!
Make sure to subscribe to get my Grace Notes directly to your inbox and to access all my insider perks. You can also follow along daily on Instagram and weekly on YouTube!
Next, head over to my Christmas decorating archives for more ideas and inspiration.
~Sarah