25 Tips for How to Decorate After Christmas for Easy Winter Decor
Winter decor can feel bland after a full house for the holidays. It can be jarring, like two extremes after all the Christmas decor comes down. But the transition to winter decor doesn't have to be complicated. Here are 25 simple tips for how to decorate after Christmas for an easy transition.
This post may contain affiliate links for your convenience.
Decorate After Christmas with Ease
How do you usually decorate after Christmas?
Many times, people are confused on what the "protocol" is.
Do we jump straight to spring?
Should we decorate for the smaller holidays in January and February?
Do we leave everything undecorated for a visual break from clutter?
The answer is: yes. Yes to whatever your preference is.
Personally, I like to keep my winter decor extremely simplified for a visual break. Someone else might want to jump straight to vibrant spring colors during the grey days of January and February.
Whatever your preference, I hope that the following information is a great help as you determine how you will decorate after Christmas!
How do you transition from Christmas to winter decor?
Often I find that the transition from Christmas to winter decor is a slower and more subtle change than other seasons.
Winter seems to have less overt decor than other seasons. Spring is a no brainer with spring flowers and lots of vibrant green. Fall is simple with leaves, moody colors or even things like hay bales for the front porch. Summer is pretty straight forward with fresh flower arrangements and bright colors.
But winter? Winter can feel drab and boring once all the Christmas decor is stripped away.
Thankfully, the transition can be very simple. Start by removing anything overtly Christmas related. Things like Santas, Christmas ornaments, reindeer, nativities, stockings and bright red elements scream holidays.
Start the transition to winter decor by taking those down and storing them away. (Grab my Christmas decor storage tips here.)
Leave up cedar or pine greenery, undecorated pine trees, and even flocked wreaths at first. Once you have everything else taken away, you can live with it for awhile and see if you'd like to keep taking down greenery or start to add other decor back in.
How to decorate for January and February?
Once you've removed the Christmas and holiday related decor, you have lots of options for decorating in January and February.
Personally, I prefer to leave the house fairly undecorated for some time. Christmas decor can feel cluttered after a month of having all the extras up. I like to give myself some time to breathe with a mostly undecorated house in January.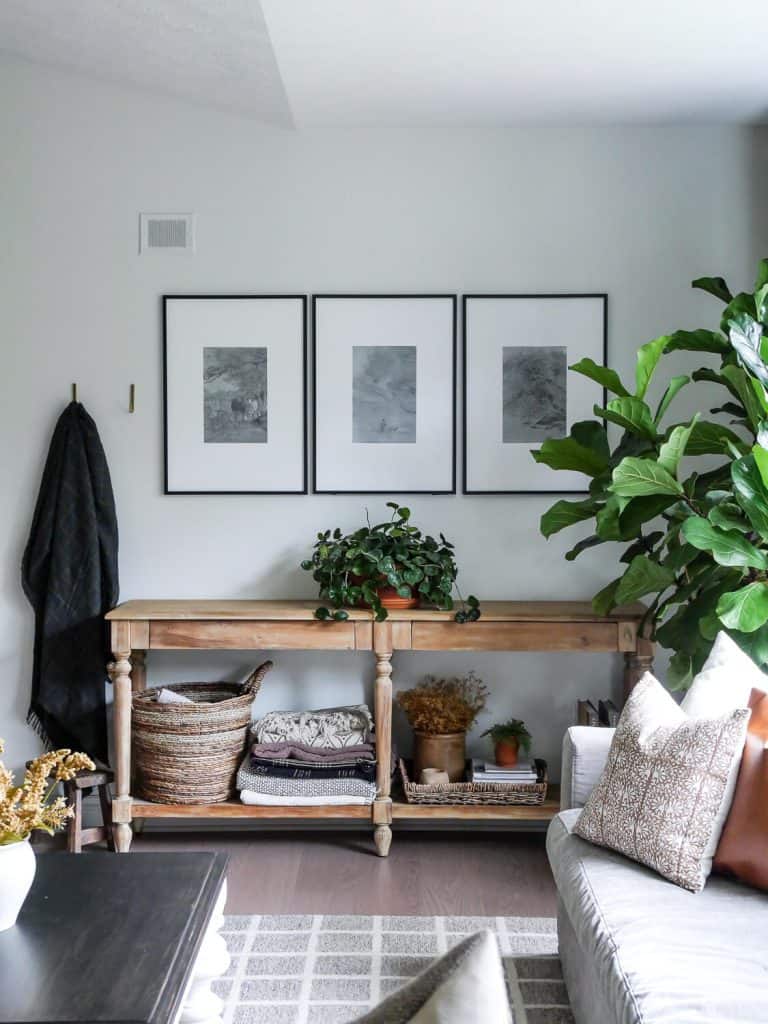 However, you can start to add in winter decorations whenever you like!
In February, many people like to decorate for Valentine's Day. However, if you don't, this is a good month to start prepping for spring decor. Start adding in small bouquets of seasonless greenery like eucalyptus.
I also like to add in dried florals during this season. Hobby Lobby is a great resource for simple and beautiful dried florals.
What decorations do you put up after Christmas?
The winter-specific decor I like to use most after Christmas is natural elements.
Cedar or pine branches in a vase
Birch logs
Rich leather accents in pillow coveres
Bowl of pinecones
Cedar wreaths
Live Norfolk pine tree
I find these items blend so easily into year round decor. If you'd like to go more overtly winter, add in winter artwork, snowflakes, or mini pine trees.
How do I make my house feel cozy after Christmas?
The best way to create a cozy environment in the winter months is to cover all the senses.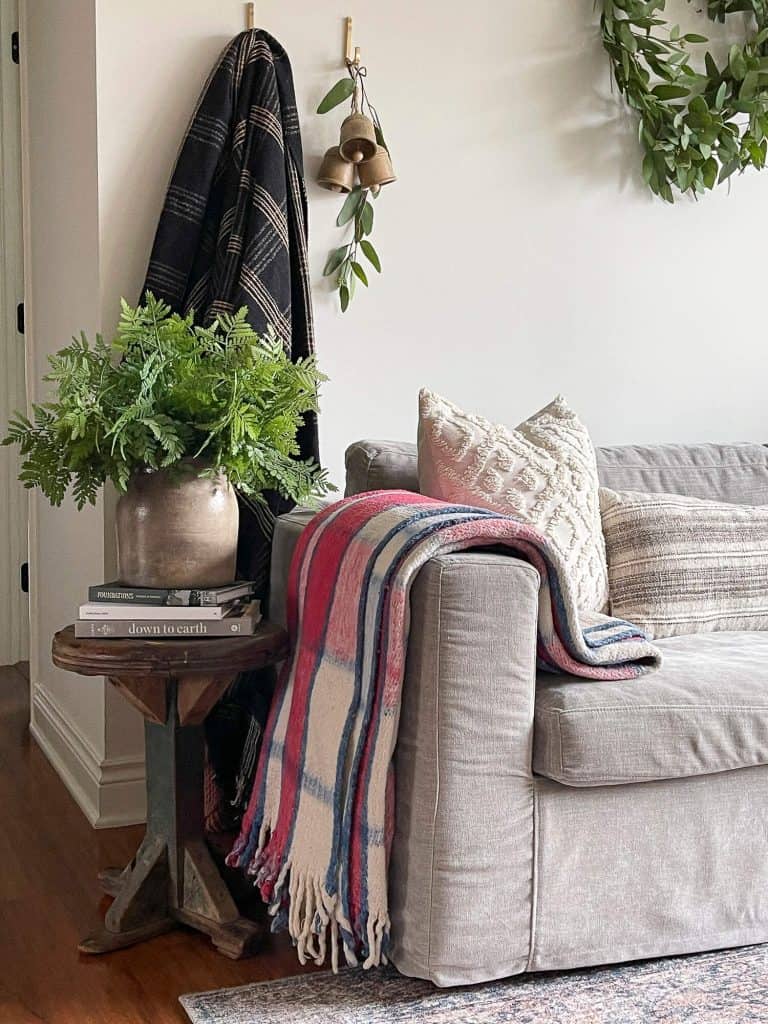 Candles or a cozy fire for ambiance
Blankets for warmth
Simmer pots for natural scent
Ambient lighting with lamps in the evening
Light music playing in the background
Delicious comfort food every once in a while for a little indulgence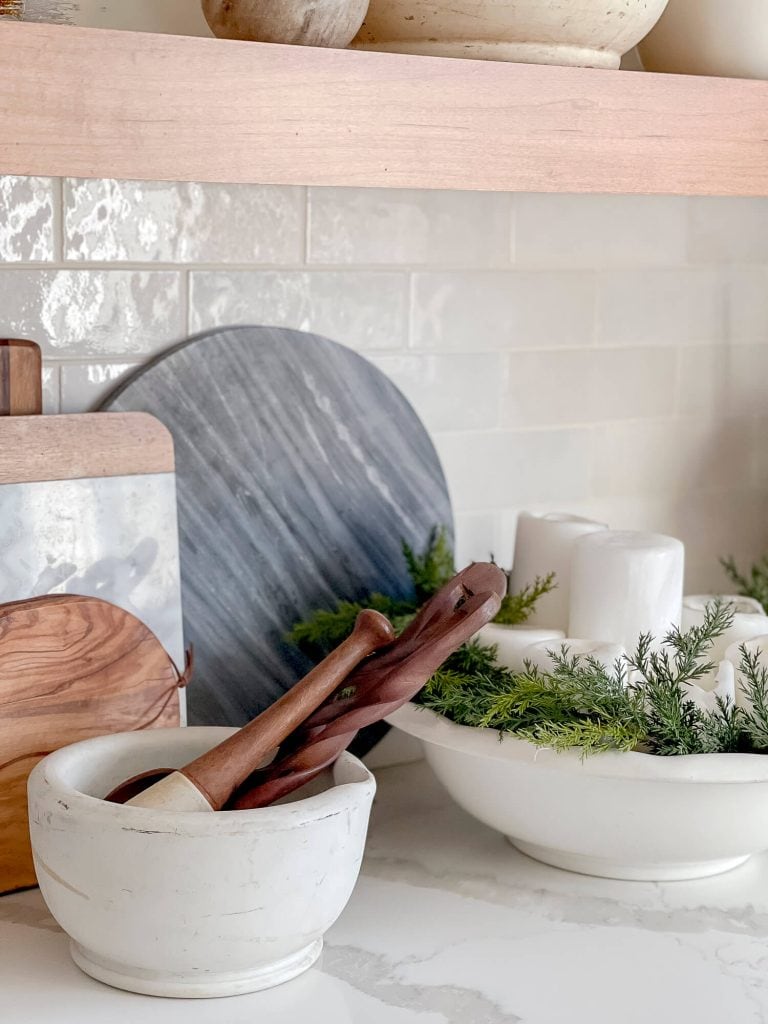 25 Simple Tips for How to Decorate After Christmas
With all of the above said, here are some very practical and straight forward ways to decorate after Christmas!
Remove overly Christmas related items like Santa's, nativities, bright reds, stockings, nutcrackers, and reindeer.
Leave up simple accents like undecorated pine trees, bottle brush trees, deer or snowman figures.
Add live norfolk pines to your live plants.
Leave up minimalistic wire wreaths with cedar or juniper accents.
Leave up winter garlands for warmth and coziness.
Layer candles in groupings for added impact.
Bring in pretty blankets to serve as decor and a cozy cover.
Medium to dark tone baskets ground a space for pretty storage.
Add in darker wood tones with antique finds or shelf decor.
Incorporate rich leather elements into pillows, vases, figurines or furniture.
Arrange a vase of plain pine or cedar branches.
Make natural garlands from citrus, pine cones or cedar clippings.
Put a bowl of pine cones collected from the yard out as simple and free decor!
Cut any remaining healthy Christmas tree branches off before disposing of the tree and pop them into a basket or outdoor planter for added greenery.
Hang blankets on a wall for pretty textural elements and easy storage.
Declutter and streamline as much possible for a blank slate.
Keep your decor fairly neutral, using greenery as a natural accent.
Create a cozy sensory experience with candles (or battery operated candles) and warm scents like vanilla.
Cut some birch logs (or buy online) for a simple stack next to the front door or fireplace (even if it's not a wood burning fireplace!)
Bring in cozy textures like velvet, wool or sherpa in pillow cases and blankets.
Add beautiful paper whites as a dining centerpiece.
Simplify the front porch with a winter doormat and faux cedar spheres in pretty planters. (Keep white lights up all winter!)
Undecorate altogether! Take this season to keep your home mostly empty of decor for a visual break and reset to the year.
Skip straight to spring! Put everything you would normally use in spring decor out except for spring flowers like tulips or items like bunnies or chicks. Then they are simple to add later.
More Decorating After Christmas Ideas
Thanks for stopping by the blog today! Make sure to subscribe to get my Grace Notes directly to your inbox and to access all my insider perks. You can also follow along daily on Instagram and weekly on YouTube!
Don't forget to pin this for later!
Head next to see how I've personally decorated my home after Christmas in the articles below!
~Sarah