5 Ideas to Style Farmhouse Fall Kitchen Decor
Using farmhouse fall kitchen decor is the simplest and most laid back way to style for fall! The farmhouse style uses lots of natural elements that are both simple and affordable. Today, I'll share 5 tips to make the process quick and easy!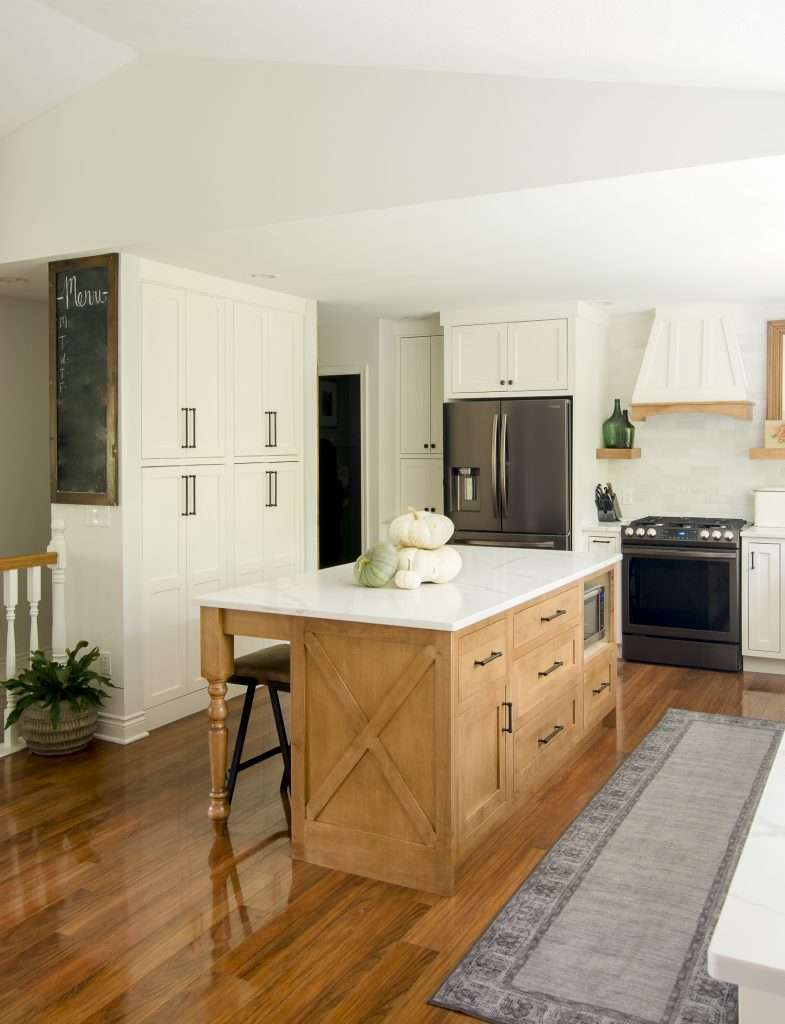 This post may contain affiliate links where I earn a small commission on your purchases.
Neutral Fall Decor in the Kitchen
This is the second time I've styled my kitchen this season! It is fun to try a couple of different varieties, but both styling sessions resulted in very simple and fast results!
See how I styled my kitchen for fall using neutral elements in this post.
5 Tips to Style Farmhouse Fall Kitchen Decor
The farmhouse design style has been so popular the last few years, for good reason! It is both polished and casual. Rustic and sleek. Full of character and yet not overdone.
I designed my kitchen with a modern farmhouse style in mind and love using farmhouse elements in my fall kitchen decor. Here are 5 simple ways to incorporate farmhouse fall kitchen decor in your own home!
1. Food as Decor
One of the simplest elements of a farmhouse style kitchen is using natural pieces as decor. Fall foods like apples and pears are a great way to add a pop of color to your kitchen.
Plus, they are extremely practical since it makes for easy snacking!
2. Pile of Pumpkins
Put a pumpkin on it. Ha! The absolute easiest way to add farmhouse fall kitchen decor is to pile up a few real pumpkins.
I love the cinderella varieties, and the funkier shaped the better! Nothing says "fall" like pumpkins. Sprinkle a few here and there and call it good!
3. Add Vintage Items
Farmhouse decor incorporates a lot of vintage and antique finds. They give a room so much character and interest. I love displaying my vintage collection year round, like my vintage cupboard-turned-chalkboard, but I pull specific colors and textures into the kitchen for fall.
Deep green or amber bottles, mustard and terra cotta pottery, and vintage paintings with fall coloring are all easy choices!
Looking for a Source?
Shop my kitchen decor via the affiliate images below and find my favorite kitchen products in my Amazon Storefront!

---
Kitchen design details, paint colors and hardware elements are linked here.
4. Incorporate Wood Tones
Wood tones are a big part of farmhouse style homes. I chose to keep my kitchen island a natural wood color and brought the matching wood tone to my oven hood, shelving and under the sink.
For fall, I also like to mix in more wood pieces to warm up the space. My vintage mirror, decorative wood balls, and cutting boards all add that wood element that is so easy to mix and match with other fall decor.
5. Display Everyday Items
The casual side of farmhouse style homes is my favorite. Displaying everyday items as decor makes it easy to decorate with functionality in mind.
I always display bowls, cutting boards and mugs that we use daily out in the open. The same can be done with plates, cups, dish towels, etc. It is an unfussy way to style farmhouse fall kitchen decor, and I love the practicality.
You can find some more ideas for farmhouse decor from this expert round up!
Stay Connected
I hope these five tips are helpful to you as you lay out a plan for fall decorating in the kitchen! This method offers a simple and fast solution for fall decorating that feels organic and casual.
Looking for more ideas for kitchen styling? Make sure to check out my kitchen archives for dozens of articles and ideas!
PIN IT FOR LATER