Table Decor for a Cozy Christmas Tablescape
I love to use simple table decor that can be combined in various ways year round. I'm not a big fan of buying decor specifically for holidays, but I do love the look of a set table. Today I'm sharing how I created this cozy Christmas tablescape with ease!
This post may contain affiliate links where I earn a small commission on your purchases.
Christmas Tablescapes Using Everyday Table Decor
Let me just start by saying that I am not a huge "tablescape" girl. When I have company over, there is rarely a fully set table with a centerpiece and all the trimmings. I like for my guests to have room to move and pass food, and, you know….eat.
So I rarely do big elaborate tablescapes! However, the holidays deserve some primping, especially this year! So I set out to create a simple tablescape using table decor that I already had on hand and use year round.
Here are the steps to layering your existing table decor to create something new and magical!
1. Lay the Foundation for the Rest of Your Table Decor
Whether you are using a holiday table runner, fancy tablecloth, or plastic Christmas cloth, you lay the foundation for your Christmas tablescape first.
I used two runners that I've had for years. They don't even match, but they coordinate well enough that I think they work together! I laid the shorter runner across the width of the table and the longer one down the length.
Last year I created my own "tablecloth" out of various linens and napkins. I think that look was also a pretty option!
2. Add a Garland
The next layer to add to your table decor is a simple garland. I used pine, but really any evergreen garland will be perfect for the season.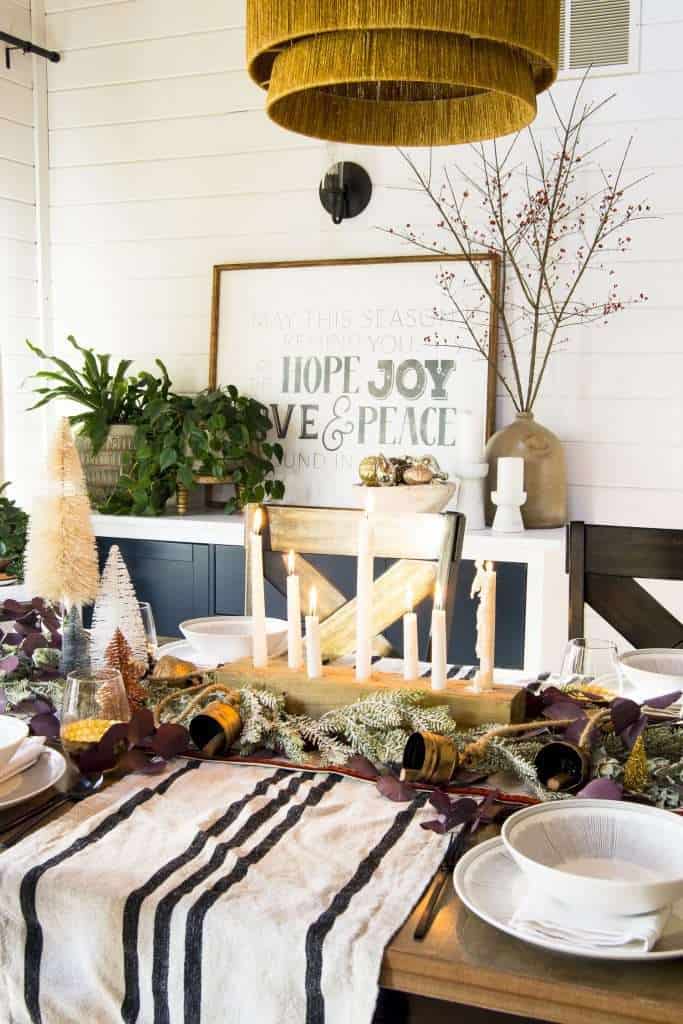 If you have two, that is even better! Garlands can be so sparse these days so for a fuller look simply add another one.
3. Insert Additional Foliage
After you've established your base, add in various foliage. I wanted to add a touch of color, so I included this plum eucalyptus I bought for the fall season.
The added foliage is where you can really get creative with your table decor. Using what you have helps keep your Christmas decor cohesive and really lets your own personality shine through your tablescape.
You can use Christmas-specific flowers like magnolias or poinsettias, or you can simply use additional greenery. I love that this step also allows you to bring in color if you wish to.
4. Add Your Centerpiece
Last year I chose to use a candle centerpiece as well, however I had a different spin on it. This year, I went out to the shed, grabbed a scrap chunk of 4×4 and drilled a bunch of holes into it with a spade bit! I've seen several other bloggers do this over the years and finally decided to give it a try.
It took me 5 minutes and zero dollars to make. My favorite kind of centerpiece! I love that it is skinnier than many other centerpiece options but creates such a magical glow. It will be perfect to use all winter long.
You can use any type of centerpiece for your Christmas tablescape that you love! A bouquet of greens or flowers would be lovely. Or, perhaps you can create a centerpiece out of a few of your favorite Christmas decor items.
5. Layer Christmas Specific Table Decor
Now that you've built out a fairly generic tablescape, it is time to add in some Christmas touches!
I added two groupings of bottle brush trees and two bell garlands to complete my tablescape. I love how the metallic colors bring warmth to the table without being overpowering.
6. Don't Forget the Place Settings
And of course, don't forget the place settings! I keep mine very simple with my everyday dishes and silverware. Then, I make it a little fancy with these pretty glasses.
Linen napkins also dress it up a smidge while keeping the maintenance fairly low-key. And now it is ready for guests and the feast!
Shop Table Decor

---
Stay Connected
I hope this post has been helpful to you as you plan on making your holiday meals extra special! Make sure to check out my additional Christmas posts this season to be inspired in many ways to create a magical atmosphere in your home.
And if you're looking for a scaled down version of a Christmas tablescape, see how my dining room looks on a daily basis below!