3 Christmas Mantel Decorating Ideas That Transition to Winter
While most of us search for Christmas mantel decorating ideas before the holidays, I am always thinking of after Christmas mantel decor at the same time. My challenge is, what can I design that will work for the holiday season and winter decorating?
Here are three Christmas mantel decorating ideas that will easily transition to beautiful winter mantel decor!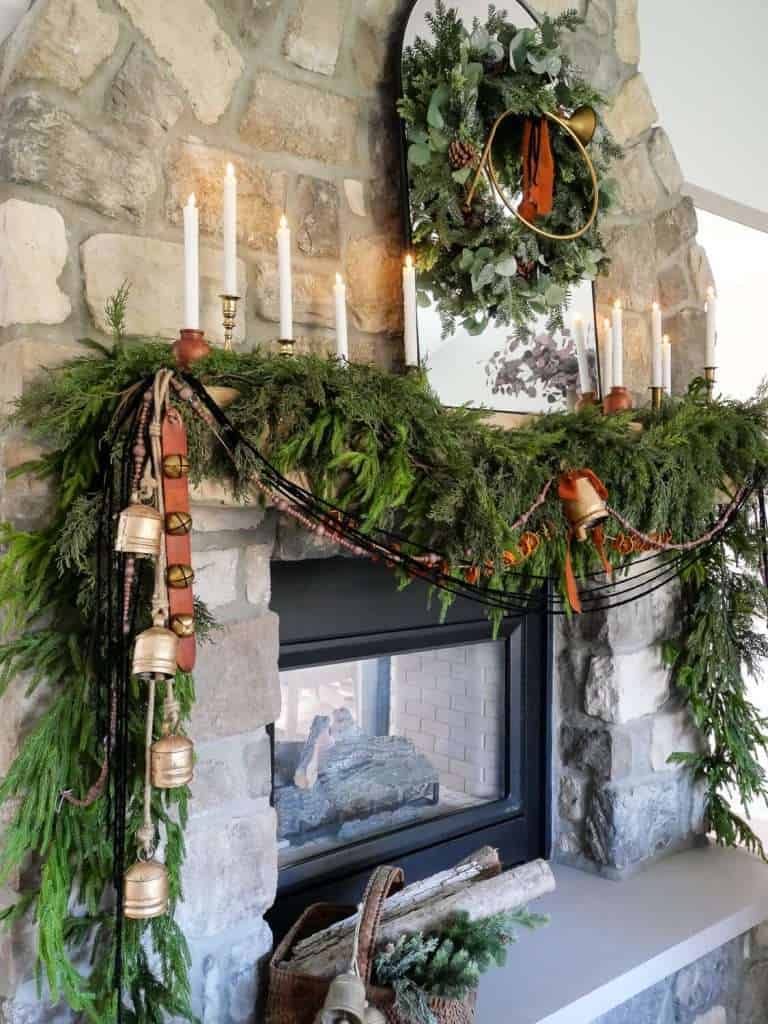 This post may contain affiliate links for your convenience.
How to Hang Christmas Garland
My Christmas garland tends to be very full and very heavy. I always get questions on how to hang Christmas garland without it falling off.
So this year, I decided to write an entire article about it. I shared my top 5 ways to hang holiday garland. This includes hanging very heavy garland, plus some no-damage options to keep your mantel intact.
How to Decorate a Christmas Mantel that Transitions to WInter
Now, let's dive in to the basics of how to decorate a Christmas mantel that will also work for winter mantel decor.
Create a Foundation with Garland
The first step is to lay the foundation for your Christmas mantel decorating with garland.
Now, this can be greenery or it can be any type of garland that fits your style.
Greenery garland
Felt ball garland
Garland with words
Bell garland
Pinecone garland
Dried orange garland (Learn how to make your own here.)
Yarn garland
Fabric garland
Colorful Bead garland
Wood bead garland
This is the part where you can get very personalized and have fun with it. It also might be a combination of garlands, like I've done in some of my examples.
Here are some different options to get your mind turning on what would fit best in your home.

If you are looking for quality greenery, check out my favorites here.
The key to Christmas mantel decorating that can also span into the winter season is to remember that you are building in layers. So, you might add a few more festive touches to your holiday mantel. But then, take those off for the winter season.
For example, I will remove every garland except the greenery when I transition to winter. (Maybe I'll keep the orange garland….depends on my mood.)
Determine Your Focal Point
Next, determine your focal point.
In my first round of holiday mantel decorating, above, I kept it more simple. I added fewer garlands and instead chose to intersperse some stems as accents.
However, my focal point is artwork. In the images above, you can see that my focal point is a mirror or a mirror with a wreath.
The focal point you choose can truly be anything you desire.
Just remember, if you want your Christmas mantel to span into winter, don't make it overly Christmas related.
Winter scene artwork, a simple mirror, or an evergreen wreath are great choices.
Layer in Accents
The final step is to layer in accents. What you include is up to you!
In the past, I've added:
Faux Stems
Bells
Bottle brush trees
Mini pine trees
Candles
Layered artwork
Figurines
Whatever you choose to include, just make sure that it will either span into winter or can easily be removed.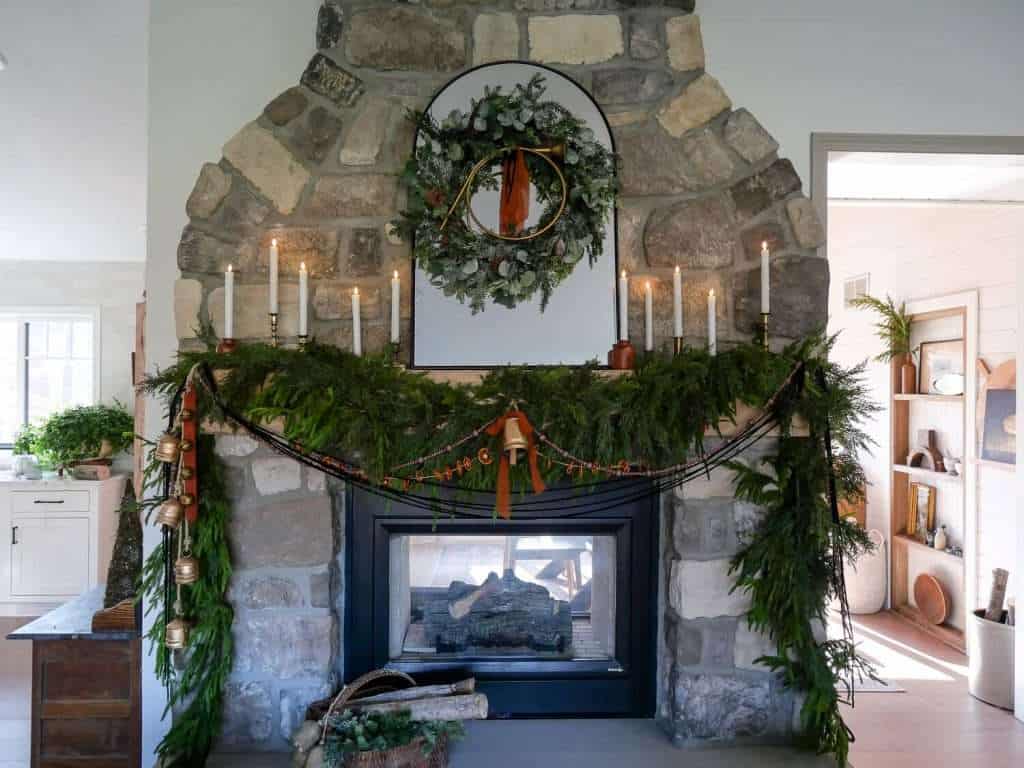 I like to lean towards the latter and only include things that I can quickly take off the mantel once the holidays are over.
In the image above, I'll be able to quickly transition this mantel decorated for Christmas into a winter mantel by:
Removing the bells
Removing the black yarn and beaded garland
Taking down the wreath to leave a plain mirror
I'll be left with some beautiful greenery and the cozy glow of my favorite remote controlled candles.
This makes it extremely easy to transition to winter because I don't have to redo the entire mantel. Just dismantle a small part of it!
Christmas Mantel Ideas With Candles
Now, one of my favorite ways to decorate a mantel is with candles. Whether it is for the holiday season, or to keep it cozy in the winter, candles are the way to go.
You can use pillar candles, taper candles, or a combination.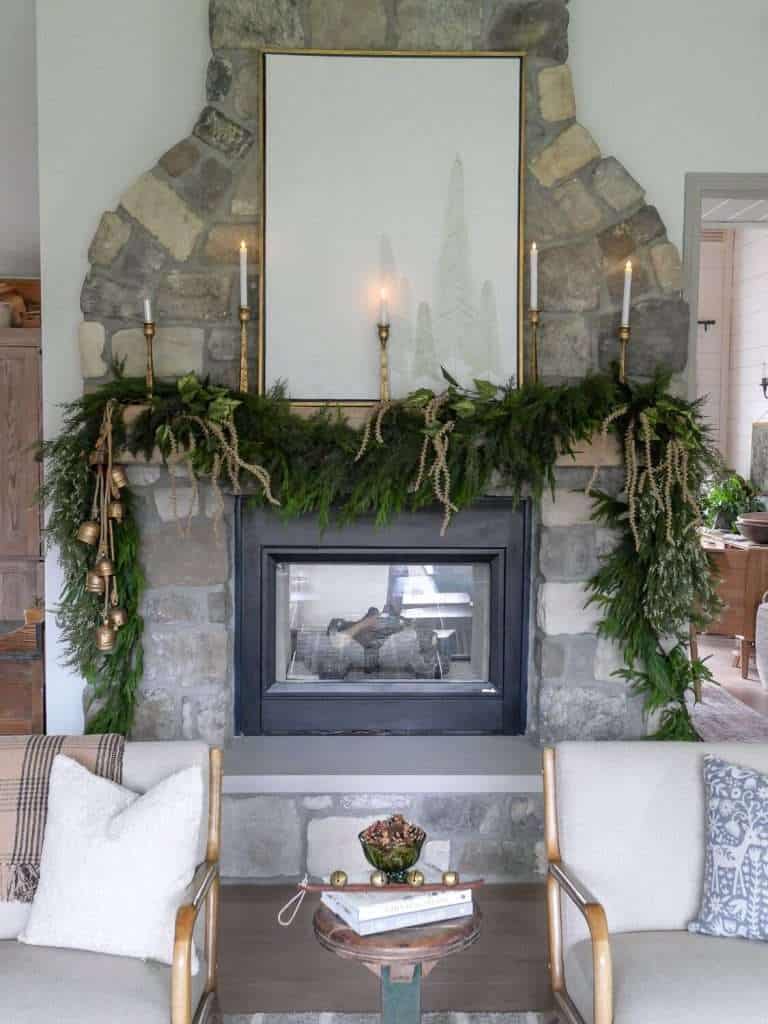 Of course, I prefer battery operated for the mantel to reduce any risk of fire hazard. We've already lived through one house fire, so I try to avoid real flame when I can.
Here are some of my favorite candles to use on your mantel!
More Christmas Mantel Decorating Ideas
I hope that this post gave you some inspiration for how to design a Christmas mantel that you can quickly transition to winter.
Decorating my mantel for Christmas has been a favorite over the years. I have so many different looks that you can browse below.
This year is the first year I've been able to decorate it after our fireplace remodel, when we added the stone.
I have to say, this fireplace was made to have stone. It is by far my favorite I've ever done and that's because it finally feels like it has definition. It is finally complete!
More Christmas Decorating Ideas…
Thanks so much for stopping by the blog today!
Make sure to subscribe to get my Grace Notes directly to your inbox and to access all my insider perks. You can also follow along daily on Instagram and weekly on YouTube!
If you're looking for more Christmas decorating inspiration, make sure to check out all of my Christmas and holiday decorating articles here!
~Sarah