8 Easy DIY Christmas Candle Centerpiece Ideas
Creating a DIY Christmas candle centerpiece is the best way to decorate for the holidays in a pinch!
Today, I'm excited to share how to make 8 simple Christmas centerpieces that are perfect for your holiday table, coffee table, buffet, entry table or kitchen island!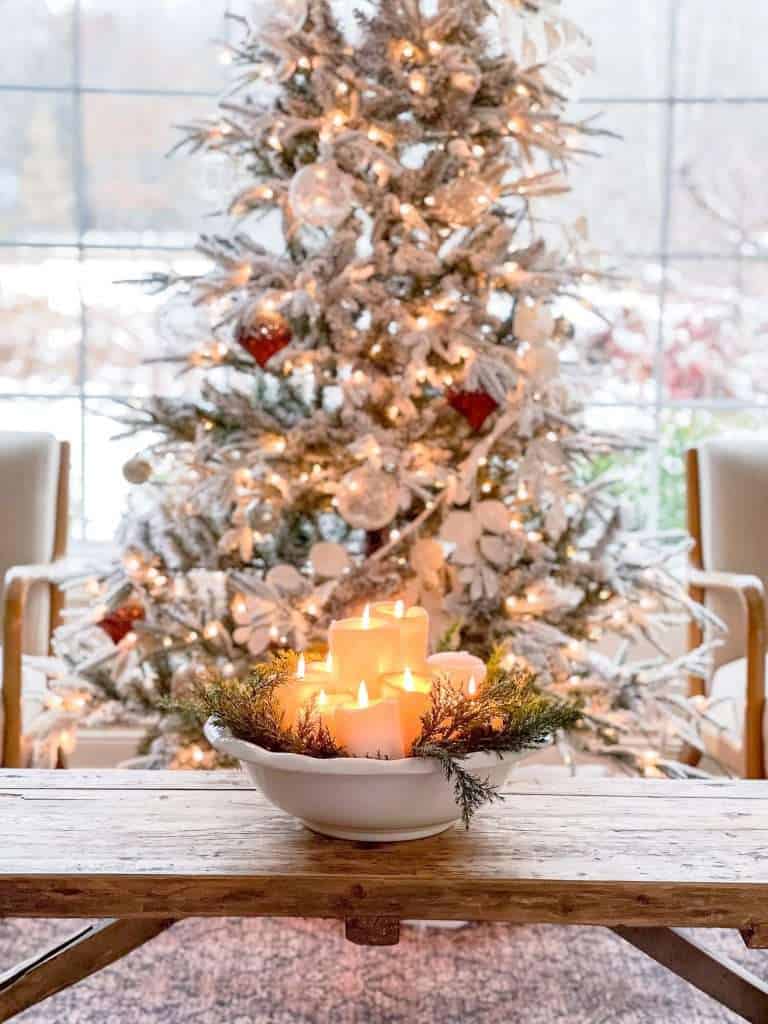 This post may contain affiliate links for your convenience.
8 Simple DIY Christmas Candle Centerpiece Ideas
Each year, I share many different ways to use candles in my Christmas decor.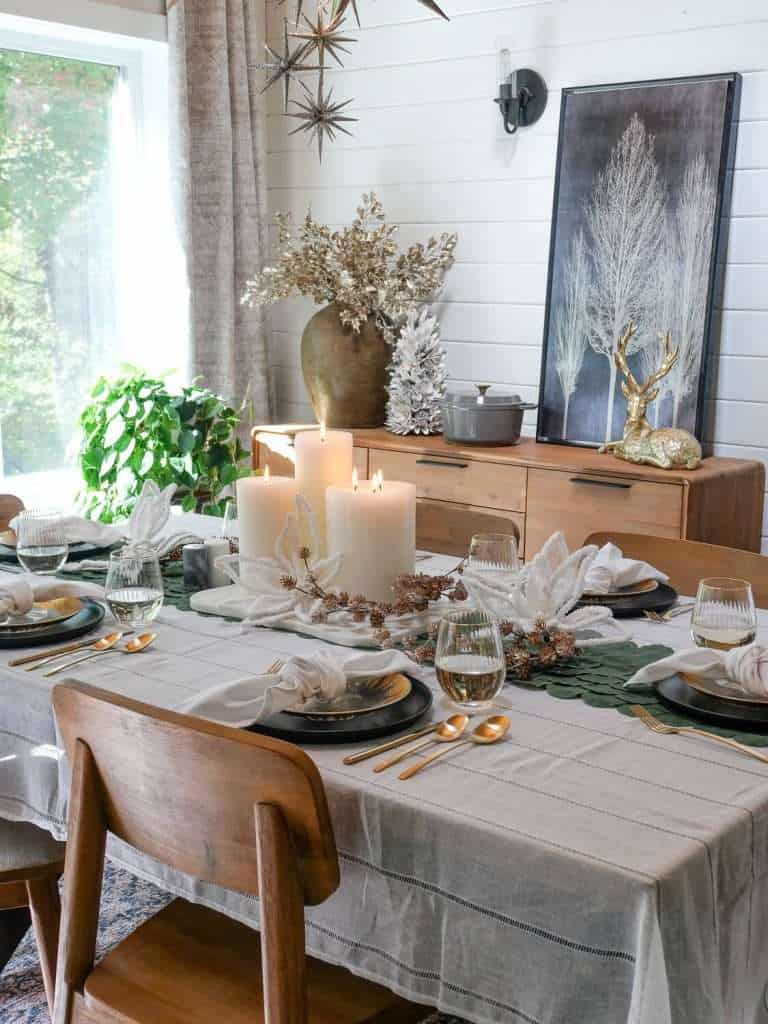 After all, is there anything cozier than a flickering candle? As time has gone on, I've adjusted when and where I use real candles versus battery operated candles. However, each candle centerpiece I'm sharing today can be created in mere minutes and is a beautiful addition to any table.
How do you make a simple Christmas centerpiece?
The absolute simplest way to make a DIY Christmas candle centerpiece is with pillar candles and an evergreen wreath.
This year, I shared this idea with my social community and they loved that it can be accomplished in under a minute.
Simply group three large pillar candles at varying heights in the center of your table. Then, place a wreath around them! That's it.
You can use evergreen wreaths for a simple classic look or an elaborate wreath with all the accents for a fancier candle centerpiece.
How do I make a budget Christmas centerpiece?
If you're looking for ways to make a budget friendly Christmas centerpiece, try these ideas.
Upcycle or repurpose thrift store candles
Last year I found this Christmas tree candle at the thrift store for 25 cents! I took some joint compound to it to make it look like snow and made it a part of my kitchen island centerpiece.
You can learn more about how I created this pine tree candle here.
Make Your Own Wood Centerpiece Candle Holder
I've also created a variety of DIY candle holders over the years.
It's as easy as grabbing a piece of wood with at least one flat side, and a spade drill bit.
You can create these wood candle holders to be any shape or size, and to hold as many or as little candlesticks as you like. You can see the whole tablescape above in this post.
This year, my son found a log in the woods. He shaved down two sides so it would be flat, and then I used a spade bit to drill the holes for taper candles.
For a fun twist, I tried my hand at painting the candles. They certainly aren't perfect, but it was still a fun way to dress up a simple candle. Next time, I'll find a smaller paint brush to be able to create more delicate details.
This was a totally free centerpiece since we used left over candles and a log from the yard.
More Christmas Candle centerpiece Ideas
Now that I've shared my favorite 4 ways to create a candle centerpiece, here are 4 more ideas.
Simple pillar grouping with floral accents
Layered taper candlesticks along an island or buffet
Large bowl with greenery and pillar candles
Single candlestick with greenery
In this year's Christmas tablescape I used a simple marble cheeseboard as the foundation to a grouping of pillar candles. I tucked in a single floral accent and some pine cones and it's done!
If you're looking for something a bit more elaborate for your Christmas candle centerpiece, then spread out layered taper candles.
Placing taper candles down the length of a table or island creates a romantic effect with very little effort.
If you want to create a DIY Christmas candle centerpiece for a coffee table or entry table, try this idea.
Fill a large bowl (ironstone is my favorite option) with various sized pillar candles. Then, tuck some greenery in around the edges.
I've used real candles for this in the past, but would recommend battery operated candles since bowls can make the pillar candles tippy.
Lastly, create a simple candle centerpiece with a single candle.
I love how easy this is to add just a touch of holiday decor, that will also span into the winter months easily.
You'll Also Enjoy…
I hope that these 8 ideas for easy DIY Christmas candle centerpieces have sparked some creativity for you!
If you're looking for more Christmas decorations, make sure to check out all of my styling tips this year.
Thanks so much for stopping by the blog today!
Make sure to subscribe to get my Grace Notes directly to your inbox and to access all my insider perks. You can also follow along daily on Instagram and weekly on YouTube!
~Sarah