A Complete Guide to Transitional Farmhouse Decor Style (2024)
Transitional farmhouse decor has captured the design world with its traditional charm and functional style. The versatility of this interior design style makes it a perfect choice for those who are on the fence about their own decor preferences. Here's a complete guide to implement transitional design in your home!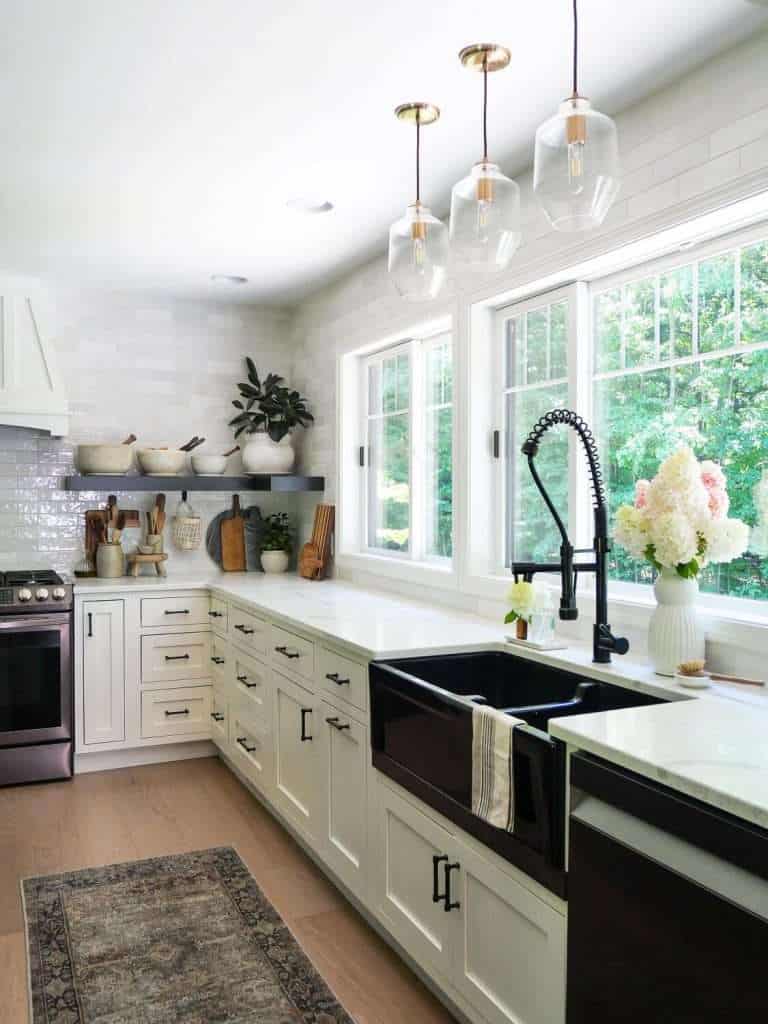 Post may contain affiliate links for your convenience.
What is Transitional Farmhouse Design?
Let's start by defining what the transitional farmhouse decor style entails.
Transitional farmhouse decor is an off-shoot of the ever-popular farmhouse style.
You can learn all about farmhouse style in this design guide on budget friendly farmhouse decor.
However, rather than the heavy focus on rustic/country decor, transitional farmhouse decor brings in a traditional modern element.
Transitional farmhouse decor is a combination of traditional design and functionality, modern lines, and farmhouse charm.
The overarching style feels more classic and traditional with a high attention to functionality and modern conveniences. Then, it is juxtaposed with decor that leans more to the farmhouse style with character, charm and cozy imperfections.
Transitional farmhouse decor is polished, but not pretentious. It is cozy, but not sloppy or rustic. And, it highlights more modern clean lines in architecture while playing with soft curves in furnishings.
The way transitional farmhouse style combines a variety of design elements makes it an extremely versatile option for those who like a little bit of everything!
What Are The Key Elements of Transitional Style?
There are several key elements of this interior design style.
Neutral color palettes
Designing in curated layers
Incorporating natural elements
Combining a variety of textures through textiles, wood, plaster, and wallpapers
High emphasis on functionality
Focus on gathering spaces
A combination of high-end pieces with antiques or thrifted finds
Paired down accessories
High end lighting
Detailed moldings and woodwork
Medium to dark wood tones in architecture and cabinetry
Lighter wood tones in furnishings
What Are Transitional Style Colors?
What comes to mind when thinking of a neutral color palette?
So often, people can only envision white walls when they hear neutral.
While white is often found in transitional homes, it is not the most common color. More often, soft beiges or grays are the main wall color in a transitional farmhouse home.
Then, it is easy to add in a few strategic bolder colors that complement the main color anchor through furnishings and decor.
Some great transitional style colors are: soft grey, taupe, white, soft blues or greens, and black.
What is Considered Transitional Farmhouse Decor?
The key to creating a transitional farmhouse home is balance.
In rooms where the architecture steals the show, let the decor be simplified.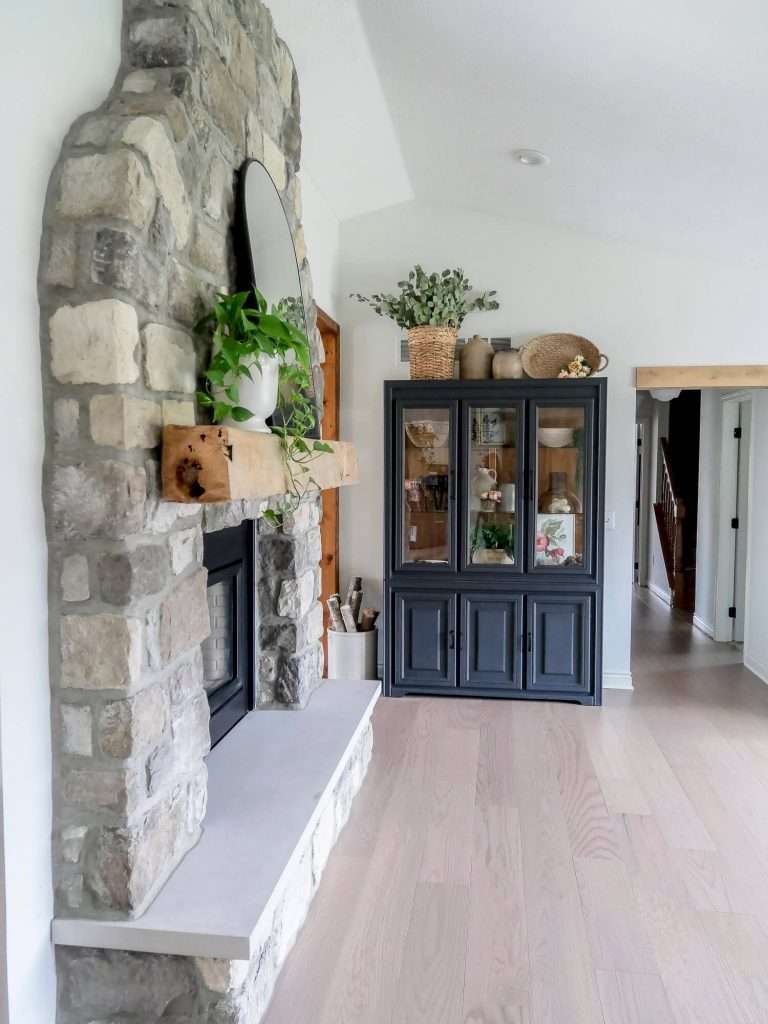 In living rooms, clean lined sofas pair nicely with reclaimed wood coffee tables and polished artwork.
Add in antiques and vintage finds for unique decor items that create a conversation piece.
In bedrooms, let the textiles take center stage with layers, color, and patterns while the rest of the room remains low-key and neutral.
Transitional farmhouse kitchens typically highlight classic cabinetry, bold range hoods and lighting, and modern bar stools.
The blessing of this style is that it isn't a one size fits all.
Most transitional farmhouse decor can actually fit into many different design styles with the right pairings.
At the end of this post I'll share some of my favorite sources to purchase transitional farmhouse decor.
How Do I Go From Farmhouse to Transitional?
If you're investigating this style, chances are you started heavily into a more rustic farmhouse style and are now wanting to progress out of it.
Transitioning from farmhouse to transitional decor is very simple. Start by decreasing the amount of chippy or distressed items you have.
One of the biggest elements of farmhouse style is chippy paint, distressed furniture and rustic finishes. Removing those elements down to only one or two, in lieu of more polished items, will send you on your way.
After that, take a look at each room. How many of your larger furnishings are oversized or farmhouse style? Try swapping a few statement pieces, like a sofa or dining table, for a more traditional or contemporary style.
In my dining room, I swapped our dining chairs from a farmhouse style X back, to these more modern chairs. It immediately made the room feel more polished and transitional.
I also swapped the buffet from a painted shaker style to a rich wood tone with slight curves.
The dining table itself remained the same, as well as the surrounding decor. However, a quick swap of the larger pieces in the room modernized the space quickly.
Where to Buy Transitional Farmhouse Decor
If you are looking to source new decor, rather than antique finds, here are my favorite sources to purchase decor that fits the transitional farmhouse style.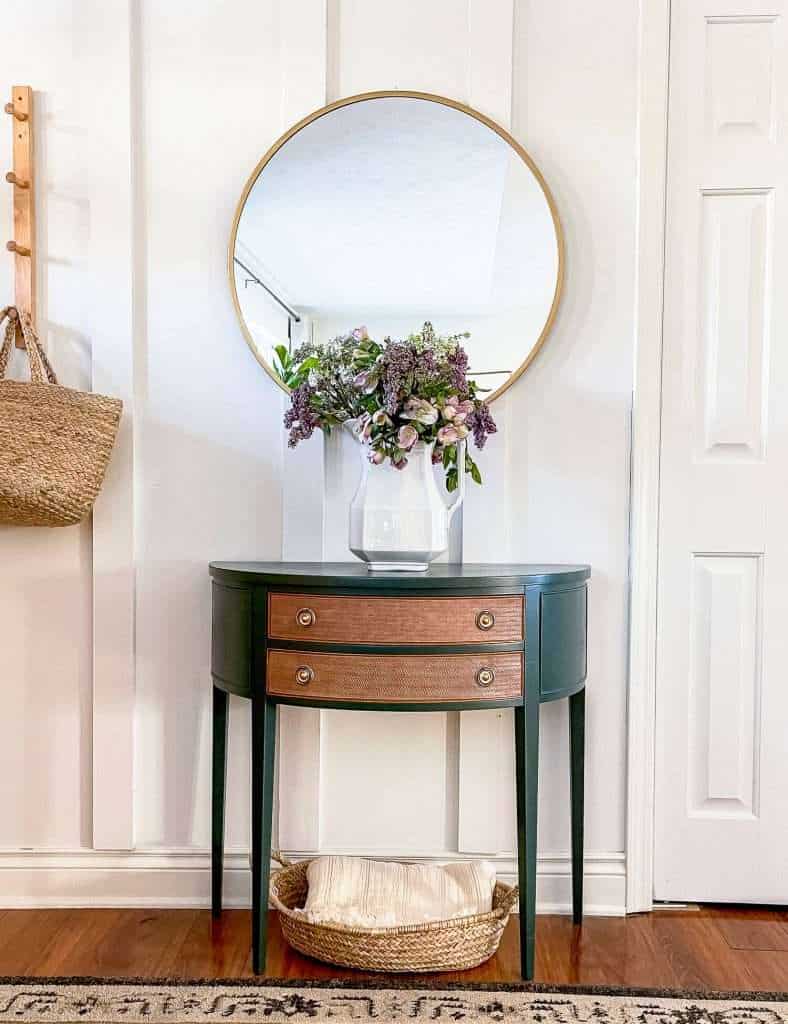 Amazon: I love the convenience of Amazon.
They have a huge selection as they source from many different brands. Plus, they offer handmade items and support small shops and makers across the globe.
When in doubt, if you see a non-antique item in my home and wonder where it's from, it's likely from Amazon. I round up my favorite home decor, kitchen essentials, and lifestyle finds weekly in my Amazon Storefront.
Etsy: Etsy is another amazing source for transitional farmhouse decor. Not only can you find new and handmade items, but it is also a wonderful online source for original antiques.
These are my top two sources when I can't find the exact piece I'm looking for in person. Additionally, these stores are all great sources for affordable finds.
You'll Also Enjoy…
I hope you enjoyed all of my tips for decorating your home in the transitional farmhouse design style! This is such a cozy and classy style to decorate with and offers so much versatility.
If you're looking for more decorating ideas, make sure to visit my decor archives for years worth of ideas!
Thanks for stopping by the blog today! Make sure to subscribe to get my Grace Notes directly to your inbox and to access all my insider perks. You can also follow along daily on Instagram and weekly on YouTube!
~Sarah