40+ Farmhouse Decorating Ideas on a Budget 2024
Do you love the farmhouse design style? This style exploded in popularity around 2015 with the introduction of the popular tv show, Fixer Upper. Since then, the farmhouse decorating style has evolved and turned into a staple in the design community. Learn my favorite farmhouse decorating ideas, on a budget, to create your dream home in this style!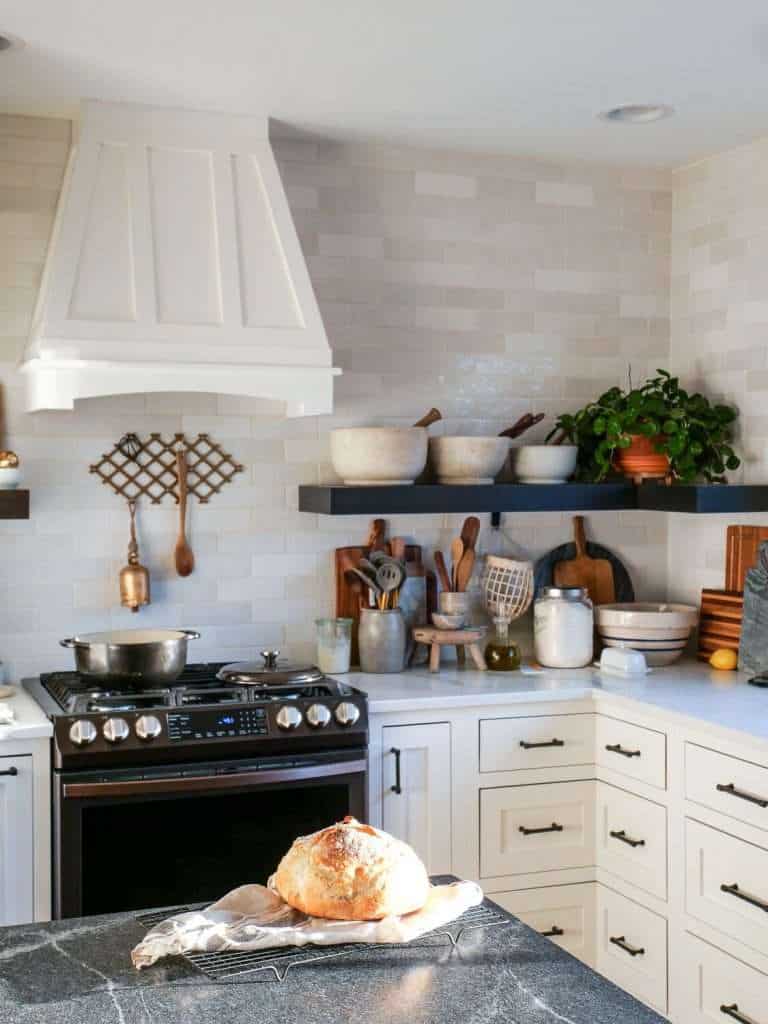 This post may contain affiliate links for your convenience.
What Are The Elements of Farmhouse Decor?
Before we dive into my favorite farmhouse decorating ideas on a budget, let's define what farmhouse decor is.
Each design style has a specific set of elements that set it apart from the others.
If you aren't sure which style you'd align with, learn more about 12 popular styles in this video.
See The Full Video on YouTube
The main elements of farmhouse style give a nod back to when farmhouses started being built in the 1700s. It includes:
rustic elements like shiplap or hand hewn beams
natural materials like brick
distressed and imperfect furniture
primitive decor like antique stoneware and dishes
antiques or vintage items
architectural salvage
has a collected feel that celebrates history and slow living
creates a cozy feeling that tells a story
Nothing is too precious and decor is made to be used on a daily basis.
Is Farmhouse Still in Style in 2023?
We are coming up on 10 years of designing with the popular farmhouse decor style. So it begs the question, "Is farmhouse still in style?"
In short, yes. Farmhouse style is ever evolving. From the root farmhouse style, you now see several offshoots of farmhouse decorating ideas.
Modern Farmhouse
European Farmhouse
Cottage Farmhouse
Industrial Farmhouse
Coastal Farmhouse
French Country Farmhouse
Transitional Farmhouse
Rustic Farmhouse
As you can see, farmhouse style isn't going out of style anytime soon. It has simply evolved over time to team up with a complementing style that niches the style down.
However, whenever someone asks the question of whether a design style has come or gone, I like to pose a question right back.
"Does it matter?"
One of my biggest endeavors at Grace In My Space is to teach others how to create a haven. How to design a space that works for their family. And how to love where they live.
So whether or not a design style is trending doesn't necessarily play a part in if you should use it.
Do you love it? Then decorate with farmhouse decor. If you don't, keep searching until you find a style that resonates with you in a significant way.
I talk more about this in my book, Designing a Life: From House to Haven, if you're interested in how I approach interior design.
What Does Modern Farmhouse Decor Look Like?
One last area I want to cover before getting to my favorite farmhouse decorating ideas on a budget, is modern farmhouse style.
Modern farmhouse is easily one of the most popular offshoots of farmhouse decor.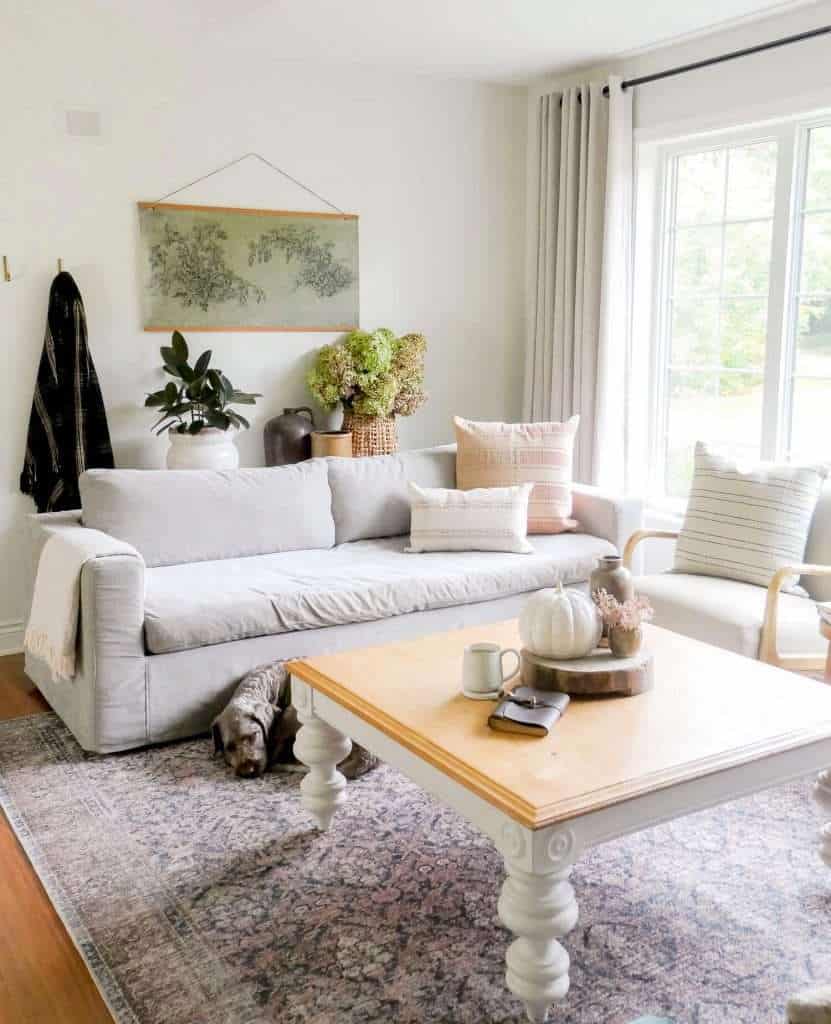 Neutral colors paired with black and wood tones is a typical modern farmhouse color palette. Wood, white and black is the signature palette for modern farmhouse living rooms and kitchens.
Additionally, vintage pieces play a big role in modern farmhouse style. This can be vintage decor, vintage rugs or architectural pieces. And, while most furniture pieces aren't ornate, turned table legs are a huge element in this design style.
If you're interested in learning more about what modern farmhouse decor looks like, I have a ton of resources for you on the blog.
How to Decorate a Farmhouse on a Budget?
Luckily, farmhouse style is one of the easiest styles to decorate with on a budget!
The fact that some of its basic elements include distressing and cozy imperfections lends itself to more affordable furnishings.
Plus, one of the key elements of farmhouse style is that most of your decor should also serve a utilitarian purpose. For example, the decor you buy, like a signature crock, will also serve a purpose as a bowl in your kitchen.
So you're getting two for the price of one: a decor item and a practical item.
Farmhouse Decorating Ideas on a Budget: Secondhand Furnishings
The easiest way to decorate on a budget with farmhouse style is to buy second hand.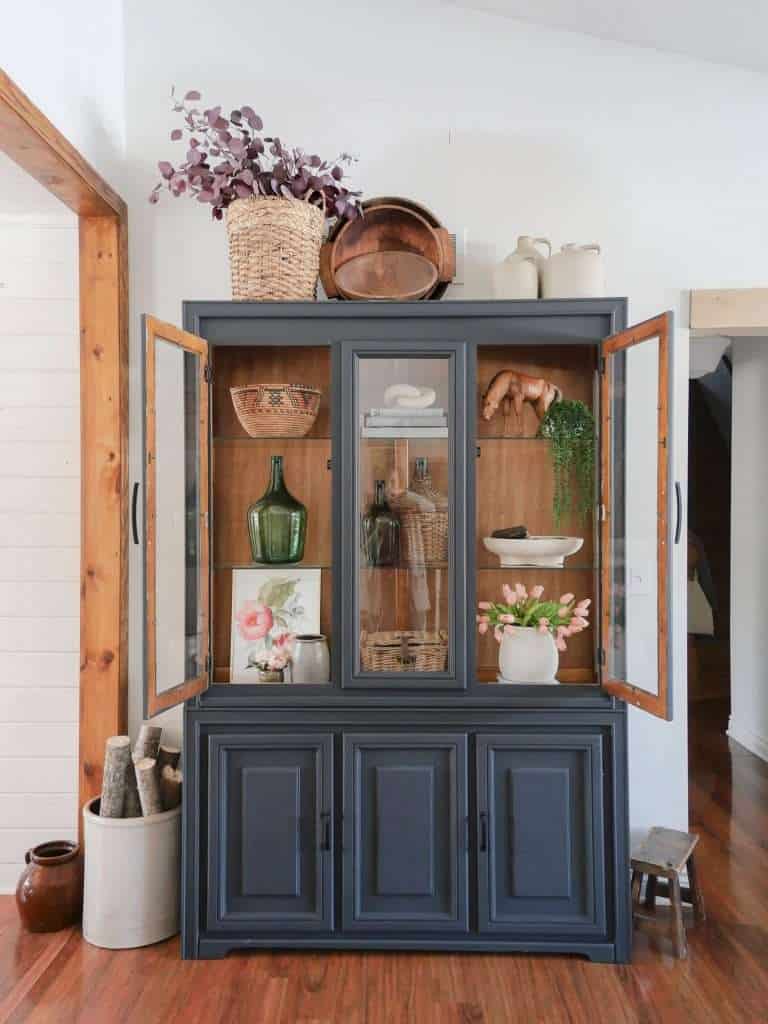 There are many ways you can do this, but here are a few of my favorite sources:
Facebook Marketplace or Craigslist: Great for larger furniture pieces like antique cupboards or tables.
Estate Sales or Auctions: Be on the lookout for old farmhouses that have been in the same family for generations. These typically have some incredible storied items you can bring into your home.
Thrift Stores: Perfect for dishes, baskets, throw blankets, and smaller furniture pieces.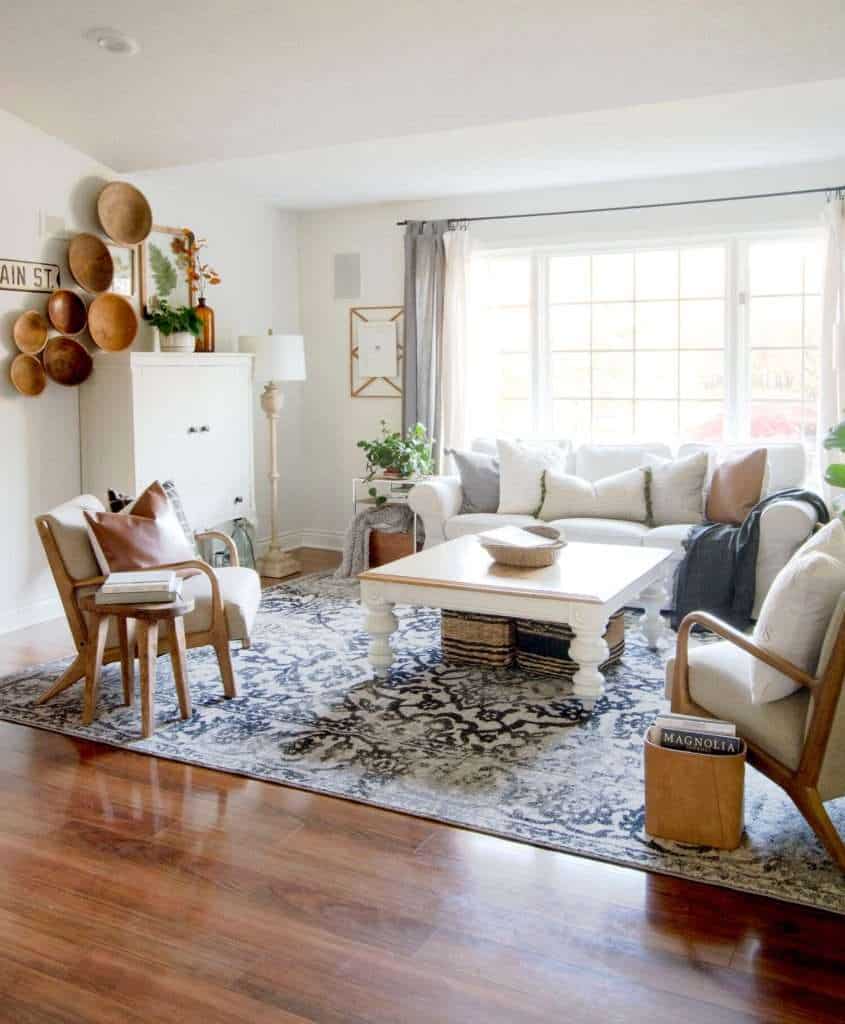 The benefit of decorating a farmhouse in this style is that imperfections and years of use add to the charm and character of decor and furniture. Therefore, you can easily buy secondhand without feeling like each used piece needs to be in perfect condition.
How Do I Turn My Home Into a Farmhouse Style?
Now, you may not have a farmhouse. But perhaps you still want to decorate in a farmhouse style.
There is something to be said for honoring the original style of a home.
If you live in a modern contemporary build, but love farmhouse style decor, then you'll want to lean into a modern farmhouse style.
On the other hand, if you live in a city loft, you can lean into industrial farmhouse style to honor the main design style of your architecture.
If you try to go very rustic farmhouse with either of those options, as an example, your home will feel disjointed and out of place. Take care to add farmhouse decor intentionally to best fit your home's main style.
40+ Favorite Farmhouse Decorating Ideas on a Budget
Keep in mind that your farmhouse decorating can best be done affordably by buying secondhand first and foremost. This is especially beneficial for larger furnishings.
However, here are my favorite ways to incorporate a farmhouse style on a budget into any home!
Add lots of baskets for storage, decor, and cozy texture.
Find architectural salvage like large corbels, fretwork, and gingerbread to display as decor (the chippier paint the better).
Incorporate natural wood tones in tables and cabinets.
Keep original wood flooring for loads of charm.
Add affordable DIY ceiling beams for an architectural statement.
Repurpose old barn beams as mantels, tables, pedestals and more! (I got mine for $10!)
Display textiles as decor like blankets, quilts, tapestries and vintage embroidery.
Use vintage or thrifted artwork in gallery walls or as statement focal points.
Combine vintage-looking pillow covers in a fun pattern play on sofas and beds.
Use natural materials on flooring and walls, like brick, barn wood, or plaster.
Use old pottery to arrange dried florals in, taken straight from your own garden.
Refinish thrifted coffee tables and dining tables for a polished look on a budget.
Restore antique farmhouse cabinets to use as a pantry or storage solution. (I bought mine for $100!)
Repurpose an antique wood stool as a small side table.
Shore up old iron bed frames to use with modern mattresses.
Use affordable thrifted glass jars for pantry staples.
Add vintage style wallpaper to the backs of book cases for a pop of pattern.
Add live (or faux) plants to bring life and vibrance to your spaces.
Paint walls in a neutral color palette and add pops of saturated colors with furnishings and textiles.
Source vintage (or vintage look-a-like) area rugs. You can see my favorite area rugs here.
Hunt for affordable vintage or antique decor pieces. Some of my favorites:

Vintage or antique artwork
Wood bowls and dough bowls
Crocks
Pottery
Vintage baskets
Glassware
Plates
Leather wrapped horses
McCoy plant pots
Bread boards
Candle holders
Mortar and pestles
Marble cheese boards
Wooden spoons
Vintage textiles like tapestries or quilts
Vintage books
Ironstone pitchers, platters and bowls
Antique mirrors
Best Sources to Buy New Farmhouse Decor
While I would contend that thrifted, second hand or antique finds are your best decorating source for farmhouse decor, you can certainly also find it new!
Stores grabbed hold of the love of farmhouse style decor and started reproducing antiques on a mass scale. So if you want to get the look without the hunt, here are my favorite sources for purchasing new farmhouse decor on a budget.
Amazon: I love the convenience of Amazon.
They have a huge selection as they source from many different brands. Plus, they offer handmade items and support small shops and makers across the globe.
When in doubt, if you see a non-antique item in my home and wonder where it's from, it's likely from Amazon. I round up my favorite home decor, kitchen essentials, and lifestyle finds weekly in my Amazon Storefront.
Etsy: Etsy is another amazing source for farmhouse decor. Not only can you find new and handmade items, but it is also a wonderful online source for original antiques.
These are my top two sources when I can't find the exact piece I'm looking for in person. Additionally, these stores are all great sources for affordable finds.
Hobby Lobby
Home Goods
Zara Home
You'll Also Enjoy…
I hope you enjoyed all of my tips for finding farmhouse decorating ideas on a budget! This is such a fun style to decorate with and offers so much versatility.
If you're looking for more decorating ideas, make sure to visit my decor archives for years worth of ideas!
Thanks for stopping by the blog today! Make sure to subscribe to get my Grace Notes directly to your inbox and to access all my insider perks. You can also follow along daily on Instagram and weekly on YouTube!
~Sarah