Easiest Way to Layout a Staircase Gallery Wall
A staircase gallery wall is an amazing design focal point for your home. You can take this blank space and transform it easily with family photos, artwork, an eclectic collection or perfect symmetry.
However, choosing a layout for your staircase gallery wall can be a challenge. So today, I'm going to share the simple step by step method to designing a beautiful gallery wall in a stairwell.
This post may contain affiliate links for your convenience.
Step by Step Method to Designing a Staircase Gallery Wall
Here is an easy step by step guide to designing a staircase gallery wall that fits your personal style.
Symmetrical or Eclectic Layout
First, determine if you prefer symmetry or an eclectic layout.
Symmetry typically conveys a more polished and sophisticated home. Various spacing conveys a more collected and laid back look.
Theme
Next, choose an overarching theme for your staircase gallery wall.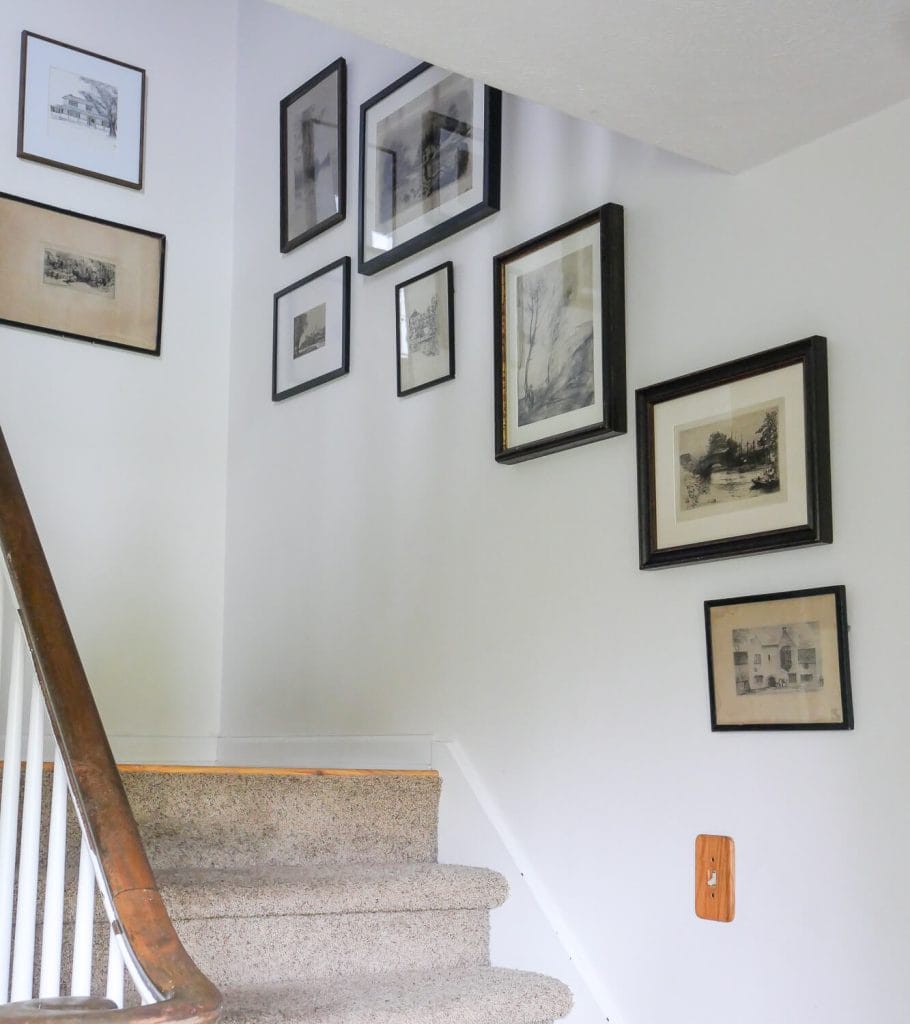 Some examples are:
Family photos
Colorful Paintings, Sketches, Watercolors or another specific medium
Black and white artwork
Eclectic collection with found objects scattered in
Frame Style and Color
Then, decide on a frame color and style.
Keeping all frames the same color grounds a gallery wall and is very sophisticated. However, mismatched frames add interest and personality to a gallery wall.
Similarly, straight line frames are more modern while ornate frames lean more traditional or eclectic.
Mat Style
Next, pick a mat style.
Large mats read more sophisticated while no mat allows for the artwork or image to be more visual. Mix and match mat sizes lends to a more collected look while keeping the same mat size is more polished and visually calming.
Each of these small decisions will play into what the overall staircase gallery wall results in.
Create Templates
Now it's time to create your easy-to-move templates.
Roll out butcher paper, kraft paper, or wrapping paper. Whatever you have on hand works for this project! The wider the roll the easier it is to layout your artwork.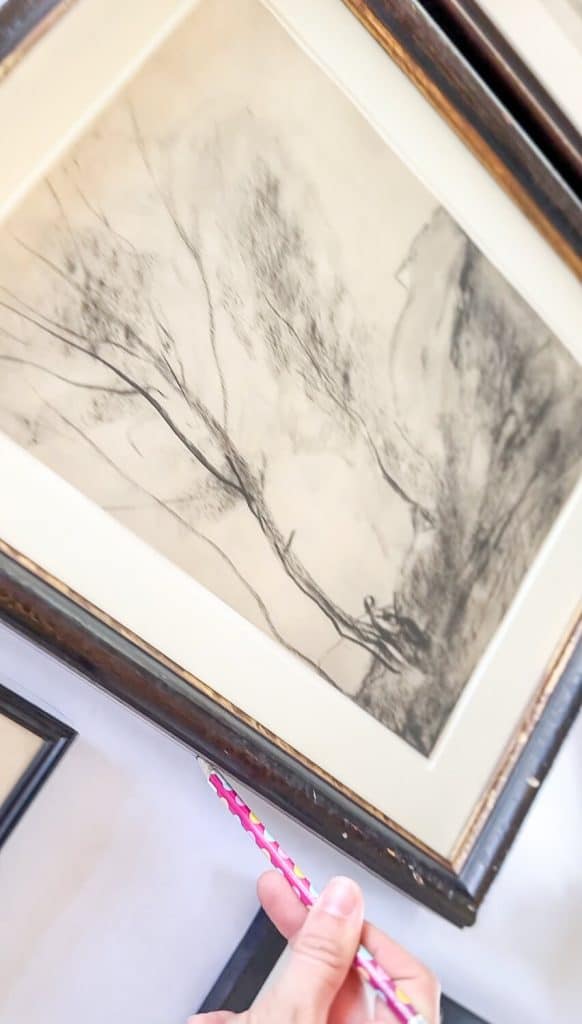 Trace each frame onto your kraft paper and cut out your new templates. If you have various sized frames with a variety of artwork or photos, write which piece of art goes with which template onto the kraft paper. This will allow you to place your favorite pieces in focal point (the most visually accessible) areas.
Play With Layouts
Lay out your templates to get a feel for spacing and sizing on the floor or tabletop.
Remember, you will be working up a wall so height matters as much as width.
Starting on the floor or table makes it easier to move pieces around until you are more settled on the placement.
Once you have a general idea of your layout, use painter's tape to place each template onto the wall temporarily.
Play with your spacing. A more uniform look has approximately 3″ between each frame side to side and top to bottom. A more collected look has different spacing between each frame. However, aim to keep each frame within 5″ of each other to avoid overly large gapping.
Place Your Nails
Once you like your layout visually, mark where each nail hole should be placed based on the hanging hardware of each frame. Add your nail or hanging hardware appropriately.
Remove your kraft paper one at a time and replace with the corresponding frame.
Level and Secure
Finish your staircase gallery wall by leveling and placing mounting putty on the bottom two corners of each frame. This will ensure that your frames do not budget and stay level as people walk up and down the stairs.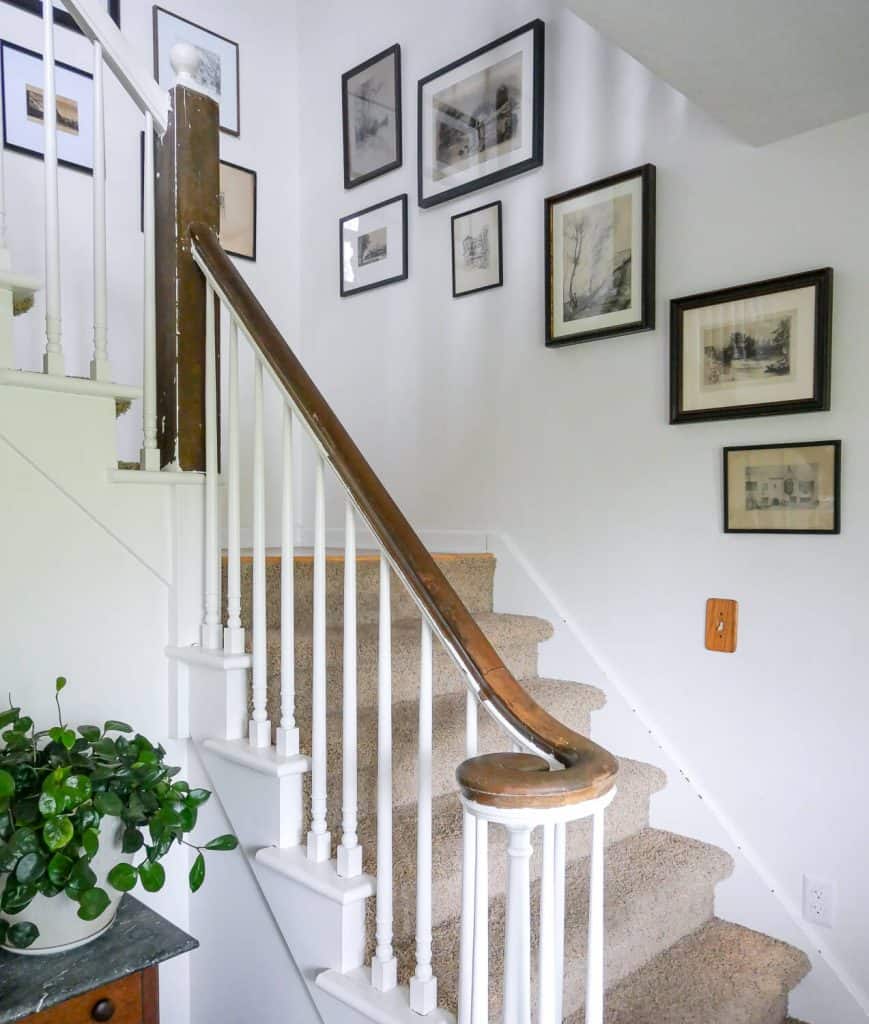 Also, don't be afraid to leave some white space! If you choose a non-symmetrical layout like I have, it is easy to leave some space for new additions down the road.
Staircase Gallery Wall FAQs
Now that you have the general idea of the easiest way to design your gallery wall, let's go over some FAQs.
How to do a gallery wall going up the stairs?
Here is a quick synopsis of the steps we covered above.
Decide if you want a symmetrical or eclectic layout.
Choose a gallery wall theme.
Pick your frame style and color.
Decide on mat style, if desired.
Create kraft paper templates.
Play with layouts on the floor/table first and then move to templating directly on the wall until you are pleased with the design.
Place your nails and hang your frames.
Level and secure each frame.
How high should staircase gallery wall be?
Visually, you will design your gallery wall as a parallel line from the angle of your staircase skirting.
I like my centerline to be between 53-60″. This places the artwork at eye level for the average person.
Of course, you can hang frames above and below that line for visual interest. Just keep in mind that you don't want to go too low to impede on hand rails or to avoid knocking into frames.
How to decorate a wall by a staircase?
Most staircases have at least one wall that is available to utilize for furniture.
I like to use these spaces for entry tables, small cabinets, or benches.
Depending on where your staircase is located in the home, you can use these walls to create a drop zone for keys, as a welcoming entry table for guests, or for practical benches to put on shoes.
In my home, I've added an antique cabinet with some of my favorite artwork and plants to welcome my guests and create a drop zone for the family.
How do you make a stairwell look good?
I always like to remind people that "good design" is a subjective term.
If you like a collected look, your eclectic stairwell will look good to you but chaotic to someone who likes symmetry. And if you prefer symmetry, someone who likes a collected look may think your design is boring or stuffy.
This is why design is so personal. However, if you follow the general spacing rules I shared above, any design will look good to the home owner. And that's all that matters, after all!
What is the best color for staircase walls?
Choosing the right paint color for a staircase gallery wall depends on:
The overarching color palette of your home
Your design style
Your family
Bright white is often the most recommend color for a stairwell because it allows your gallery wall to shine and stand out. However, families with children (let's be honest, of any age) often tend to run their hands up and down the walls when using the stairs.
Little dirty hands + white walls = no fun for parents.
So keep in mind how your family uses the space and try to stick to the main color used in your home color palette.
How to Create a Black and White Gallery Wall
Keeping your staircase gallery wall in the black and white color family is a great way to avoid overwhelming the space. There are many ways to create a black and white gallery wall that doesn't come off as dull or plain.
Consider these collections as your theme:
Black and white family photos
Pencil drawings or sketches
Charcoals
Antique etchings
Black and white artwork
Vintage Gallery Wall Inspiration
I hope you have enjoyed seeing my staircase photo wall and have gleaned some strategy to creating your own staircase gallery!
My stairwell has a long way to go. Eventually, I'd love to add shiplap in the stairwell for more visual interest. And the railing and stair treads need to be replaced. But, this is a fixer upper life and a gallery wall is a good start in the meantime!
Make sure to head next to see the vintage gallery wall I built with my mom using over 70 antique photos and hand built frames.
Make sure to subscribe to get my Grace Notes directly to your inbox and to access all my insider perks. You can also follow along daily on Instagram and weekly on YouTube!
~Sarah