Simple Summer Dinner Party Ideas | The Essentials
Summer dinner parties should be laid back, relaxing and fun! There is something so freeing about laying out a serene and pleasant environment for guests to enjoy. So today I'm sharing my best tips and tricks for simple summer dinner party ideas. Use these easy tips with 5 tablescape essentials to make your next outdoor party undemanding and delightful!
This post is sponsored by Bed, Bath & Beyond. All thoughts and opinions are my own. This post may contain affiliate links where I earn a small commission on your purchases at no additional cost to you.
Summer Dinner Party Ideas for Easy Entertaining
If you know me well then you know I'm a paper plate and plastic cup kind of summer entertaining host. I like easy. I like quick. I like no dishes. However, when I really want to make something special I add unbreakable dishes, a simple centerpiece and a beautiful table cloth. It always amazes me how uncomplicated my summer dinner party ideas are.
Can I pull out all the stops, creating something elaborate and fancy? Absolutely! Do I have the desire to? Not really. Unless I'm decorating a summer tablescape for a wedding or other life-changing event I like to keep it simple and classic. So today I'm sharing 5 summer dinner party essentials in partnership with Bed, Bath and Beyond.
1. Use Large Serving Dishes
When I have a party we usually invite up to 20 people. That means that my summer tablescape needs to provide enough food to adequately serve everyone without forcing me to constantly be running back and forth to the kitchen to refill dishes. That is why I prefer large serving dishes.
This large serving bowl is one of my most versatile pieces. I can serve an entire watermelon sliced and ready to grab. Or, I can use it as a punch bowl, for a large salad, or for chips and other hand-helds.
My next summer dining essential is a large charcuterie board. I love these boards for obvious reasons: meat, cheese, bread…need I say more? But for all practical purposes it offers so much space to allow guests to grab and go throughout the evening. I always say to size up when choosing your serving dishes so that you can hold as much food at once as possible.
2. Control the Pests
Nothing ruins an outdoor party like flying pests, am I right? That's why I love having foods that attract the most flies under a food tent. Fruits, bowls of dip, and casseroles can easily fit into this collapsable food tent to keep the pests away.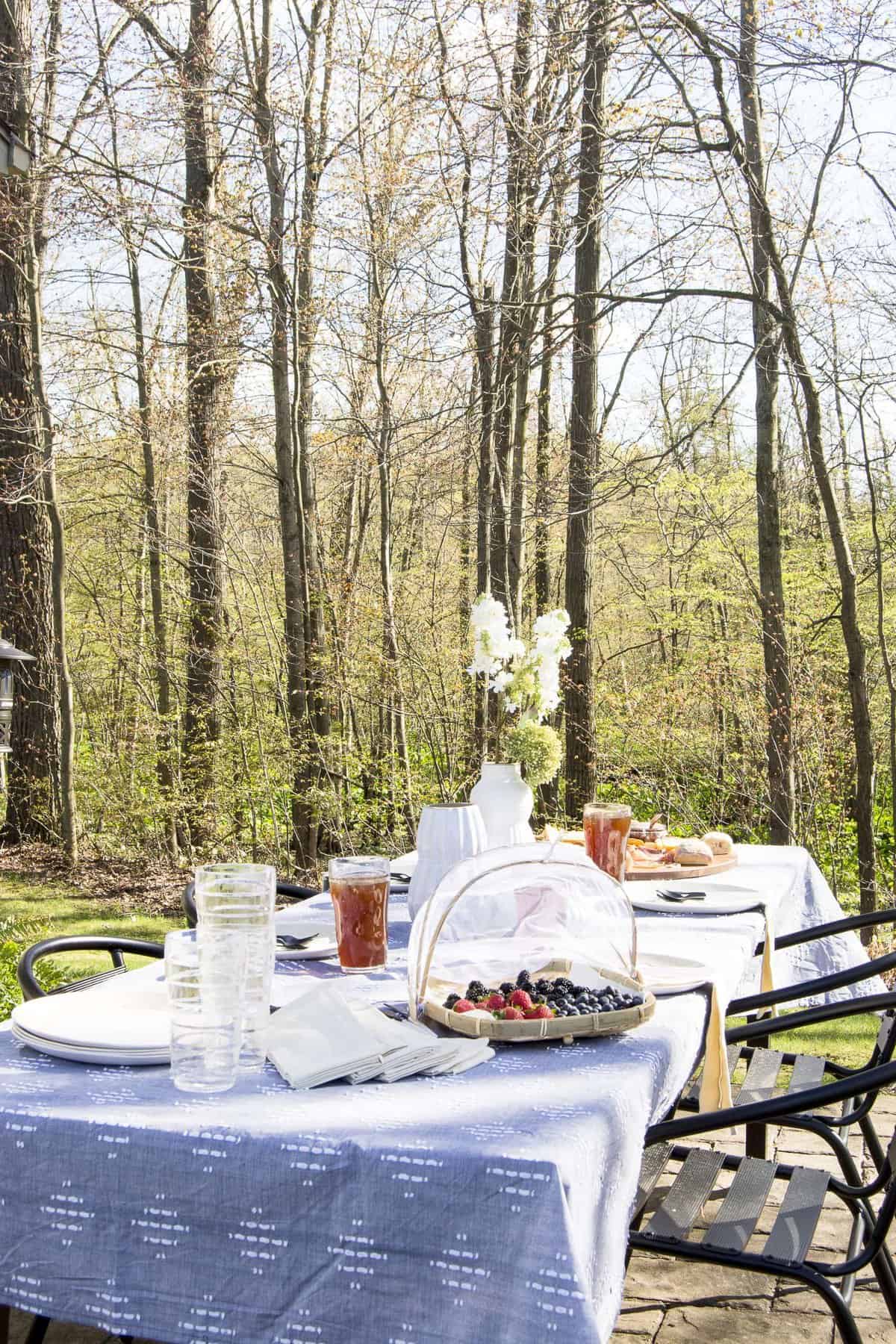 In the background, you can also see something new I'm trying out this summer. Our property is surrounded by woods and water. It's basically a petri dish for mosquitoes. That's why I went with the half-acre Dynatrap Insect trap.
This works 24/7 around the clock to keep pests at bay and offer comfort to our guests. I can't wait to spend more time outdoors this summer with the help of this great insect trap.
3. Provide Unbreakable Dishes
Like I said in the beginning, I am a disposable dishes kind of gal when it comes to outdoor entertaining. However, I love how these melamine dishes, disposable flatware, and acrylic tumblers add so much class without the weight or hassle of glass dishes.
When I want to create a more polished outdoor dining experience, I break out these unbreakable dishes. They work great for kids and adults alike, provide better support for those who like to graze with a plate, and are pretty and detailed as the cherry on top!
4. Quality Linens
The number one simplest way to to add style to your summer dinner party is to use beautiful linens. This gorgeous table cloth is both laid back and breezy to keep the feeling low key while adding style.
Secondly, add simple linen napkins. This beautiful set is so affordable and can just as easily be used for outdoor dining as they can for a fancy dinner party.
5. Top it off with a Simple Centerpiece
I always like to keep my centerpieces simple. You can see my top tips for simple centerpieces in my recent post here. For the final touch to my summer dinner party ideas, I wanted to showcase this beautiful vase set.
If you're anything like me, then the centerpiece needs to make a statement while being small enough to allow ample space for the main feature: food. 😉 This vase set accomplishes that goal by providing lots of color, texture, and interest. I can add simple stems for a quick arrangement without the fuss.
I hope that these 5 simple summer dinner party ideas are helpful as you begin summer outdoor living!
If you're looking for more outdoor inspiration make sure to check out my posts below!