Do you need a life organizer for your home? Learn simple techniques to declutter your life with these effective whole home organization ideas!
This post may contain affiliate links where I earn a small commission on your purchases at no additional cost to you.
Simple Home Organization Ideas
I'm excited to join fellow bloggers all sharing different ways to organize our homes today! Make sure to browse the posts linked at the bottom of this post for more organizational ideas.
I'll be sharing simple tips for how to organize the main problem areas in your home with ease. Today, I'm focusing on pretty storage that is practical, but in plain sight!
Then, make sure to click through to my previous posts where I've shared how to organize your pantry, playroom, utility closet, craft storage, kids' spaces, mudroom and media centers!
Ready? Let's tackle these problem areas to learn some organizational solutions.
Overarching Organizational Solution
Before I get into the nitty gritty of each individual space, I want to cover the overarching solution to home organization ideas.
What does this look like? This looks like taking a step back from your attachment to your possessions and intentionally evaluating whether or not it's necessary.
Now, before you ask me if I plan to go through my home asking myself if each item sparks joy….that's not where I'm going with this.
Rather, I ask myself three simple questions when organizing a room to help clear out the clutter.
Do I love it?
Have I used it in the last year?
Can I repurpose it to love it again?
If the answer is no to any of those questions, then into the donation or sell pile it goes!
I cover this topic in more detail in my book, Designing a Life: From House to Haven. But for the purposes of this post, just know that you cannot accomplish effective organization without decluttering!
Wall Hooks for Pretty Storage
This winter, I am focusing on simple decor and storage ideas that can be multifaceted. This idea works well regardless of the size of your home, so apartment dwellers and those with small spaces can hopefully benefit!
One of the main clutter problems I have in my home is an overabundance of throw blankets. After purging the blankets that are worn out or no longer my style, I wanted to find a way to organize them that my kids would be able to stick to as well.
Thankfully, there is so much inspiration to be found these days! Liz Marie Galvan shared a quick snippet in her Instagram stories recently that inspired me to try these wall hooks.
Not only are hooks a decorative storage solution, but they are also practical for my kids to be able to put blankets away after use. No folding required, no strategic draping. Just pop them on the hook and they are off the floor!
I love that this also allows me to show off pretty throws while creating a cozy atmosphere.
Let's Tackle Those Kids' Spaces
Next, let's move on to kids' spaces. Arguably, these are the most unorganized rooms in our homes. Understandably so! As our little ones grow and develop it is our responsibility to teach them how to keep a home tidy.
For that reason, I like to keep my kids' spaces as simple as possible. I let go of color coordination (let's be honest, few kids care about color coding books or crayons), labeled bins, and perfect spaces.
Instead, I embrace simple ways to have organized clutter. Yep, organized clutter. Because they are kids and to have adult-expectations of them seems unattainable to me.
First, make sure to check out how we keep their playroom organized in this post.
Next, you can see how I created a secret hideout for my daughter. The goal in this space was to create a cozy space for her to feel extra special in, while giving her organizational tools and solutions.
Then, head over to see how I used furniture to create structure in her bedroom. This allows her to have easy access to storage that doubles as dresser and nightstand.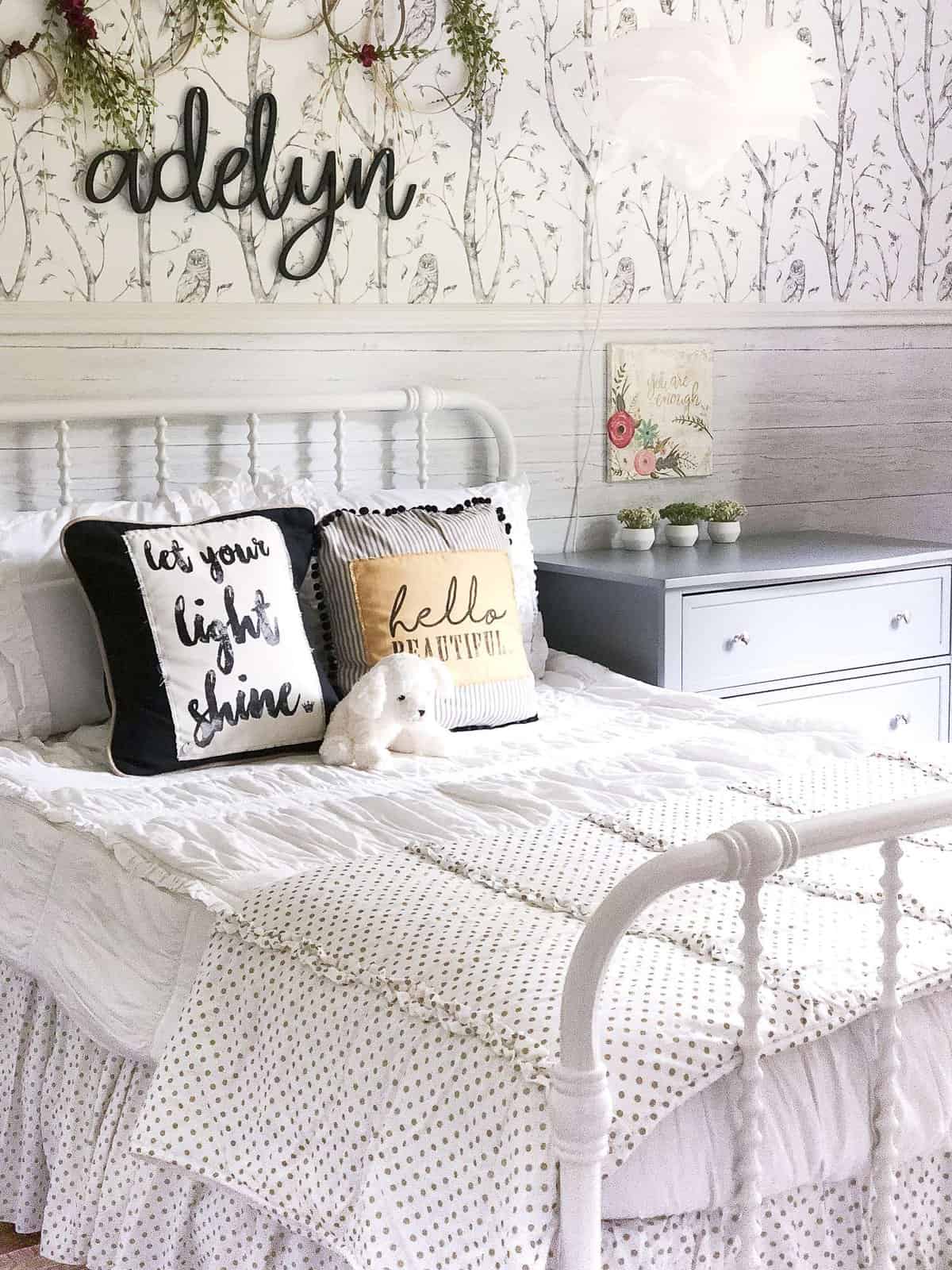 And finally, in this post you can see how I hide their craft storage in plain sight! While we have a wonderful playroom for them, my kids love to be in our main living spaces with us.
So, rather than banish them to the basement playroom, I created a way for them to do their crafting in our living room without constant chaos.
The Always Chaotic Mudroom
Next, let's head into the mudroom. In Michigan, mudrooms are essential. The amount of winter gear that accumulates is basically insane. So, I rounded up simple tips for how to best use a small mudroom with kiddos.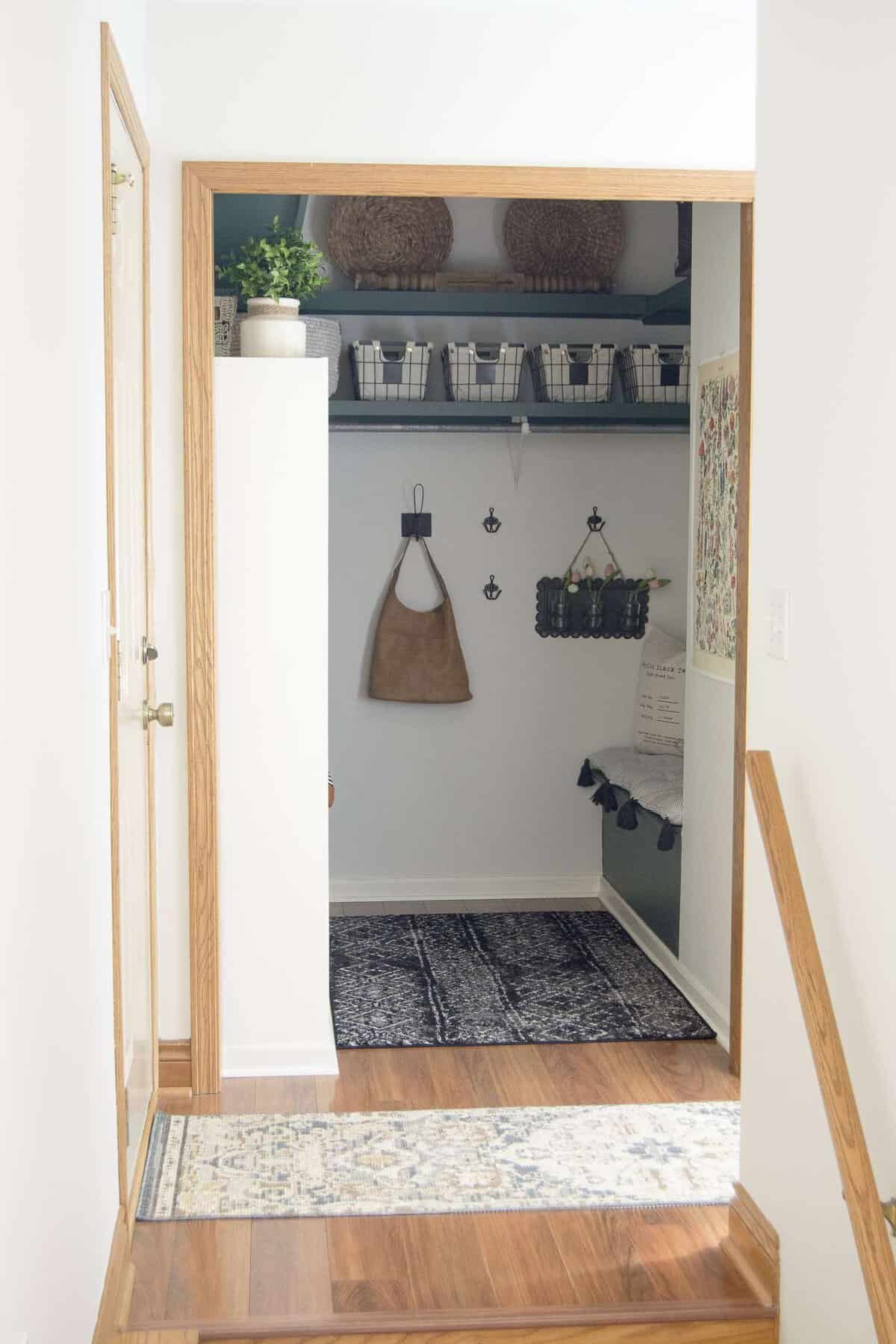 This winter, I'm planning to make more changes to our mudroom! I'm excited for some ideas to install built-ins to help hide the chaos a bit better since it is open directly to our kitchen. Stay tuned for that project!
The Heart of the Home: Kitchen Organization
When we remodeled our kitchen, I had grand ideas for how to organize the cupboards. Then, real life hit and once it was complete all I wanted to do was throw all our kitchen items into the cupboards and be done!
Now that we've lived with it for some time, I'm ready to tackle the drawers with better organizational strategies soon. But for now, I'm proud to say that my kitchen pantry organizational solutions have held strong for four months and counting!
Utility Closet Solutions
One of the most underutilized spaces in most homes is a front coat closet. We use it to stuff our unused items to be out of sight and out of mind. In our home, I wanted to transform our entryway closet into a utility closet that could still serve as coat storage.
Learn how to create a dual purpose utility closet in this post!
Family Room Designed for Livability
Another highly trafficked space in our homes is the family room. In this post, I shared how to design a family room for livability. These are simple storage solutions for families of young children!
Within this same post, I also shared how we keep our media center organized. This piece of furniture has been a lifesaver, and the black shiplap accent wall helps mask our TV!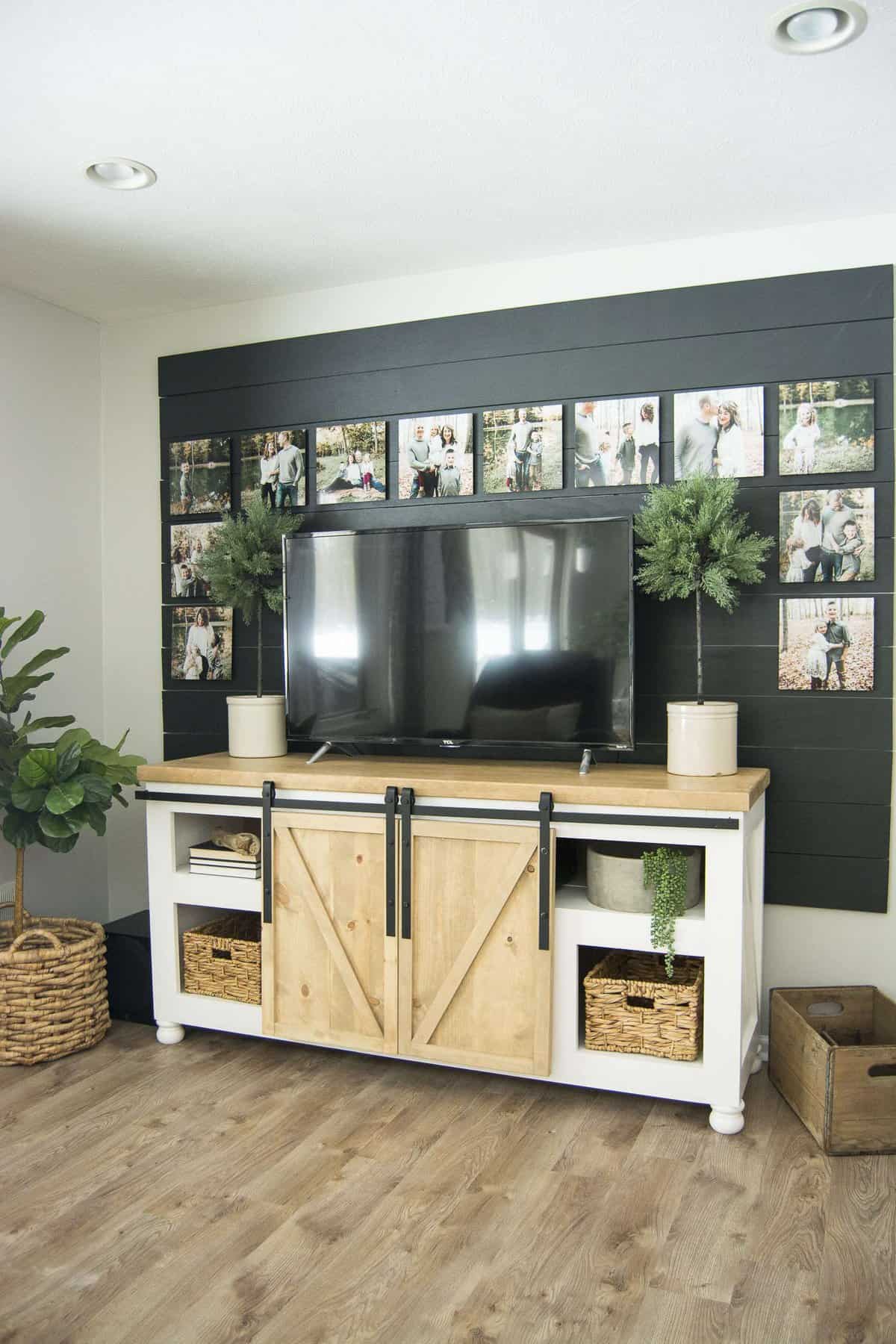 Home Office Storage
The last stop on this organizational home tour is my home office. Recently, I came up with a way to create functional and beautiful storage for all my photography equipment, extra decor, and paperwork.
Sometimes, you just have to throw the installation instructions out and do your own thing. 😉
More Home Organization Solutions
I hope that these simple tips and blog posts on home organization ideas are helpful to you! Make sure to visit my friends linked below for more ideas to get your home organized in 2020!

9 Tips For Kitchen Organization – Happy Happy Nester || Bathroom Organization Ideas – Lolly Jane // Textured Polka Dot Utensil Holder – Craftberry Bush // Turn a Closet into a Pantry – Tatertots & Jello

Organizing Your Party Planning – My 100 Year Old Home // Organizing Laundry Supplies – Zevy Joy // Spice Drawer Organization – Finding Lovely // How to Declutter and Decorate a Beautiful Home – So Much Better With Age

How To Organize Kitchen Drawers – Modern Glam // How I Keep My Home Organized – My Sweet Savannah // Whole Home Organization Ideas to Declutter Your Life – Grace In My Space // Medicine Cabinet Organization Ideas and Tips – Twelve On Main

10 Week Organizing Challenge – The Happy House // Fridge Organization and Storage – Inspiration for Moms // How to Organize Your Pantry – The Handmade Home // A Budget Friendly Linen Closet Makeover – The Tattered Pew 

Mudroom Lockers Organization – Two Twenty One // Small Pantry Organization Ideas – The DIY Mommy // How to Organize Kids' Rooms – Cassie Bustamante // 5 Easy Steps To Create An Organized Junk Drawer – She Gave It A Go // Organizing Tips for Traveling with Kids – Pink Peppermint Designs
Stay Connected
Thanks so much for stopping by the blog today!
I'd love for you to join my blogging community for daily newsletters, freebies, DIY guides and exclusive discounts! And, join me daily on Instagram as we build a community of haven makers!